These Coconut Oil Chocolate Chip Cookies are everything you love about the classic cookie but they're dairy free!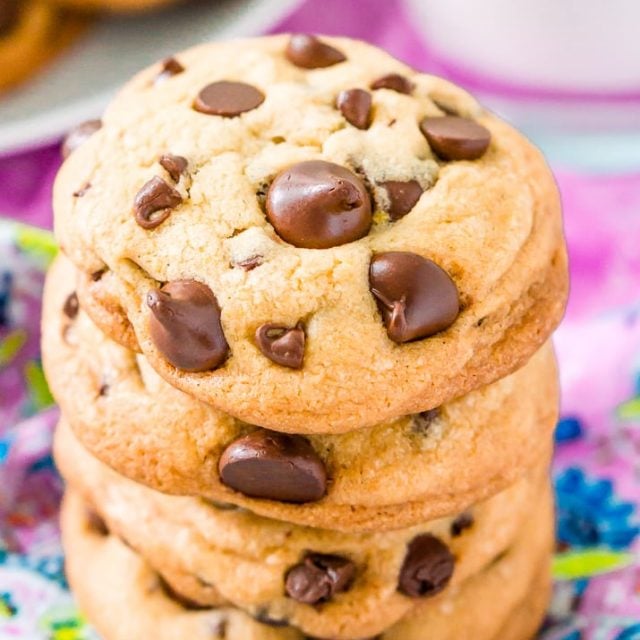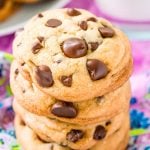 Looking for delicious Chocolate Chip Cookies that are dairy-free? You'll love these Coconut Oil Chocolate Chip Cookies are everything you love about the classic cookie but they're made with coconut oil instead of butter – and still absolutely delicious!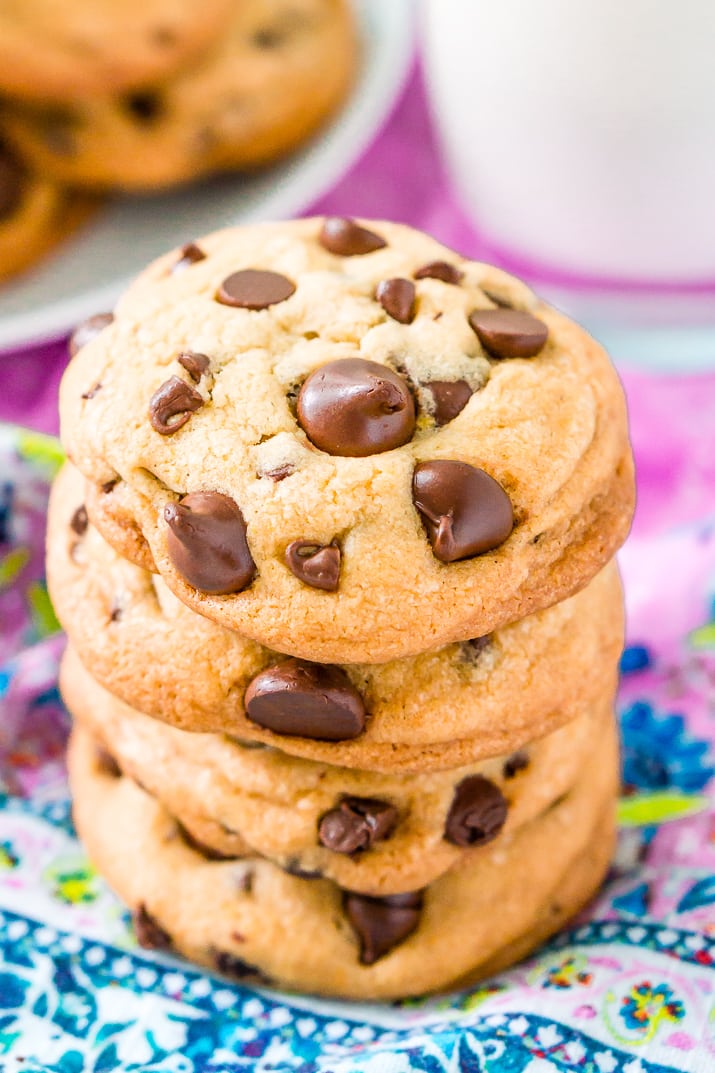 This Coconut Oil Chocolate Chip Cookie recipe is a new version of everyone's favorite cookie recipe! Whether you need a dairy-free dessert or you're out of butter, you'll find yourself making these more than once.
It's the perfect time of year for pairing cookies with cocoa for a tasty snack. Why not try baking some Coconut Oil Cookies to bake and share with friends and family?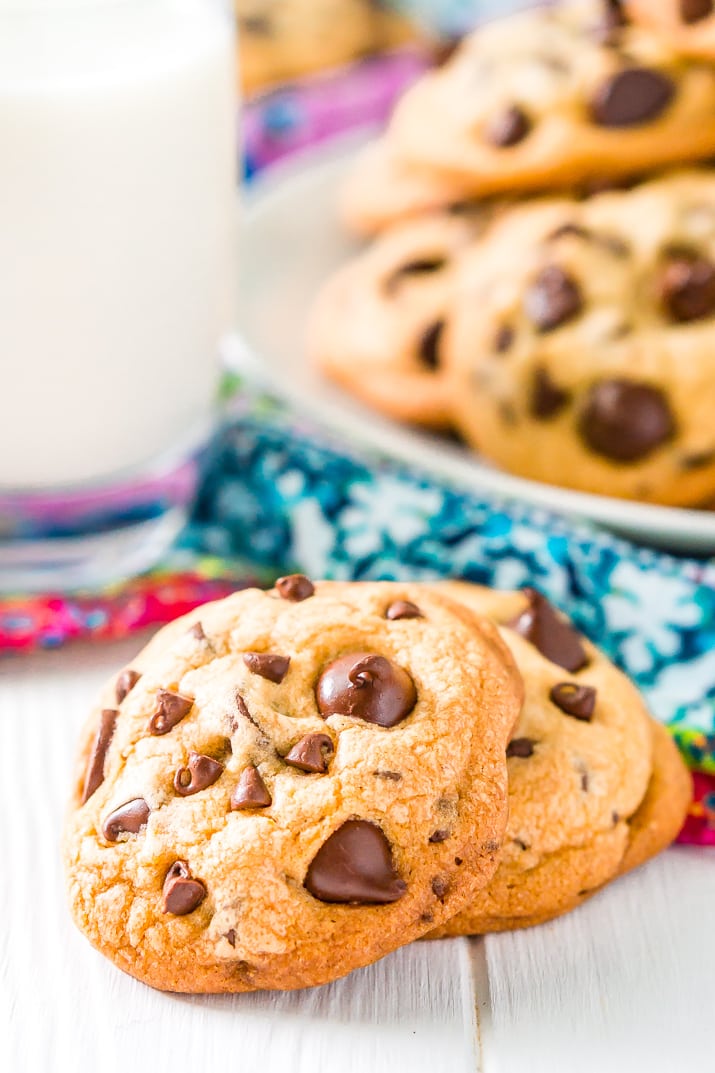 I can't count the number of times I've started making a recipe, just to realize I'm low on butter. But as it turns out, coconut oil can be a wonderful substitute for the stuff.
When you use coconut oil in baked goods, they come out moist and chewy. In fact, this tropical oil almost has a buttery taste when you use it for cooking, but it's dairy-free.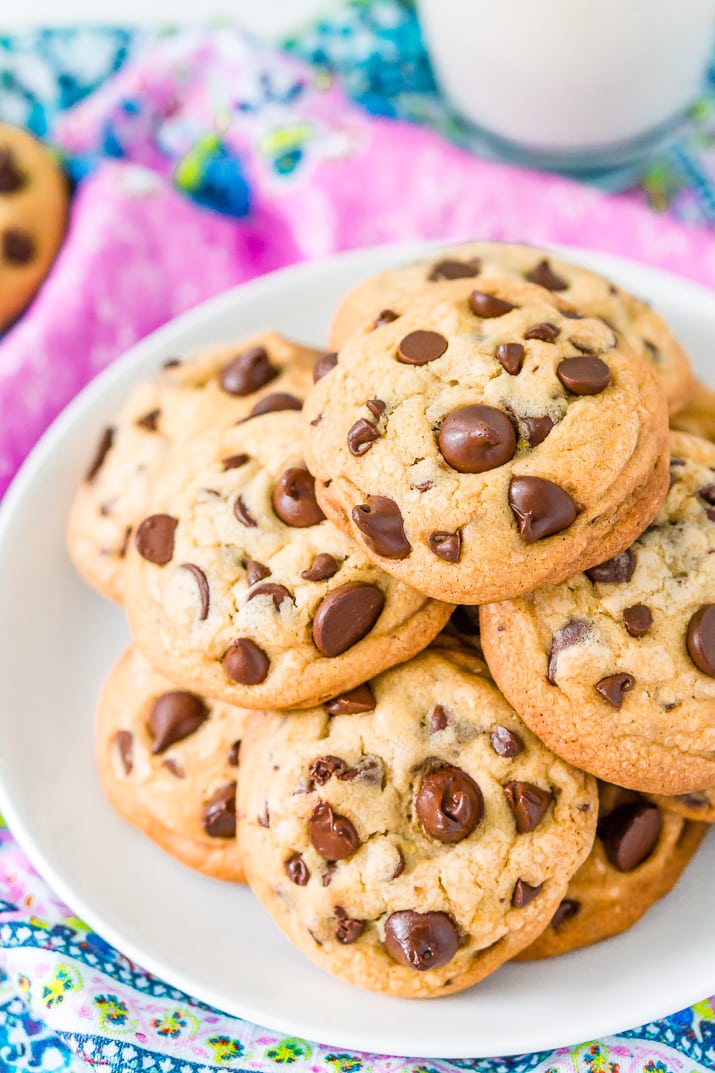 Coconut Oil Chocolate Chip Cookies have a slight coconutty flavor, but it's very mild. Refined coconut oil doesn't really have a coconut flavor, it's very neutral and is the best kind to use in this recipe. In fact, most people who try these will be surprised that there's no butter in them at all.
The rest of the recipe is pretty standard. Granulated and brown sugar, eggs, vanilla, flour, salt, baking soda, and chocolate chips round out the rest of the ingredients.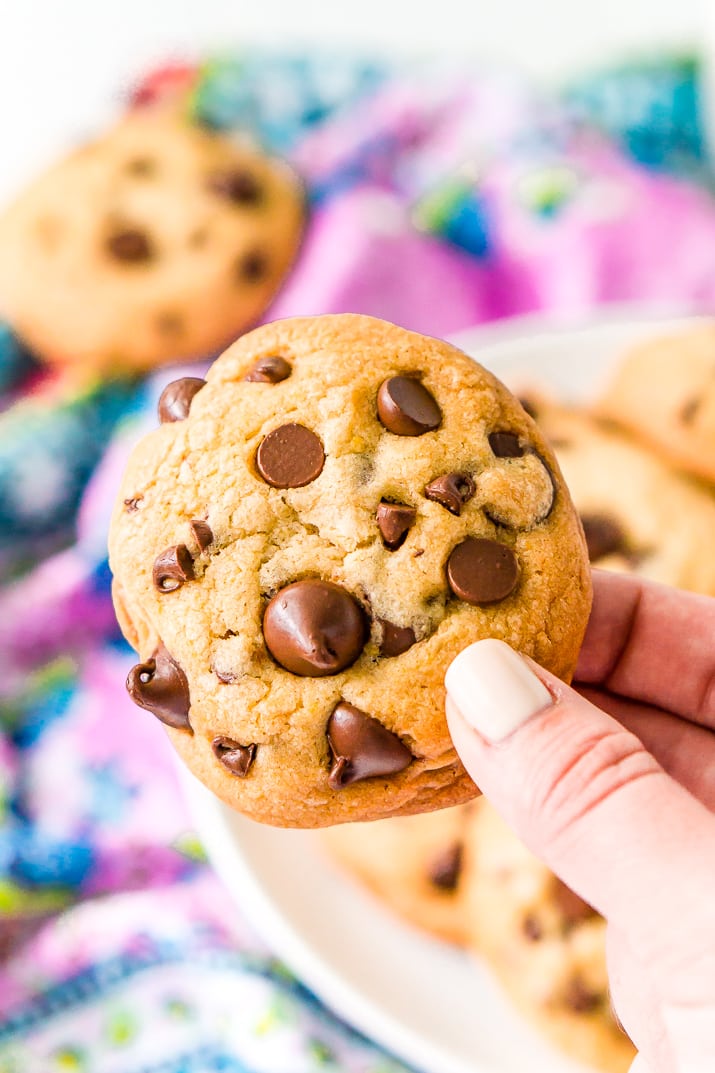 Keep in mind that this recipe is great for anyone who's lactose intolerant or has a dairy allergy. Made with sensitivity-friendly chocolate chips, these Dairy Free Chocolate Chip Cookies are perfect to share.
Try pairing these cookies with an ice cold glass of almond milk or coffee for a scrumptious treat. After all, no one should feel deprived, especially during the holidays!
… or any time of year, really. 😉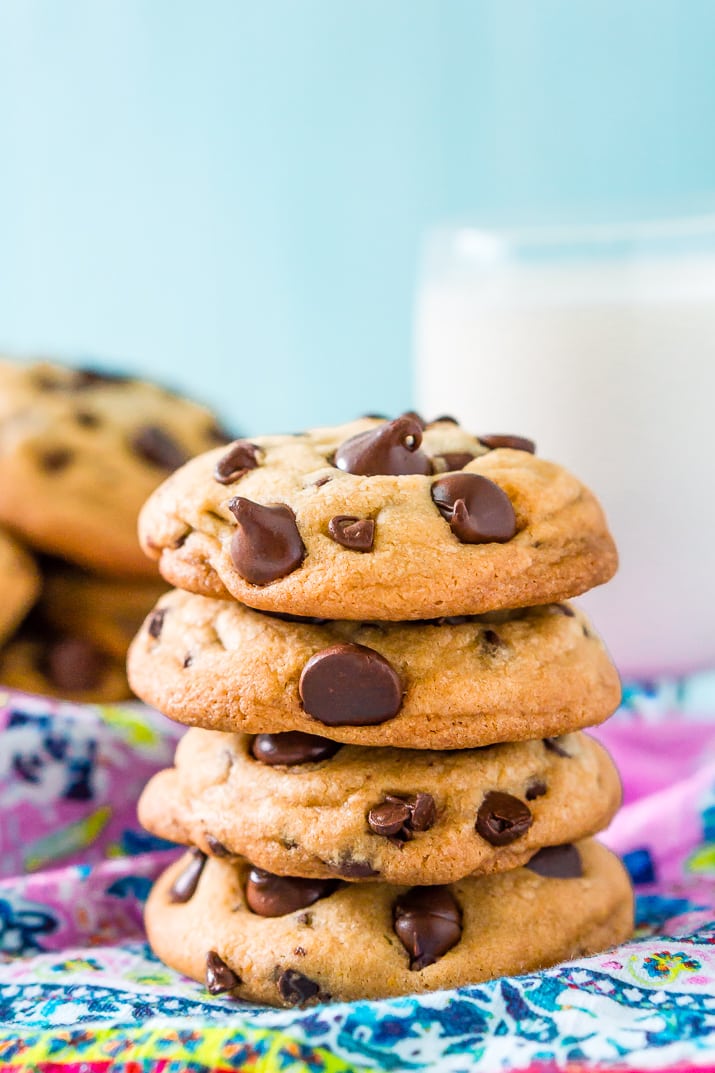 The original Toll House Cookie recipe will always be a tried-and-true favorite. But for a change of pace, try these Dairy-Free Cookies, and I promise you won't be disappointed!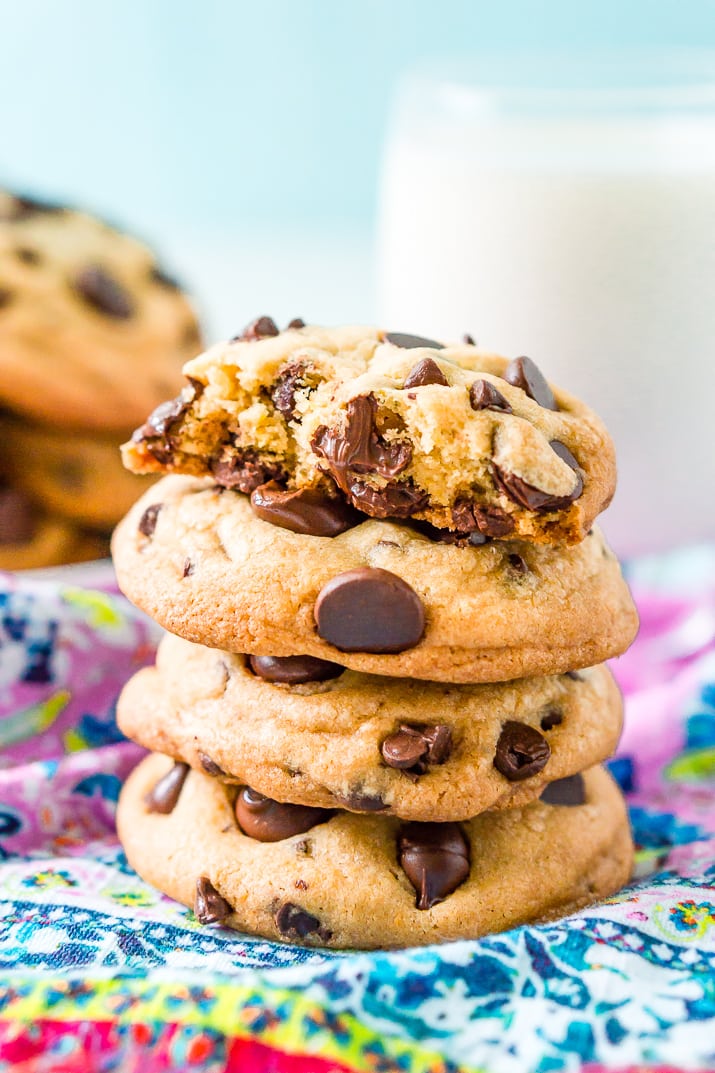 Whether a loved one can't have dairy or you're out of butter, Coconut Oil Chocolate Chip Cookies fit the bill. Try them for the holiday gatherings and cookie swaps, and enjoy making them year-round.
After all, there's no bad time for a chocolate chip cookie!
More Cookie Recipes
Or check out my full collection of Cookie Recipes!
👋 Let's Connect!
If you've tried this recipe, please let me know how you liked it in the comments below and leave a review; I love hearing from you! And don't forget to tag me – @sugarandsoulco – on Instagram and Pinterest with your photos or join our Sugar & Soul Show-offs Community and share them there, where you can join our recipe challenges and win prizes!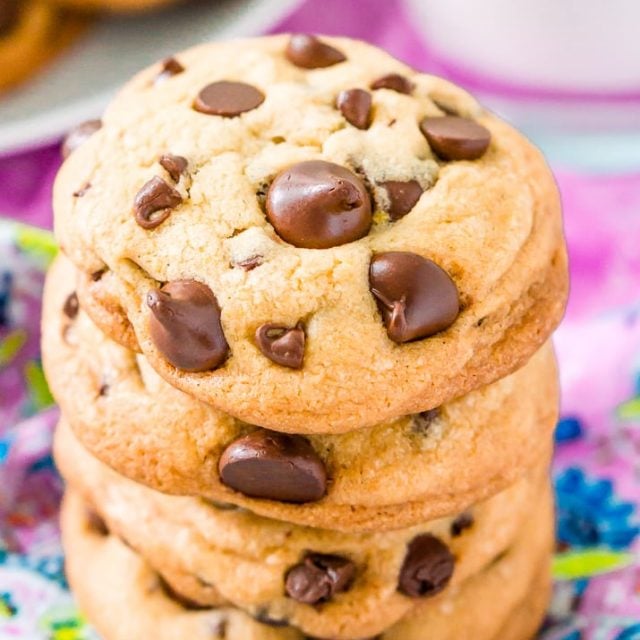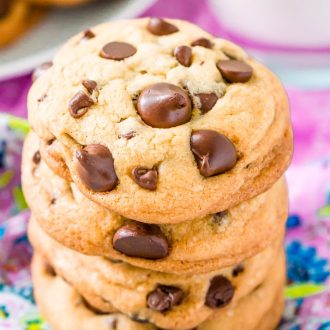 Coconut Oil Chocolate Chip Cookies
These Coconut Oil Chocolate Chip Cookies are everything you love about the classic cookie but they're dairy free!
Instructions
Preheat the oven to 350 degrees F and line a large baking sheet with parchment paper and set aside.

Melt the coconut oil and pour it into a large bowl or stand mixer fitted with a paddle attachment, add in the sugars, eggs, and vanilla.

In a medium bowl, whisk together the flour, salt, and baking soda and add to the liquid ingredients in two separate additions, mixing between each one.

Fold in the chocolate chips then use a medium cookie scoop to either scoop dough directly onto the pan for small cookies or roll two scoops of dough together for large cookies and place on the pan at least 2 inches apart.

For small cookies, bake for 9 to 11 minutes, for large cookies, bake for 12 to 14 minutes. The edges of the cookies should be golden brown. Remove from the oven and transfer to a cooling rack.
Notes
The coconut oil should be measured as 1 cup in its solid state and then melted, not measured as 1 cup of liquid.
For the ultimate chocolate blend, I like to use a mix of chocolate chip sizes and types. Doing a half cup of each milk, semi-sweet, and dark will make for a magnificent cookie!
Nutrition
Calories: 134kcal | Carbohydrates: 24g | Protein: 1g | Fat: 3g | Saturated Fat: 2g | Cholesterol: 12mg | Sodium: 118mg | Potassium: 25mg | Sugar: 15g | Vitamin A: 40IU | Vitamin C: 0.1mg | Calcium: 19mg | Iron: 0.7mg