A fun twist on a class Egg Cream, this Creme Egg Dirty Soda is made with cream soda, chocolate syrup, and heavy cream for a sweet fizzy concoction that's perfect for Easter!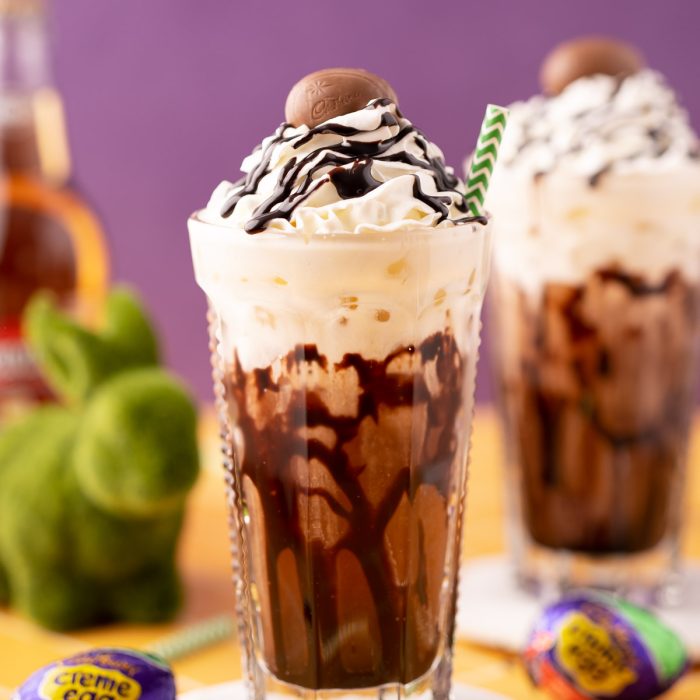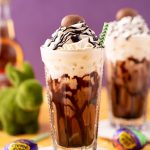 Creme Egg Dirty Soda is made with just 3 ingredients for a tasty gourmet-style Easter drink that's topped with whipped cream and a mini-Cadbury creme egg!
Sip on this Harry Potter-inspired Butterbeer Dirty Soda for another delicious gourmet soda that you'll instantly fall in love with as well!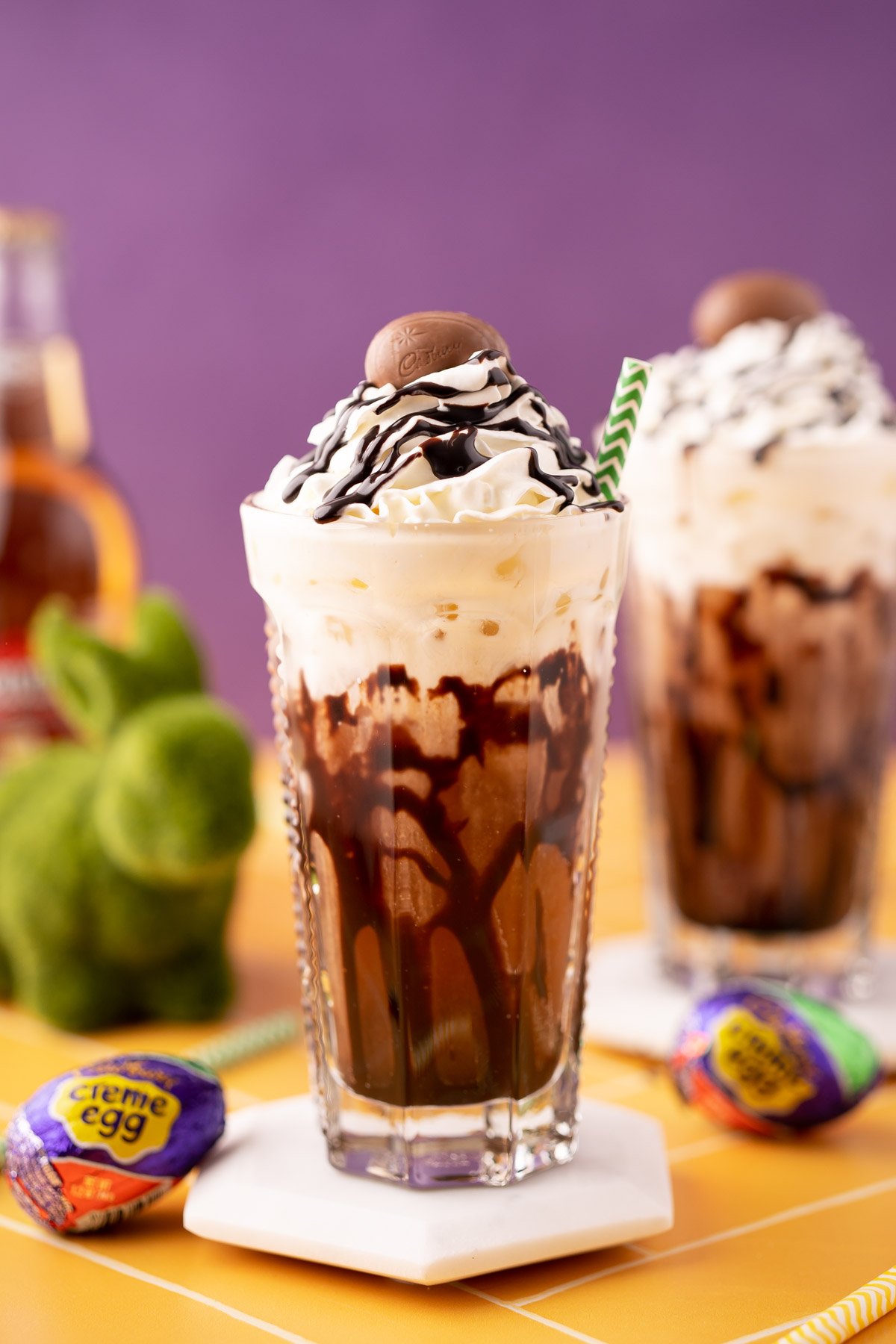 This Creme Egg Dirty Soda is a cross between the classic Egg Cream drink and Dirty Soda with a fun and tasty Easter twist! With ingredients such as cream soda, heavy cream, and chocolate syrup, it tastes like you're drinking a Cadbury Creme Egg!
Therefore, maybe you want to skip the pies and other desserts this Easter and serve up a round of these Creme Egg Dirty Sodas for everyone to enjoy instead!
What's The Difference Between A Dirty Soda And An Egg Cream?
The classic Dirty Soda is made with diet coke, fresh lime juice, coconut syrup, and heavy cream. Whereas a traditional Egg Cream drink is made with whole milk, carbonated water such as seltzer, and chocolate syrup.
That's right! There was never any actual egg or cream in the Egg Cream beverage!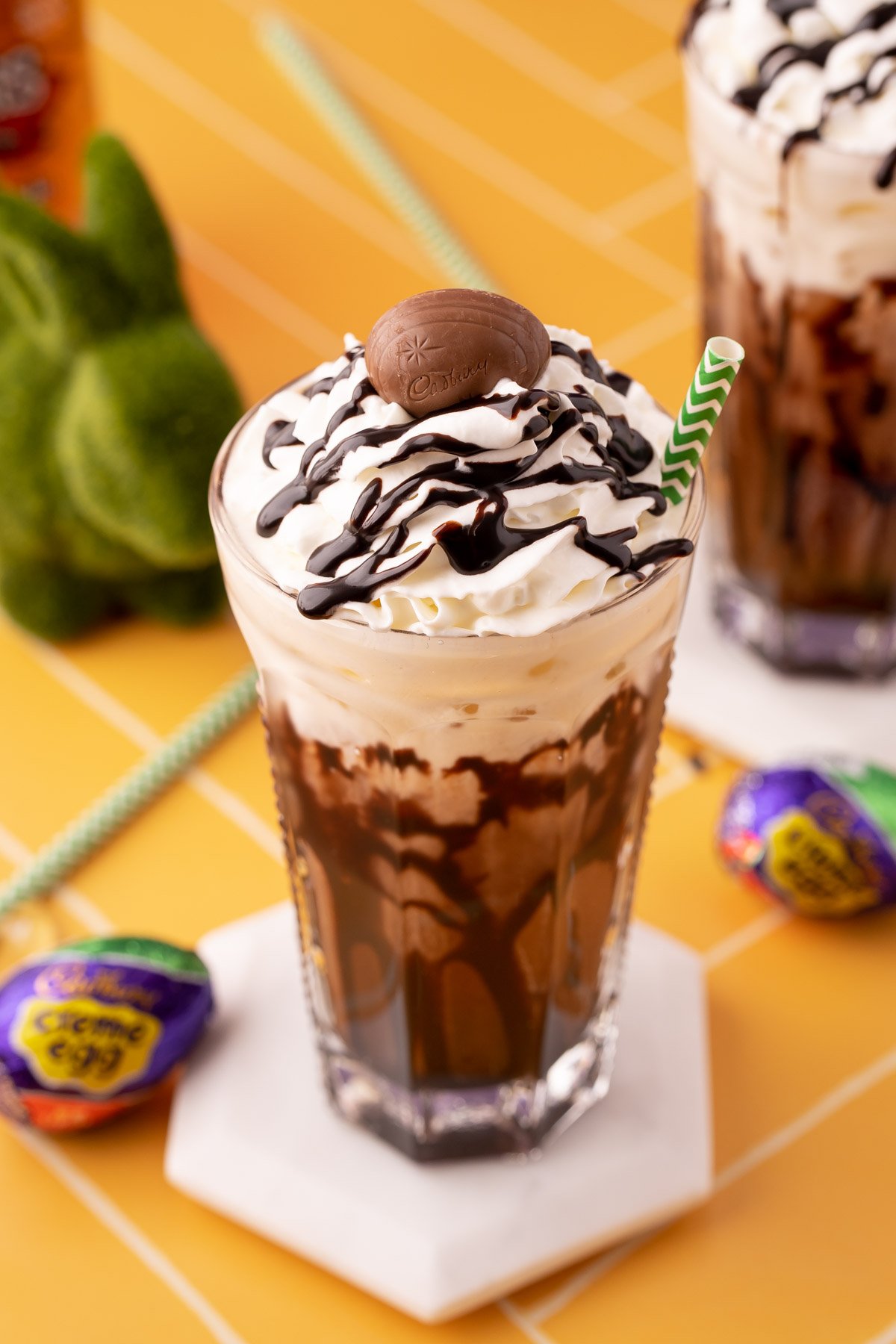 Homemade Chocolate Syrup
To take this Creme Egg Dirty Soda over the edge of deliciousness, make it with homemade chocolate syrup! And since the two remaining ingredients in this recipe are storebought, it's totally worth it to put in the effort of making the homemade syrup.
After all, since the chocolate syrup is homemade, you'll instantly notice the amplified flavor that it brings to this drink! It's deliciously rich and chocolaty yet easily made with pantry staple ingredients!
The syrup recipe also leaves you with 2 cups, which means bottomless Egg Creme Dirty Sodas all around! If you don't have time to make it, we recommend using Hershey's Sundae Dream Double Chocolate Syrup!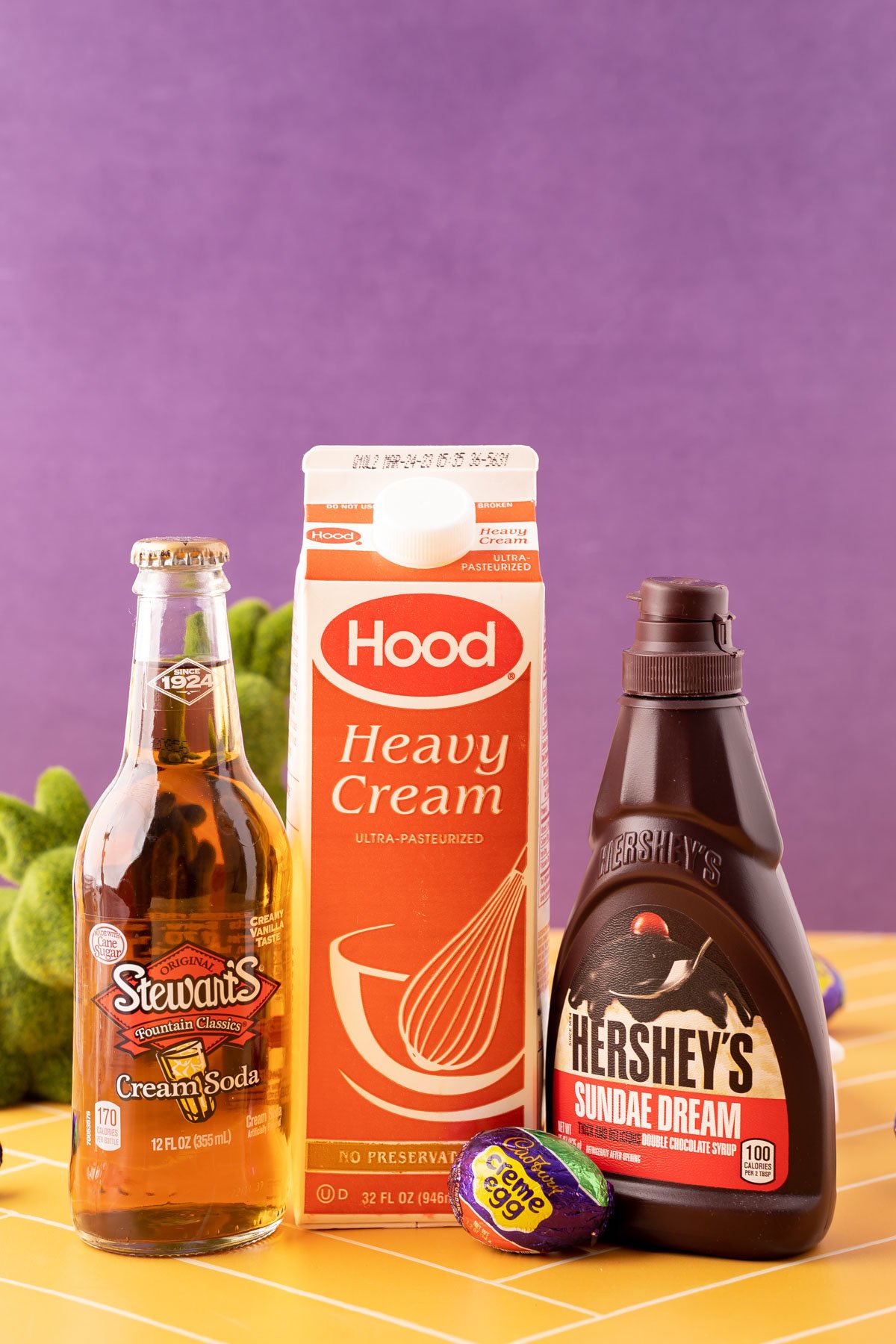 Tips For Making The Most Delicious Creme Egg Dirty Soda
Chilled Glass – A dirty soda is best enjoyed ice cold! Therefore, to step up the chilled effect, you'll want to place your cups in the freezer before making this recipe. The frosty, chilled glass will keep this Cream Egg Dirty Soda at the perfect temperature.
Ice – Even with a chilled glass, ice is still a very necessary ingredient in this drink! This is because the ice keeps the soda bubbly for longer, which will give this dirty soda the satisfying fizzy element that we're looking for in it!
Add Flavor – Feel free to try a tasty flavor variation of this Creme Egg Dirty Soda by simply adding a tablespoon of classic simple syrup. Vanilla or caramel simple syrup would enhance the overall flavor of this drink even more!
Garnishes – Gourmet sodas like this are extra delicious when they're finished off with yummy garnishes! Top it with Perfect Homemade Whipped Cream, a mini-Cadbury creme egg candy, Easter sprinkles, and a chocolate drizzle! You could even sprinkle some mini chocolate chips on top!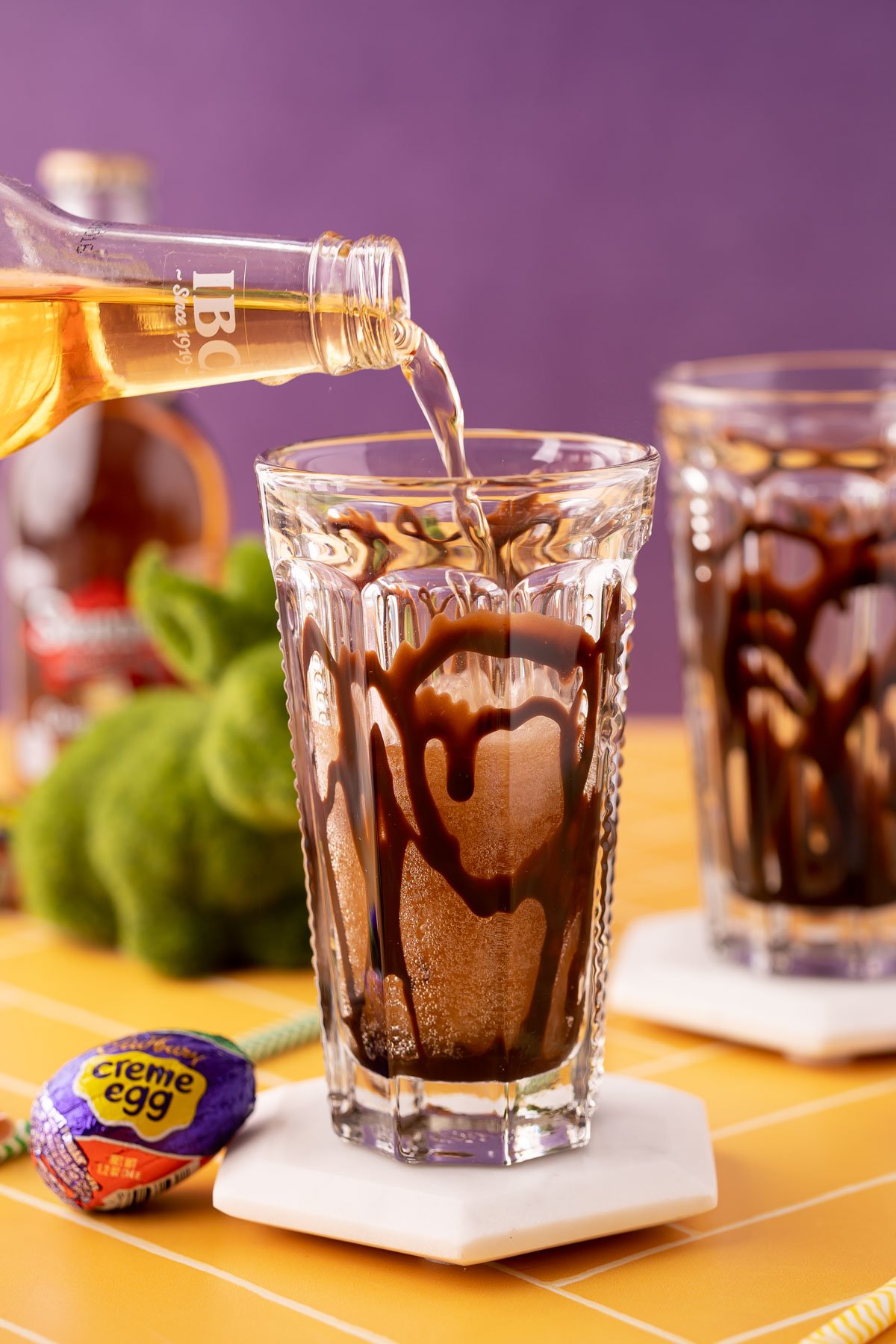 Gourmet drinks such as this one is a fun, sweet treat that makes any event or gathering extra special! For more fun drinks, whip up a few Root Beer Floats or Coke Floats!
Since they're packed with ice cream, they're sweet, just like this dirty soda, and double as dessert! Though if you want an adult gourmet soda fountain-style drink, then check out this Dirty Banana Drink that's ready to enjoy in just 5 minutes!
How Many Dirty Sodas Does This Recipe Make?
This recipe whips up one Creme Egg Dirty Soda! However, serving up more to friends or family is no trouble since you'll already have the ingredients out!
Does This Dirty Soda Have A Foamy Top That The Classic Egg Cream Drink Has?
It does not. Since the heavy cream is poured over the soda instead of the other way around, there is no foam on top. Instead, it has a super satisfying sweet, creamy top!
Is There A Substitution For Cream Soda?
You can swap the cream soda out for 6 ounces of club soda. This substitution will alter the final taste of the drink, so I would encourage you to use a classic simple syrup to bring in more flavor.
Can I Add Alcohol To This Dirty Soda Recipe?
Yes, alcohol can be added to make an adult version of this Creme Egg Dirty Soda. I'd recommend vanilla or whipped cream vodka or chocolate liqueur.
Where Did The Dirty Soda Craze Originate From?
The dirty soda trend originally gained traction in Utah. This occurred after the members of the church of Jesus Christ Latter-day Saints clarified their position on caffeine and soda.
Once Olivia Rodrigo made an Instagram post of herself holding a Swig cup, everyone was interested in the hype! Swig is a fountain soda drive-through that originated in Saint George, Utah though places such as Sodalicious also offer similar drinks.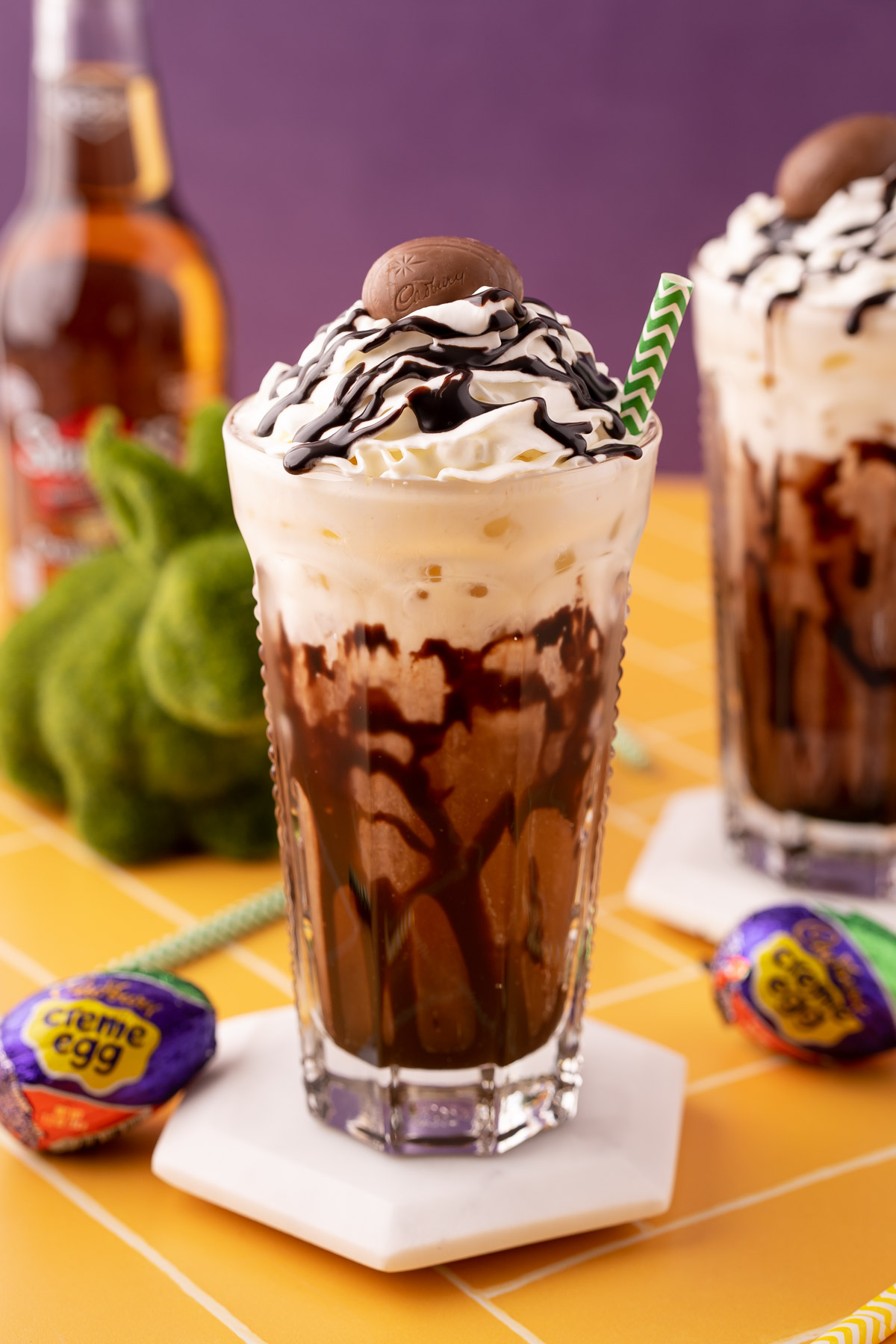 👋 Let's Connect!
If you've tried this recipe, please let me know how you liked it in the comments below and leave a review; I love hearing from you! And don't forget to tag me – @sugarandsoulco – on Instagram and Pinterest with your photos or join our Sugar & Soul Show-offs Community and share them there, where you can join our recipe challenges and win prizes!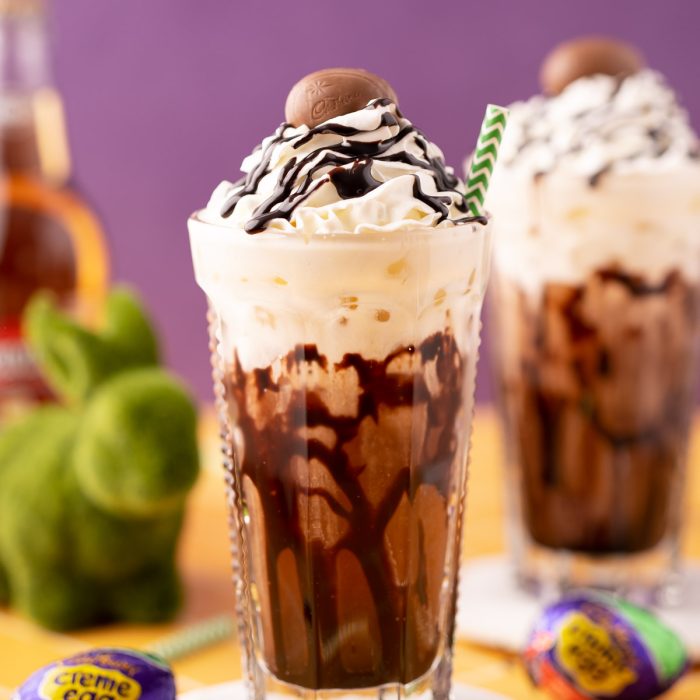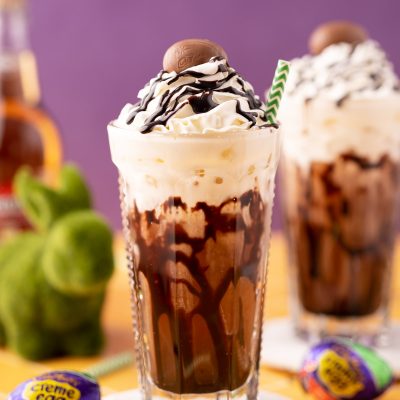 Creme Egg Dirty Soda
A fun twist on a class Egg Cream, this Creme Egg Dirty Soda is made with cream soda, chocolate syrup, and heavy cream for a sweet fizzy concoction that's perfect for Easter!
Ingredients
½ ounce chocolate syrup plus more for topping
6 ounces cream soda
Ice
1½ ounces heavy cream
whipped cream optional topping
mini cadbury creme egg optional topping
Instructions
Add chocolate syrup to a tall glass, feel free to drizzle it around the sides for presentation.

½ ounce chocolate syrup

Add cream soda.

6 ounces cream soda

Add ice to fill about 1 inch below the rim of the glass.

Ice

Pour the heavy cream over the ice.

1½ ounces heavy cream

Top with whipped cream and drizzle with extra chocolate syrup and top with a mini cadbury creme egg if desired. Serve with a straw and stir before enjoying.

whipped cream, mini cadbury creme egg