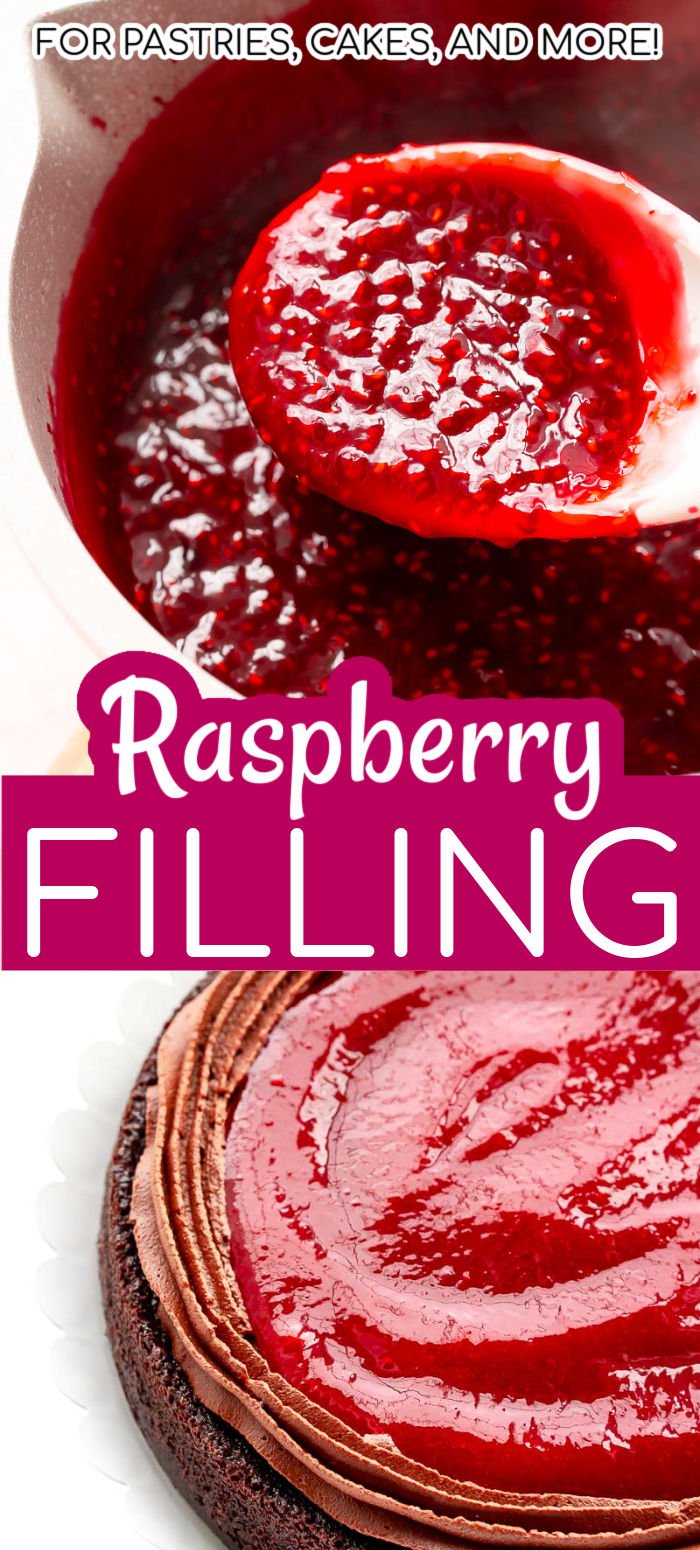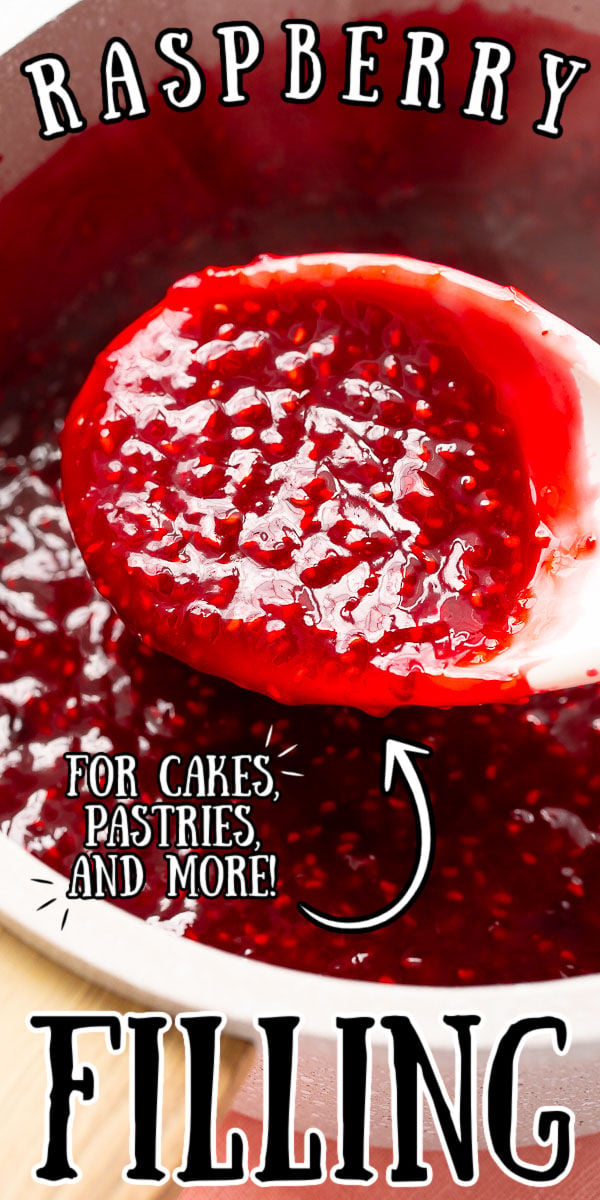 This Easy Raspberry Filling recipe takes just four ingredients and 20 minutes to make! It's the perfect addition to cakes and pastries!
This raspberry filling recipe has been my go-to for years and a key component in my popular White Chocolate Raspberry Champagne Cupcakes.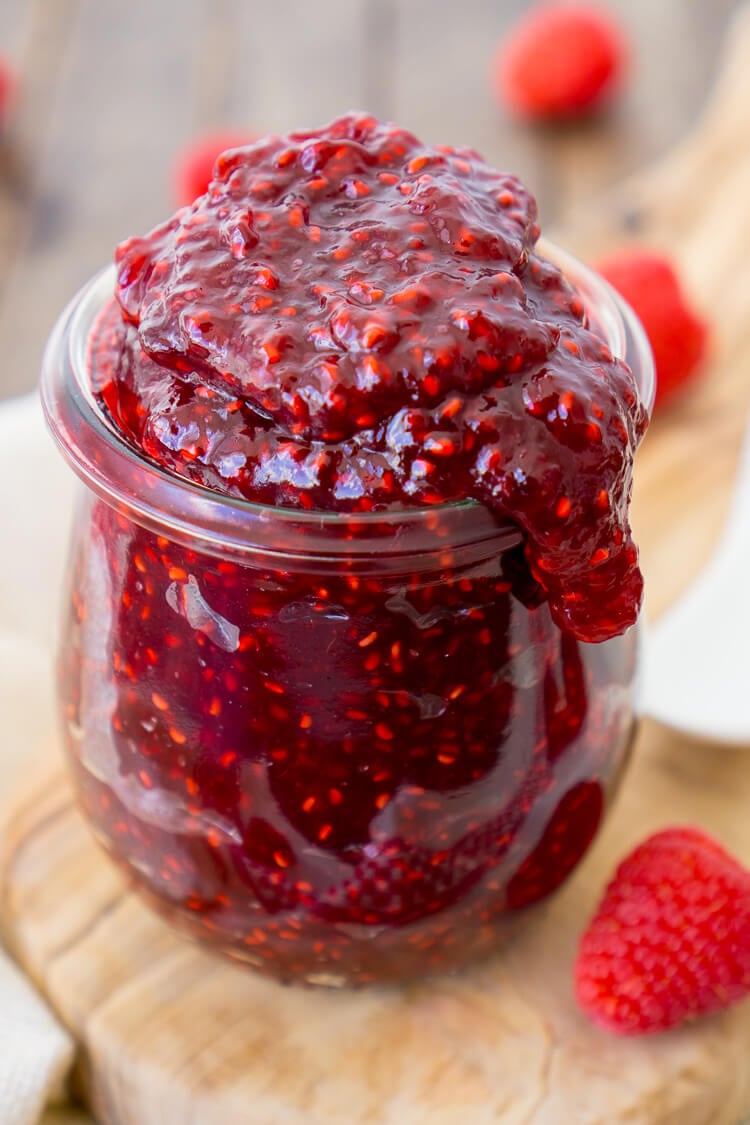 This easy Raspberry Filling recipe is perfect for adding flavor to cakes, cupcakes, pastries, and more!
Raspberries.
Beautiful, tart, delicious, raspberries.
Did you know that that amazing raspberry filling you find in cakes and pastries is super easy to make at home, and it only takes 4 ingredients and 20 minutes? Once you've made it you can use it in cakes, turnovers, donuts and so on, the possibilities are endless!
This easy raspberry filling will have you drooling; bright color and packed with amazing flavor. You can even make it seedless with one extra step. For something so easy to make, it's quite incredible!
Ingredients
You will need raspberries (either fresh or frozen will work), granulated sugar, cornstarch, and water. That's it!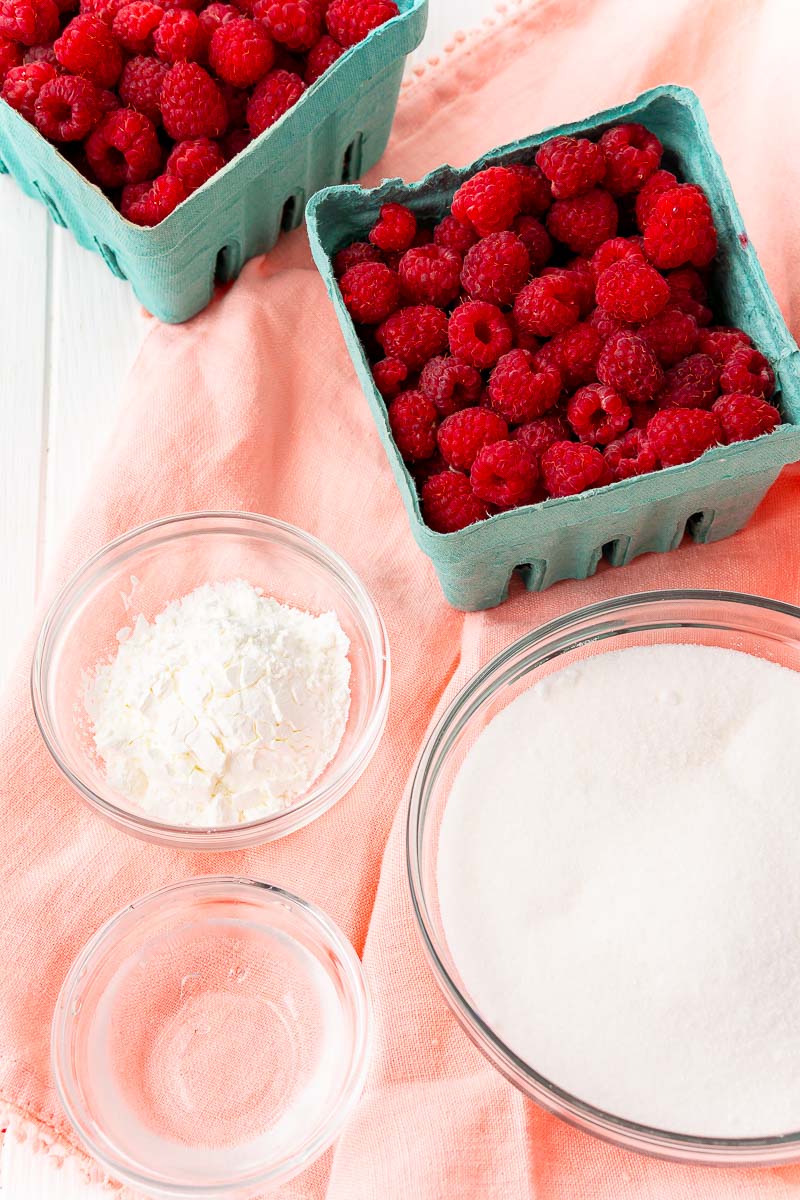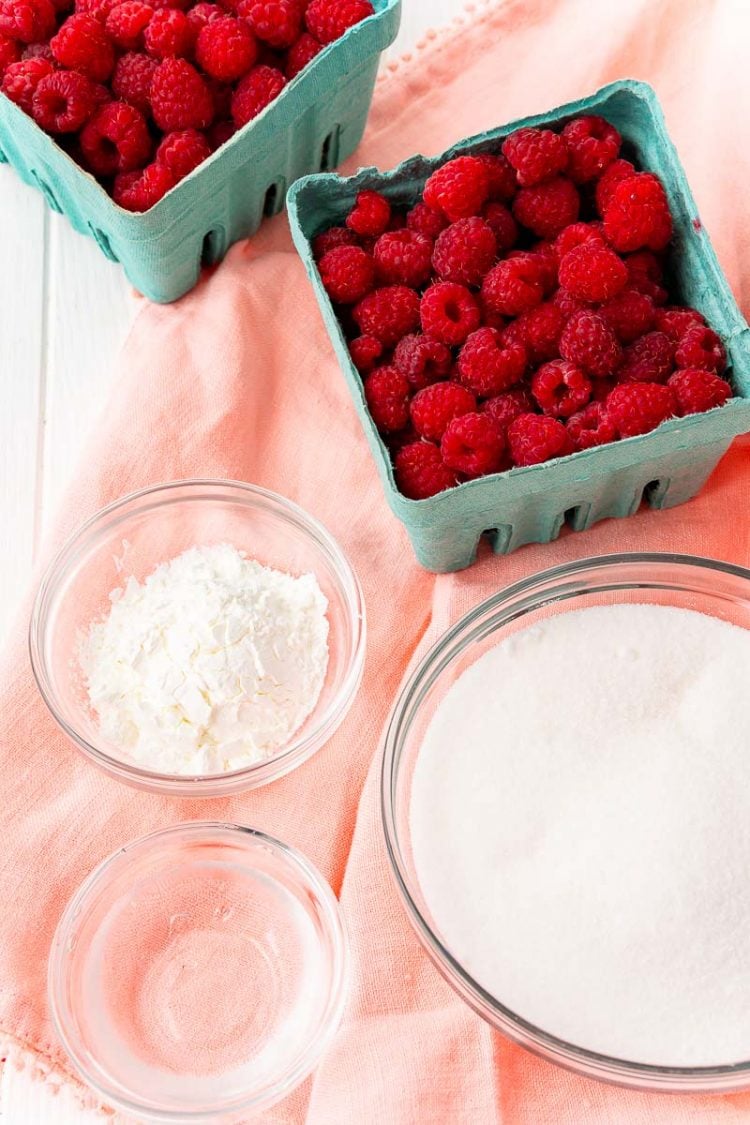 How To Make Raspberry Cake Filling
Unlike storebought raspberry fillings, this has an even texture throughout, no big lumps of berries, just a delightfully balanced filling that's easy to make right at home.
Just a few ingredients, a bit of stirring, and some simmering time and you've got a delicious and fruity filling that's perfect for pretty much any dessert or pastry you want to whip up!
1. Add raspberries to a small saucepan.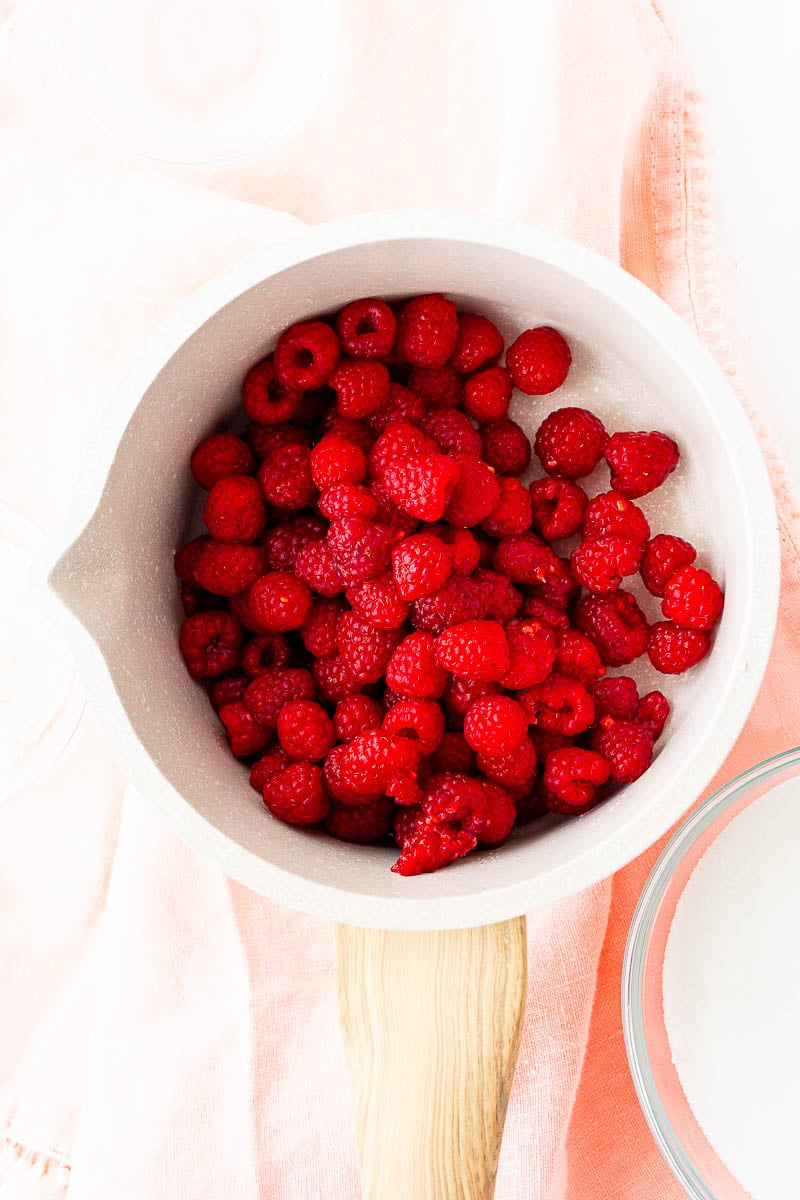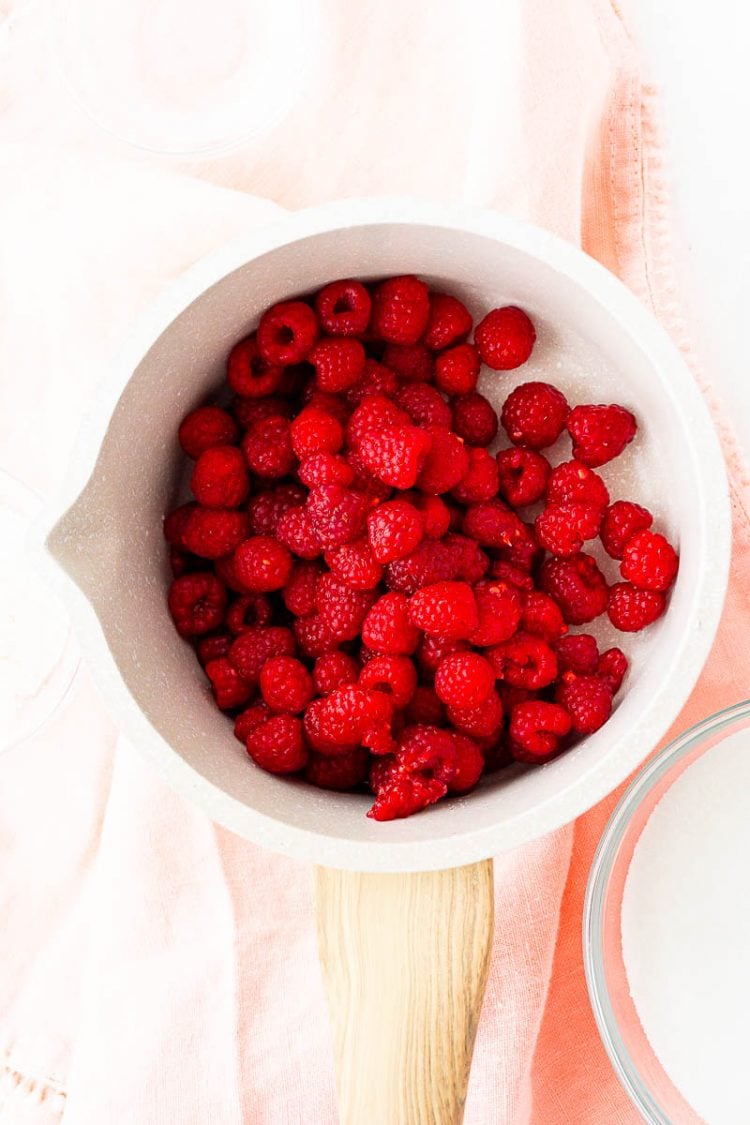 2. Simmer the raspberries over medium-high heat until they begin to break down.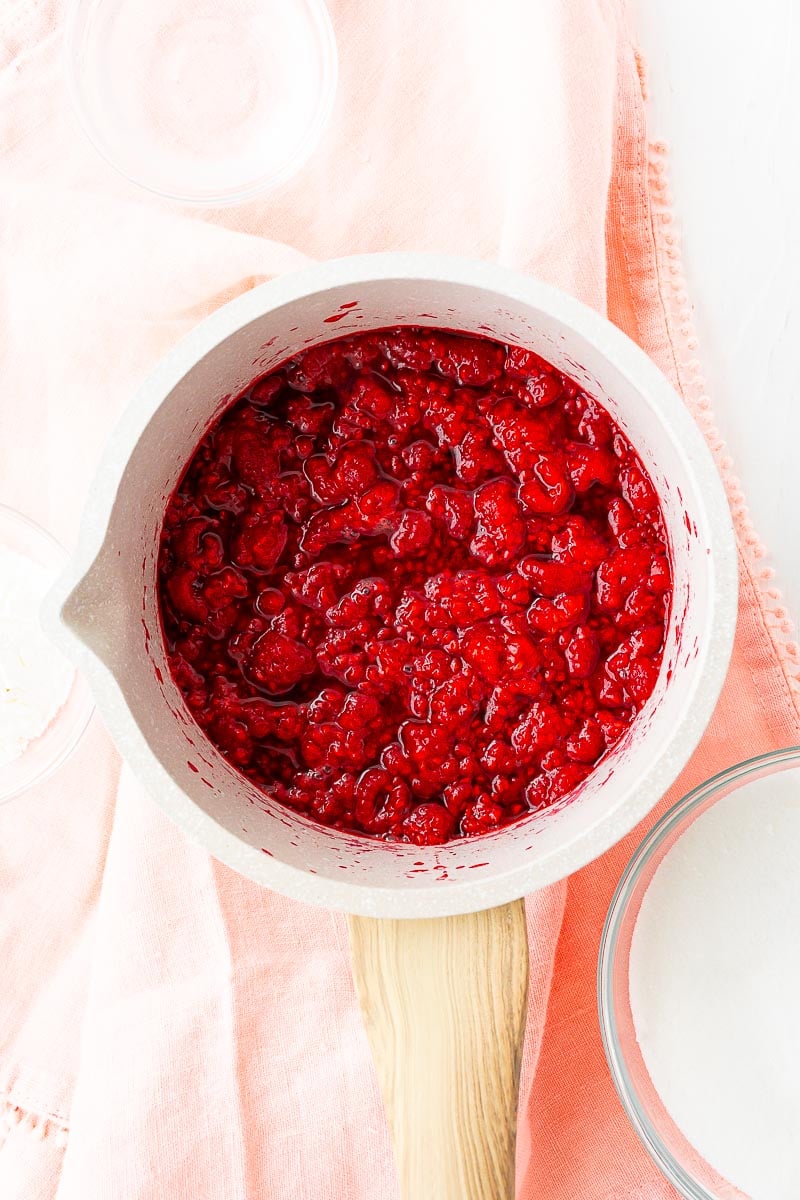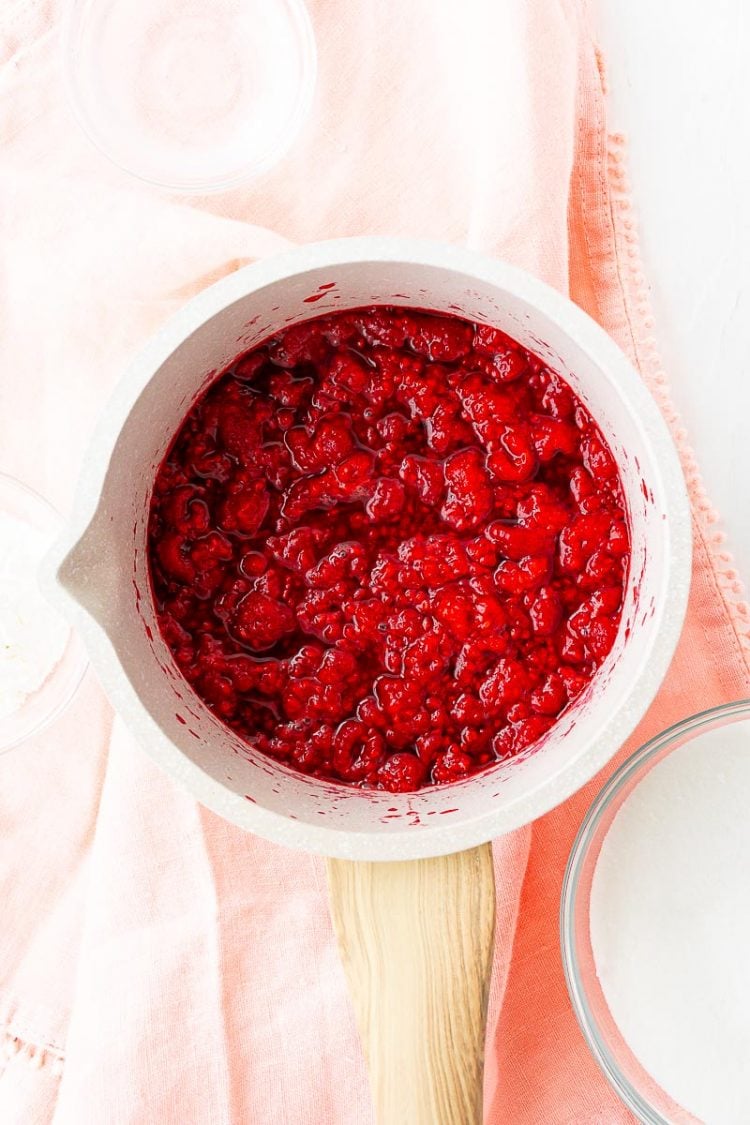 3. Bring to a boil, add in the sugar, and bring back to a low boil.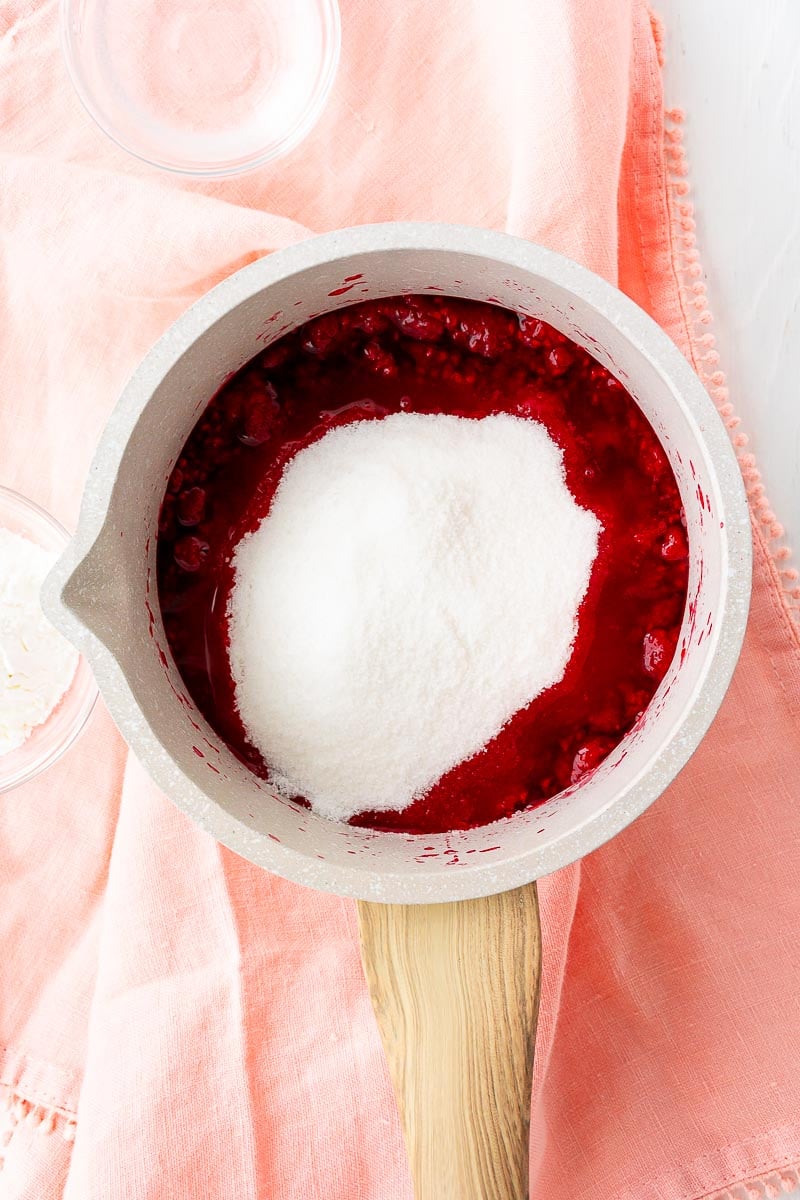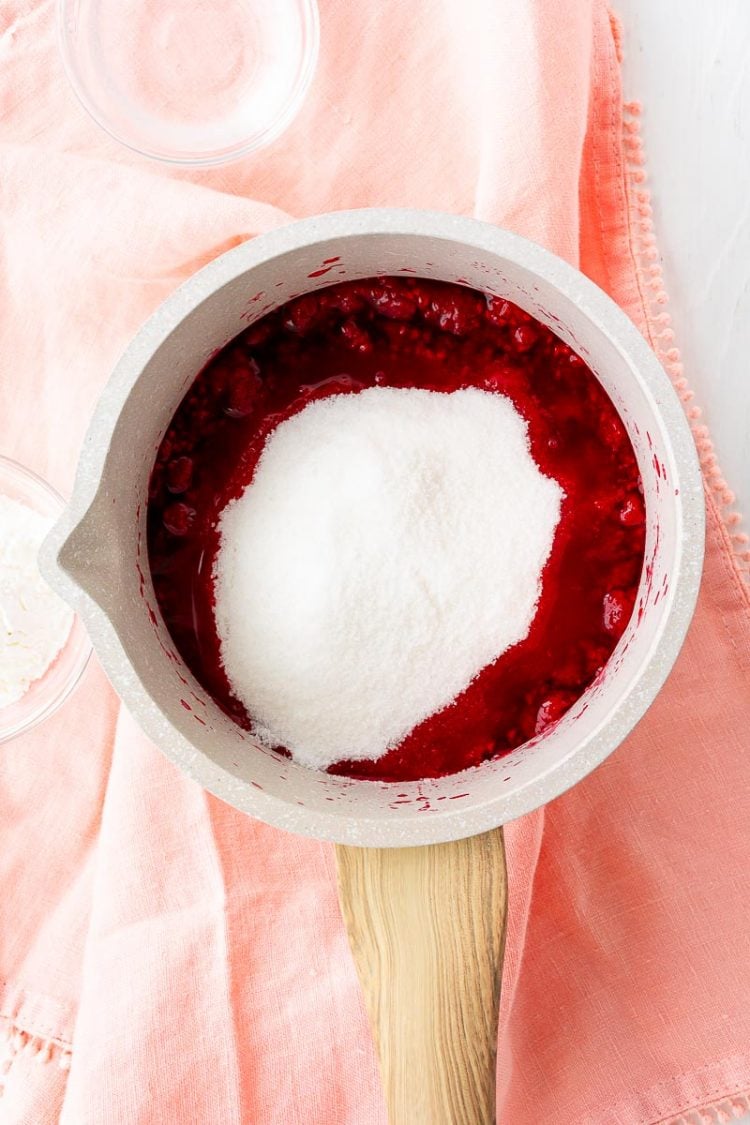 4. Whisk together the cornstarch and water in a small bowl and add it to the raspberry mixture.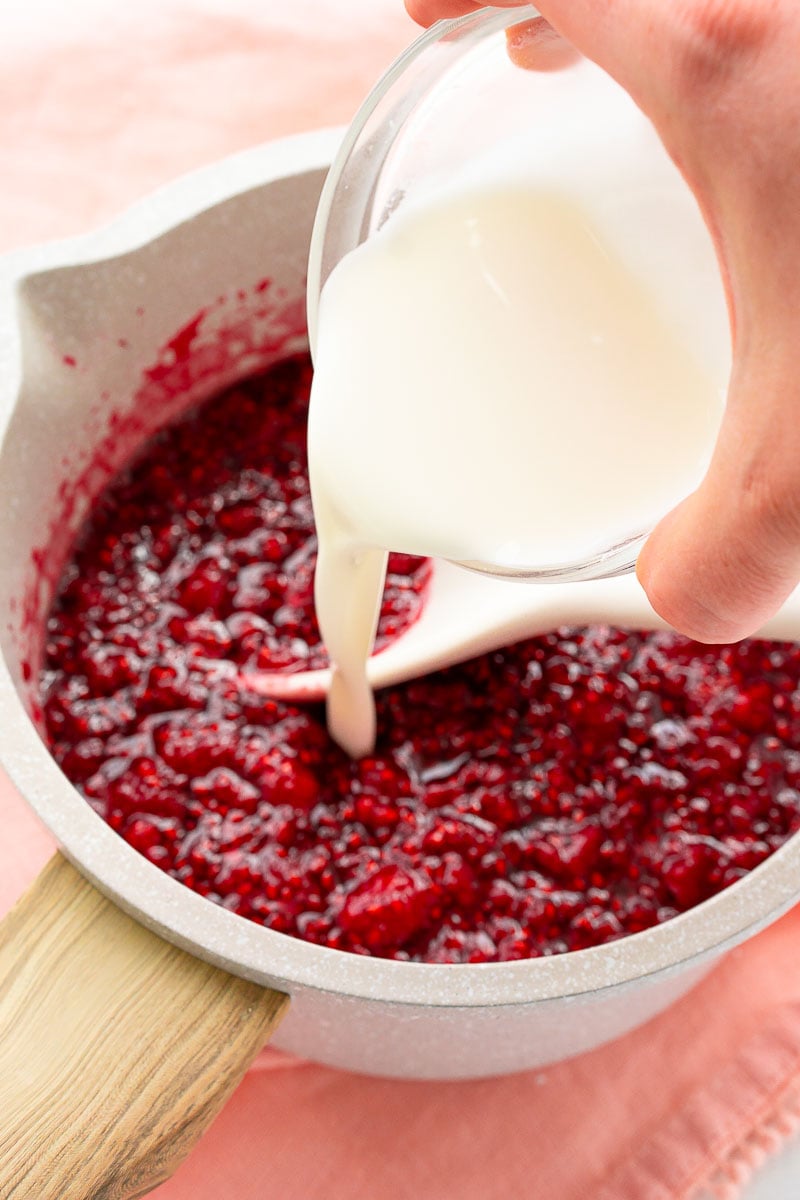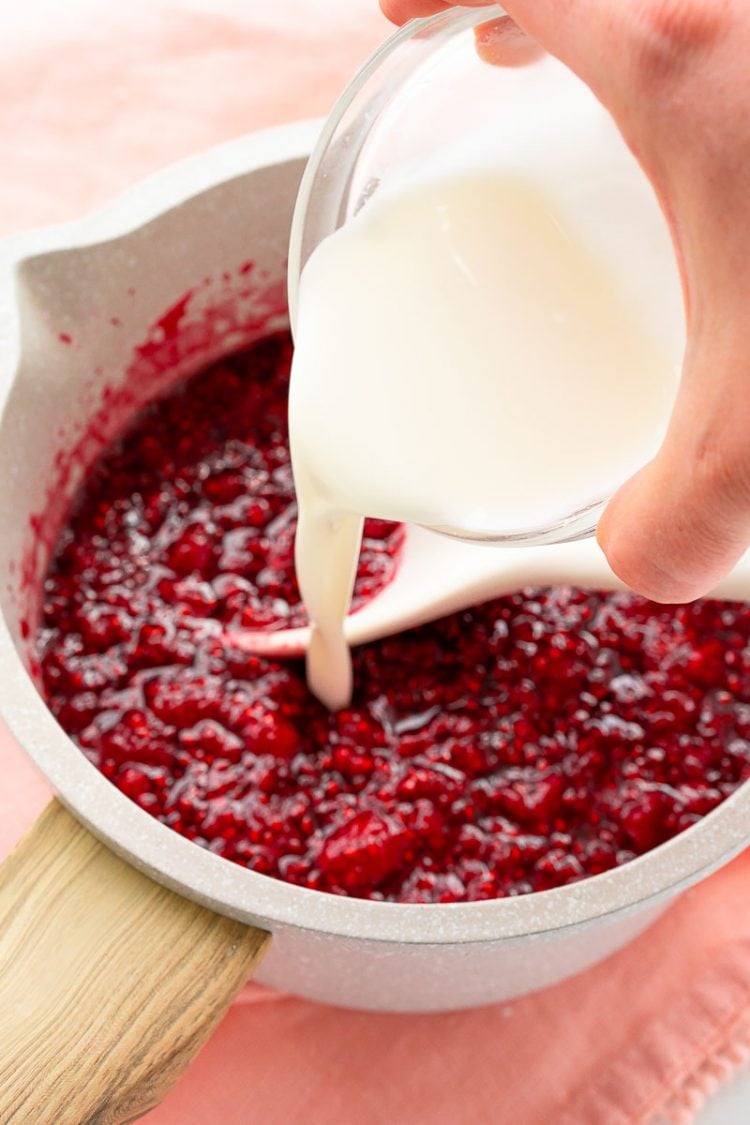 5. Stir constantly for 1 minute, then remove from heat and either remove seeds or let it sit in the pan until it cools to room temperature.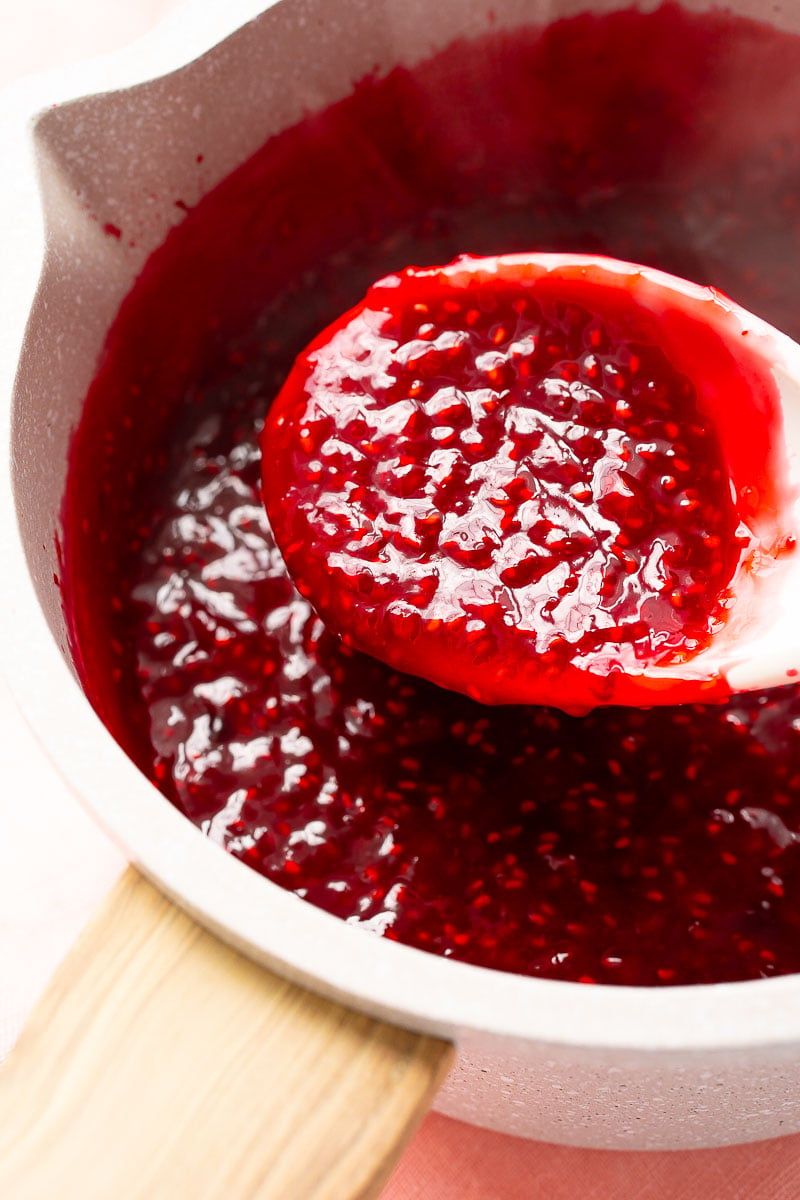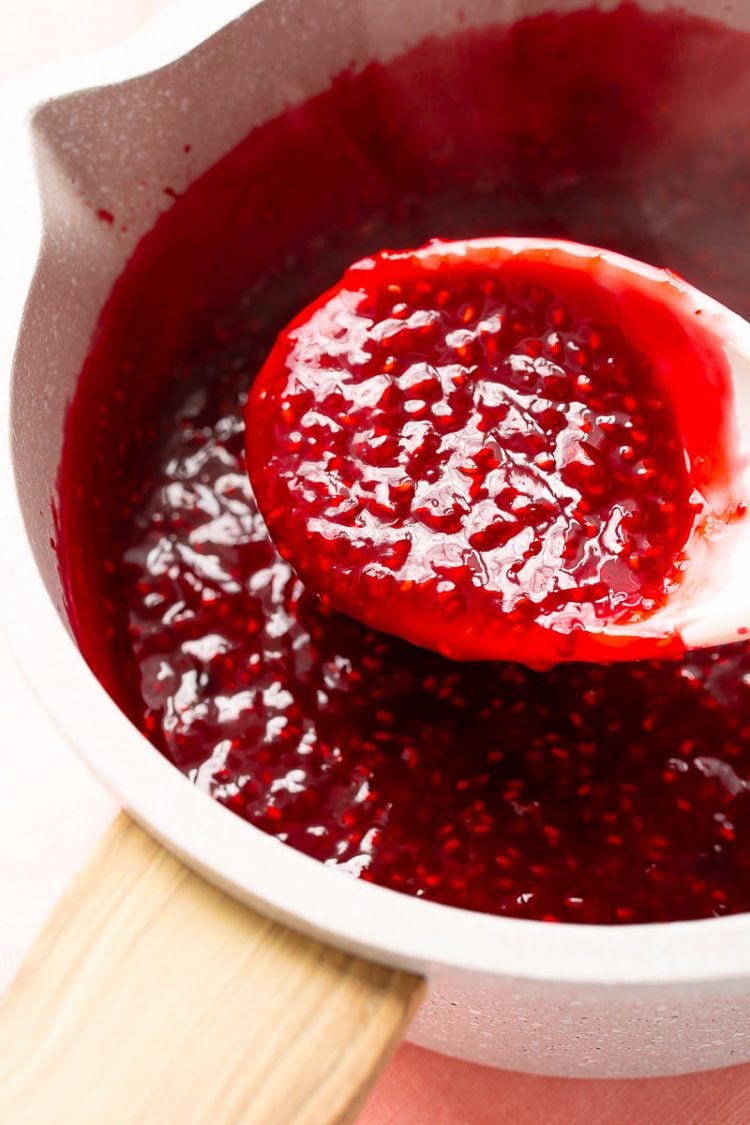 Expert Tip: If you want a smooth filling, run the mixture through a fine mesh strainer to remove the seeds.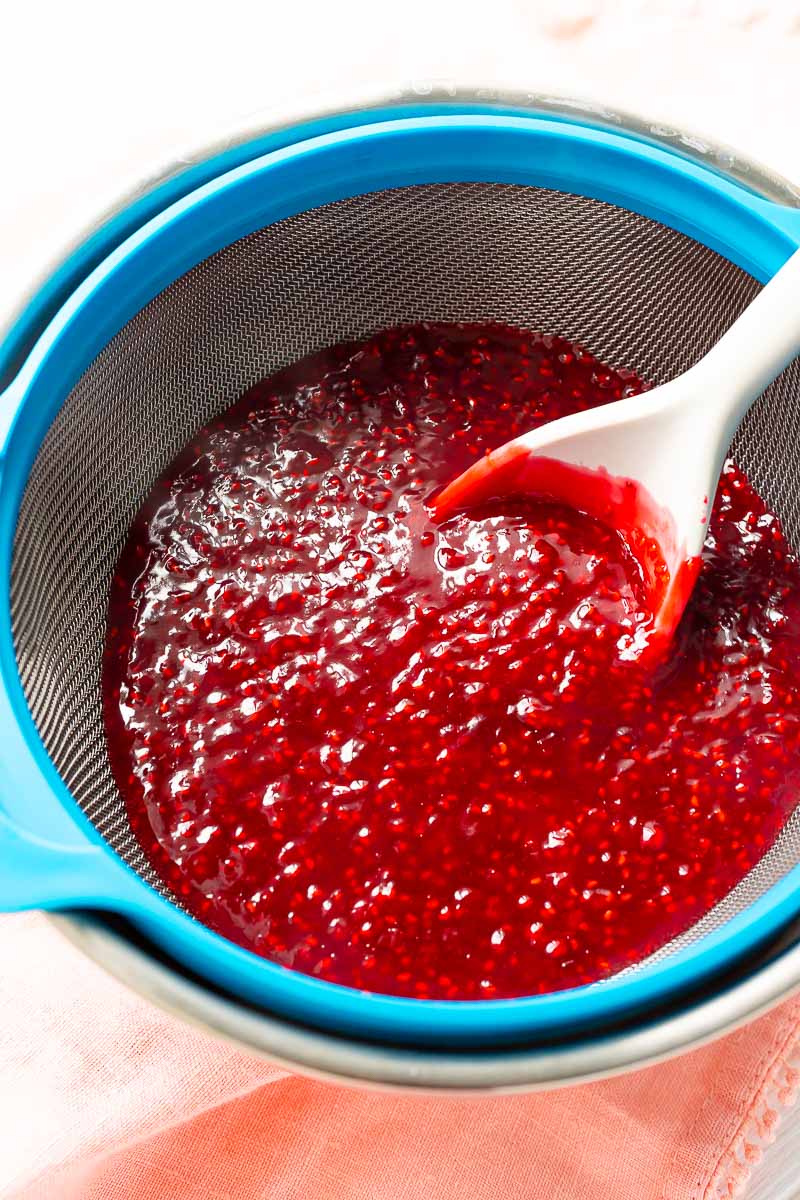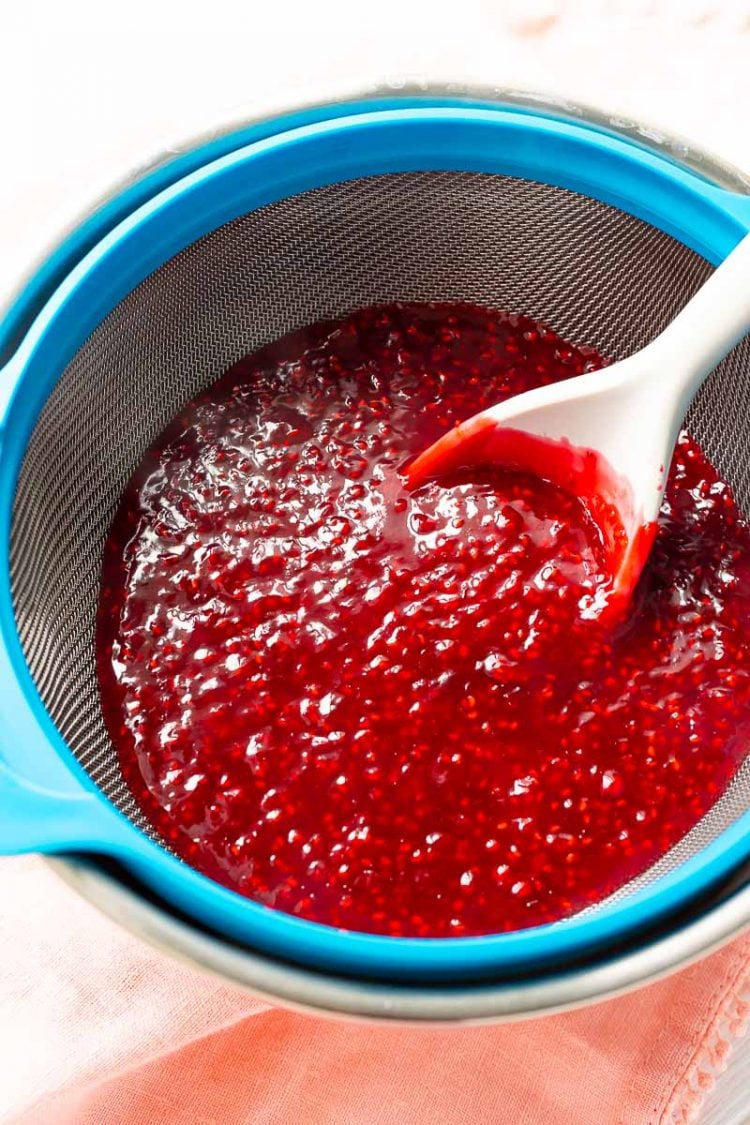 How To Serve
The best use of this filling is in between cake layers, cupcakes, or in pastries like cream horns or fruit-filled donuts. I've even used this as a wedding cake filling!
It's so tasty though that I could eat it straight with a spoon. There's just something about raspberries that I just can't get enough of.
It's also quite delicious on breakfast goodies too! Spread it on muffins, add a dollop to your oatmeal, and thin it a bit with some water for a pourable syrup for pancakes and french toast!
This is the best!! Made a raspberry jello cake. So much better than using canned cherry pie filling. It was a huge hit! Actually I could just eat it out of the jar with a spoon. Easy and delicious. Thank you for sharing. It's a keeper.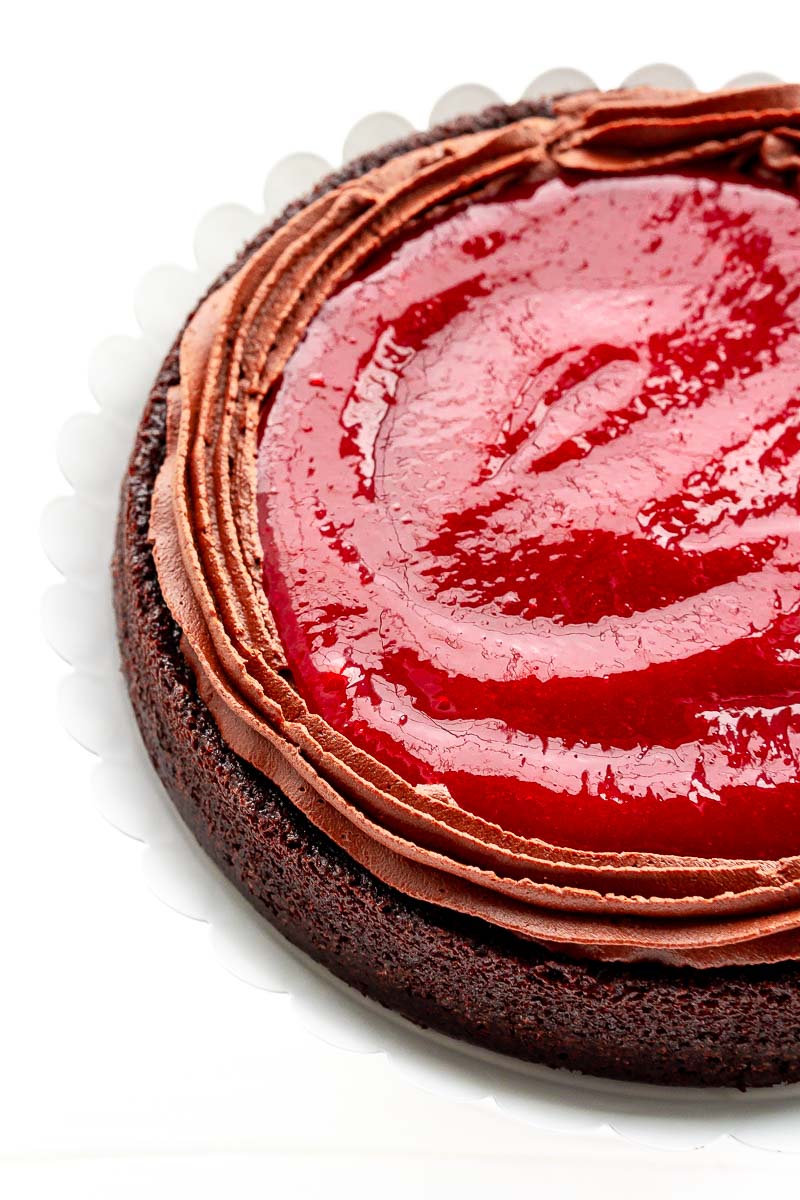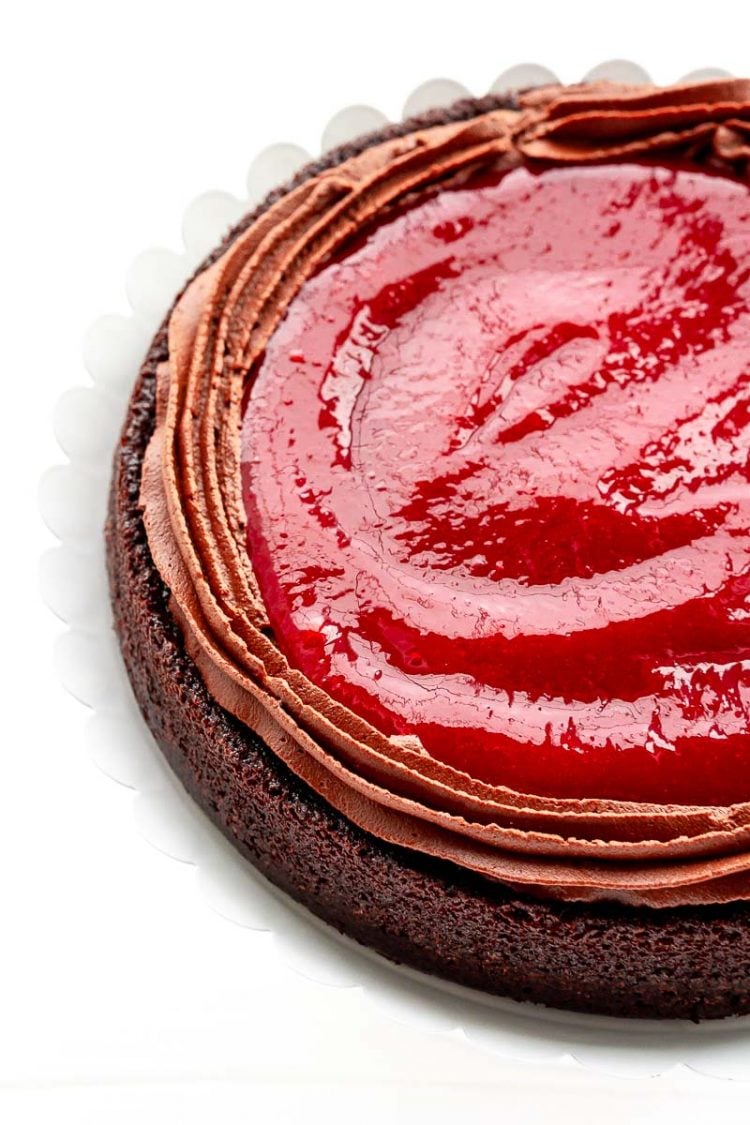 Frequently Asked Questions
How to put raspberry filling in a cake?
The best way to ensure that the filling remains stable and you don't risk your cake sliding apart is to pipe a ring of the out frosting around the edge of the bottom layer, then fill the middle in with the filling.
Can I use frozen raspberries?
You can use either fresh or frozen berries in this recipe, just note that with a fresh raspberry filling you may need additional cornstarch if using fresh. Start with the recommended amount and add more if needed.
Can you freeze the raspberry filling?
Yes, let it cool completely, then transfer to a freezer-safe container and fill 3/4 of the way full. The best way I have found is to use freezer bags and lay them flat in the freezer so they're nice even packs.
How much does this recipe make?
About 3 to 4 cups depending on if you keep the seeds or not.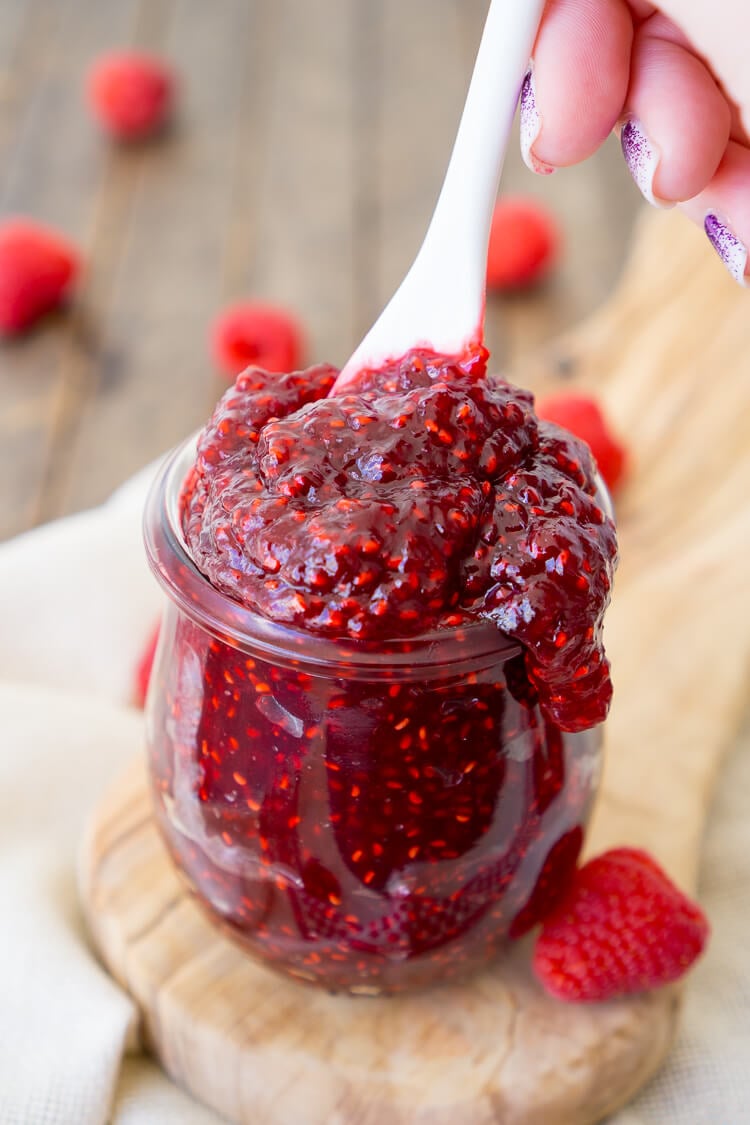 More Delicious Raspberry Recipes
Easy Raspberry Filling
Click the button above to save this delicious recipe to your board!
Let's Connect!
If you've tried this recipe, please let me know how you liked it in the comments below and leave a review; I love hearing from you! And don't forget to tag me – @sugarandsoulco – on Instagram and Pinterest with your photos or join our Busy Family Recipes Facebook Community and share them there!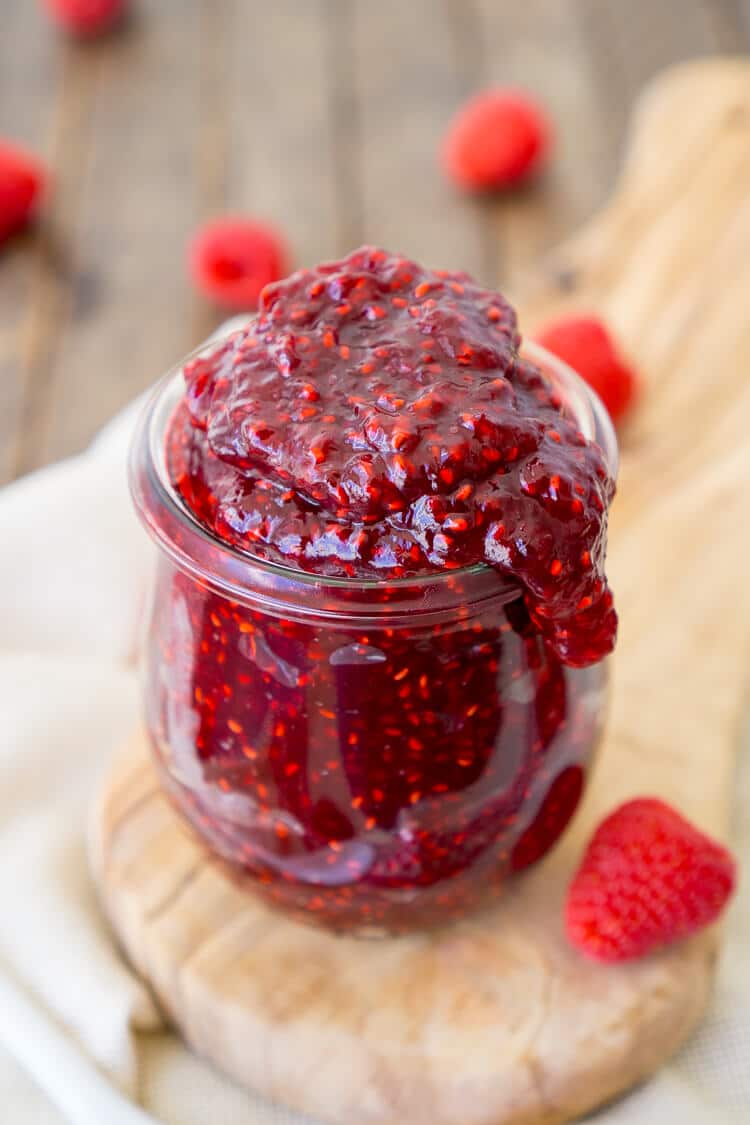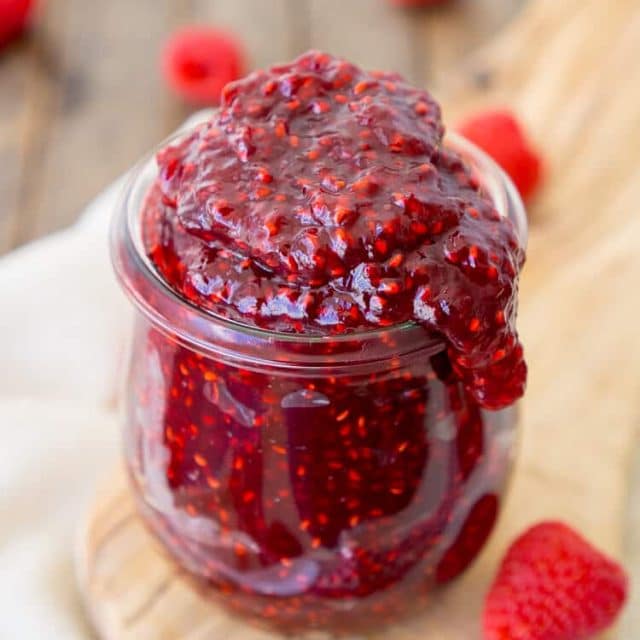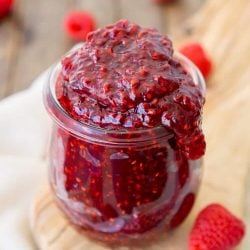 Easy Raspberry Filling
An easy raspberry filling for cupcakes, doughnuts, cakes, and pastries!
Instructions
Add frozen raspberries to a medium saucepan and heat over medium-high until berries break down, about 10 minutes.

Bring raspberries to a light boil, stir in sugar, and return to a boil.

In a separate small bowl, whisk together corn starch and water and pour into the raspberries.

Stir the mixture vigorously for 1 minute and then remove from heat and let cool and thicken, stirring occasionally.

Bottle up and store in the fridge or freezer, or use right away.
Notes
To Freeze: let it cool completely, then transfer to a freezer-safe container and fill 3/4 of the way full. The best way I have found is to use freezer bags and lay them flat in the freezer so they're nice even packs. The filling should keep in the freezer for 3-4 months, or in the fridge for about 3-4 weeks.
If using fresh raspberries, you may need to add an additional tablespoon of cornstarch to thicken it.
Nutrition
Calories:
572
kcal
Carbohydrates:
143
g
Protein:
2
g
Fat:
1
g
Sodium:
5
mg
Potassium:
362
mg
Fiber:
15
g
Sugar:
110
g
Vitamin A:
80
IU
Vitamin C:
62.9
mg
Calcium:
60
mg
Iron:
1.7
mg