Pineapple Casserole is a salty-sweet side dish that's popular in the South and always a hit at pot lucks.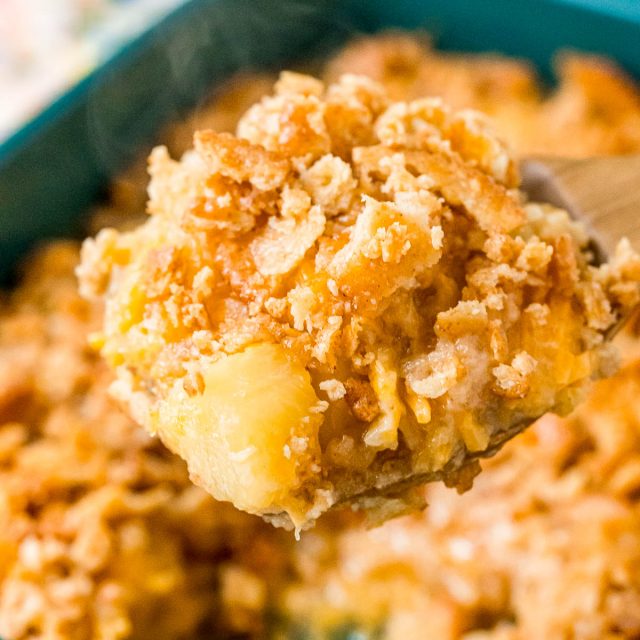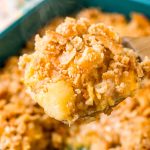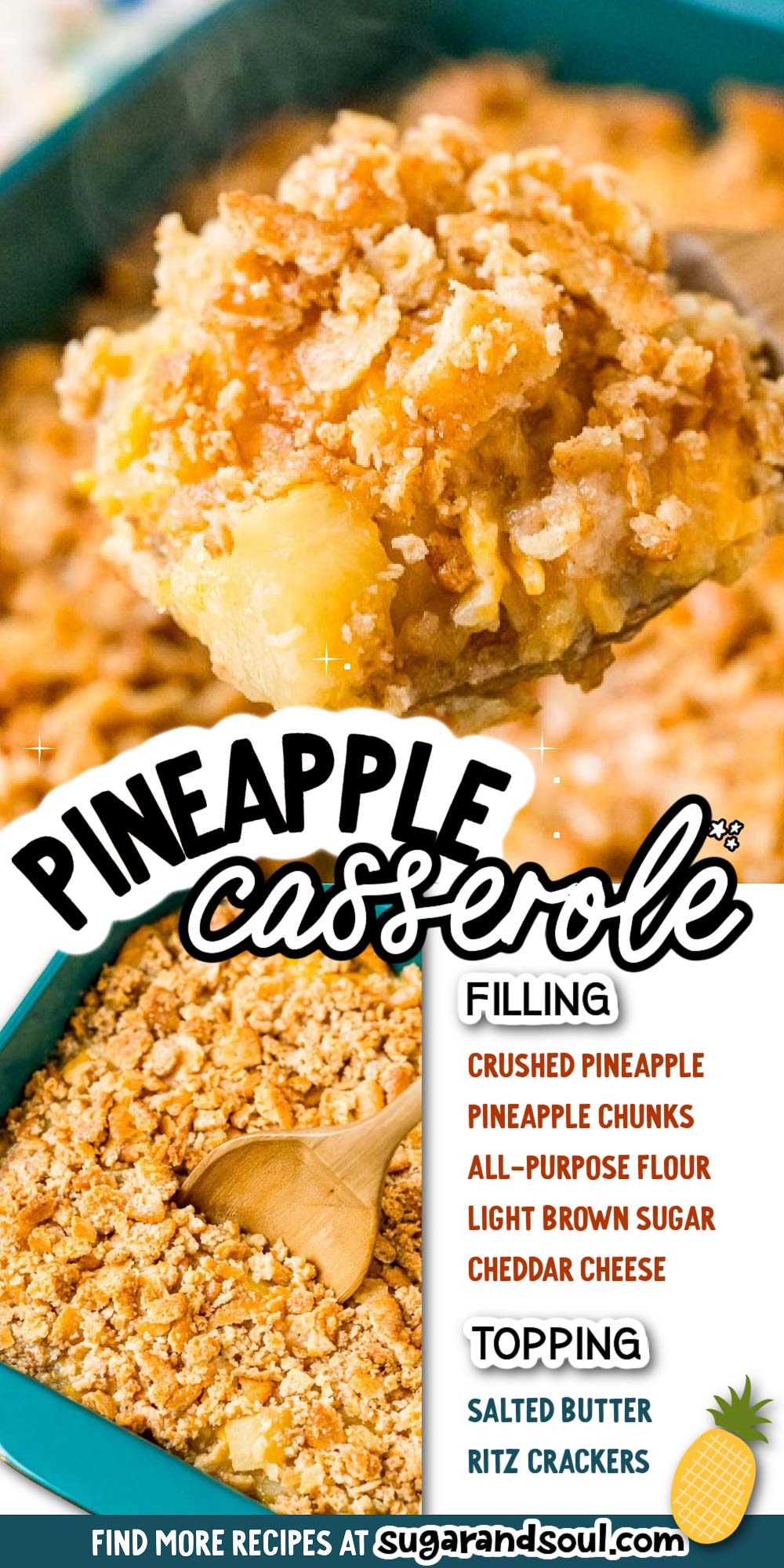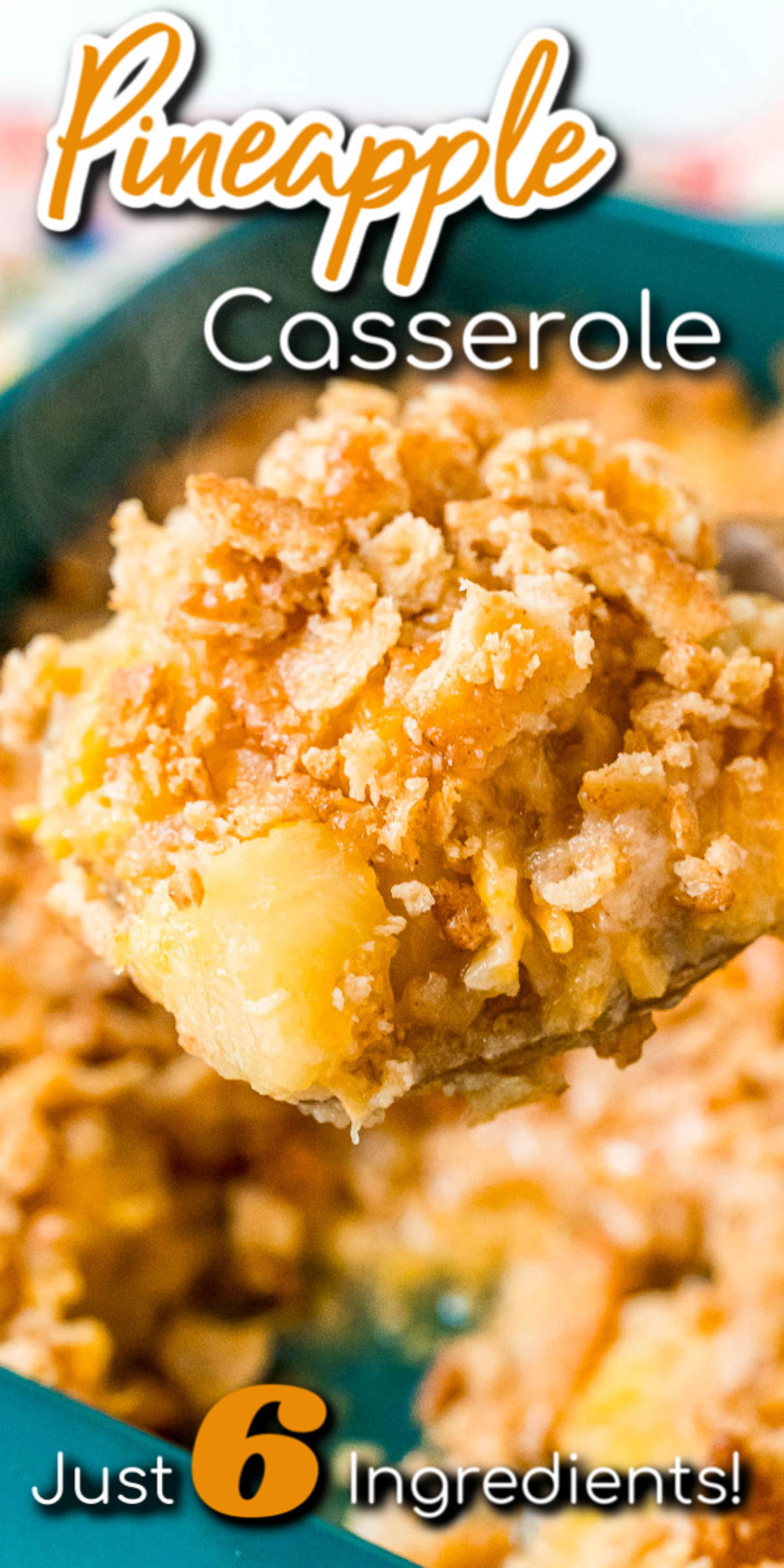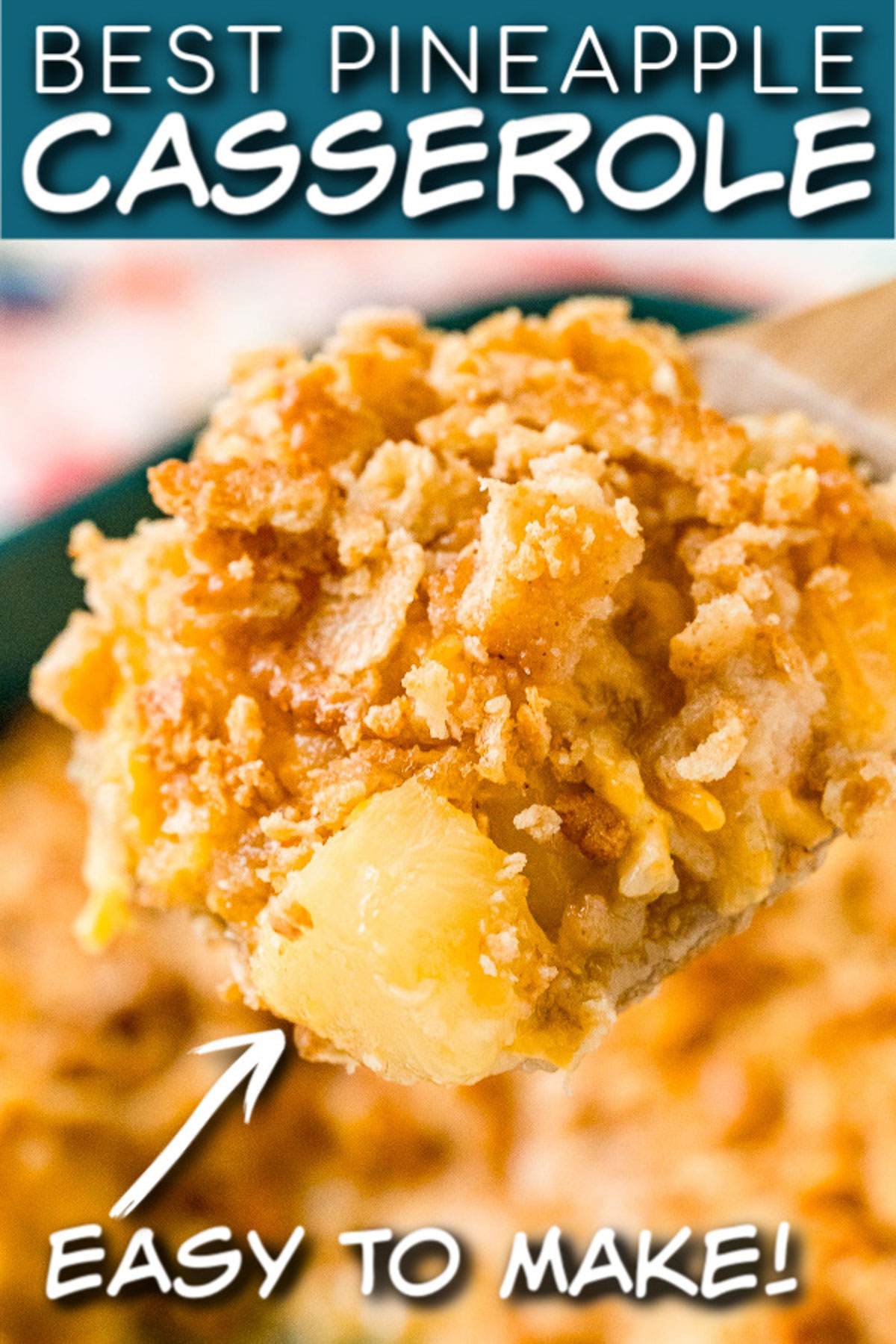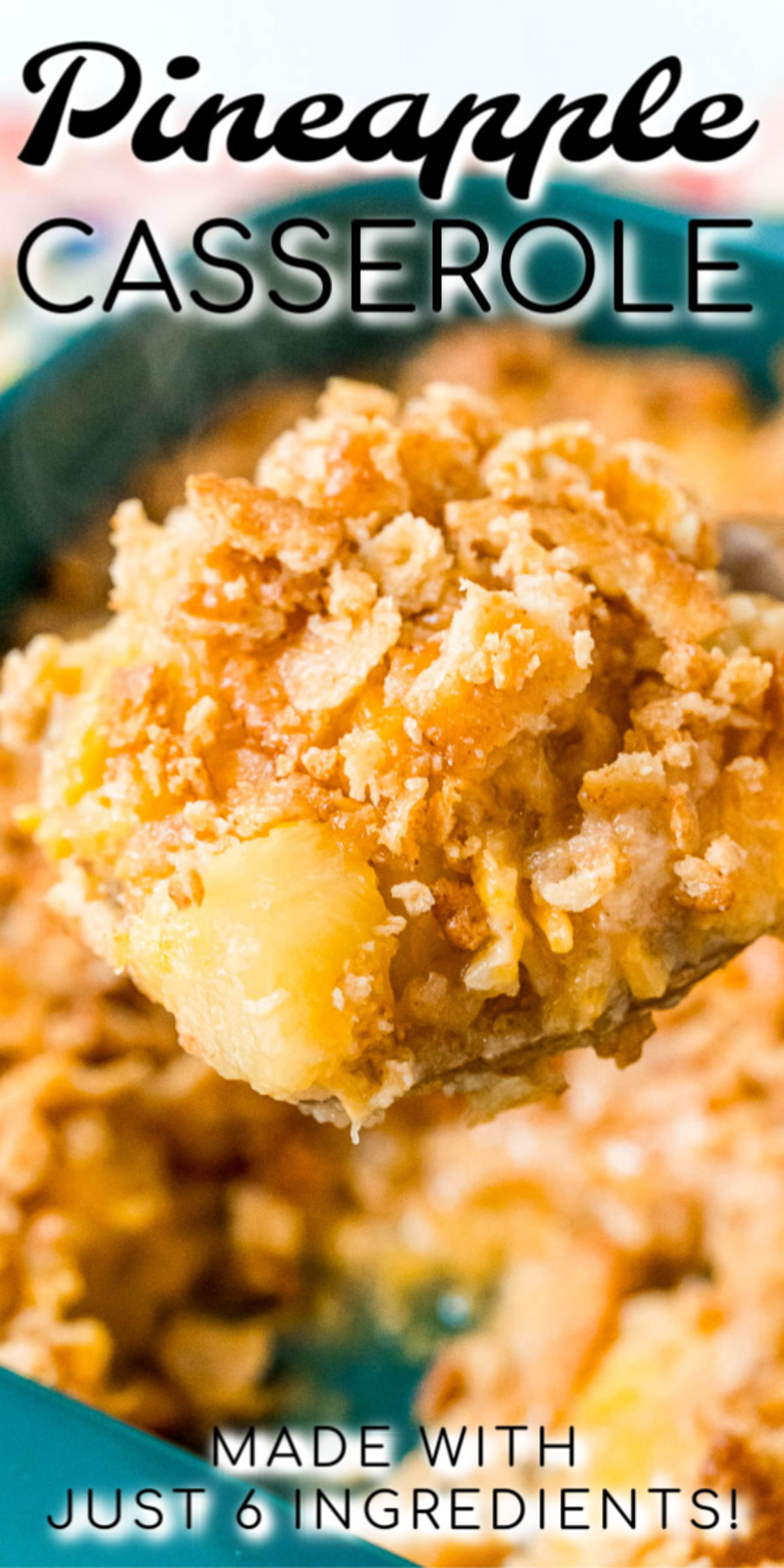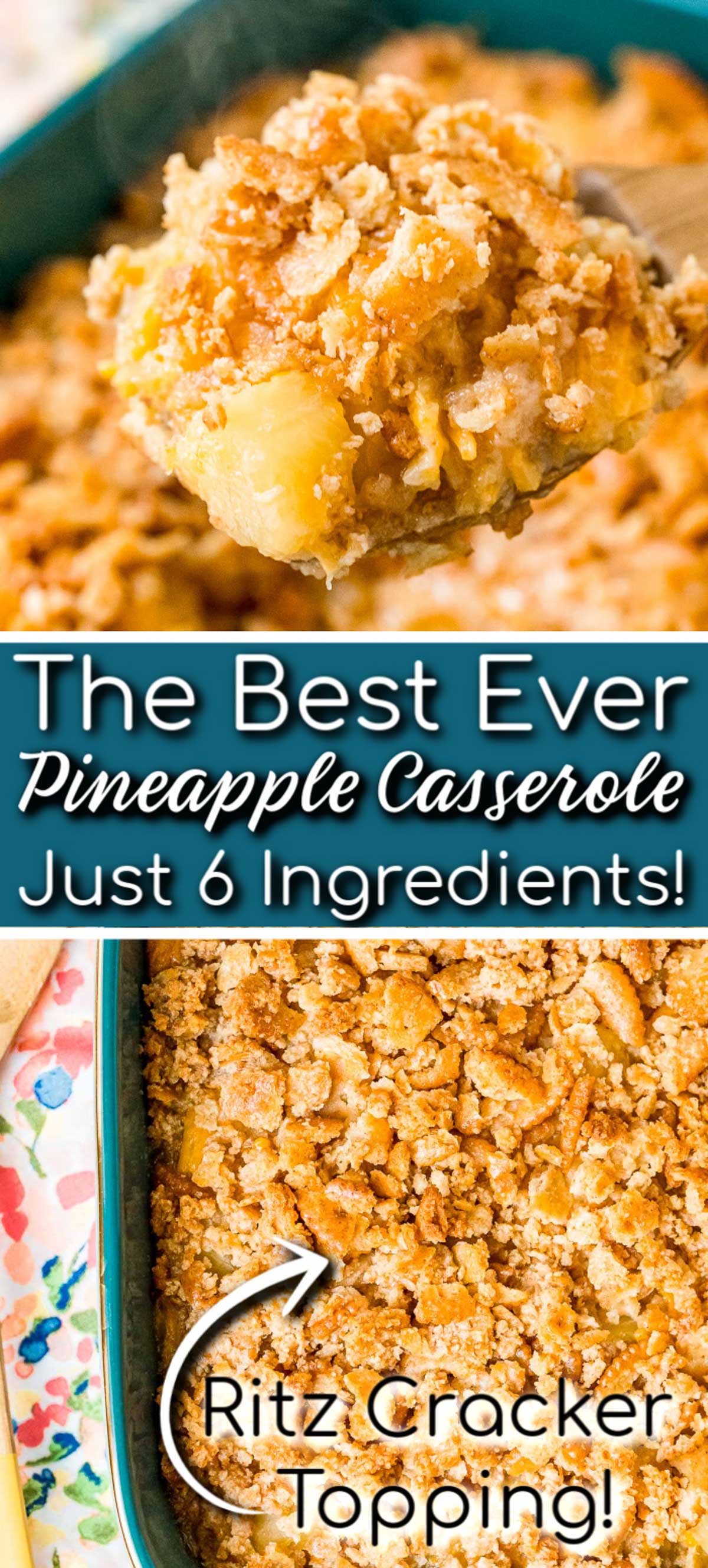 Pineapple Casserole is a salty-sweet side dish that's popular in the South and always a hit at pot lucks. It's made with pineapple, cheddar cheese, salty crackers, and a few other ingredients and takes just 5 minutes to prepare!
If you're serving up ham for the holidays, this pineapple cheese casserole complements it perfectly. Complete the meal with a side of roasted sweet potatoes and fluffy yeast rolls, and I promise, everyone is going to want seconds!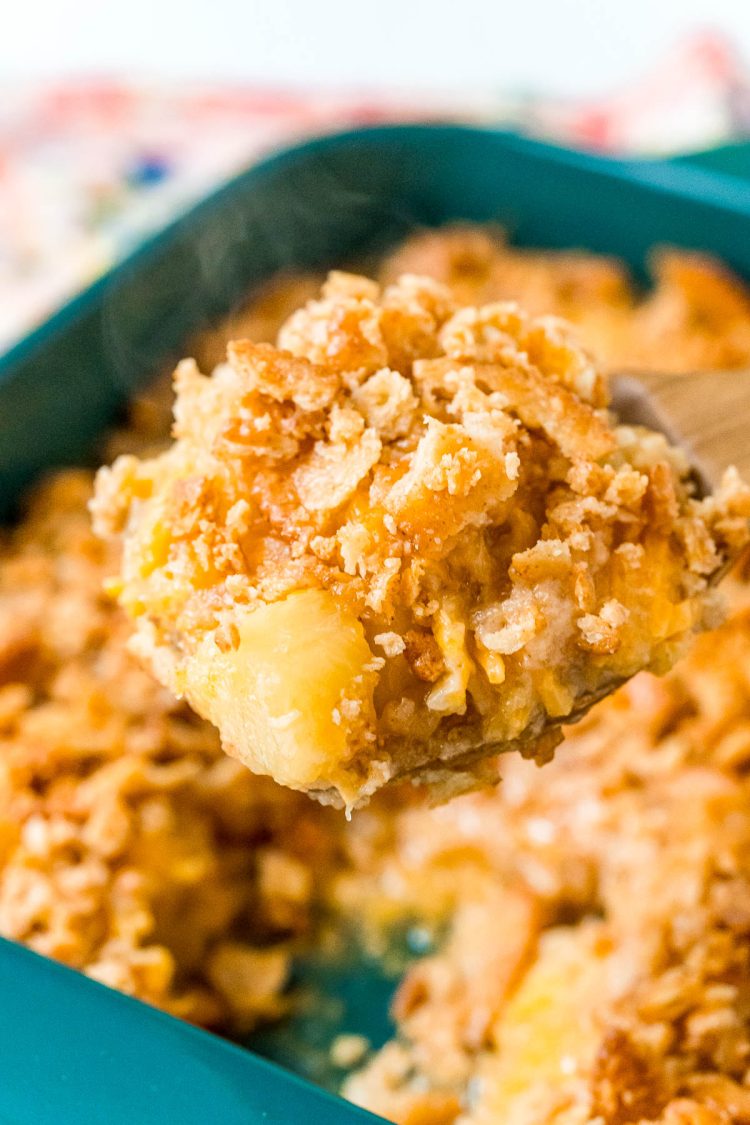 What Is Pineapple Casserole?
This casserole is a popular Southern side dish made with crushed pineapple, pineapple chunks, and cheddar cheese with a delicious crushed cracker topping.
One thing that probably makes this recipe different from your Grandma's Pineapple Casserole recipe is that I make mine with all brown sugar, no white. I just love the deeper flavor this adds to the dish.
I know, it sounds like a really strange dish, but the flavors work – it's the perfect blend of sweet and salty! And I promise if you show up with this dish and a pitcher of Christmas Punch, you'll be everyone's favorite person! Really, it's the best!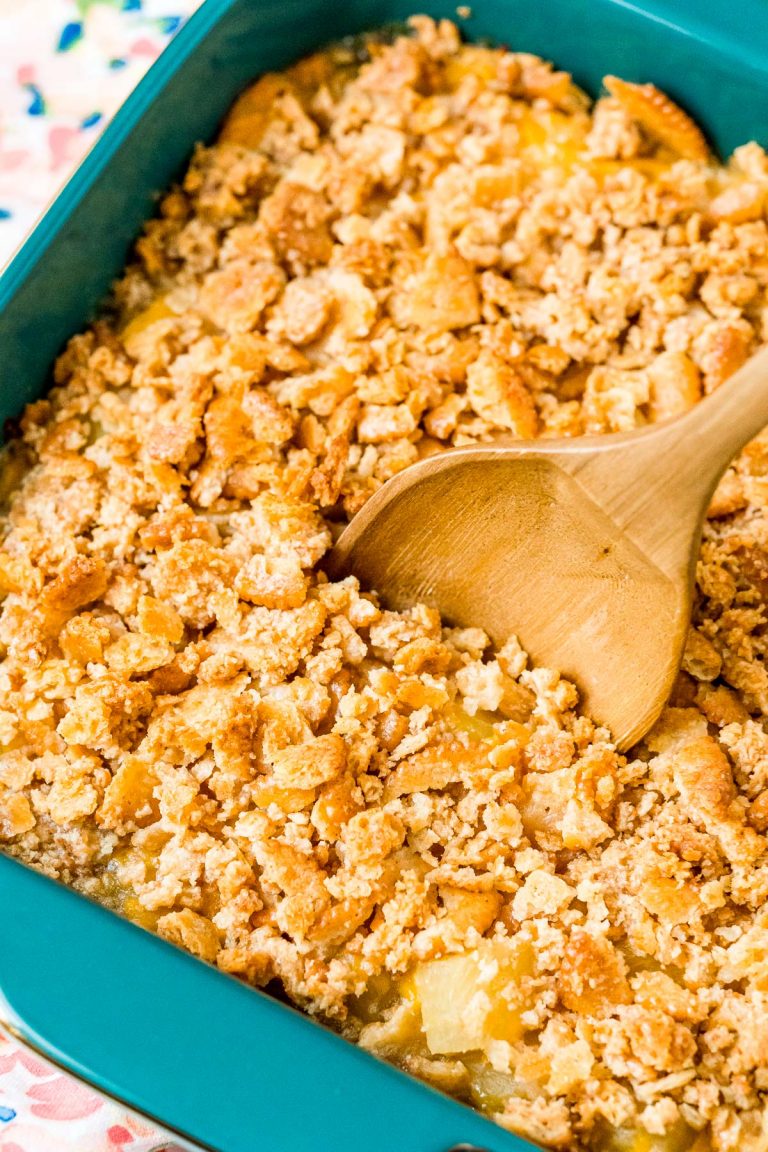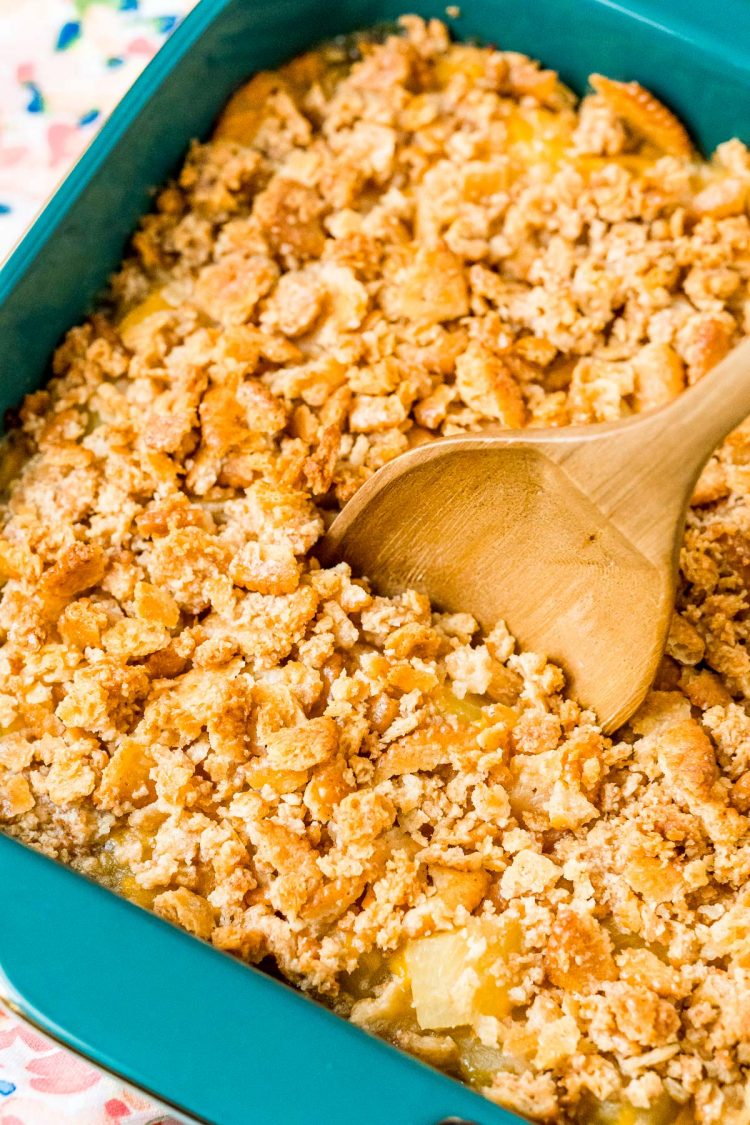 How To Make Pineapple Casserole
This easy pineapple casserole recipe is as easy as 1, 2, 3! With just a 5-minute prep time and 30 minutes to bake, it's the perfect last-minute side dish for the holidays!
Step 1: Preheat the oven to 350 degrees F. Then, in a large bowl, stir together the pineapple, sugar, flour, and sharp cheddar cheese and pour the mixture into a baking dish.
A 9 or 10-inch pie pan will work or a 9×9 or 10×10-inch square dish will work. If you want to double the recipe for a large crowd, use a 9×13-inch baking dish.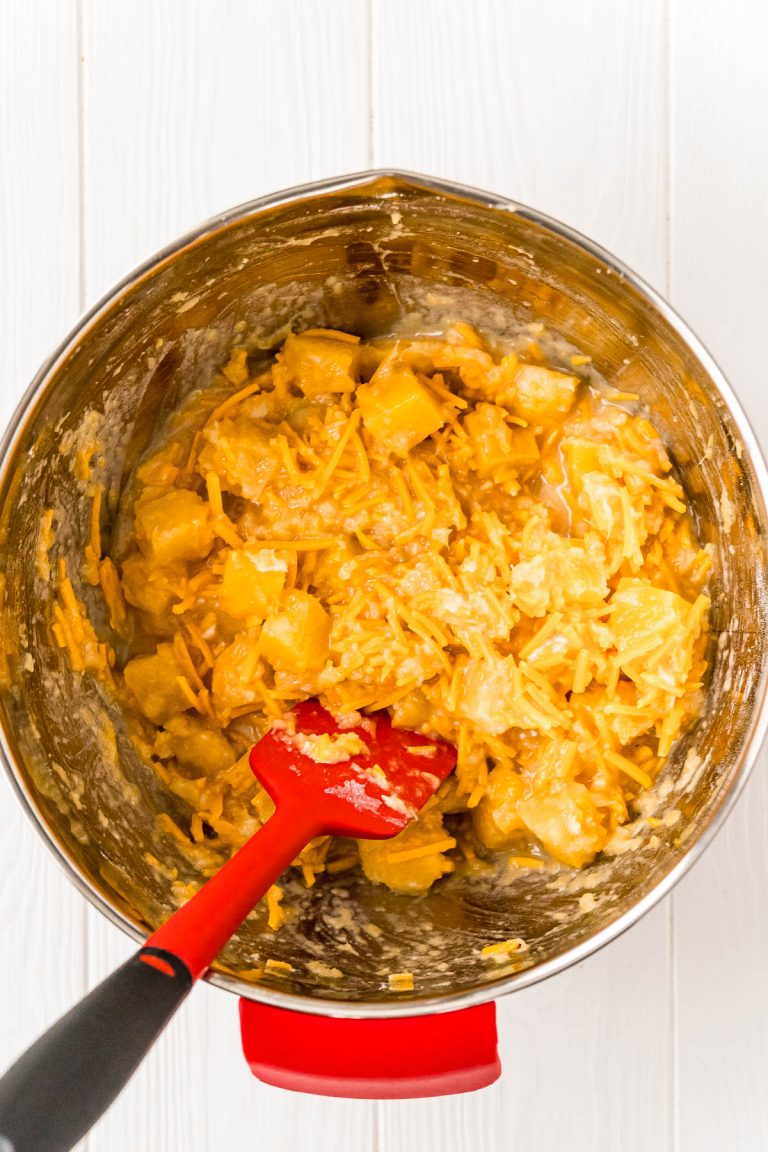 Step 2: In a medium bowl, melt the butter in the microwave, then mix in the crushed ritz crackers until evenly coated.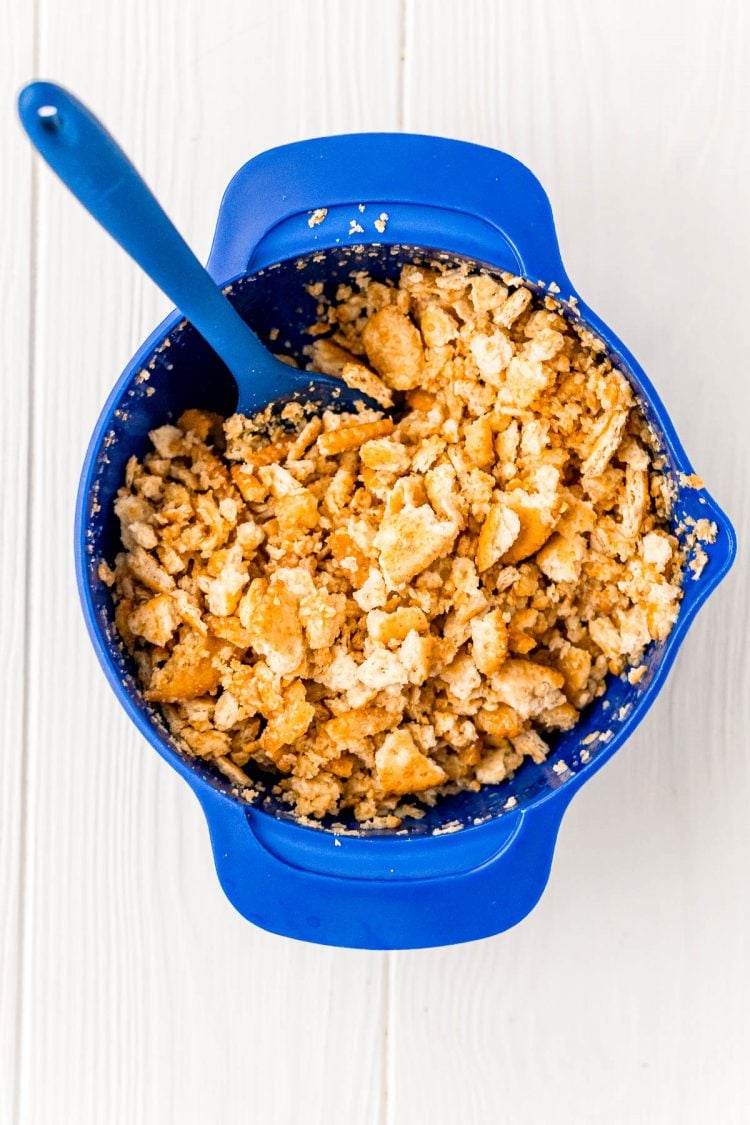 Step 3: Spread the buttery cracker crumbs over the top of the pineapple mixture and bake in the casserole dish until the crumbs are golden brown.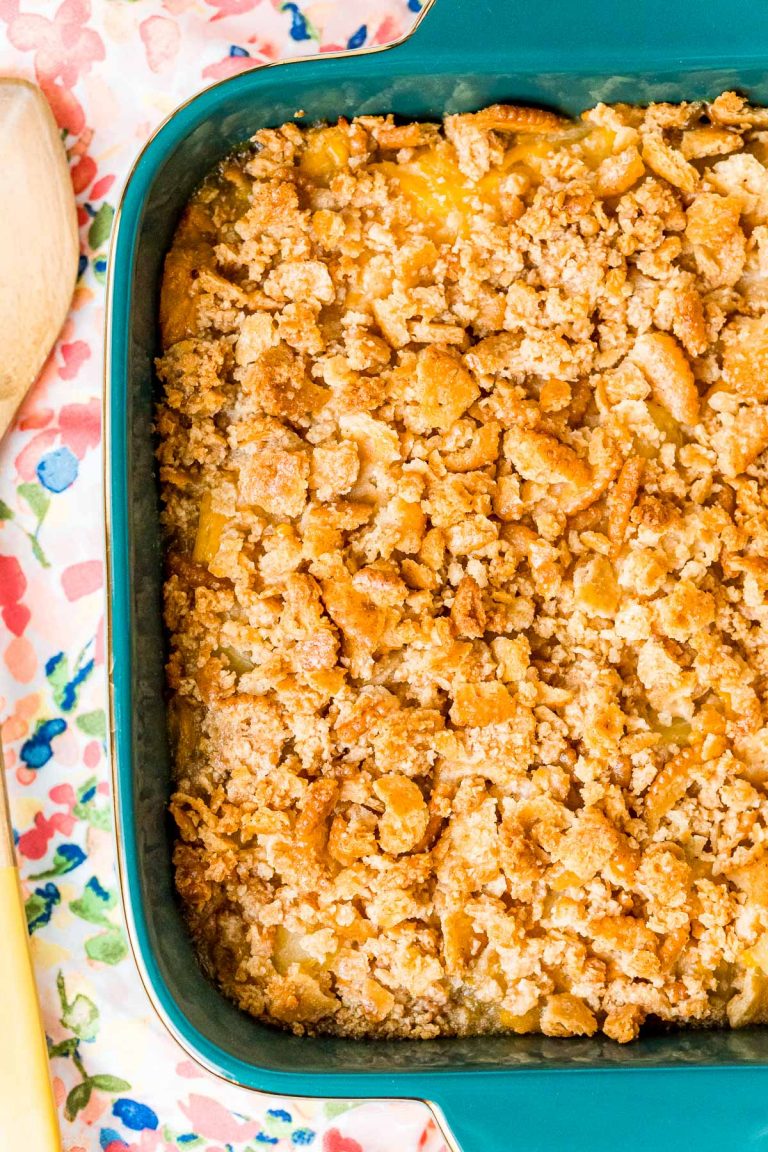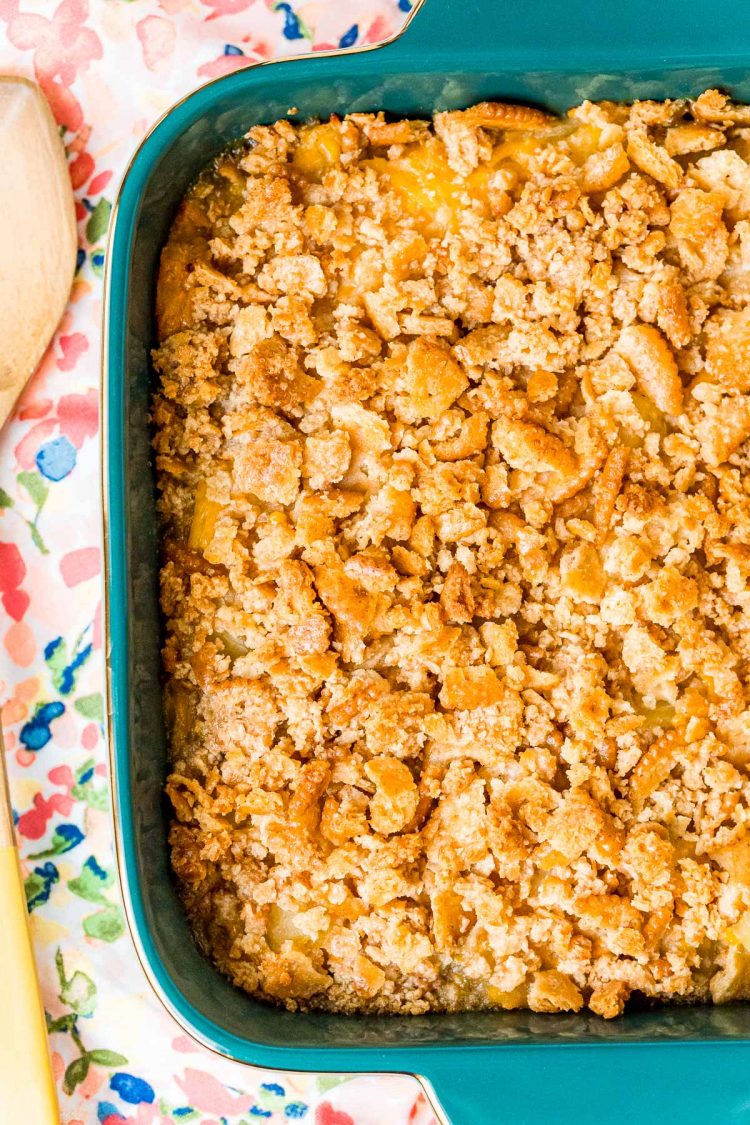 Frequently Asked Questions
Is It Dessert?
Not really, but it could go either way. It does taste like a salty pineapple pie! For a yummy pineapple dessert, I love serving this
Hummingbird Cake
made with pineapples, bananas, and coconut!
Do You Need To Refrigerate It?
Yes. Once baked, it can be left at room temperature for an hour or two and then should be placed in the refrigerator wrapped in plastic wrap or in an air-tight container.
Can It Be Made Ahead Of Time?
Yes, it can, but honestly, it's so easy to prep that I think prepping it ahead is actually harder because there are more steps to take:

1. Mix together the pineapple filling
2. Transfer it to the baking dish
3. Wrap with plastic wrap and store in the refrigerator.
4. Just before baking, mix together the topping and sprinkle over the pineapple mixture. You don't want to add the crackers prior or they could get soggy.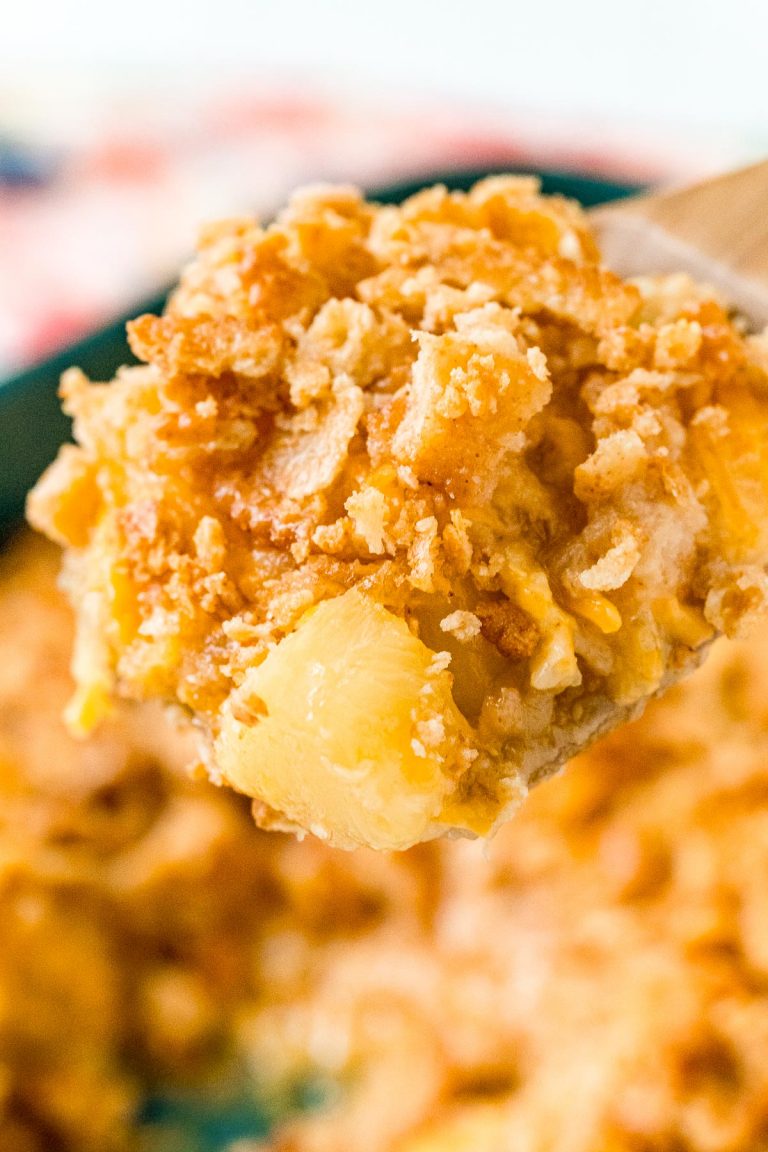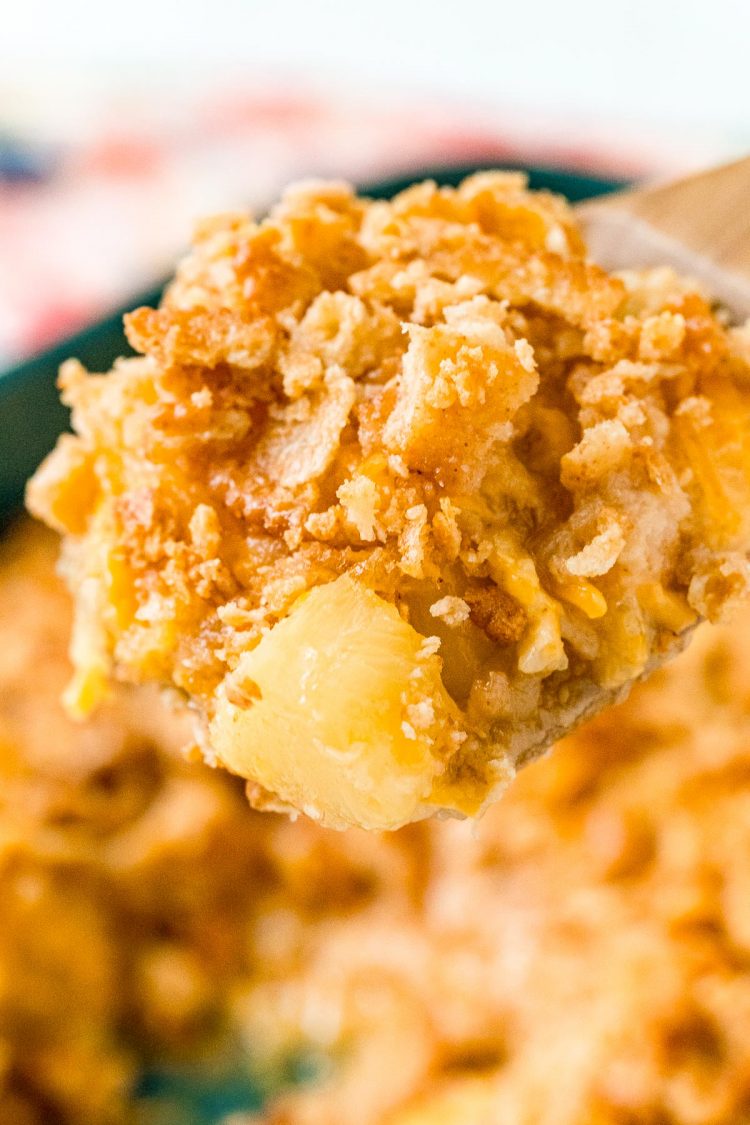 More Delicious Side Dish Recipes
👋 Let's Connect!
If you've tried this recipe, please let me know how you liked it in the comments below and leave a review; I love hearing from you! And don't forget to tag me – @sugarandsoulco – on Instagram and Pinterest with your photos or join our Sugar & Soul Show-offs Community and share them there, where you can join our recipe challenges and win prizes!
This recipe was originally published on Spend With Pennies where I am a contributor.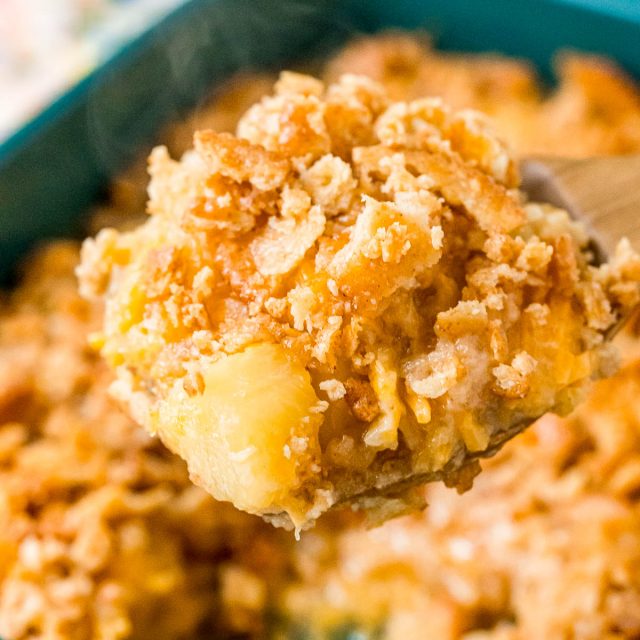 Pineapple Casserole
Pineapple Casserole is a salty-sweet side dish that's popular in the South and always a hit at pot lucks.
Ingredients
Filling
20 ounces crushed pineapple drained
20 ounces pineapple chunks drained
1/3 cup all-purpose flour
1/2 cup light brown sugar1
2 cups cheddar cheese shredded
Topping
1/2 cup salted butter melted
40 Ritz crackers2 crushed
Instructions
Preheat oven to 350°F.

In a large bowl, combine the pineapple, flour, sugar, and cheese. Transfer the mixture to a 9×9 or 10×10-inch baking dish. A 9 or 10-inch pie dish may also be used.

In a medium bowl, mix together the melted butter and crushed crackers until evenly coated.

Sprinkle the crackers over the top of the pineapple mixture and bake for 30 minutes. Serve warm.
Notes
Granulated sugar may be used instead of light brown sugar.
Other butter crackers may be used instead of Ritz, you should have about 1 1/2 to 2 cups of crushed crackers.
For a larger crowd, double the recipe and bake in a 9×13-inch pan.
Nutrition
Calories: 396kcal | Carbohydrates: 44g | Protein: 8g | Fat: 22g | Saturated Fat: 13g | Cholesterol: 53mg | Sodium: 368mg | Potassium: 218mg | Fiber: 2g | Sugar: 31g | Vitamin A: 630IU | Vitamin C: 12mg | Calcium: 235mg | Iron: 1mg