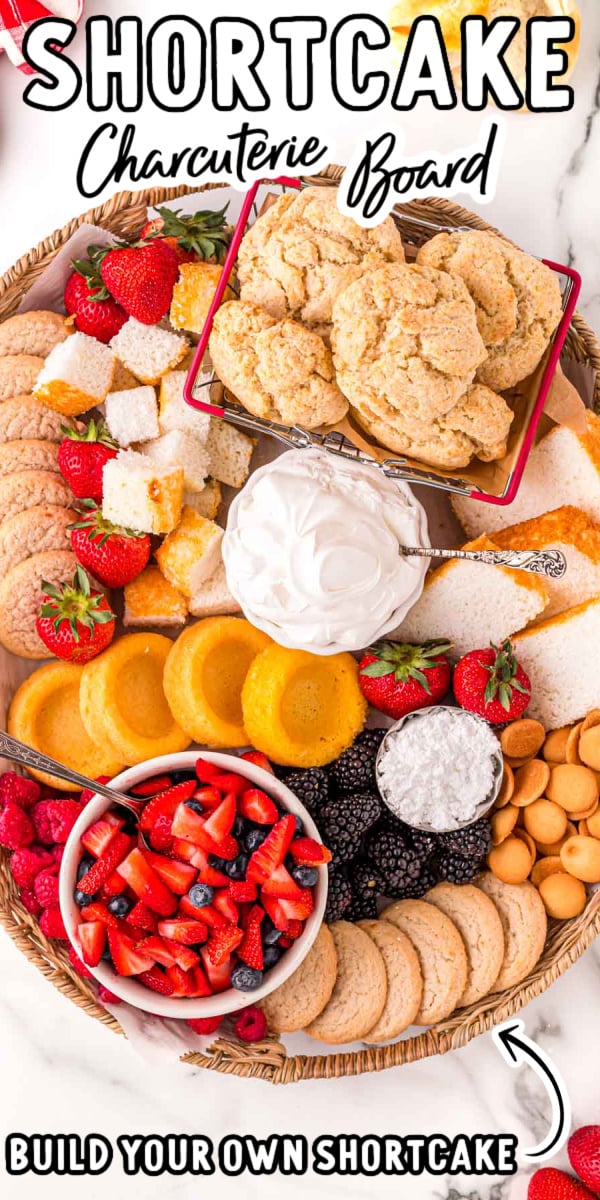 Shortcake Charcuterie Board is a delicious Build Your Own Shortcake experience that friends and family will have a ton of fun enjoying! Loaded with fresh fruit, cookies, whipped cream, and cake!
This simple dessert Charcuterie is a fun way to serve classic Strawberry Shortcakes to a big crowd!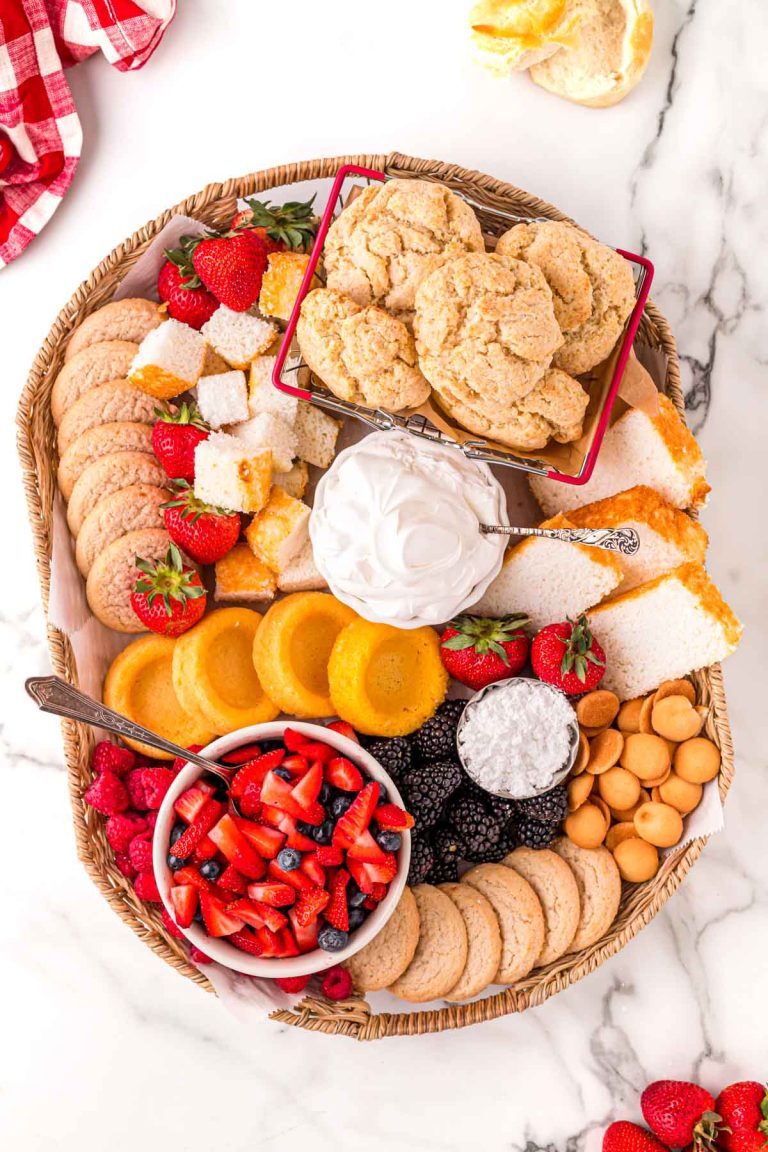 Hold on tight because Summer just got a whole lot more exciting with this Shortcake Charcuterie Board! Kids up to adults will love making their own shortcake exactly the way they like it!
This dessert board is guaranteed to be a hit with the piles of juicy fruit, sweet whipped cream, and soft cakes or cookies! And you'll love how easy it can be to throw together if you're in a time crunch!
I'm a big fan of homemade cream biscuits and angel food cake, however, time can certainly get away from any of us! If that's the case – you can head right to the store and grab what you need to toss onto your board and still wow your guests!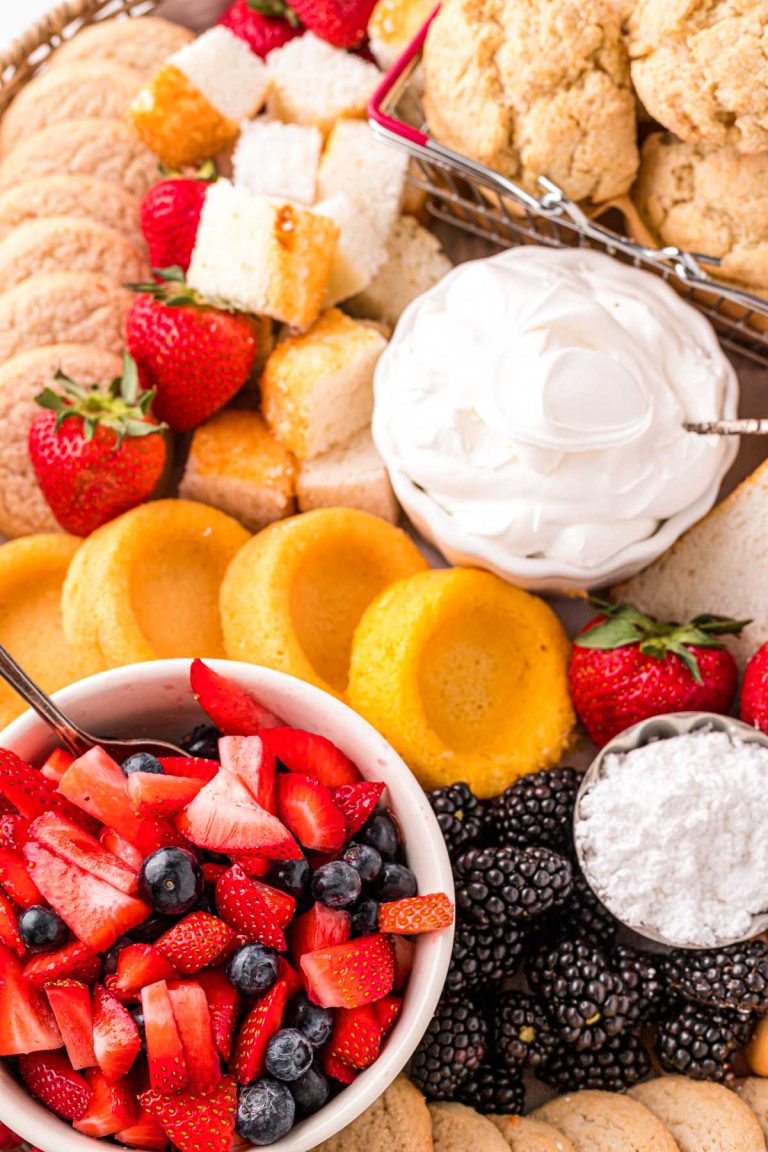 Ingredient Notes
Give guests the best Build Your Own Shortcake experience by loading up the board with plenty of options! Start by arranging the Sugar Cookies, Angel Food Cake, Vanilla Wafers, Cream Biscuits, and/or Dessert Sponge Cake Cups.
These will be the base that holds the juicy fruit and sweet whipped cream! Now – homemade is definitely the way to my heart! But don't be afraid to save on time and grab what you need at the store!
As for fruit, use exactly what you like! You could do a heaping bowl of mixed berries with strawberries, blueberries, blackberries, and raspberries.
Or you could set out smaller bowls of each fruit so that friends and family can just use what they like! Lastly, the whipped cream!
Again, I love the taste of homemade whipped cream but you can also use store-bought. Cool whip and canned whipped cream are always a fan favorite as well.
To finish up the Shortcake Charcuterie Board I tuck in a bowl of powdered sugar. This way everyone can add a sweet sprinkle to their desserts before enjoying them!
How To Make A Strawberry Shortcake Board
Mix your fruit of choice into a bowl and place it on your Charcuterie board.
Arrange the biscuits, angel food cake, vanilla wafers, dessert cups, and/or sugar cookies on the board.
Add the bowls of whipped cream and powdered sugar.
Fill the empty spaces with fresh fruit and serve!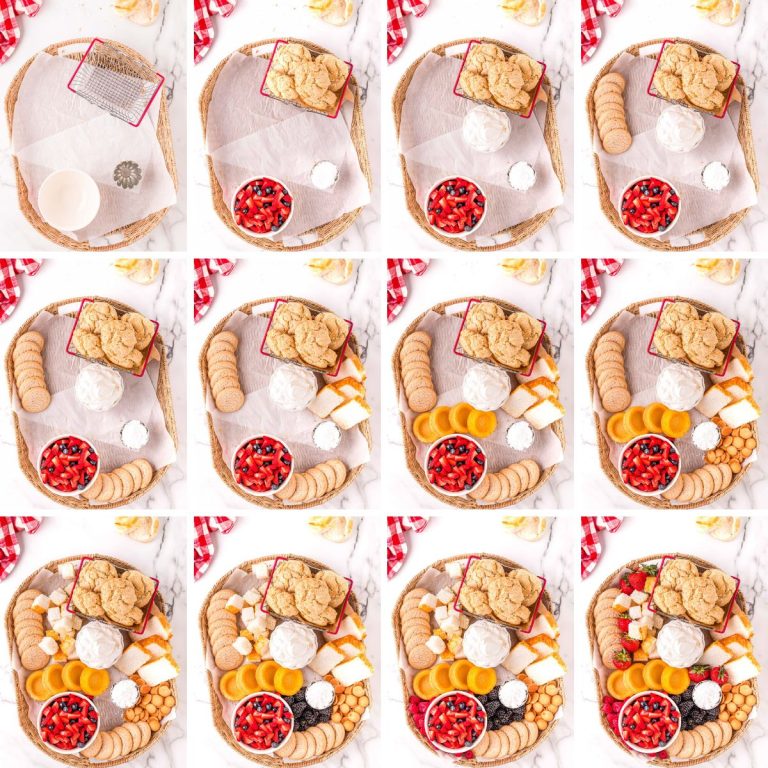 Frequently Asked Questions
How Many Servings Will This Charcuterie Provide?
This depends largely on how many biscuits, cookies, and/or dessert shell cups you have. As well as the amount of fruit and whipped cream.
However, it's incredibly easy to tailor this to the size crowd you'll be serving though!
What's The Best Recipe For Making A Mixed Fruit Bowl?
My favorite consists of 2 cups of sliced strawberries, 1/2 cup of blueberries, and 1 tablespoon of sugar. If you need a larger serving just double or even triple that recipe!
Can I Prep This Dessert Tray Ahead Of Time?
Yes! You could either buy or make the biscuits, angel food cake, or cookies a day ahead of time. The fruit can also be prepped the day before as well.
Then when it's closer to serving time just arrange the tray!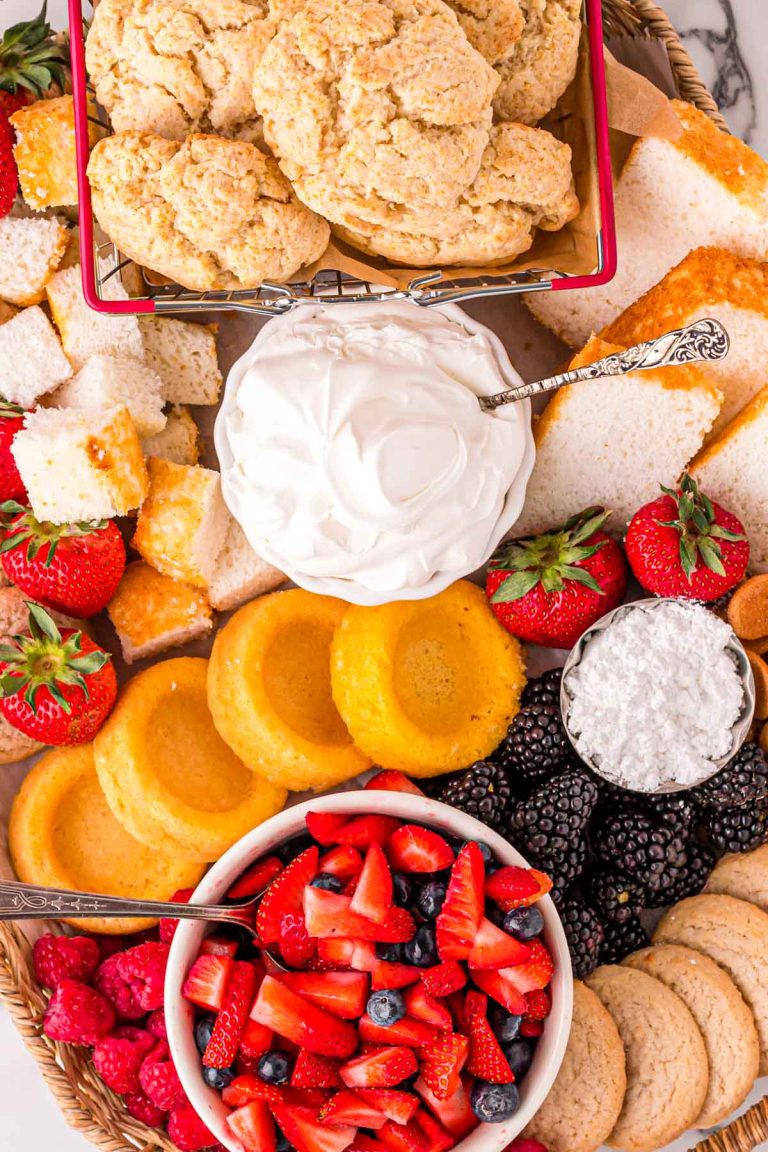 Nothing wraps up dinner in the Summer quite like having a fruity dessert such as this Shortcake Board! Treat your taste buds to another sweet, fruity dessert by snagging another recipe!
Strawberry Shortcake Charcuterie Board
Pin For Later
CLICK THE BUTTON ABOVE TO SAVE THIS DELICIOUS RECIPE TO YOUR BOARD!
👋 Let's Connect!
If you've tried this recipe please let me know how you liked it in the comments below and leave a review, I love hearing from you! And don't forget to tag me – @sugarandsoulco – on Instagram and Pinterest with your photos or join our Busy Family Recipes Facebook Community and share them there!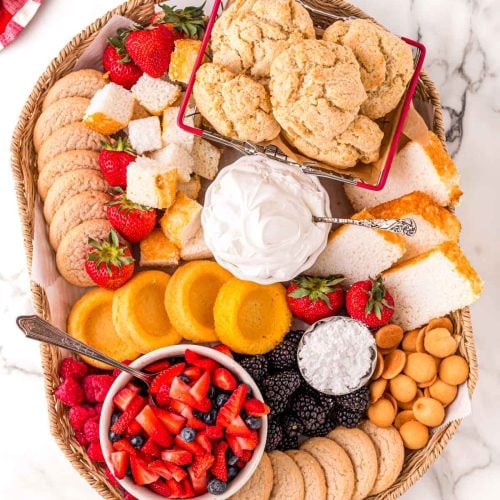 Shortcake Charcuterie Board
Summertime is here and that only means one thing, cookouts are in full swing. With strawberries in season, this is the perfect themed charcuterie board to create for your next cookout or even bring as a dish. Add all your favorite fruits and biscuits to have everyone create their best version of shortcakes. You can make an easy shortcake with the simple angel food cake, or you could try a sweet cream biscuit or even a sugar cookie stack. The possibilities are endless, so have fun and create the perfect strawberry shortcake this summer.
Ingredients
½

cup

Strawberries

sliced, plus more for gaps on the board

½

cup

Blueberries

plus more for gaps on the board

½

cup

Blackberries

plus more for gaps on the board

½

cup

Raspberries

plus more for gaps on the board

2

tablespoons

granulated sugar

1

batch

Cream Biscuits

12

Sugar Cookies

4-8

Dessert Shell Sponge Cake

2

cups

Vanilla Wafers

2

cups

Whipped Cream

¼

cup

Powdered Sugar
Instructions
Start by making a mixed fruit bowl with the fresh fruit and 2 tablespoons of granulated sugar and place it on a tray or large board.

½ cup Strawberries,

½ cup Blueberries,

½ cup Raspberries,

½ cup Blackberries

Add biscuits, sugar cookies, angel food cake, whipping cream, and powdered sugar.

12 Sugar Cookies,

1 Angel Food Cake,

1 batch Cream Biscuits,

2 cups Whipped Cream,

¼ cup Powdered Sugar

Next, add the sponge cake cups and vanilla wafers to the board.

2 cups Vanilla Wafers,

4-8 Dessert Shell Sponge Cake

Fill in empty spaces with fresh fruit.
Notes
When creating the board, you can add store-bought angel food cake, biscuits, or even glazed donuts to create a delicious shortcake. This can save time in the kitchen but homemade is always my favorite.
Are you looking for the perfect cream biscuit? These are delicious and so easy to make.
Angel food cake is the perfect summertime cake, which makes this shortcake board perfect.
Add all your favorite summertime fruit- Creating a mixed fruit bowl, I add 2 cups of sliced strawberries, ½ cup of blueberries, and 1 tablespoon of sugar.
Make your own whipping cream and add your favorite extract to it. You can also use a cool whip as well.
Save yourself a little time by picking up a pack of premade sugar cookies from the store. The kids will love making a strawberry shortcake cookie.
You can prepare the biscuits and even the fruit bowl the day before if you are running close on time.
Nutrition
Calories:
212
kcal
Carbohydrates:
38
g
Protein:
3
g
Fat:
6
g
Saturated Fat:
2
g
Polyunsaturated Fat:
1
g
Monounsaturated Fat:
1
g
Trans Fat:
0.05
g
Cholesterol:
8
mg
Sodium:
220
mg
Potassium:
100
mg
Fiber:
1
g
Sugar:
21
g
Vitamin A:
87
IU
Vitamin C:
7
mg
Calcium:
38
mg
Iron:
0.2
mg