This Strawberry Lemonade is the perfect mix of bright lemons and sweet strawberries and just what you need on a summer afternoon!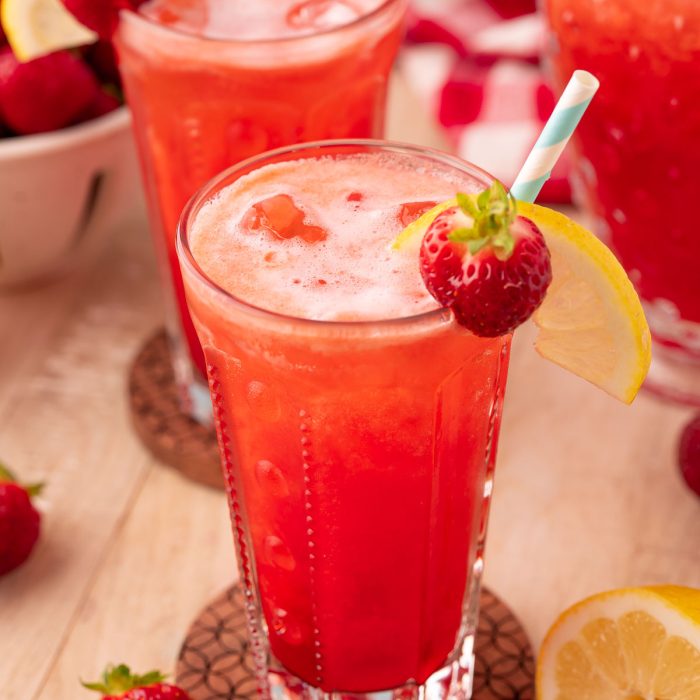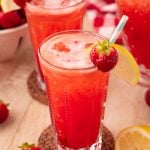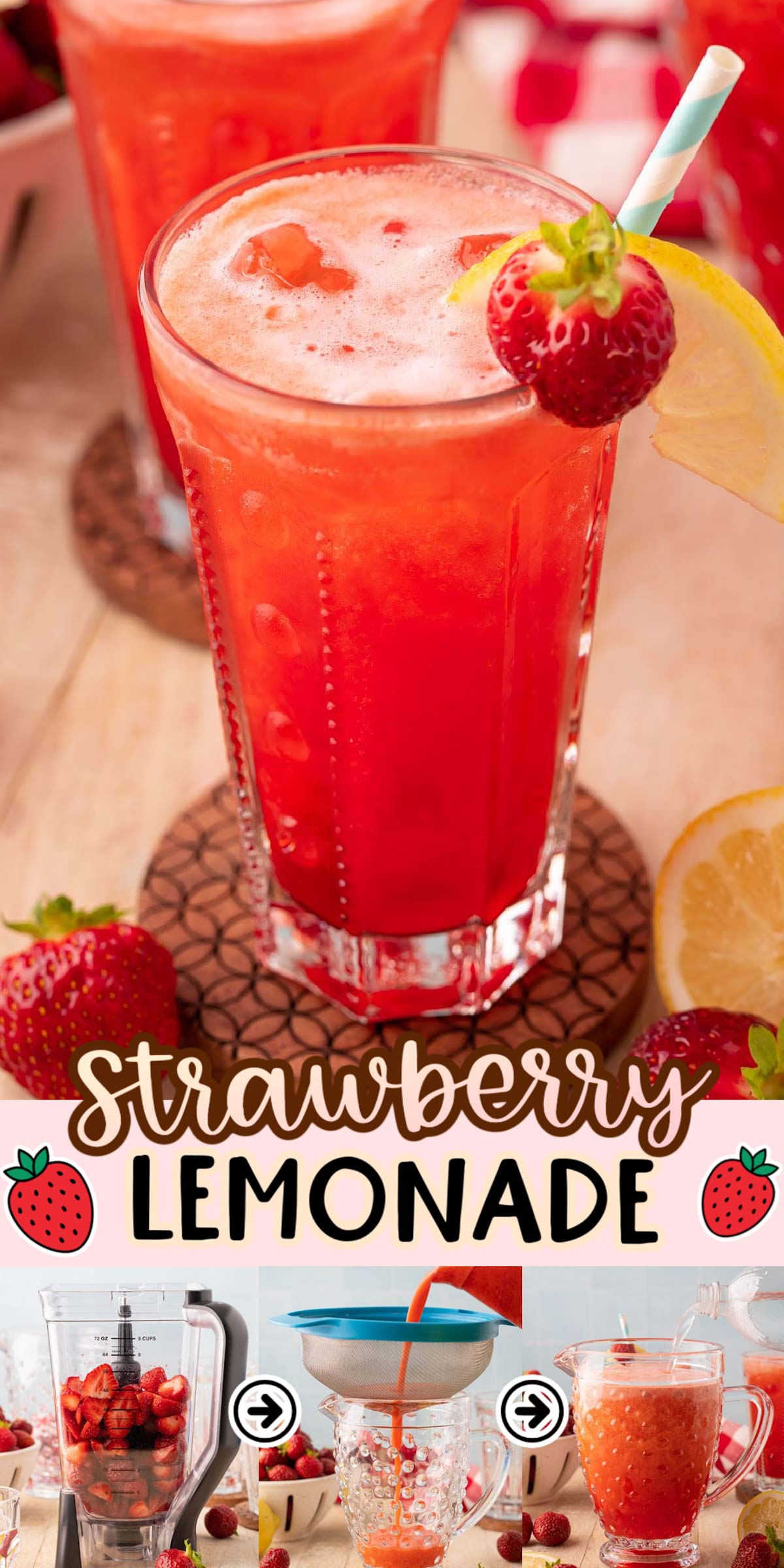 This Strawberry Lemonade is the perfect mix of bright lemons, sweet strawberries, and fizzy club soda – just what you need on a summer afternoon!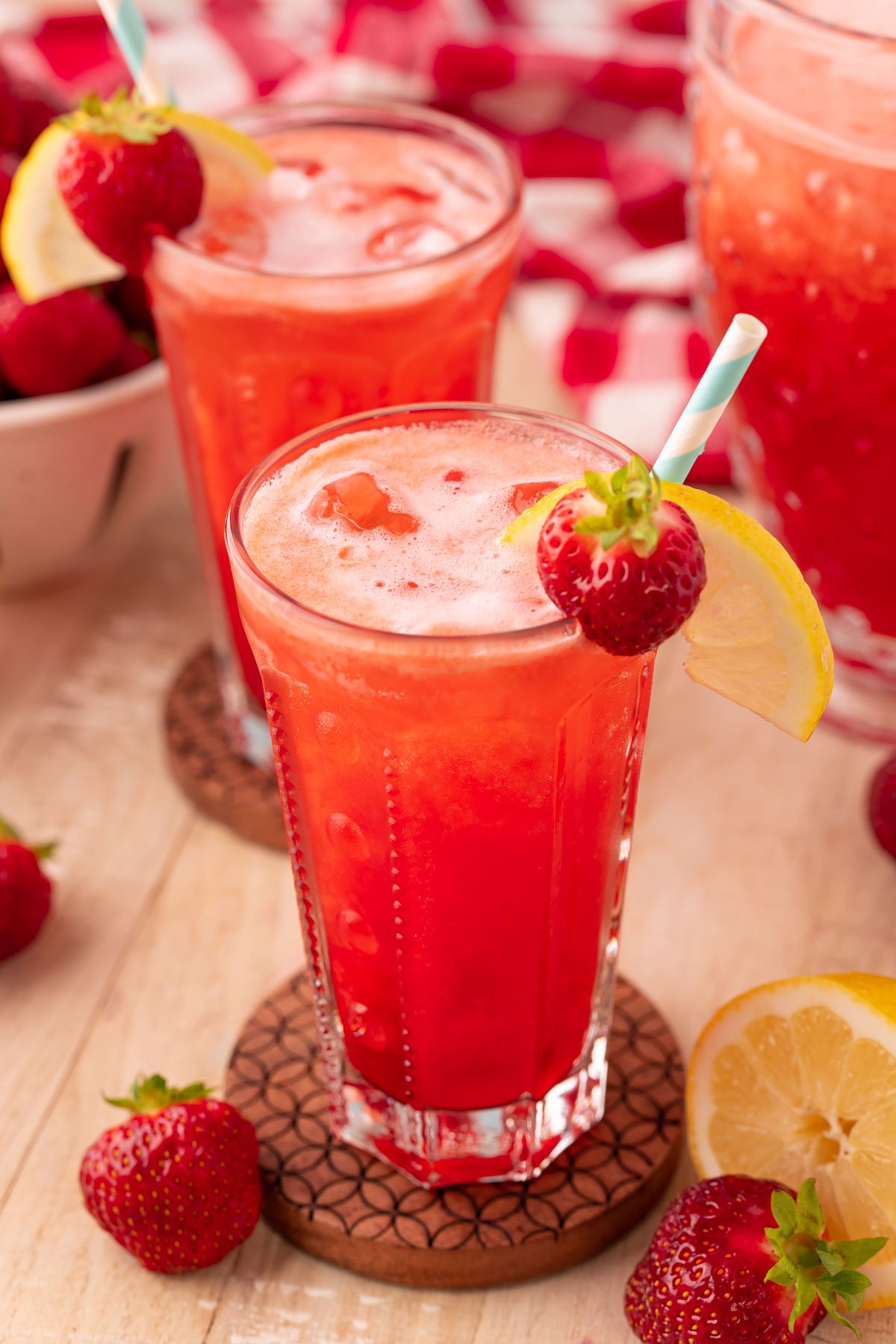 Sweet Strawberry Lemonade For Summer
If you've been enjoying my recipes for a while, you already know my love for whipping up Fresh Homemade Lemonade runs deep. And therefore, you can count on this Strawberry Lemonade being out-of-this-world delicious!
I've perfected all of my lemonade recipes, from Creamy Lemonade to Peach Lemonade and even Sparkling Raspberry Lemonade! But this Strawberry Lemonade will be hard to beat with its refreshing strawberry lemony flavor with a sparkling club soda finish.
To make this Strawberry Lemonade recipe the best, you should use fresh strawberries and fresh lemons! The sweet, fruity berries are then blended up with the freshly squeezed lemon juice, creating a lemonade concentrate that's deliciously sweet yet tart!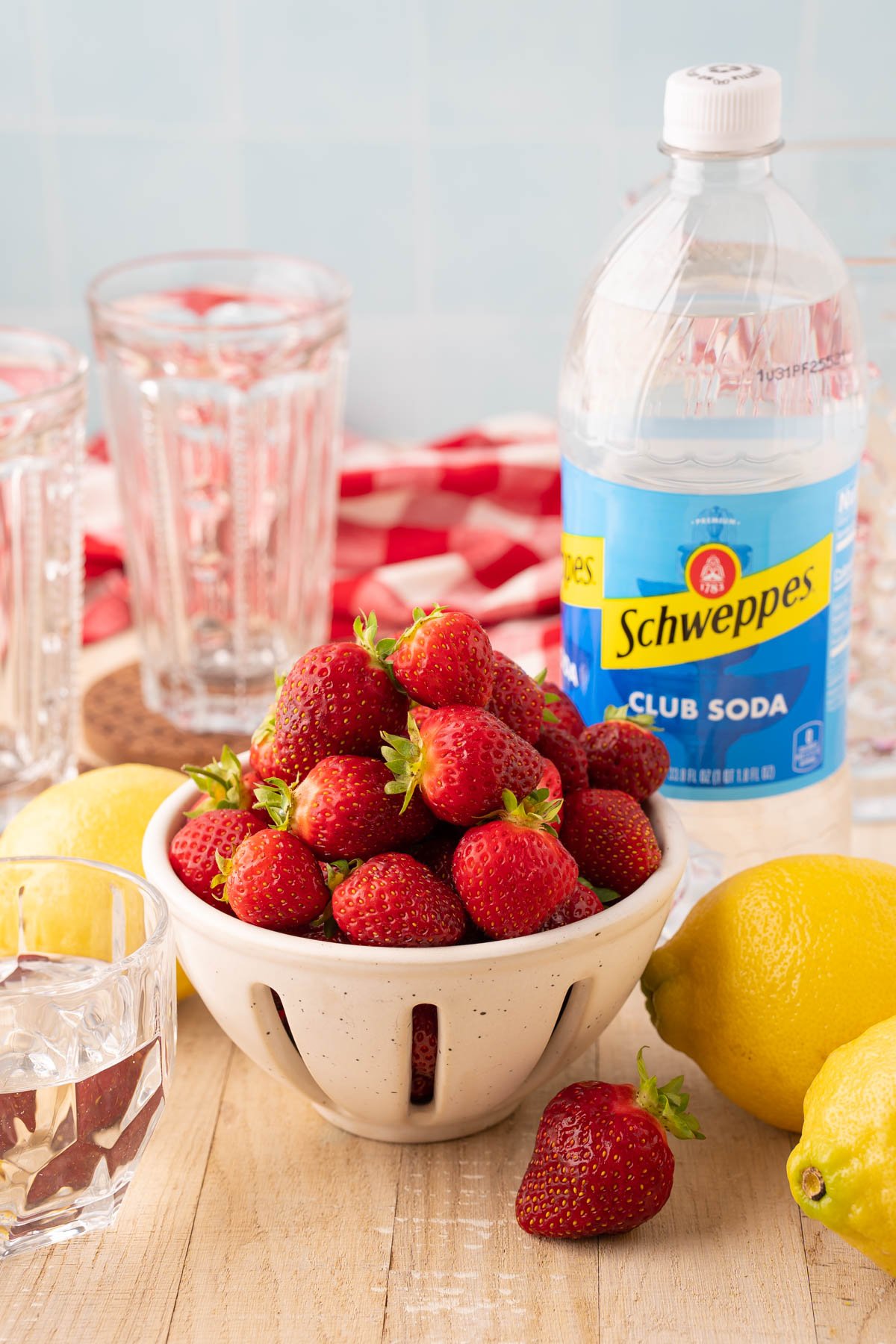 Ingredients For Homemade Strawberry Lemonade
Strawberries
Water
Lemon Juice
Simple Syrup
Club Soda
This easy strawberry lemonade recipe starts with all the classic homemade lemonade ingredients, such as water, lemon juice, and a sweetener. For best results, I chose to use simple syrup to sweeten this lemonade.
Simple syrup can be made right at home with just water and granulated sugar in a medium saucepan on the stovetop. However, you can also make it quicker by microwaving equal parts water and sugar until the sugar has completely dissolved.
The lemonade then takes on its fruity flavor from the addition of fresh strawberries. Club soda is then added to give this summertime drink a fun, fizzy finish!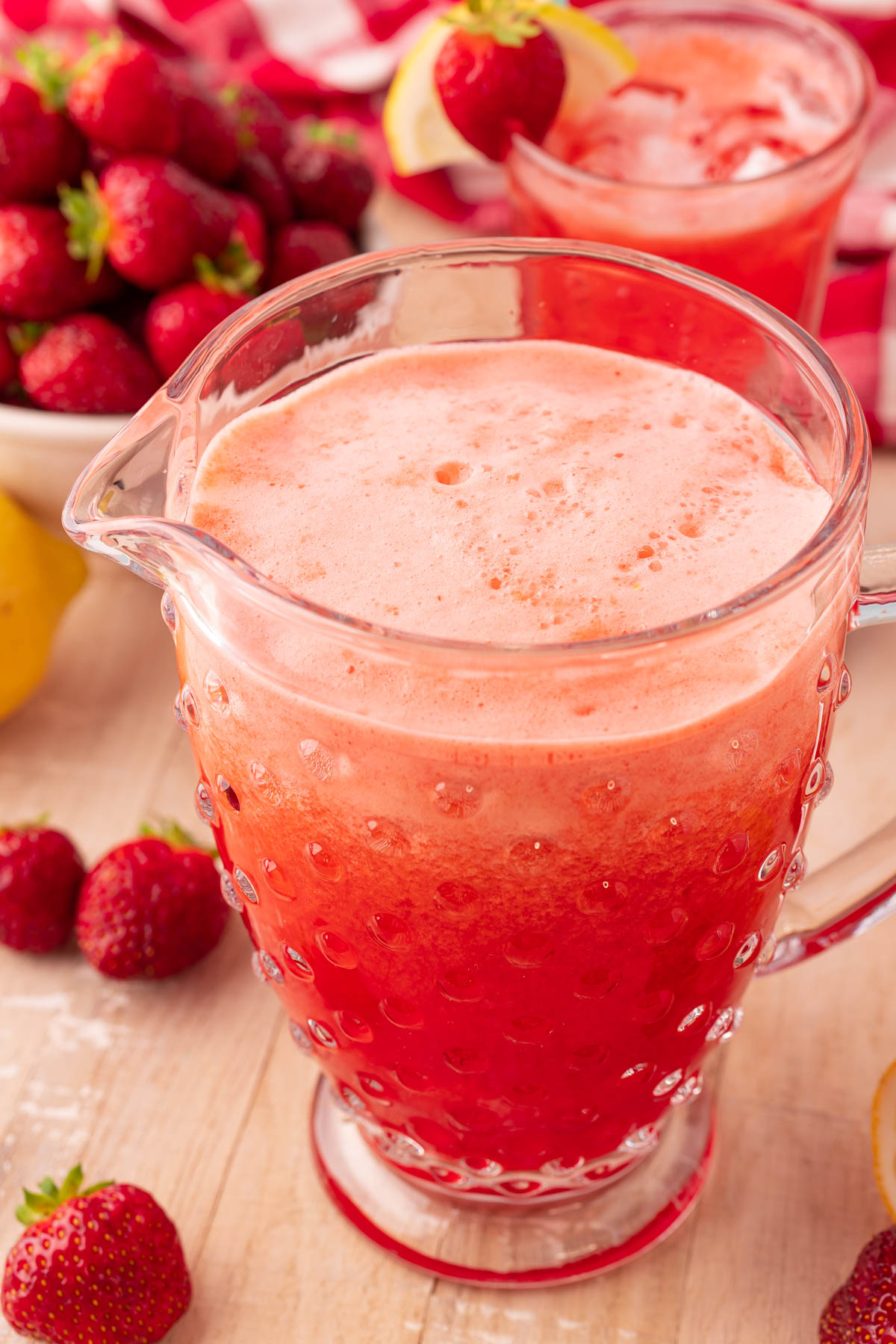 Strawberry Lemonade Substitutions And Variations
Sweetener – You can replace the simple syrup in this recipe with any sugar substitute of your choice. Honey, maple syrup, stevia, and monk fruit sweetener are great options.
Pulp – If you prefer lemonade with pulp, you can skip straining the blended strawberry puree altogether. You could also just add the pulp back into the lemonade once it's been strained until it reaches your desired pulpiness.
Noncarbonated Lemonade – For a noncarbonated version, replace the club soda with an equal amount of cold water.
Roasted Lemons – Roast the lemons before juicing them to give this lemonade a dynamic flavor! To roast lemons, first, wash and cut them in half. Then, place them in a parchment paper-lined baking dish and roast them for 25 minutes. Afterward, allow them to cool for 10 to 15 minutes, and then squeeze the juice into a liquid measuring cup with a citrus press.
Alcoholic Version – Turn this Strawberry Lemonade into an alcoholic adult beverage by adding strawberry vodka to it!
Frozen Lemonade – Cool down even more by blending up a frozen version of this lemonade. To do so, blend up the ice until a slushy consistency is reached. Then, pour the lemonade over the ice and lightly stir. Since the lemonade is carbonated, I wouldn't recommend blending it with the ice, or it will lose a bit of its carbonation in the blending process.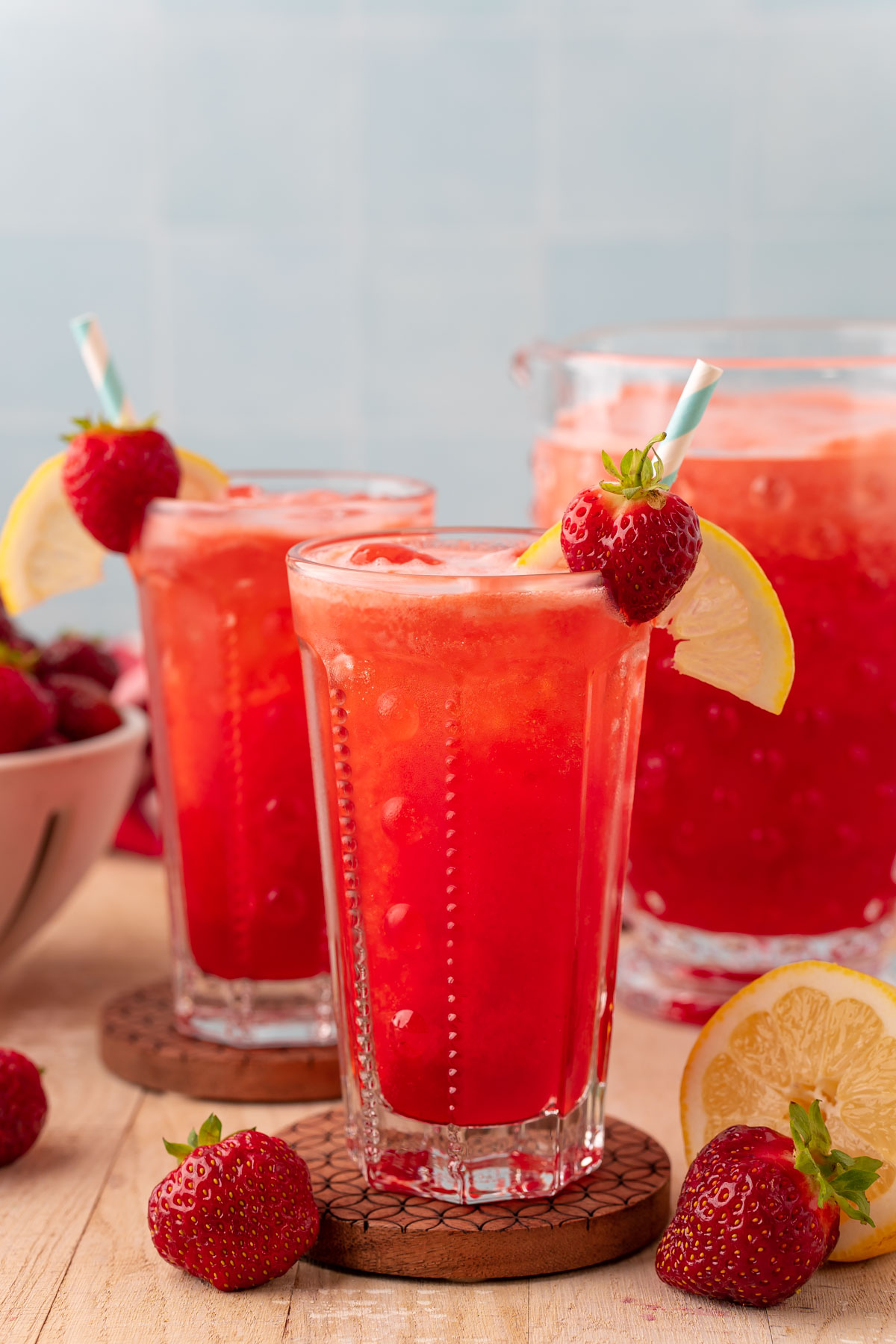 How To Make Strawberry Lemonade
Step 1: Prepare the strawberries by washing, slicing their stems off, cutting them in half, and adding them to a blender.
Step 2: Add the water, lemon juice, and simple syrup in the blender with the berries and pulse until smooth.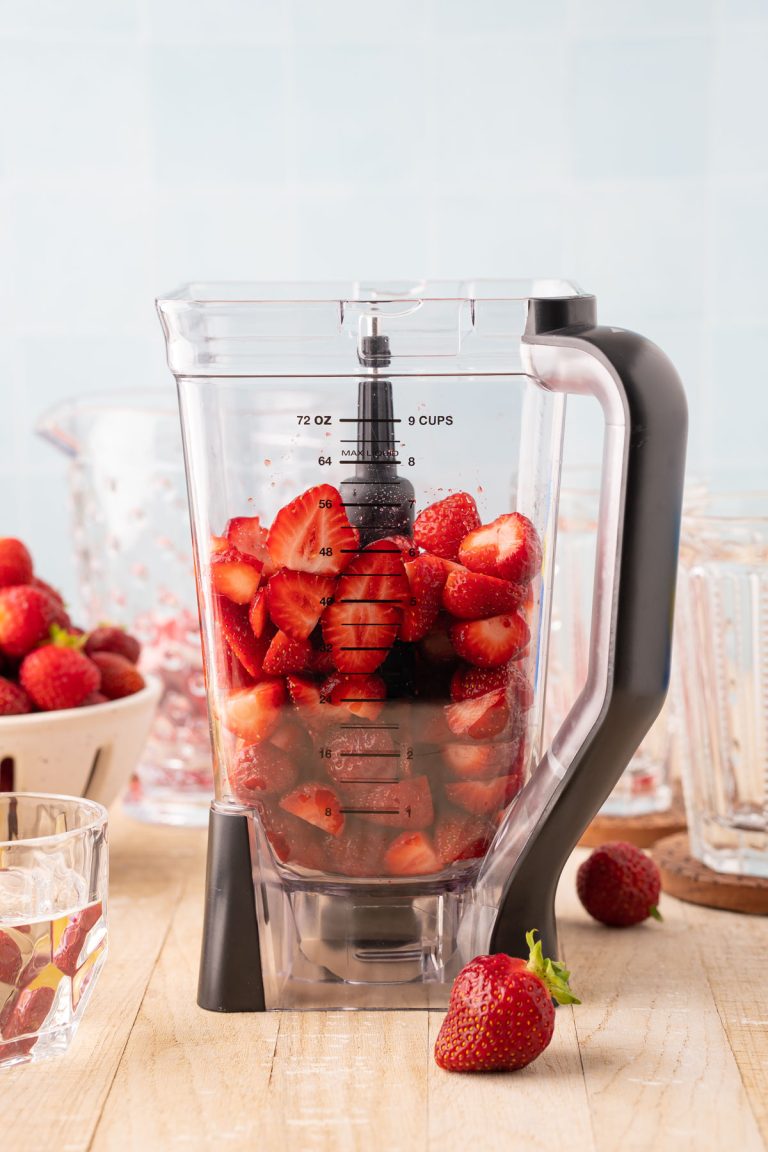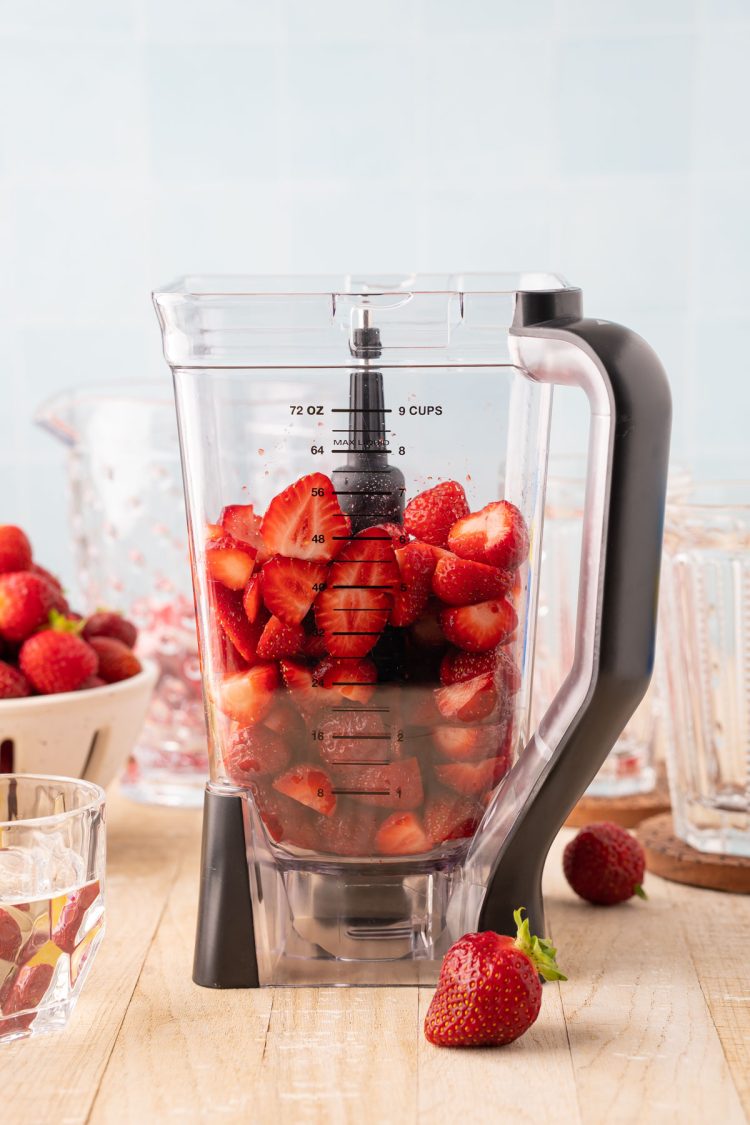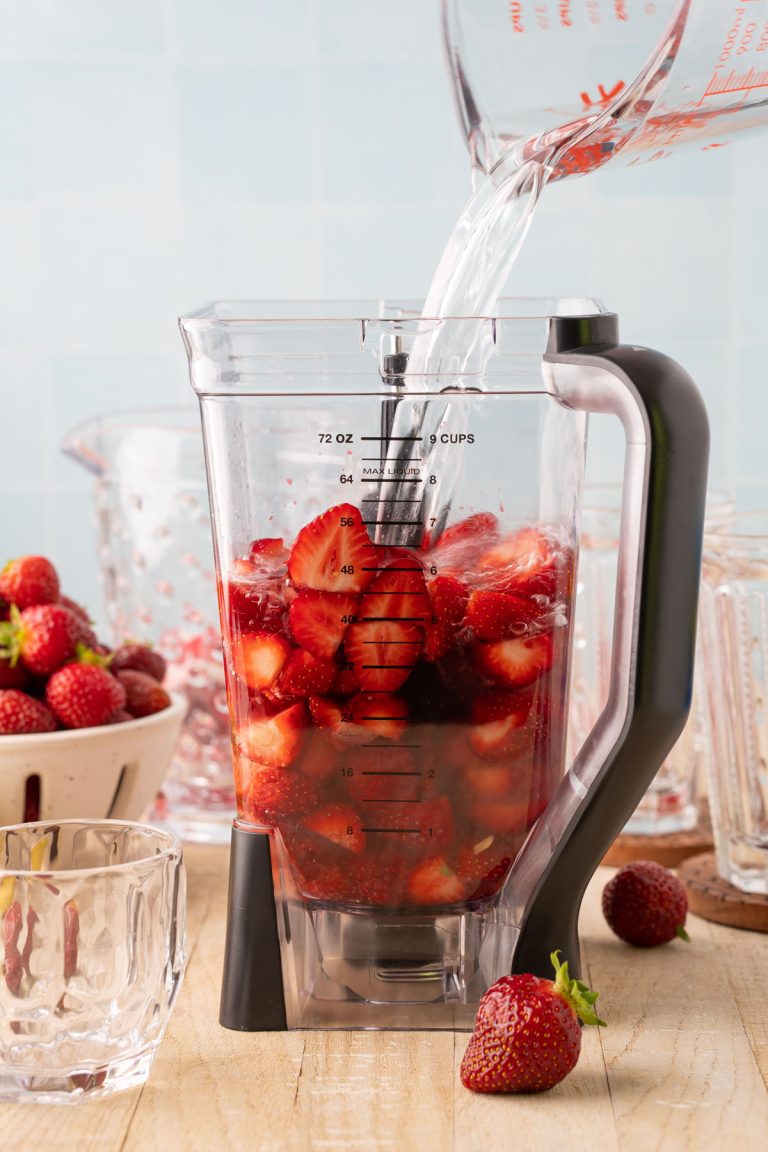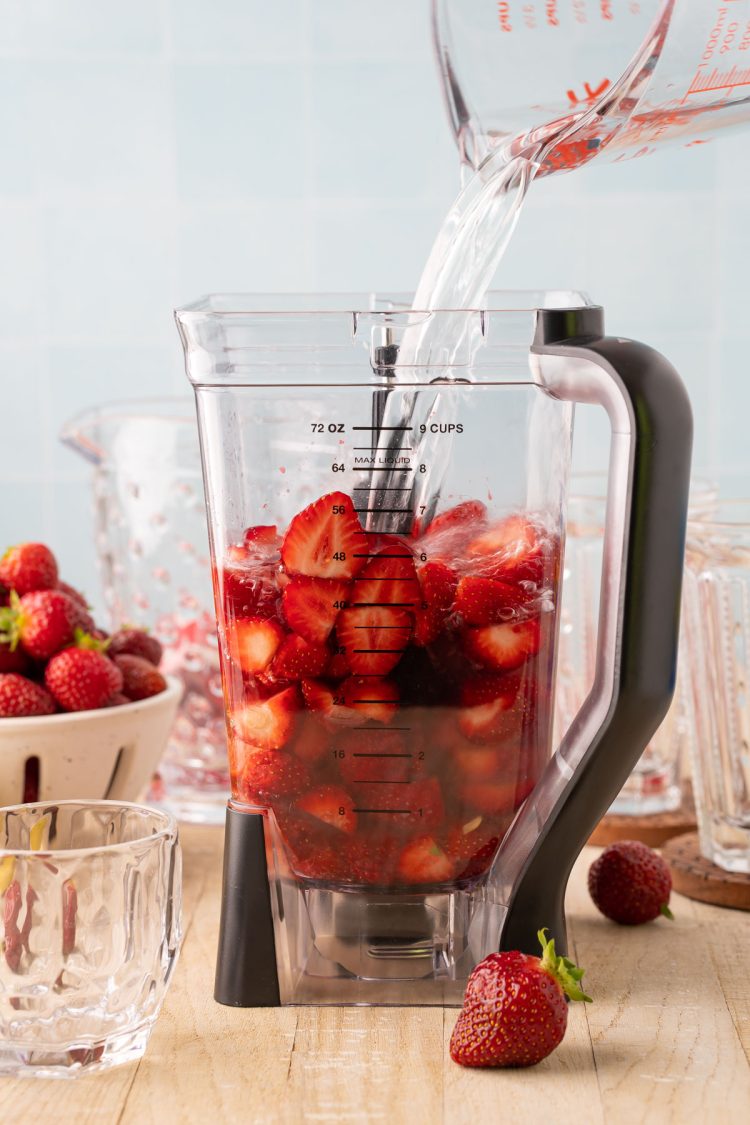 Step 3: Pour the strawberry puree through a fine-mesh strainer into a bowl.
Step 4: Add the strawberry lemonade concentrate into a large pitcher and then pour in the club soda. Stir and enjoy over ice!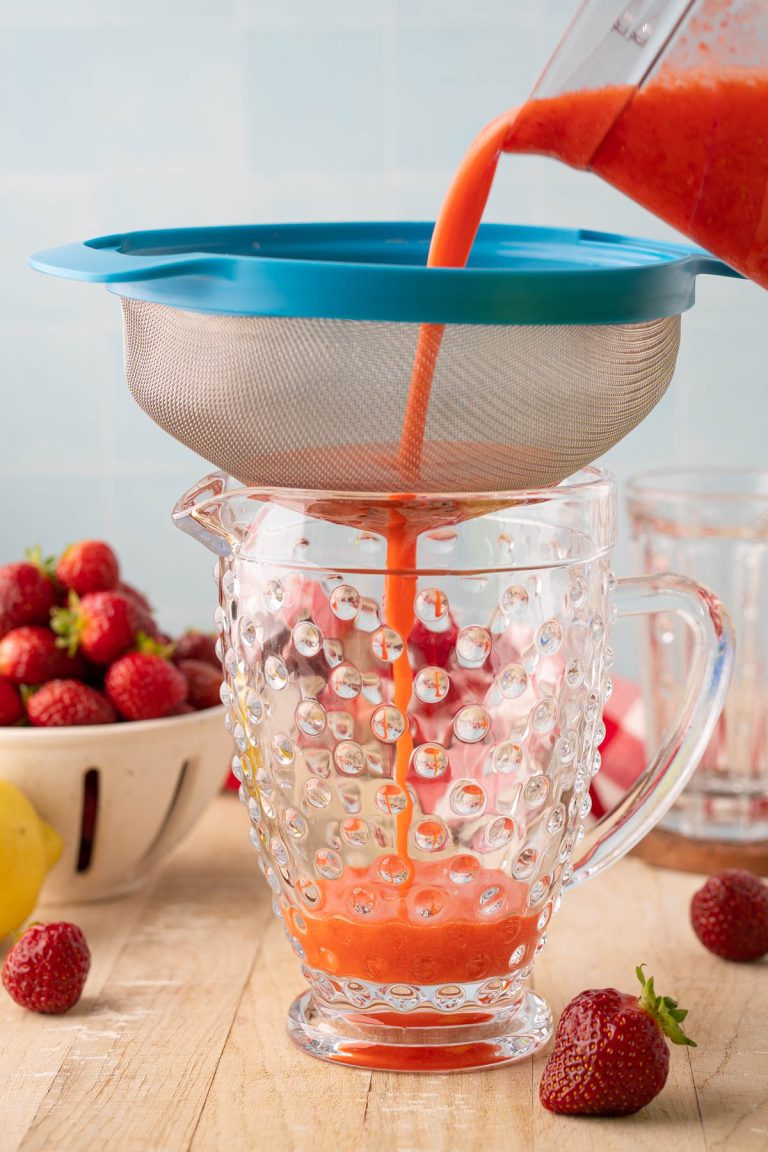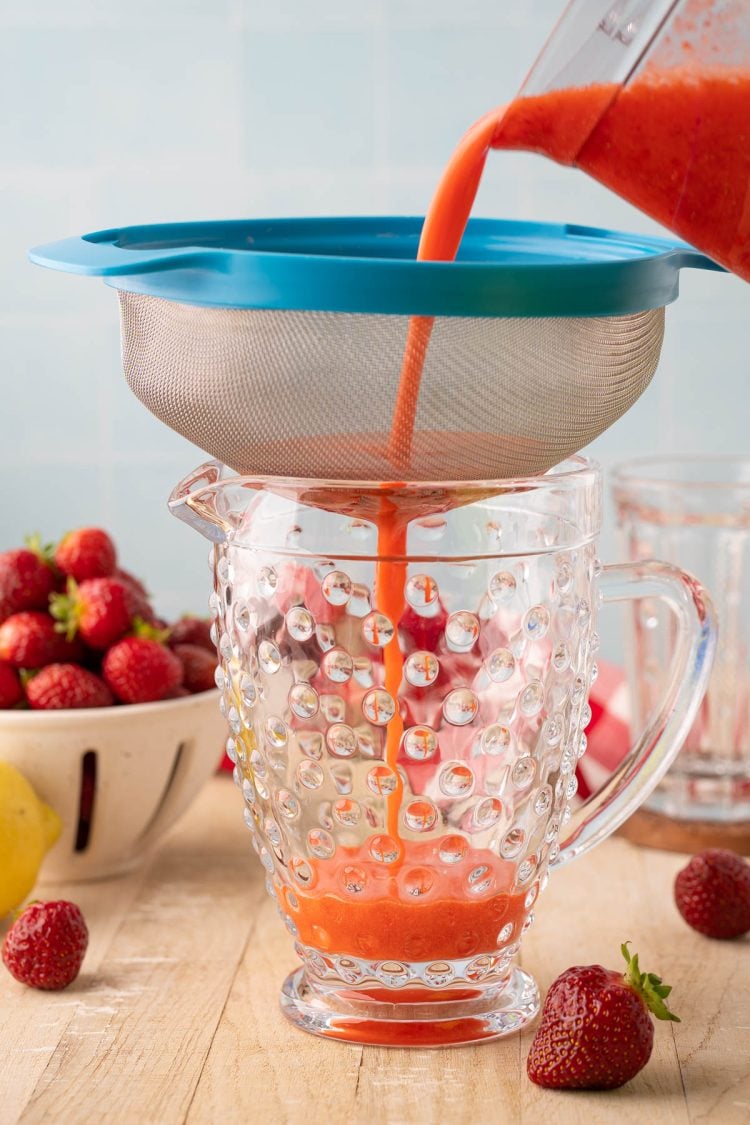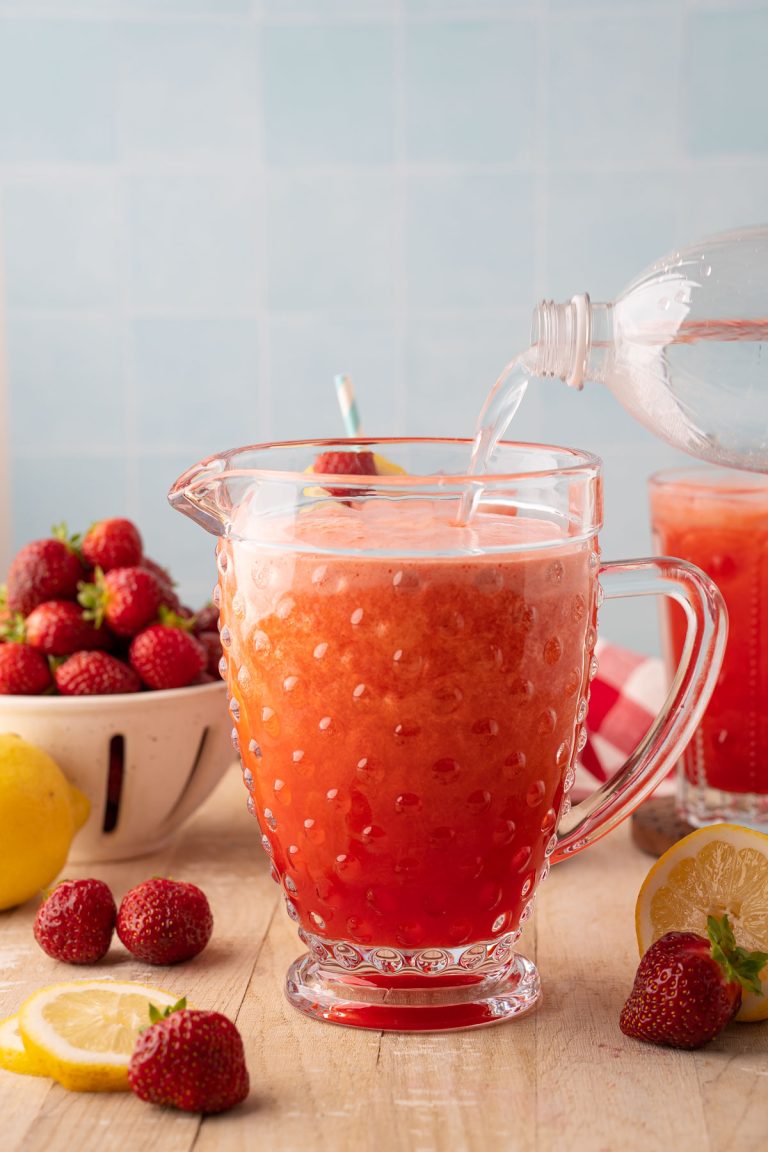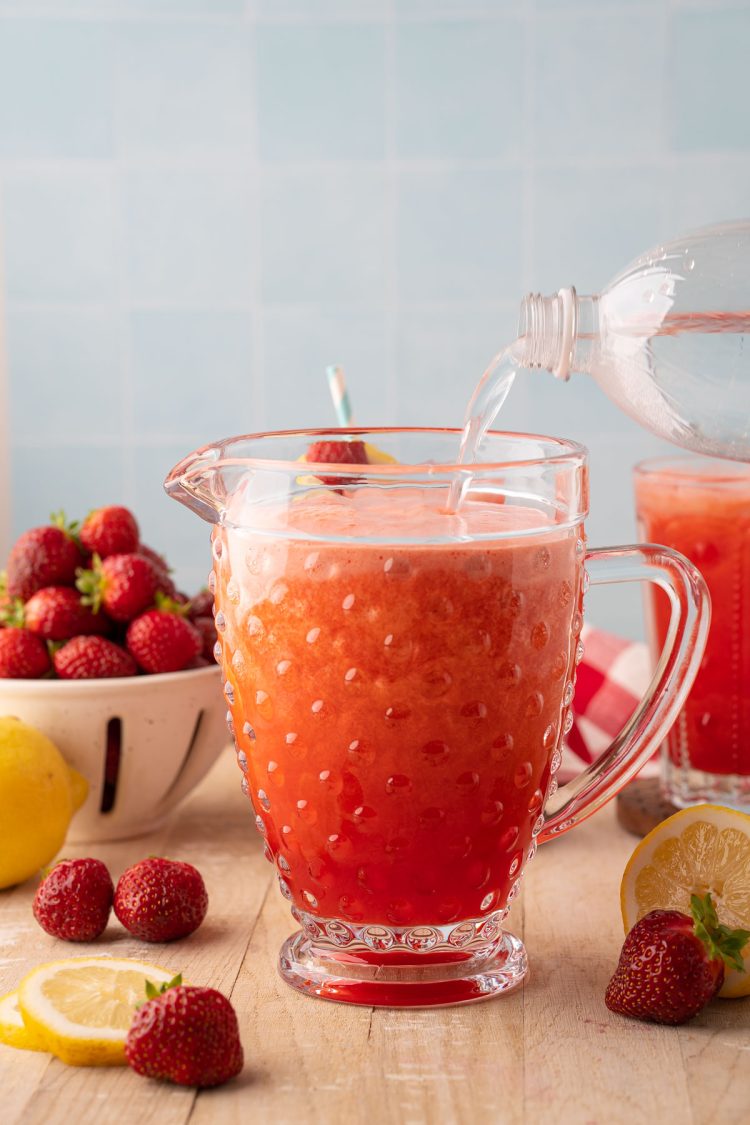 How To Store Strawberry Lemonade
Keep strawberry lemonade in a large pitcher or in an airtight container in the refrigerator for up to 5 days. A strawberry lemonade concentrate can also be frozen to enjoy later for party prep or a quick homemade beverage!
Transfer the strained strawberry puree mixture into an airtight, freezer-safe container to freeze. Then store it in the freezer for up to 4 to 6 months.
Once you're ready to enjoy the lemonade, thaw the concentrate in the fridge overnight. Then add it to a pitcher with the club soda and serve!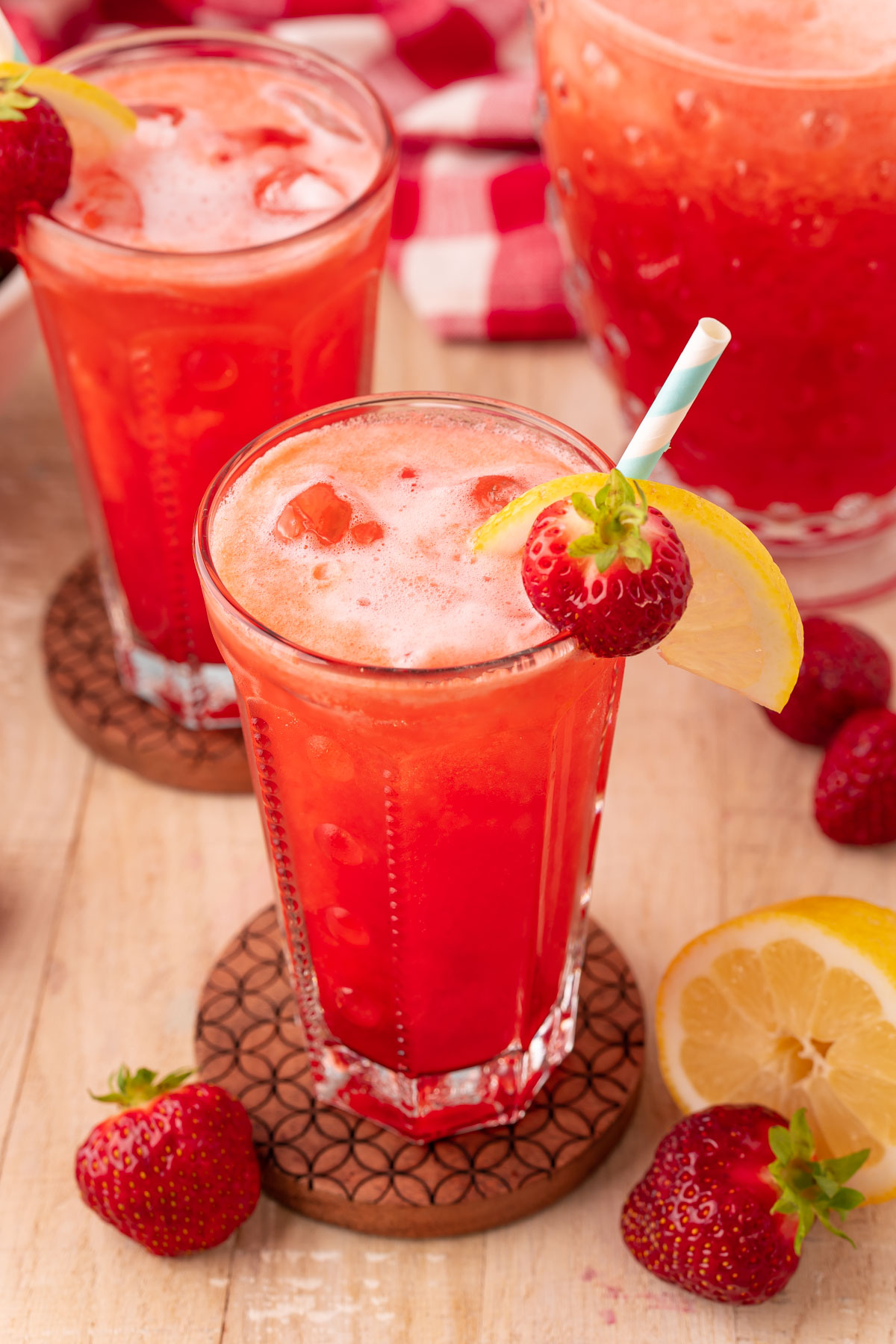 Strawberry Lemonade FAQs
Is strawberry lemonade just pink lemonade?
No, pink lemonade gets its color from artificial dye and coloring, whereas strawberry lemonade gets its color from strawberries. The fruity strawberry flavor also sets it apart from pink lemonade!
What is strawberry lemonade made of?
This particular strawberry lemonade recipe is made of strawberries, water, sweetener, lemon juice, and club soda.
What does strawberry lemonade taste like?
Strawberry lemonade has the classic taste of citrusy lemon flavor that's accompanied by sweet, fruity strawberries! Together the two flavors make for a refreshing beverage filled with delicious tart yet sweet flavor.
How do you make homemade noncarbonated strawberry lemonade?
Just replace the club soda with water to make a noncarbonated version of this lemonade recipe.
Can you make strawberry lemonade with frozen strawberries?
Frozen strawberries can be used instead of fresh berries when making this strawberry lemonade.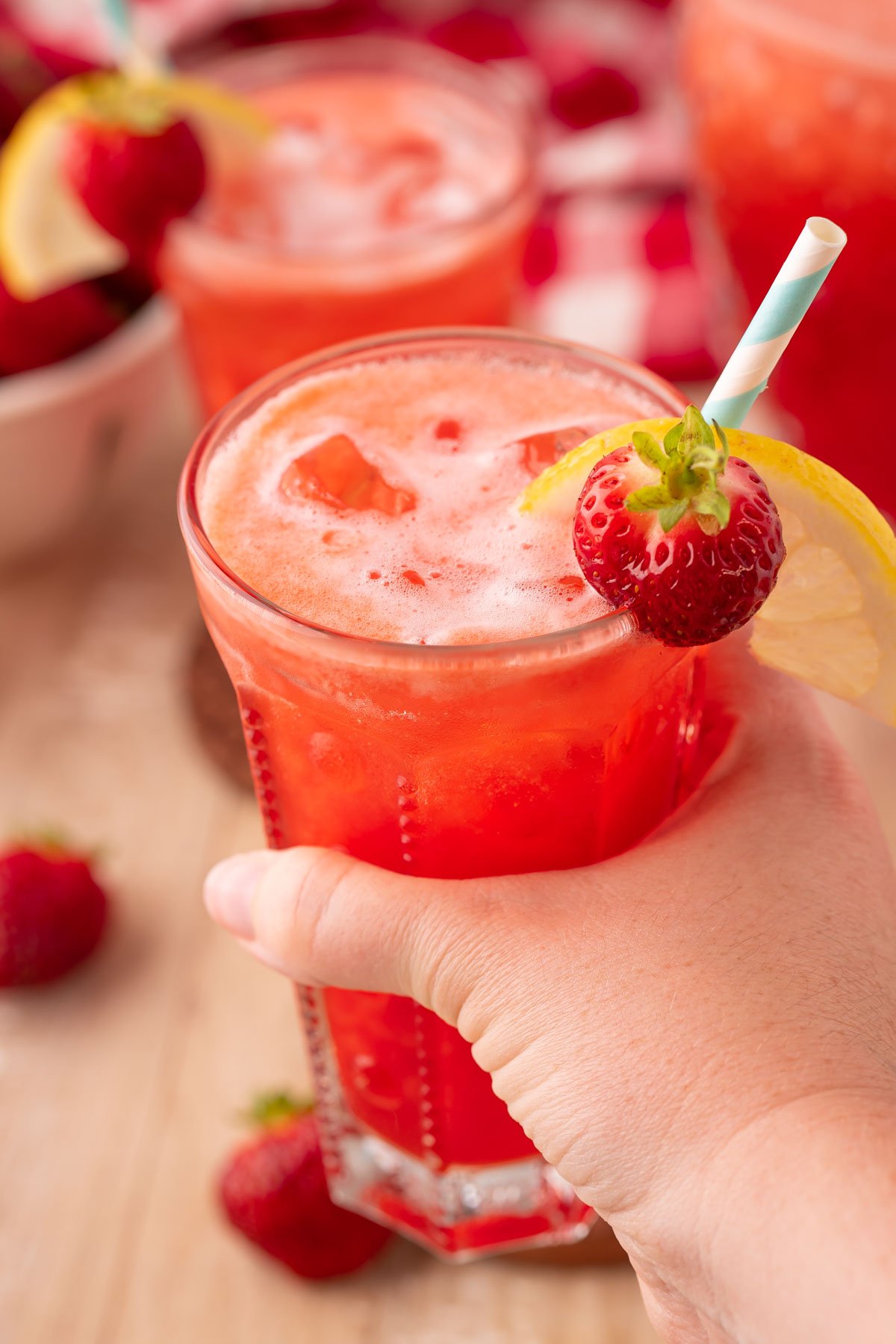 👋 Let's Connect!
If you've tried this recipe, please let me know how you liked it in the comments below and leave a review; I love hearing from you! And don't forget to tag me – @sugarandsoulco – on Instagram and Pinterest with your photos or join our Sugar & Soul Show-offs Community and share them there, where you can join our recipe challenges and win prizes!
This recipe was originally published in 2015 and was updated in July 2023 with an adjusted recipe and content.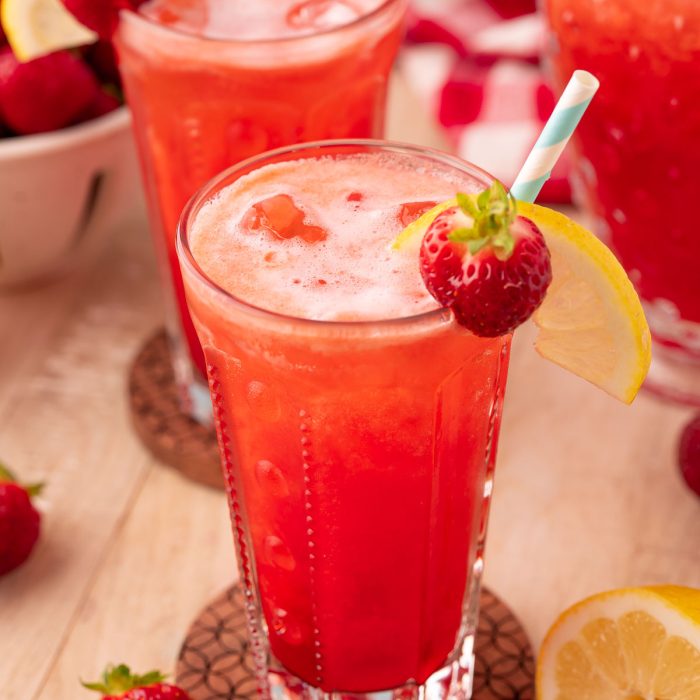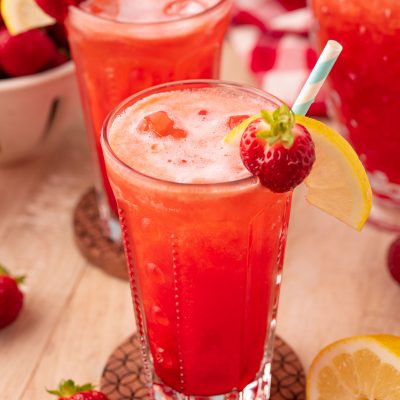 Strawberry Lemonade
This Strawberry Lemonade is the perfect mix of bright lemons and sweet strawberries and just what you need on a summer afternoon!
Instructions
Slice the stems off the 4 cups strawberries (measured after slicing) and slice them in half and add them to a blender.

Add 2 cups water, 1¼ cup lemon juice, and 1 cup simple syrup to the blender with the strawberries and pulse until smooth.

Strain the mixture through a fine mesh sieve into a bowl.

Add to a large pitcher with 3 cups club soda, stir and enjoy.
Nutrition
Calories: 145kcal | Carbohydrates: 39g | Protein: 1g | Fat: 0.3g | Saturated Fat: 0.03g | Polyunsaturated Fat: 0.1g | Monounsaturated Fat: 0.03g | Sodium: 47mg | Potassium: 178mg | Fiber: 2g | Sugar: 35g | Vitamin A: 11IU | Vitamin C: 57mg | Calcium: 25mg | Iron: 2mg