Classic Macaroni Salad is the perfect side dish for summer! Tender elbow macaroni is tossed in a creamy dressing and loaded with veggies and seasoning!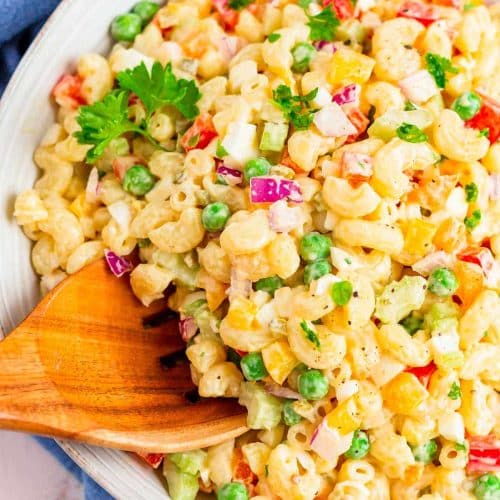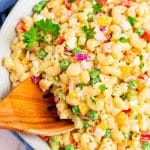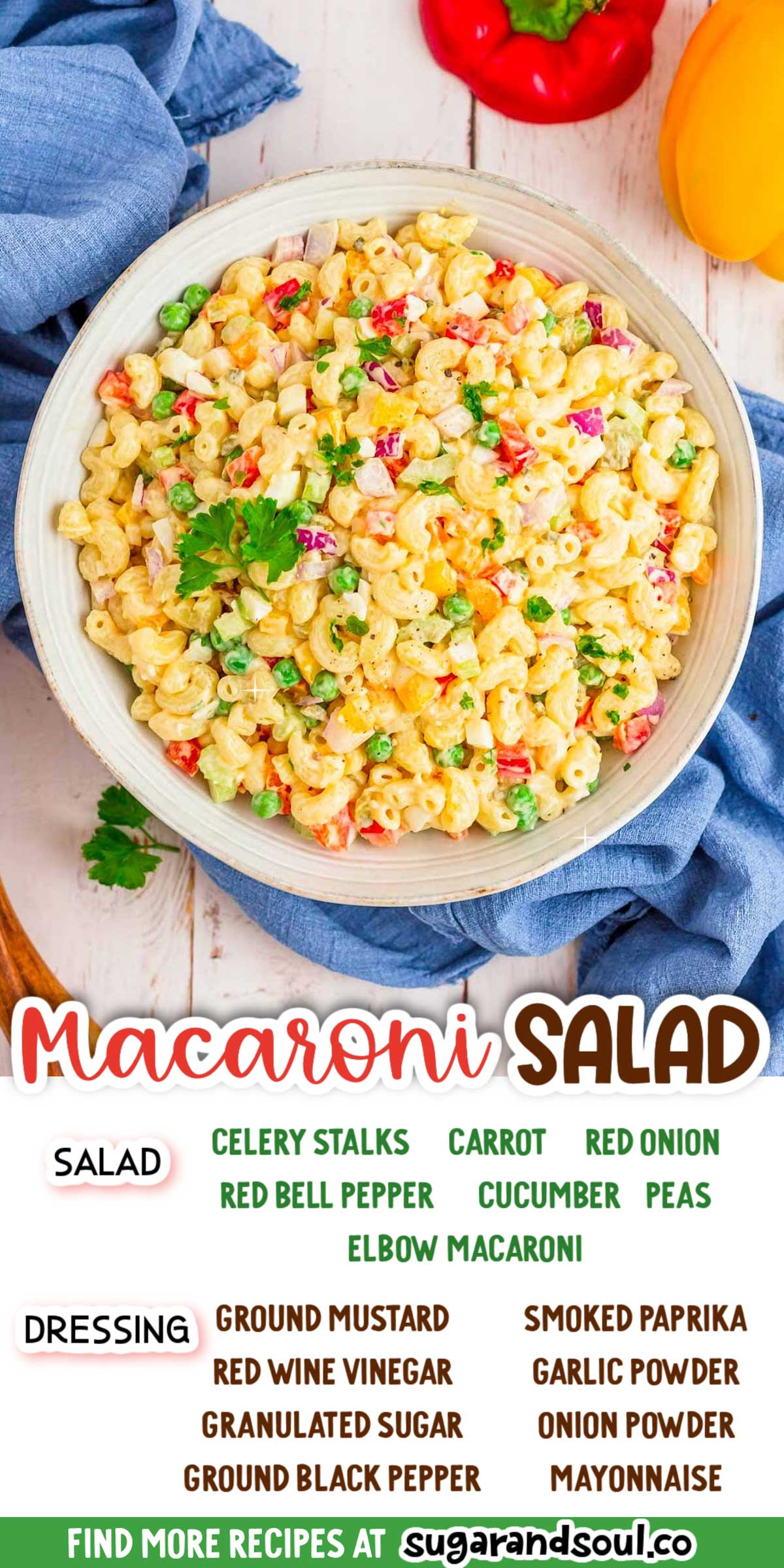 Classic Macaroni Salad has tender elbow macaroni, fresh veggies, and seasonings that are all coated in a creamy dressing! The perfect side dish for all of those backyard cookouts!
For more delicious summertime side dishes, be sure to also check out my Tuna Pasta Salad and this Easy Antipasti Pasta Salad!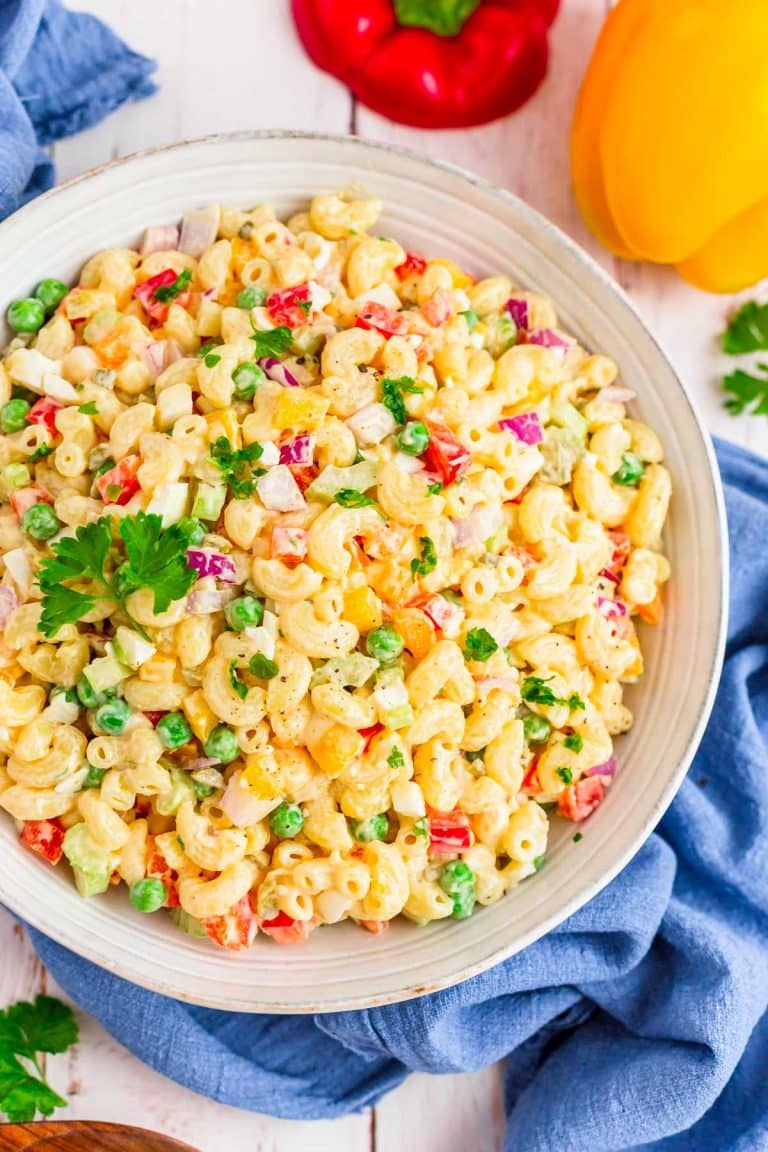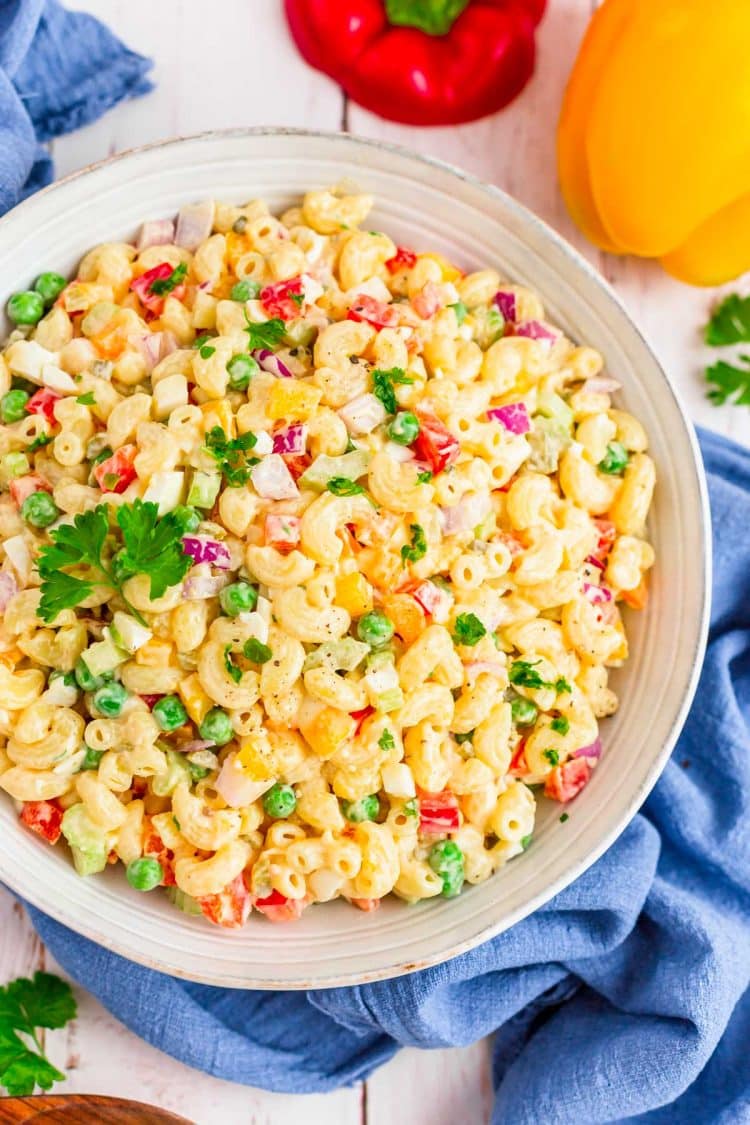 This is the Best Macaroni Salad!
This Classic Macaroni Salad is a favorite of mine! It's full of spices, textures, and a bit of tang, making it anything but boring!
I love that there are so many different versions of this nostalgic side dish! I enjoy both creamy and oil-based dressings, but with its blend of flavors, this particular recipe puts a tasty twist on traditional pasta salad recipes.
The tanginess of the mustard and vinegar, plus the hint of sweetness from the sugar, will have you (and everyone else!) going back for second helpings. Plus, all those different textures mean that every bite stays interesting!
About this Classic Macaroni Salad
Taste: This salad is tossed in a dressing that blends mayo, vinegar, and mustard powder. Along with zesty spices like garlic and onion powder, salt, pepper, and even a bit of sugar!
My family also loves when I add a touch of smoked paprika for a bit of kick! However, that's totally optional!
Texture: In this recipe, tender elbow macaroni meets the crunch of chopped vegetables including carrots, celery, cucumbers, and peppers. All of which are coated in a cool, creamy dressing! Bringing lots of tasty textures to every bite!
Homemade Macaroni Salad ingredients
Dressing
mayonnaise
red wine vinegar
granulated sugar
ground mustard
garlic powder
onion powder
ground black pepper
smoked paprika
Salad
elbow macaroni
red onion
red bell pepper
carrot
celery stalks
cucumber
peas
What's the best pasta to use for pasta salad?
For this pasta salad, we prefer to use classic elbow macaroni because it's the best size to blend with the other ingredients. For best results, look for the kind with ridges, as this will give the dressing something to cling to. Ditalini would be another fine choice, or if you prefer a larger pasta, try Cavatappi.
Spices for macaroni salad
This recipe uses a mild blend of mustard, garlic, and onion powders along with black pepper and smoked paprika. You could also add salt to taste and some people really love making classic macaroni salad with celery salt. This is a pretty standard and classic recipe that can be adjusted to taste.
Classic Macaroni Salad variations and substitutions
Meat: You could add 1 to 2 cups of chopped chicken, bacon, ham, or even tuna to this recipe. You'll want to increase the mayonnaise by 1/2 cup to account for the added volume.

Veggies: This recipe has a pretty classic blend, but you can use a different type of bell pepper or remove something you don't like. I would recommend keeping the balance the same, so if you remove the celery, add in extra cucumber or peas. I do not recommend adding tomatoes as they won't hold up as well.

Flavor: You could add 1/4 to 1/2 cup of dill pickle relish for some zing or add some heat with a couple of tablespoons of hot sauce.
Can I Add Other Veggies To This Dish?
Yes, you can add whatever you'd like based on your tastes! If you like eggs in your pasta salad those can even be added to this!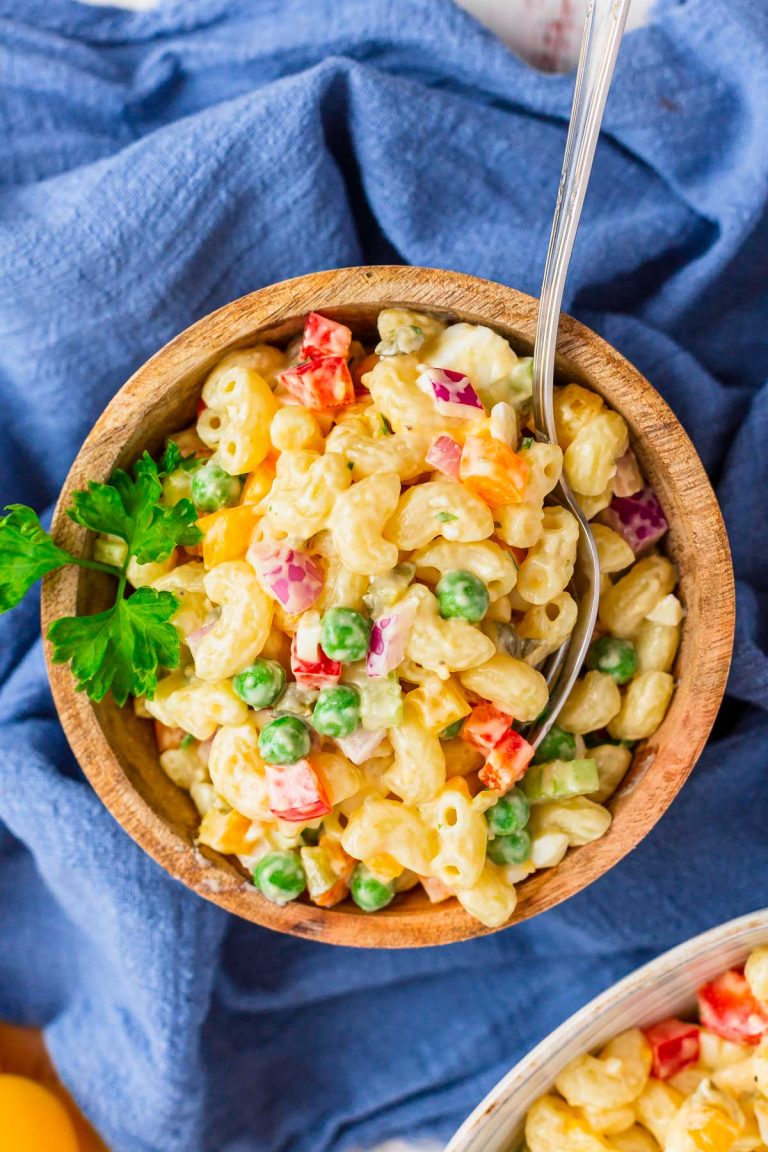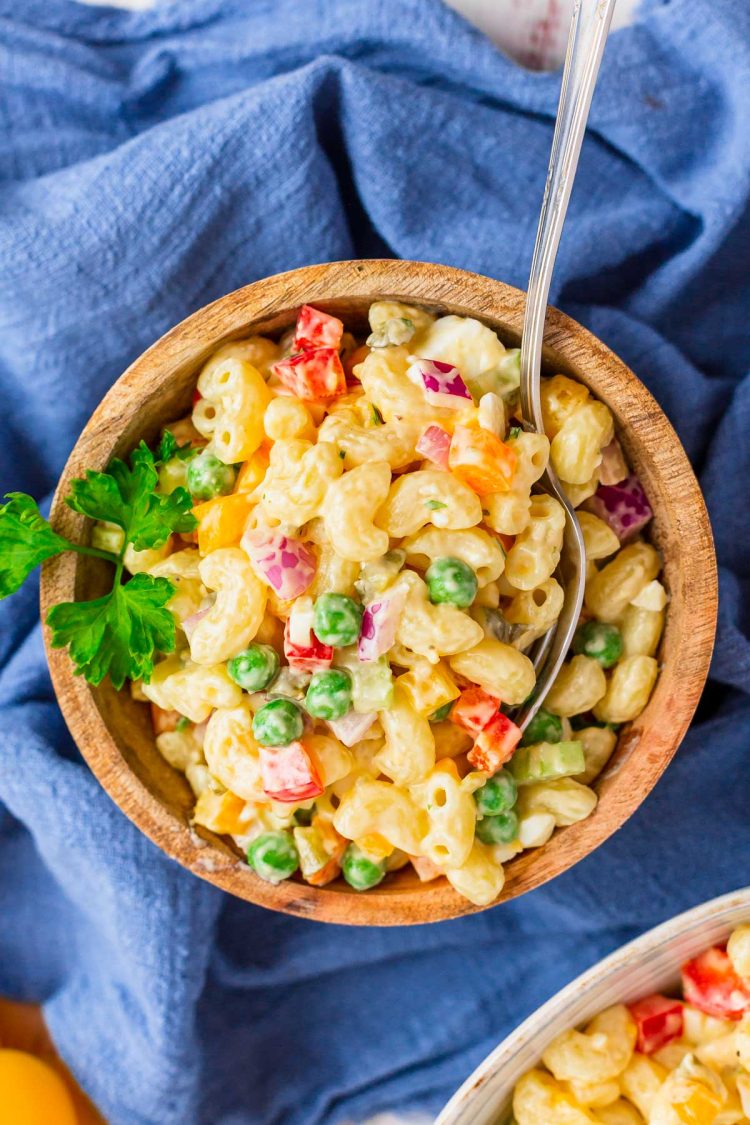 This Traditional Macaroni Salad Recipe pairs well with…
There are a lot of different ways to make this dish! I personally love how this way is simple yet super delicious!
Making it easy to pair this with grilled favorites such as BBQ Baby Back Ribs! Or even Grilled Pork Tenderloin and Smash Burgers!
Our family is also known to enjoy this side at our annual family Steamed Lobster feast!
But whether you're hosting a gathering or bringing a dish to someone else's house, this really is the perfect side dish to add to any picnic table!
Will This Macaroni Salad Recipe Feed A Large Crowd?
I've found that this side dish comfortably serves a dozen people! If you're feeding a larger crowd, you may want to consider doubling this recipe.
For this recipe, I'd say 3 roughly diced hard-boiled eggs would be the perfect amount.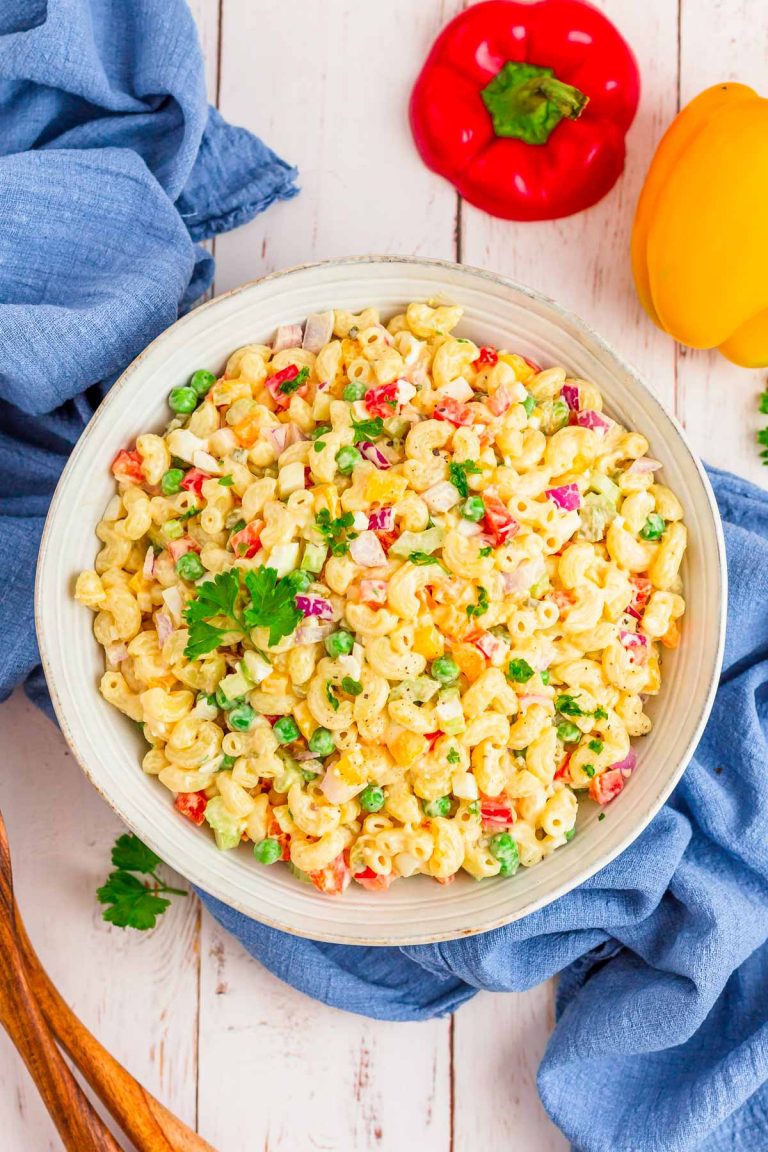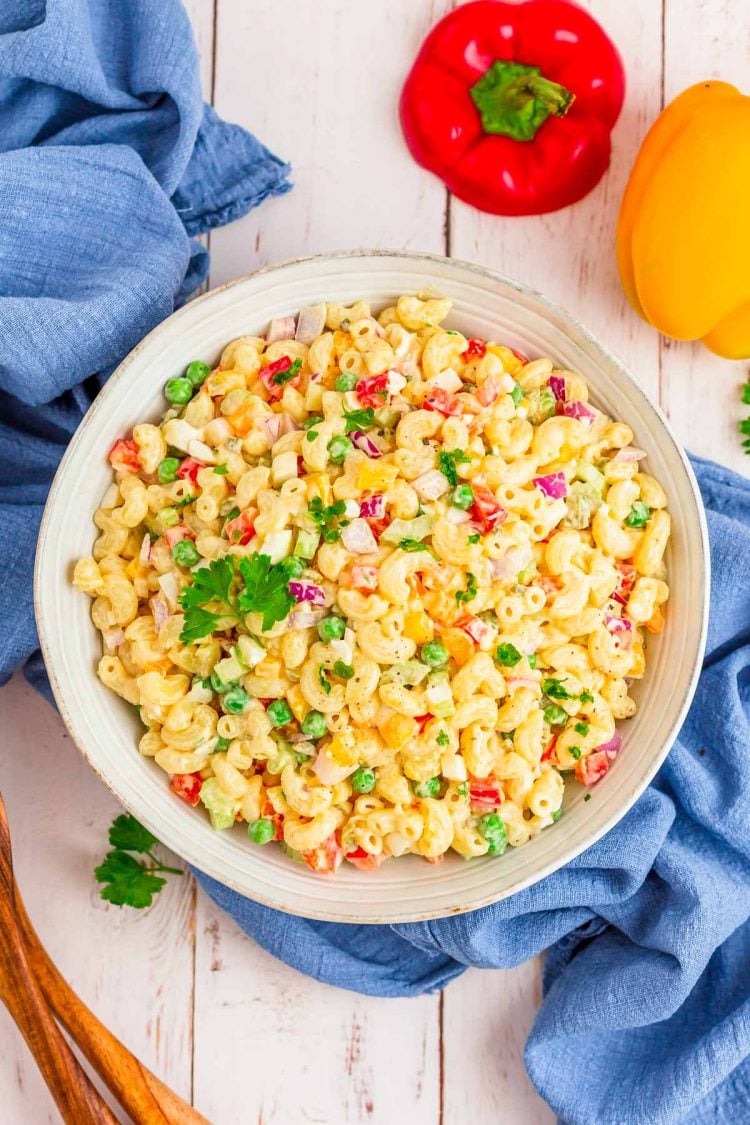 Simple Macaroni Salad Recipe tips & tricks
Every brand of pasta is different! The kind of pasta you use could absorb more of the sauce than the kind I use. Therefore, if you find your macaroni is a little dry after chilling, add an additional 1/3 cup of mayo.
You can use white vinegar in place of red wine if you prefer.
Once the pasta has been cooked to al dente, strain it into a colander. Afterward, run cold water over the top. This will prevent further cooking of the pasta while also cooling it down.
For best taste, chill this macaroni salad in the fridge for 2 hours or overnight.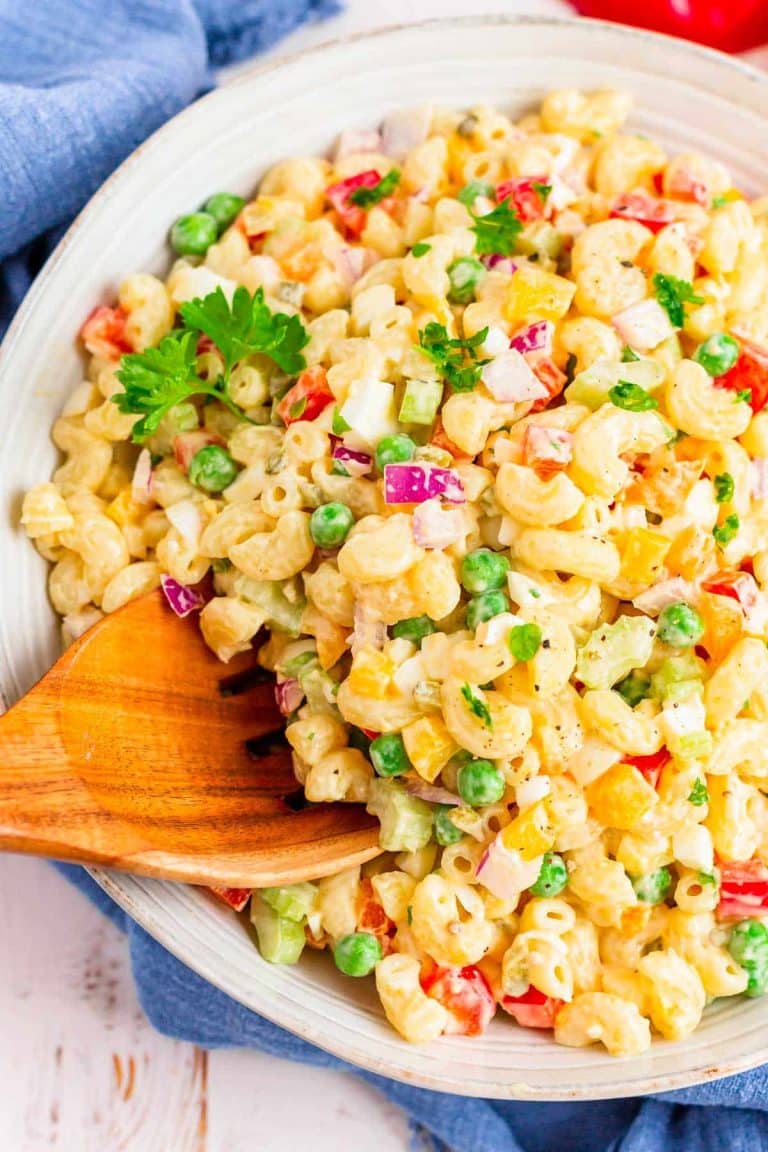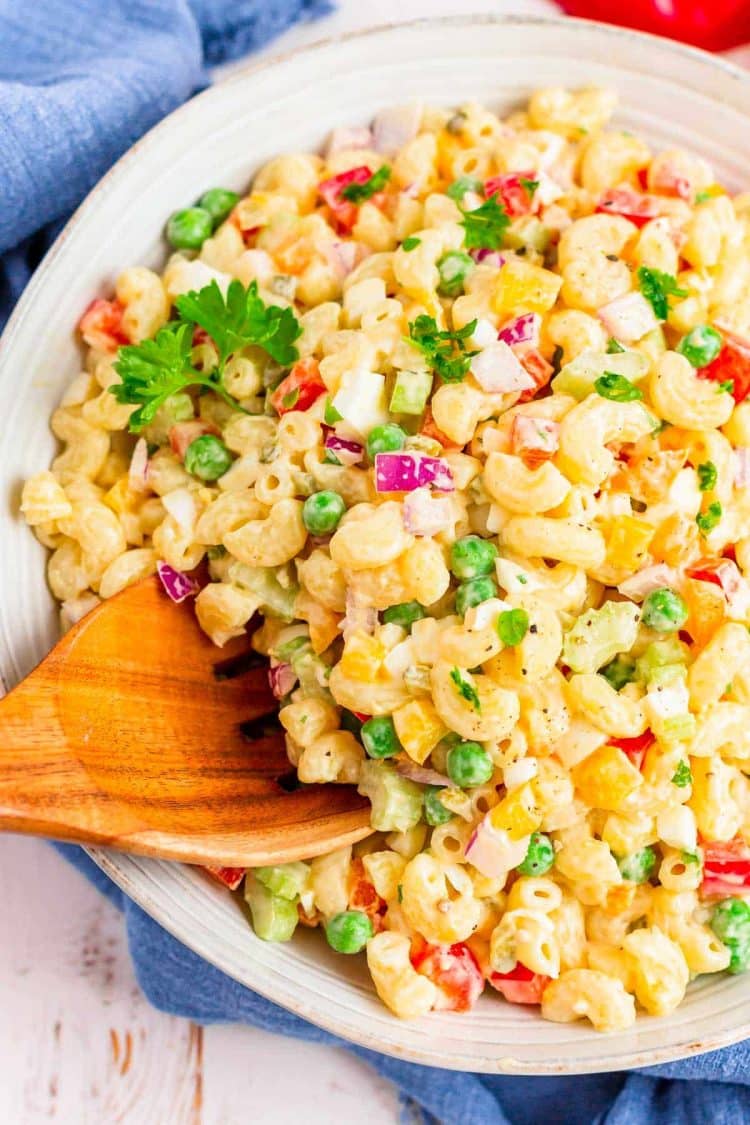 Storing Macaroni Salad
Keep any leftover macaroni salad in the refrigerator in an airtight container.
How do you keep macaroni salad moist?
As is, this macaroni salad should stay well dressed for a day or two. After which time you might want to consider adding an additional 1/4 to 1/2 cup of mayonnaise to account for an absorption from the pasta and veggies.
How long can you keep Macaroni Salad in the refrigerator?
If preparing in advance or store leftovers, keep the macaroni salad in an airtight container in the refrigerator for up to 4 days.
Best Macaroni Salad FAQs
What are the five mistakes to avoid with pasta salad?
Macaroni Salad is an easy dish to prepare, but it's important that you avoid these crucial mistakes for the best results
1. Choosing the wrong pasta – size matters and bite-sized is best.
2. Overcooking the pasta – al dente is best, no one likes mushy pasta.
3. Not enough dressing – a dry salad is a sad salad.
4. Too much dressing – the dressing should cling to the other ingredients, not pool in the bottom of the bowl.
5. Lack of seasoning – flavor is key, the mayo is the base not the hero here.
Should you rinse macaroni when making macaroni salad?
I think this is really personal preference. You see, you sacrifice a little something either way. If you don't rinse-to-cool your pasta, it could overcook. If you do rinse, you risk washing away the starch that helps the dressing cling to the pasta. I personally like to do a quick rinse, just enough to cool it down but have it still be warm. And I use ridged pasta. Between the warmth of the pasta and ridges, I find that the pasta still soaks the dressing up without becoming too mushy.
Why does my macaroni salad taste bland?
You didn't add enough spices or you spices were expired or of low quality. Make sure your spices are no more than 2 to 3 years old for best flavor. If you're investing in spices, we recommend Spice World, Burlap and Barrel, and Diaspora Co. If you're looking to grab something fast, we prefer McCormick or Frontier Co-Op brands.
Why is macaroni salad so high in calories?
Most of the calories in macaroni salad comes from the mayo and the pasta. If you're looking to lighten things up, feel free to use light mayonnaise in this recipe. I would recommend using Barilla Protein+ pasta if you're trying to be health conscious. It won't cut the calories but it will add additional protein to the dish.
👋 Let's Connect!
If you've tried this recipe, please let me know how you liked it in the comments below and leave a review; I love hearing from you! And don't forget to tag me – @sugarandsoulco – on Instagram and Pinterest with your photos or join our Sugar & Soul Show-offs Community and share them there, where you can join our recipe challenges and win prizes!
This recipe was originally published in June 2018 and was updated with fresh photos and tips in August 2022.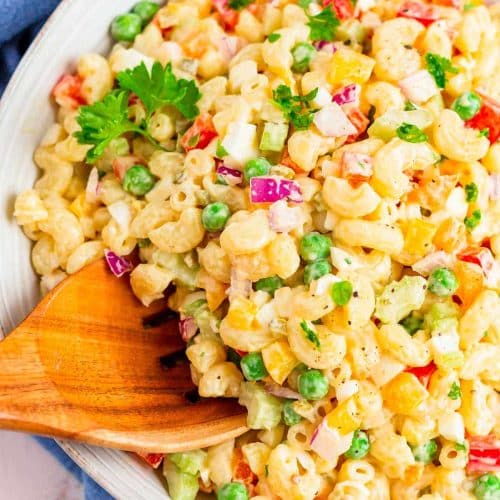 Traditional Macaroni Salad Recipe
Classic Macaroni Salad is the perfect side dish for summer! Tender elbow macaroni is tossed in a creamy dressing and loaded with veggies and seasoning!
Instructions
Dressing
In a medium bowl, whisk together the mayonnaise, vinegar, sugar, mustard powder, garlic powder, onion powder, and pepper as well as the paprika, if using. Chill in the refrigerator while you cook the pasta and prep the veggies.

2 cups mayonnaise, ¼ cup red wine vinegar, ¼ cup granulated sugar, 1 teaspoon ground mustard, 1½ teaspoons garlic powder, ½ teaspoon onion powder, ¼ teaspoon ground black pepper, ¼ teaspoon smoked paprika

Cook pasta to al dente according to package instructions, strain into a colander, and run cold water over the top of the pasta to prevent further cooking and to cool the pasta. Transfer to a large bowl with the veggies.

16 ounces elbow macaroni

While the pasta is cooking, prep your vegetables and add them the large bowl with the pasta. Add the dressing and toss to coat.

½ medium red onion, 1 red bell pepper, 1 large carrot, 2 celery stalks, 1 cucumber, ½ cup peas

Chill for at least 2 hours or overnight for best results. Serve cold.
Notes
Every brand of pasta is different and the kind you use could absorb more of the sauce than that kind I typically use, if you find your macaroni salad is a little dry after chilling, add an additional 1/3 cup of mayonnaise.
White vinegar may be used in place of red wine.
Other veggies may be used as well depending on your tastes.
If you like eggs in your pasta salad, you can add 3 roughly diced hard-boiled eggs.
Nutrition
Calories: 383kcal | Carbohydrates: 35g | Protein: 5g | Fat: 23g | Saturated Fat: 3g | Cholesterol: 13mg | Sodium: 210mg | Potassium: 196mg | Fiber: 2g | Sugar: 7g | Vitamin A: 1230IU | Vitamin C: 14.7mg | Calcium: 20mg | Iron: 0.7mg