These Peanut Butter Banana Frozen Dog Treats are the perfect treat for the pups when the days are hot! Just three ingredients and 10 minutes to make!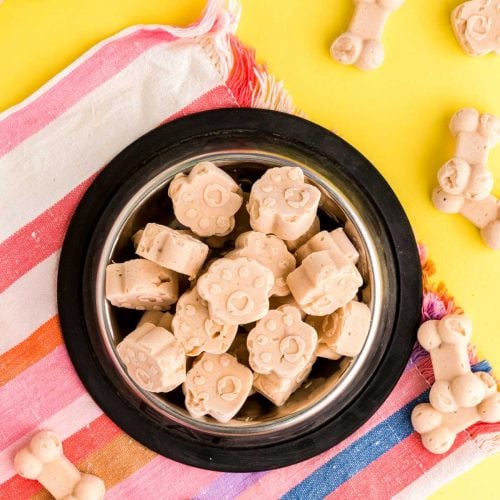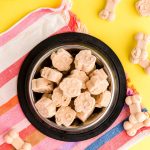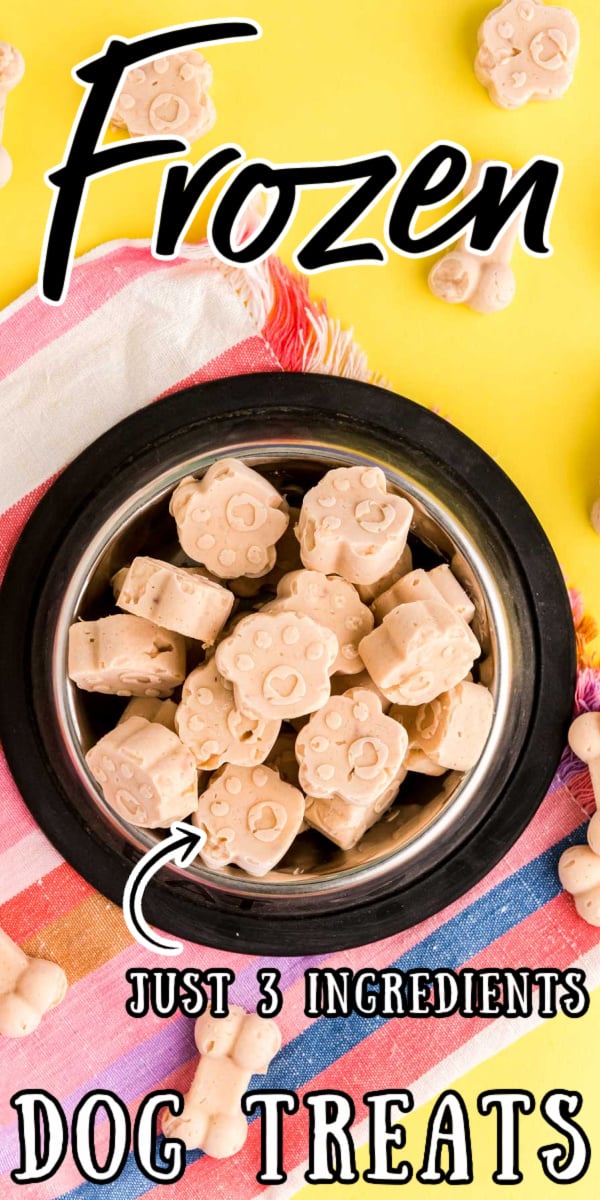 These Homemade Frozen Dog Treats are made with greek yogurt, peanut butter, and bananas to make a chilled treat your pup can cool down with!
Give your favorite four-legged friend another homemade treat like these baked Peanut Butter Pup-kin Homemade Dog Treats or Apple & Peanut Butter Pupcakes that are ready in 45 minutes!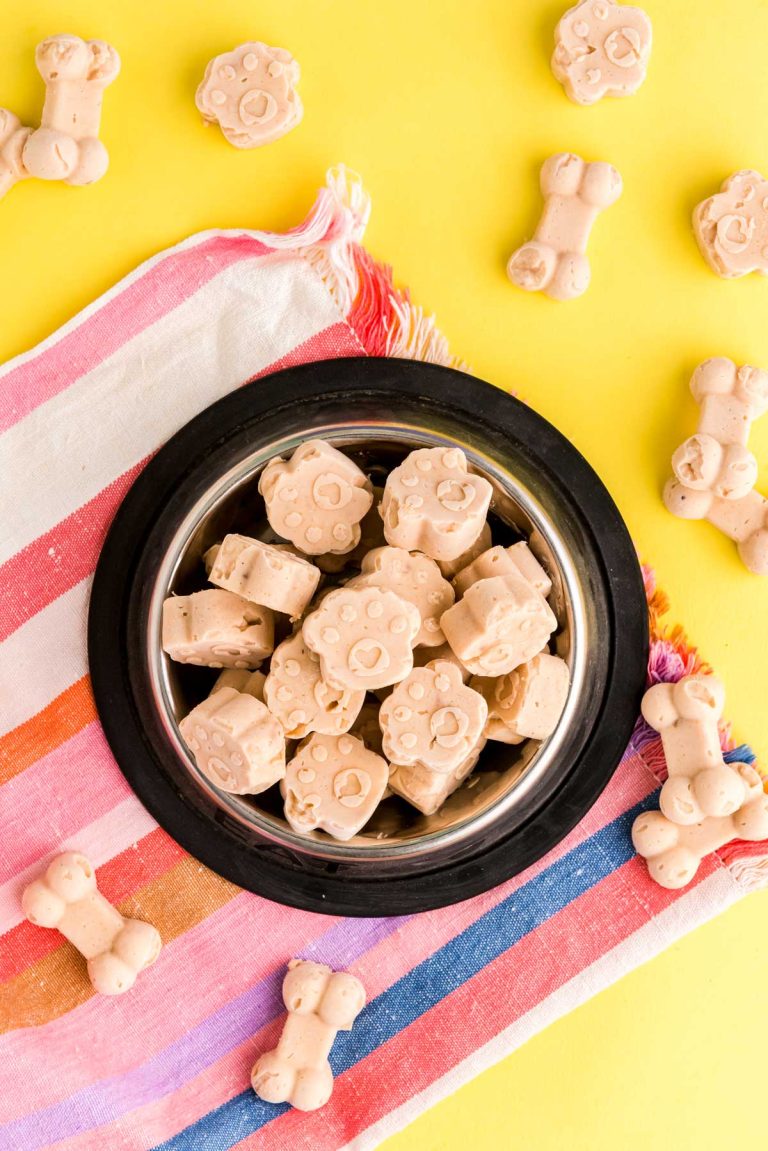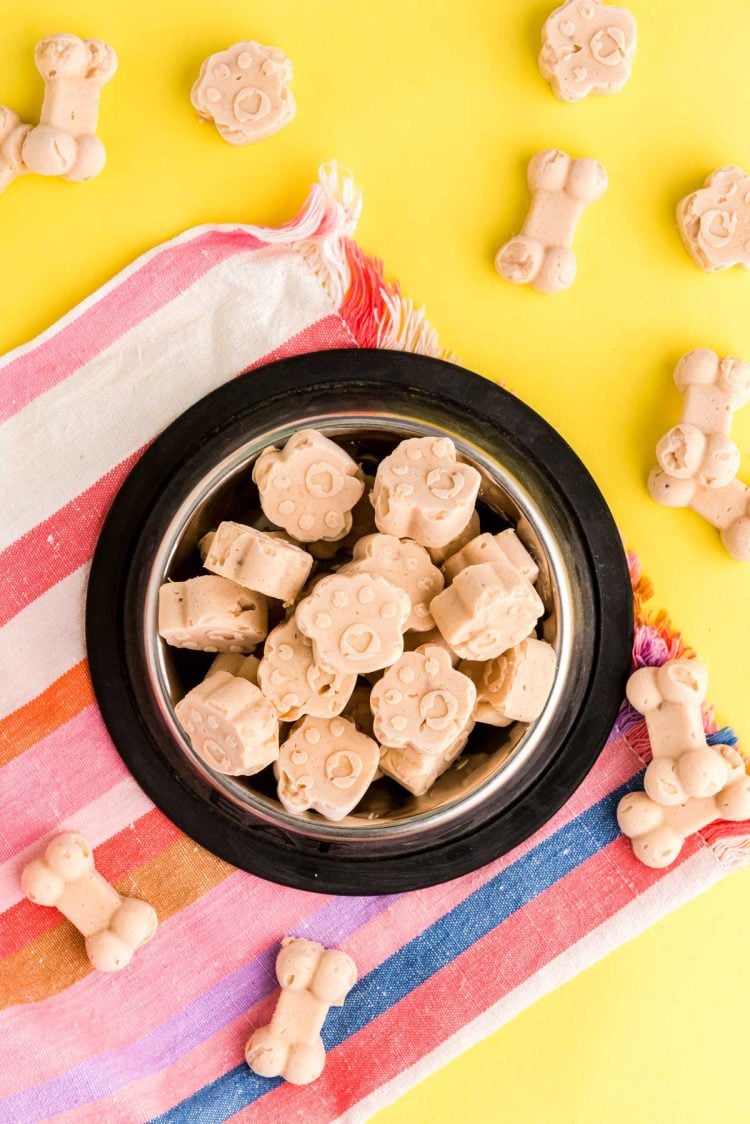 Homemade Peanut Butter Banana Frozen Dog Treats are a great way to trade in those store-bought dog bones for a homemade dog-safe treat! These frozen banana treats are basically an ice cream dessert for your fur-baby that will have them licking your face to say thank you!
We humans can reach for a glass of ice-cold Homemade Sweet Tea or sip on a Chocolate Milkshake (Thick and Rich) when the hot summer days leave us a sweaty mess. But options for our furry friends are pretty limited!
This is why I made an easy 3-ingredient frozen dog treat recipe! They take just 10 minutes to make and a couple of hours to freeze before your feeding one to your dog!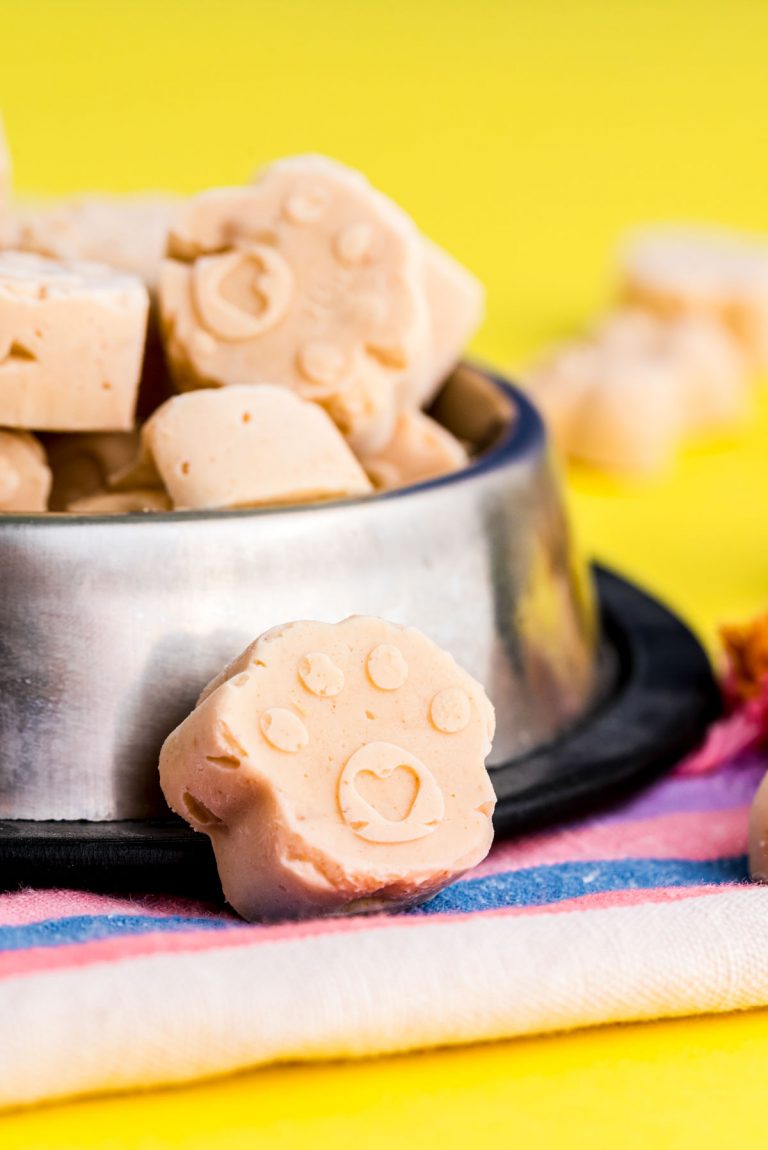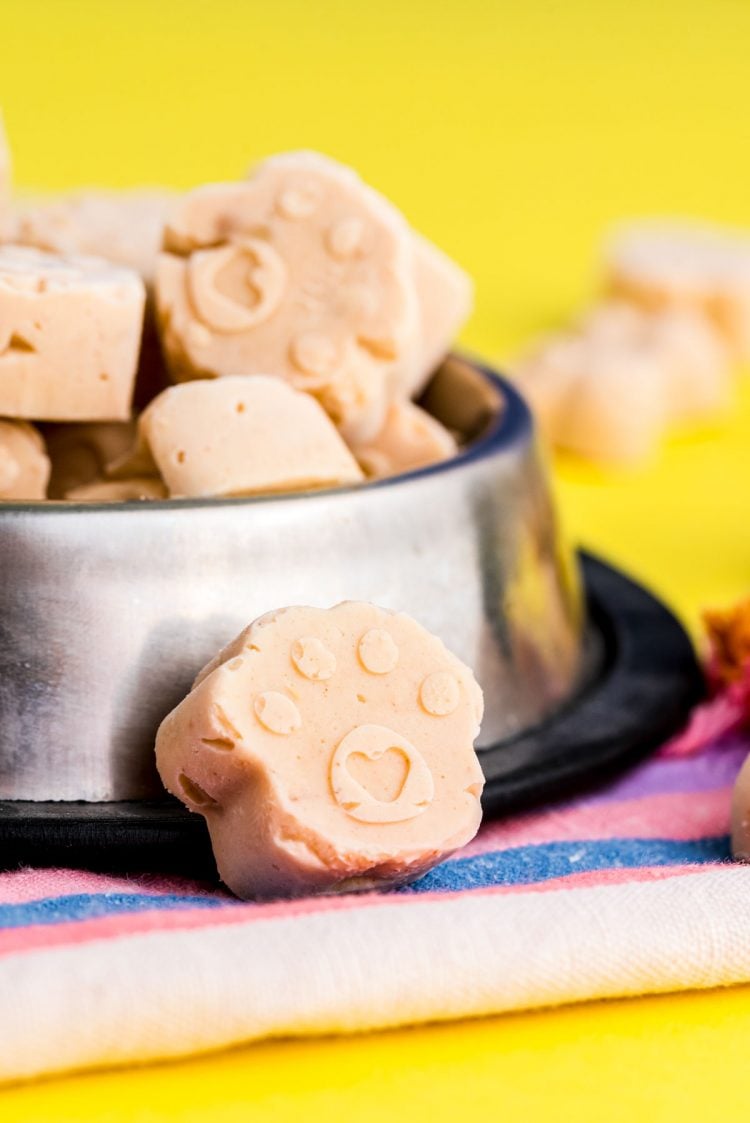 Ingredient Notes
This super easy Homemade Frozen Dog Treat Recipe has minimal ingredients while still delivering big flavor to your sweet pup! I find I get the perfect consistency for these treats when I put all of the ingredients into my food processor.
The dog treat mixture just comes out a lot more smooth! To freeze up a batch you'll need:
Greek Yogurt – I recommend sticking with plain Greek yogurt.
Banana – Mashed.
Peanut Butter – I used Jif Creamy Peanut Butter. When choosing a peanut butter to use just be sure to stay away from ones that have xylitol listed as an ingredient as it's not safe for dogs to consume!
You'll also need some silicone molds, I used these ones but if you have a big dog you may want to get bigger molds. You could also just use any silicone molds you may have on hand regardless of their shape, even an ice cube tray!
After all, dogs aren't even concerned about the shape of their treats! All they care about is how delicious they are!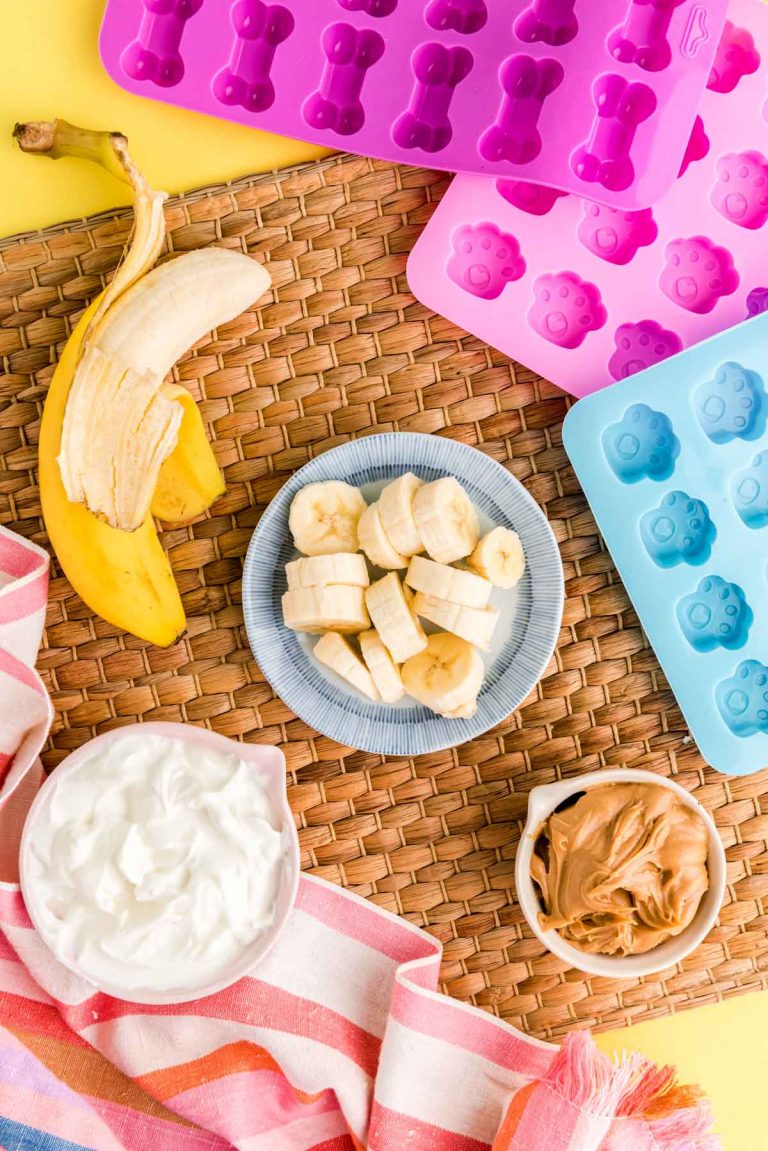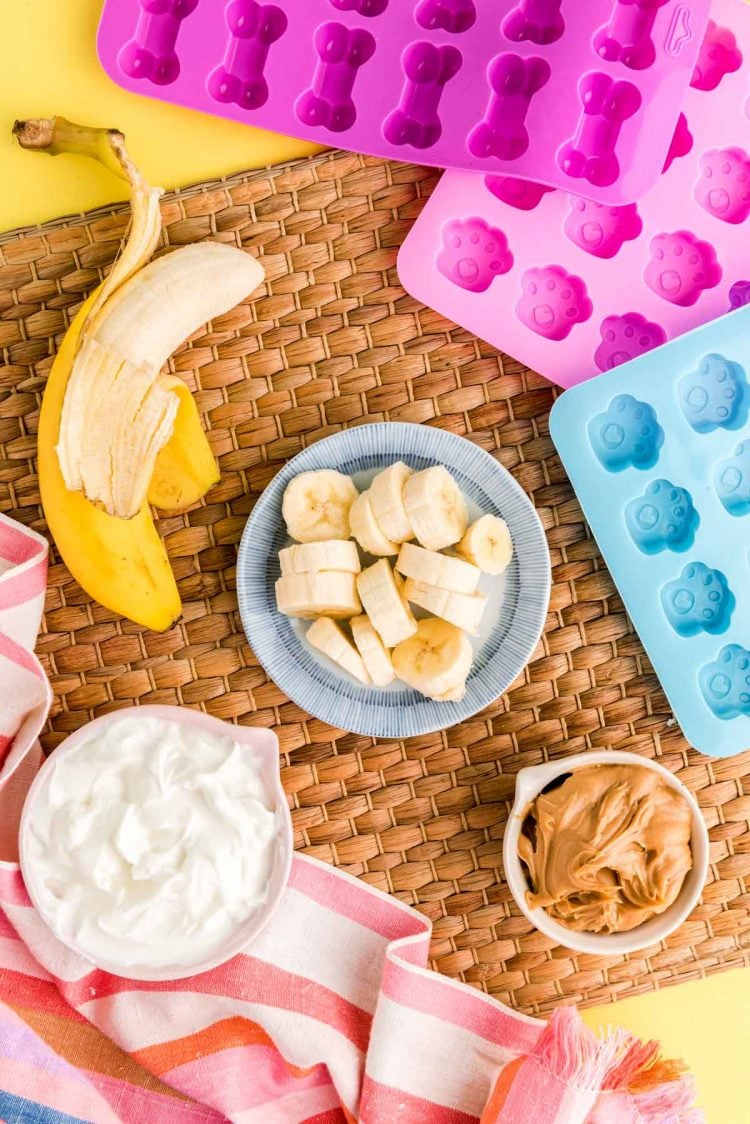 How To Make Homemade Frozen Dog Treats
Combine all of the ingredients in a large bowl.
Mix the dog treat mixture together thoroughly.
Scoop the mixture into silicone molds. Making sure to firmly press the treat mixture into the molds so they're nice and full.
Scrape the top of the molds with a knife or bench scraper to remove any excess mixture. Place them in the freezer for 2 hours before offering one to your pup!
Frequently Asked Questions
How To Store
Once the treats have been frozen pop them out of the mold and place them in a Ziploc freezer bag. Squeeze out the excess air and store them in the freezer for up to 6 months.
How Many Frozen Treats Can I Give My Dog A Day?
Depending on the size of the treats you could offer your dog 1 to 2 per day. But if you're unsure the best bet would be to check with your pet's veterinarian!
How Ripe Should The Bananas Be?
I like to use fairly ripened bananas. The riper the banana the sweeter the treat!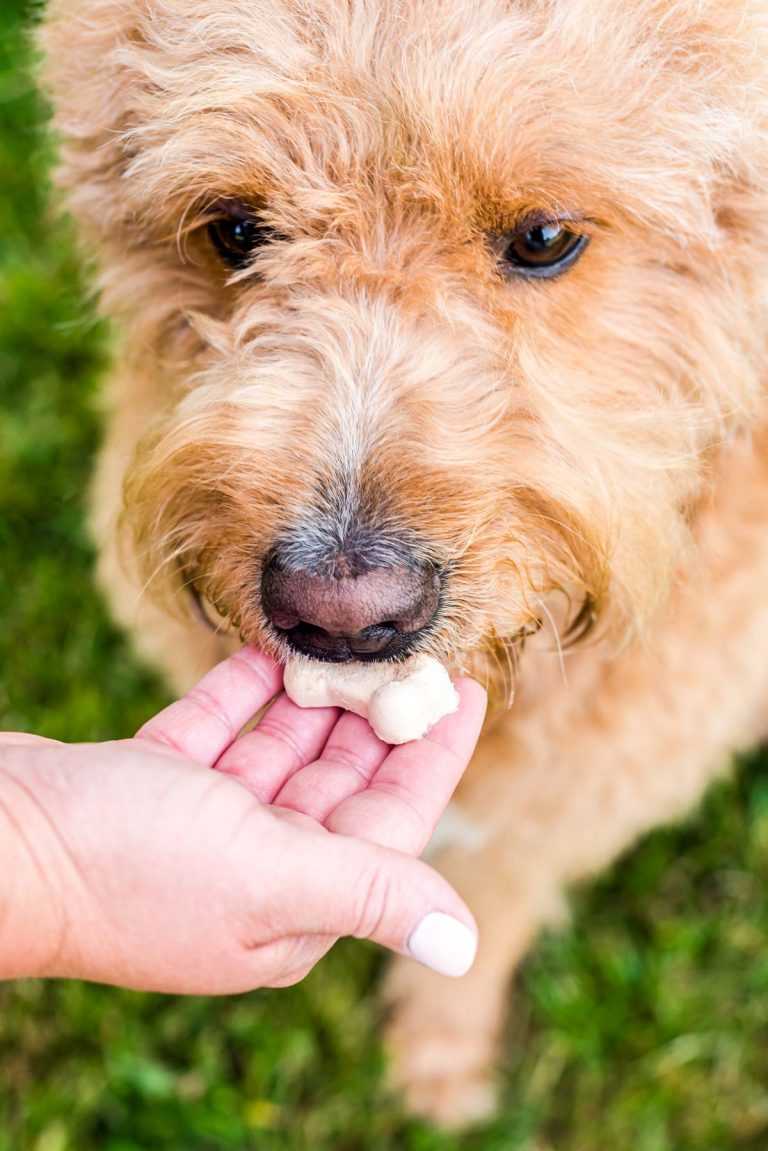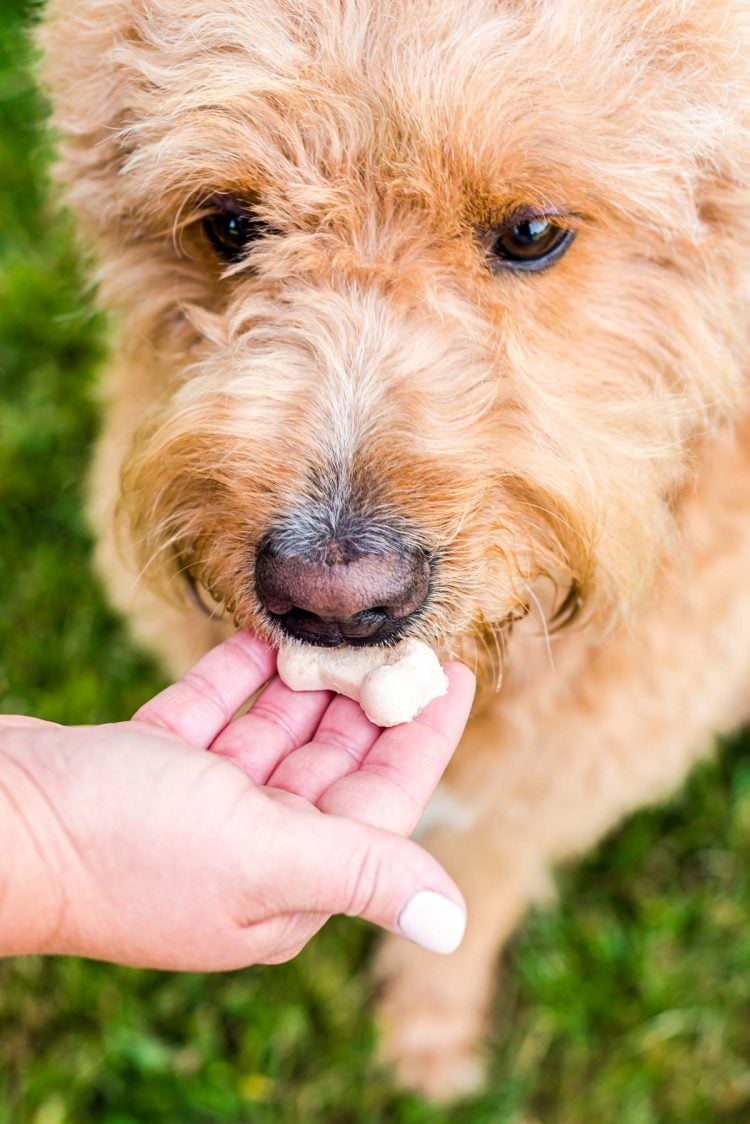 Dogs love the delicious peanut buttery goodness that are in these Homemade Frozen Dog Treats! But they certainly aren't the only ones that love a good peanut buttery dessert! Here are some tasty desserts to make for yourself while the dog treats are in the freezer setting up!
👋 Let's Connect!
If you've tried this recipe, please let me know how you liked it in the comments below and leave a review. I love hearing from you!
Don't forget to tag me – @sugarandsoulco – on Instagram and Pinterest with your photos or join our Sugar & Soul Show-offs Community and share them there, where you can join our recipe challenges!
This recipe was originally posted in June 2013 and was updated in July 2021 with new photos and slight recipe adjustments.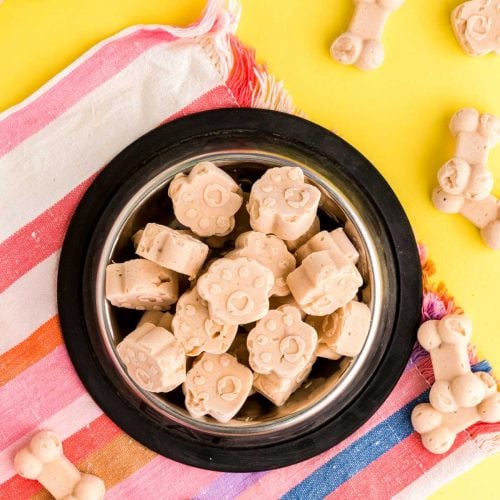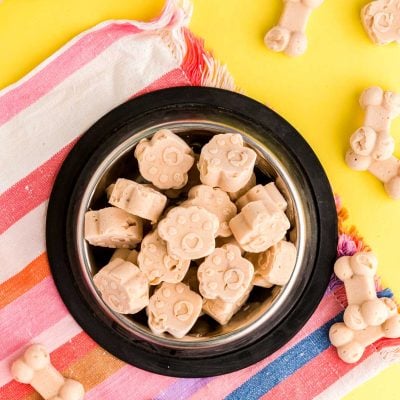 Peanut Butter Banana Frozen Dog Treats
These Peanut Butter Banana Frozen Dog Treats are the perfect treat for the pups when the days are hot! Just three ingredients and 10 minutes to make!
Instructions
Mix ingredients together until well blended.

Transfer the mixture into silicone molds with a small spoon. It can get a bit messy, so use a knife or bench scraper to run over the top on the tray and remove any excess. Also, be sure to push mixture down so that they are nice and full.

Freeze for at least 2 hours.
Notes
Make sure to avoid peanut butter with xylitol in it as it isn't safe for dogs.
Nutrition
Calories: 50kcal | Carbohydrates: 1g | Protein: 3g | Fat: 3g | Sodium: 37mg | Potassium: 65mg | Sugar: 1g | Calcium: 19mg | Iron: 0.1mg