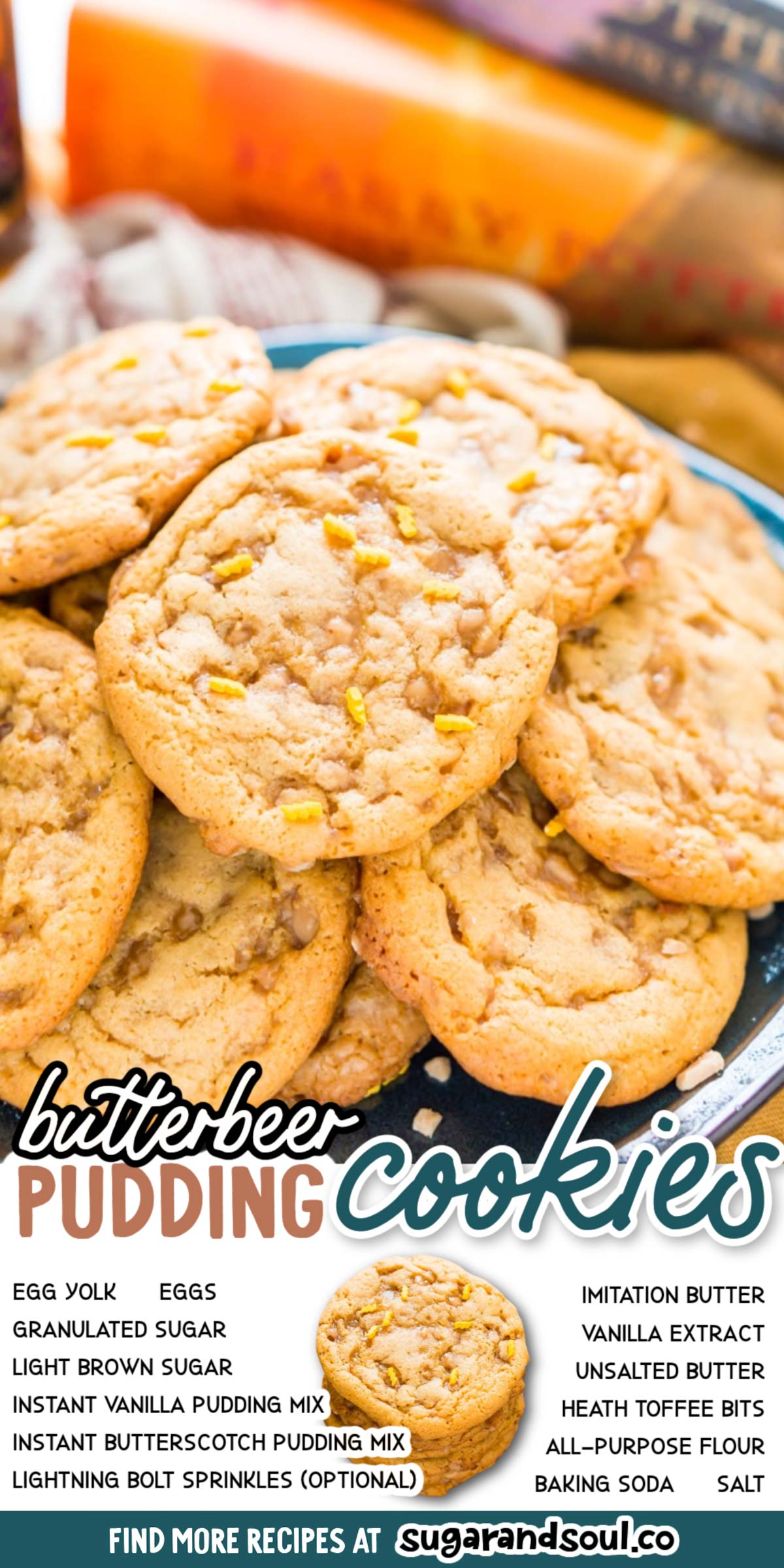 These Harry Potter inspired Butterbeer Cookies are a sweet old-fashioned blend of vanilla and butterscotch loaded up with toffee bits. Baked to perfection with a soft chewy center and lightly crisp edges, they won't last long!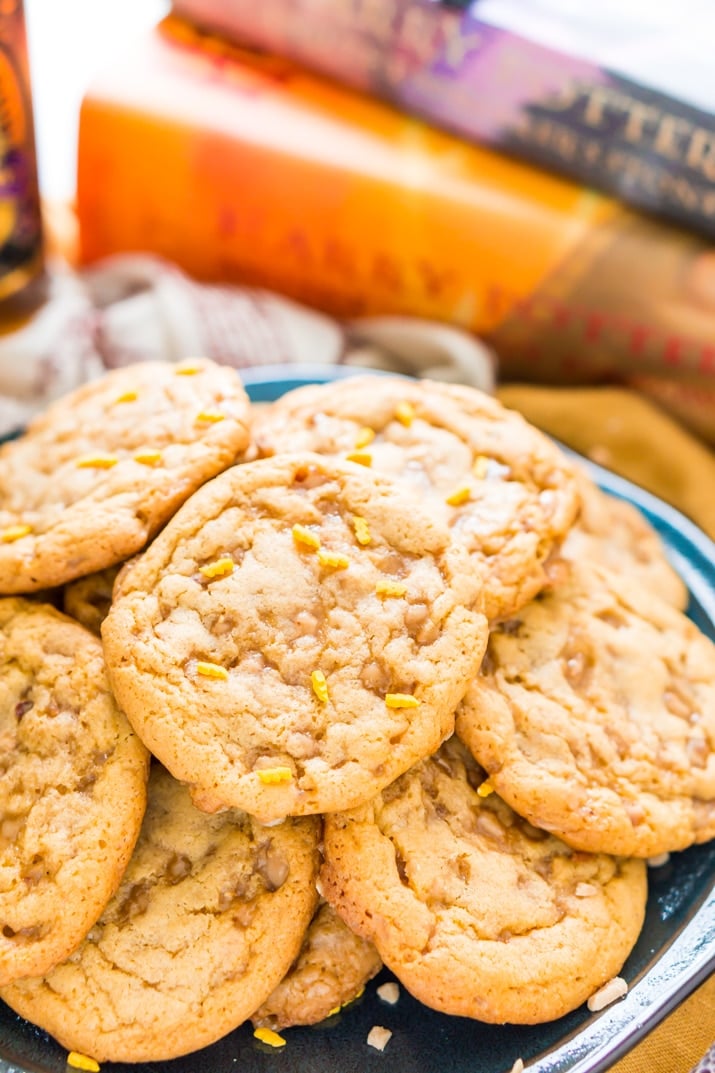 These Butterbeer Cookies are so freaking good! I can't believe that I have yet to share a Harry Potter recipe with you guys!
You guys know how much I love posting pop culture-inspired recipes, like my HIMYM Tootsie Roll Cocktail and Sansa's Lemon Cakes, yet Harry is one of my favorites and I haven't shown him any love on here.
Until now, that is!
You see, Harry and I are pretty tight; we grew up together you know? Or at least I thought we had until he celebrated his 34th birthday in July, was anyone else confused by that as well?
I researched it and the numbers make sense, but Harry is supposed to be my age! It was a little upsetting to find out there was a ten-year age gap between us, but he was probably never going to leave Ginny for me anyways…
But it's okay, he'll always hold a special place in my heart. Matt and I have made it a tradition to watch all of the movies every December.
Just us, the dog, and some cookies are all we need to be swept up in the wizarding world for a few hours and not worry about the hubbub of the holidays.
Wait, did I just say cookies? Heck yes, I did! And they're Butterbeer Pudding Cookies at that!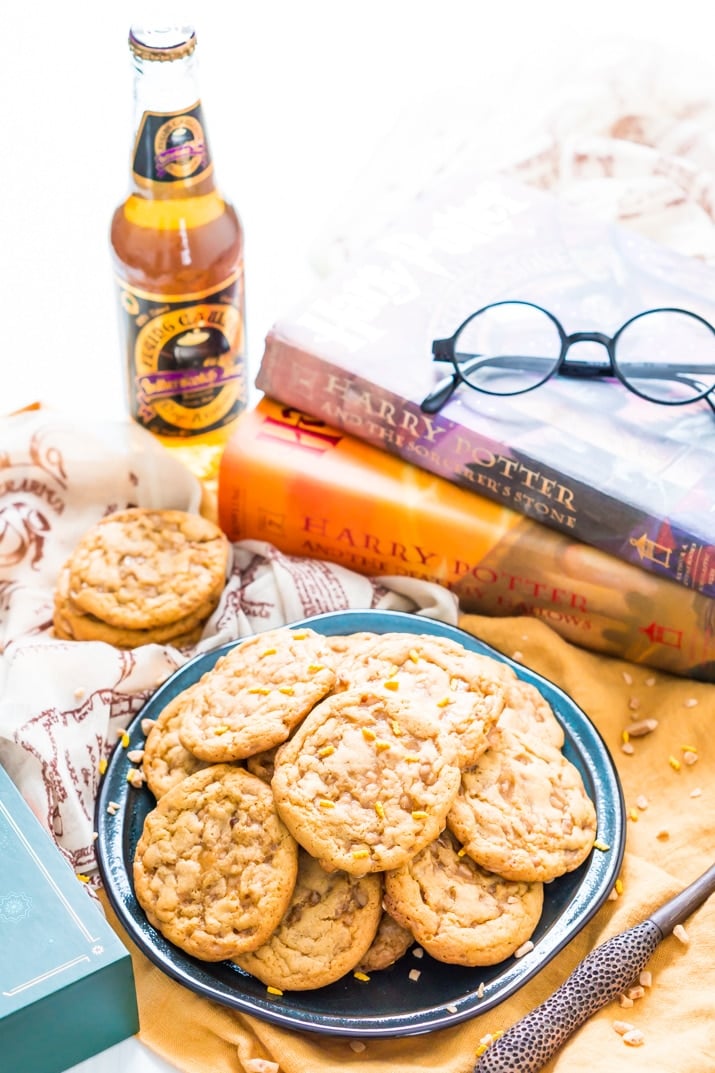 We were actually crazy enough to venture into The Wizarding World of Harry Potter at Universal back in 2010 a week after it opened. It was so much fun! Except that the ride broke down when we were on it and we were stuck face down in mid-air in Aragon's cave.
For a girl who hates rides, gets motion sick, and despises spiders – yeah… good times. But it was a really AWESOME ride and a fun story to tell. They got it going again after about five minutes so we still got to enjoy the rest of the forbidden journey.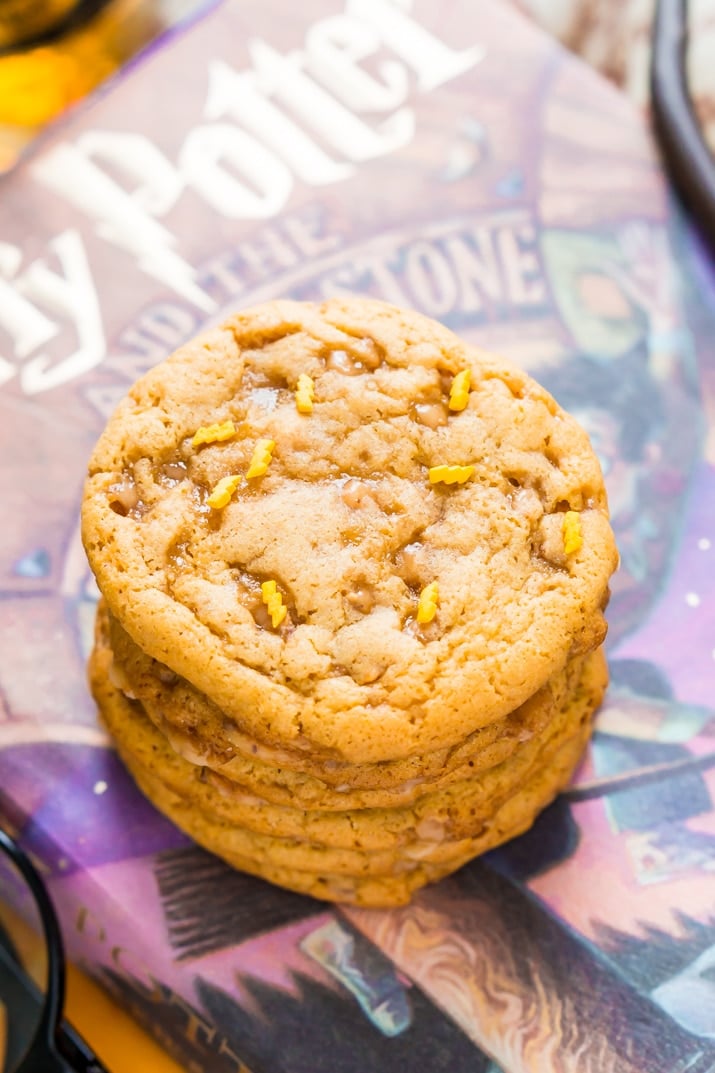 Out of everything we did, the ride, picking out a wand at Ollivanders, visiting the Owl Post, stocking up at Honeydukes, hitting up Platform 9¾, there was one thing that stood out above the rest. The Butterbeer! Oh man, was that stuff good!
The frozen one was amazing with frothy butter foam on top and the sweet taste of cream and butterscotch… seriously, it was so good! I've tried several recipes of my own but have yet to make one just like that one! But I can make cookies, and I do those pretty well!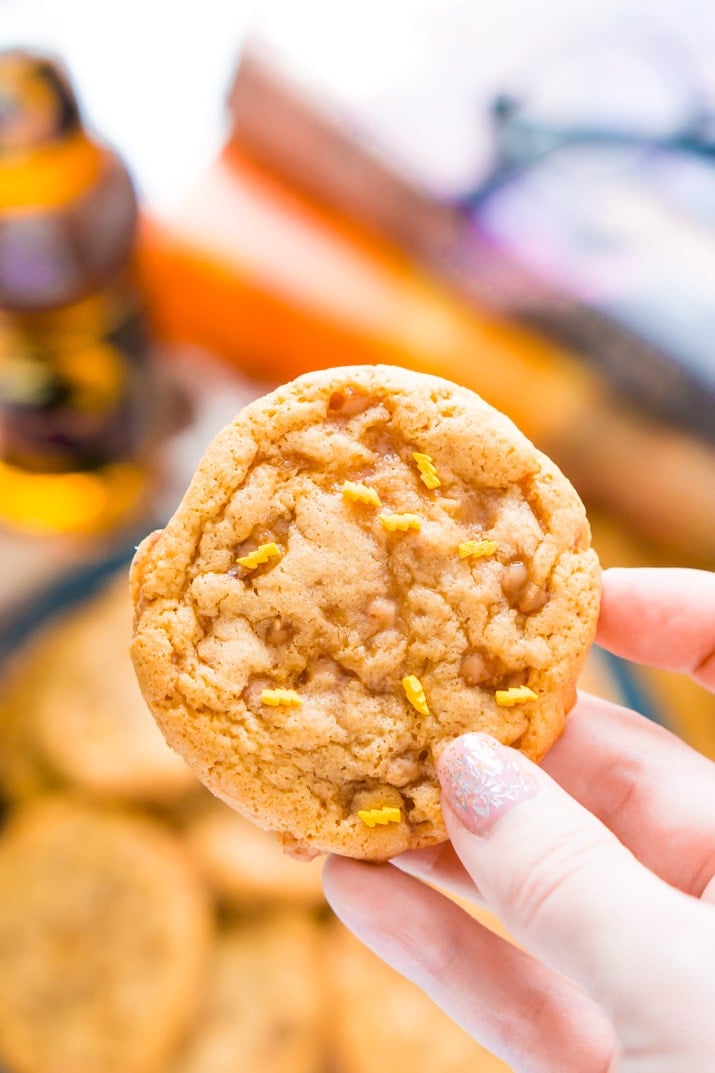 Because of my love for Harry Potter and the holiday tradition Matt and I started, I thought these Butterbeer Cookies would make a great Christmas cookie! They're a sweet old-fashioned blend of vanilla and butterscotch loaded up with toffee bits.
And don't forget the Lightning Bolt Sprinkles!
Plus, like all of my pudding cookies, they're perfectly chewy on the inside with a slight crisp on the outside! They're not quite the same as a stein of frozen butterbeer on a hot summer day at Universal, but they'll get the job done!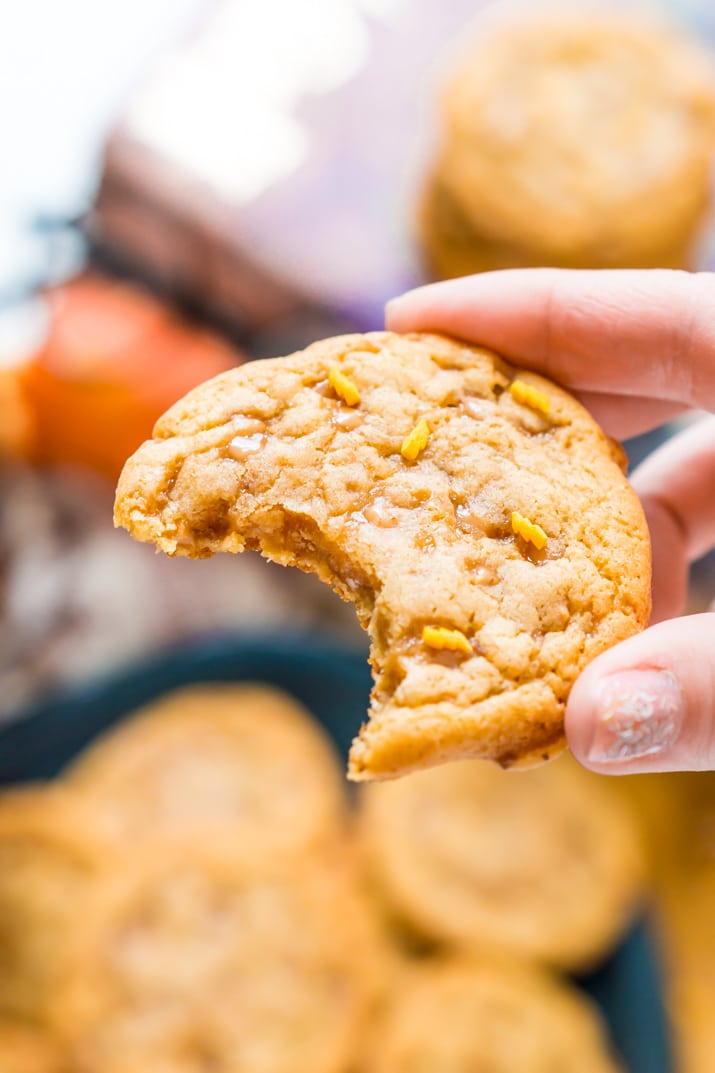 Have you seen the 20th Anniversary editions of Harry Potter and the Philosopher's Stone (UK title)? Originally they were only released in the UK, but are now available on Amazon in house colors!
I have the Ravenclaw Hardcover and it's so gorgeous, I can't wait to collect the others! I've also been collecting the Illustrated Editions and the MinaLima Editions (so gorgeous)!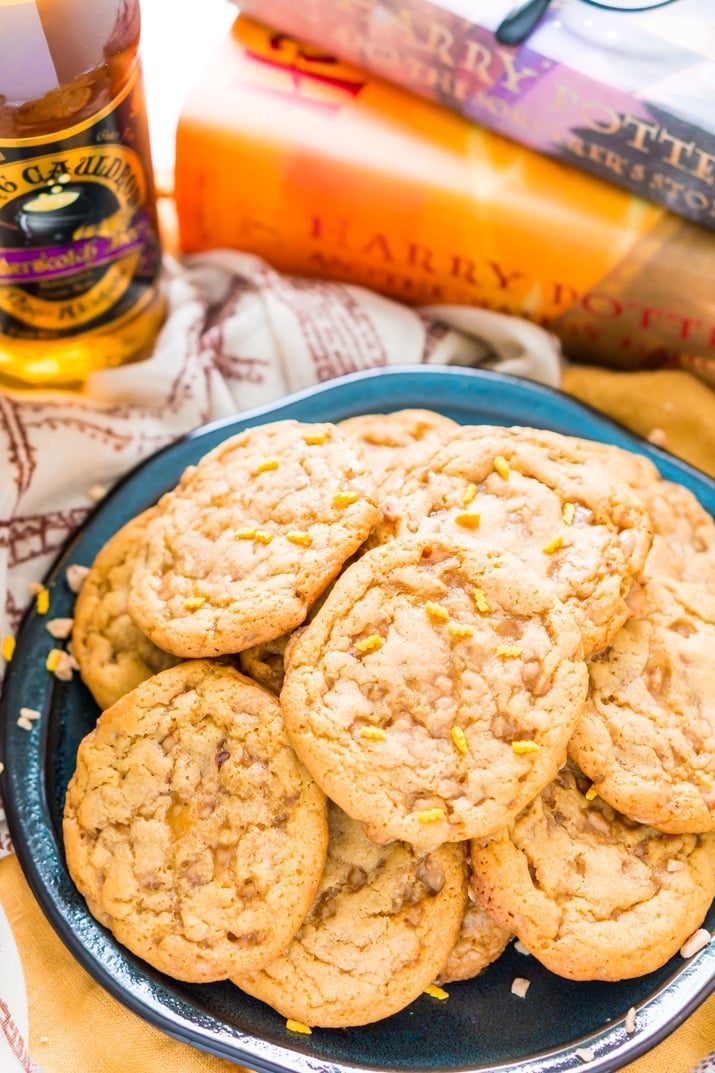 More Harry Potter Inspired Recipes:
Butterbeer Cookies
Pin For Later
CLICK THE BUTTON ABOVE TO SAVE THIS DELICIOUS RECIPE TO YOUR BOARD!
Let's Connect!
If you've tried this recipe, please let me know how you liked it in the comments below and leave a review; I love hearing from you! And don't forget to tag me – @sugarandsoulco – on Instagram and Pinterest with your photos or join our Busy Family Recipes Facebook Community and share them there!
This post was originally published in December 2014 and was updated in December 2017 with new photos.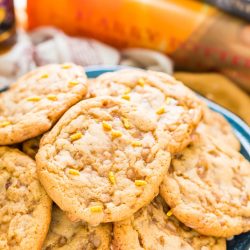 Harry Potter's Butterbeer Cookies
These Harry Potter inspired Butterbeer Cookies are a sweet old-fashioned blend of vanilla and butterscotch loaded up with toffee bits. Baked to perfection with a soft chewy center and lightly crisp edges, they won't last long!
Instructions
In a large bowl or stand mixer fitted with a paddle attachment, cream the butter and sugars together until smooth. Scrape down the sides of the bowl, if needed.

Add the pudding, eggs, additional egg yolk, vanilla, and imitation butter. Beat for about one minute on medium speed.

In a separate bowl, combine flour, baking soda, and salt.

Add the dry ingredients to the wet ingredients a 1/2 cup at a time and mix until combined.

Form the dough into a giant ball and wrap tightly in plastic wrap. Chill the dough for at least two hours. Remove the dough a little while before baking so the dough can soften a bit and is easier to work with.

Scoop the dough using a medium cooking scoop and roll the dough between your hands to form round balls of dough and place onto a nonstick baking sheet about two inches apart. Top with yellow sprinkles, if desired.

Bake at 350 F for 10-13 minutes.

Cool on the pan for a couple of minutes before transferring to a cooling rack.
Notes
Since I've made these cookies a million times, I've played around with the recipe a bit and here are some different variations:
Use 1 – 3.4 oz. package of Butterscotch Pudding Mix instead of half butterscotch and half vanilla.
Replace Heath Toffee Bits with Butterscotch Chips or do a combo of the two, but still only using 1 1/2 cups.
Skip the chill time, cookies may be a little flatter and not quite as crisp on the outside, but they will be chewier.
Reduce flour to 2 1/4 cups for chewier cookies.
I've made them gluten-free with Bob's Red Mill 1-for-1 all-purpose flour and they're just as good.
Imitation Butter should ALWAYS be included!
Dip them in icing for added sweetness.
Nutrition
Calories:
84
kcal
Carbohydrates:
13
g
Protein:
1
g
Fat:
3
g
Saturated Fat:
1
g
Cholesterol:
16
mg
Sodium:
75
mg
Potassium:
18
mg
Sugar:
6
g
Vitamin A:
100
IU
Calcium:
7
mg
Iron:
0.5
mg