Easy Homemade Blackberry Lemonade is made with just 4 ingredients and filled with tart and juicy fruit flavor!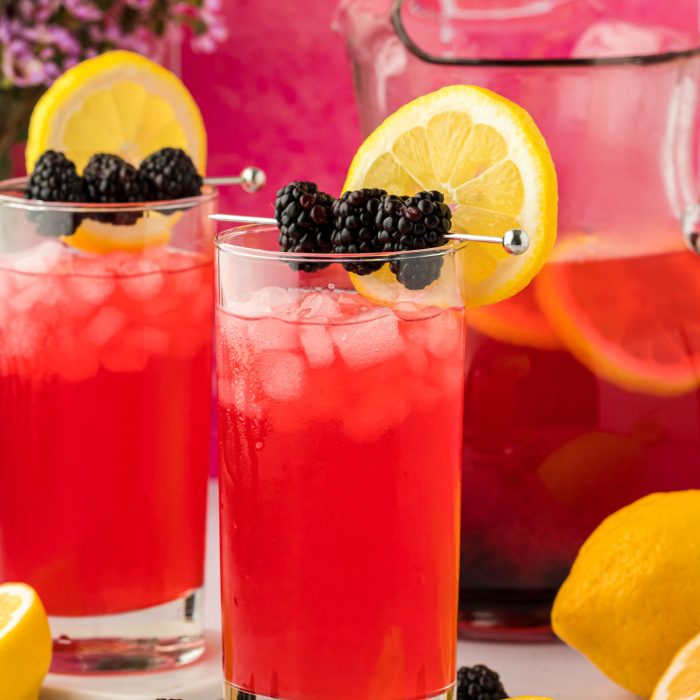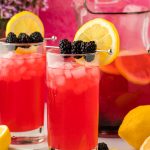 Learn How To Make Blackberry Lemonade with just 4 ingredients to serve a deliciously fruity and refreshing homemade drink all summer!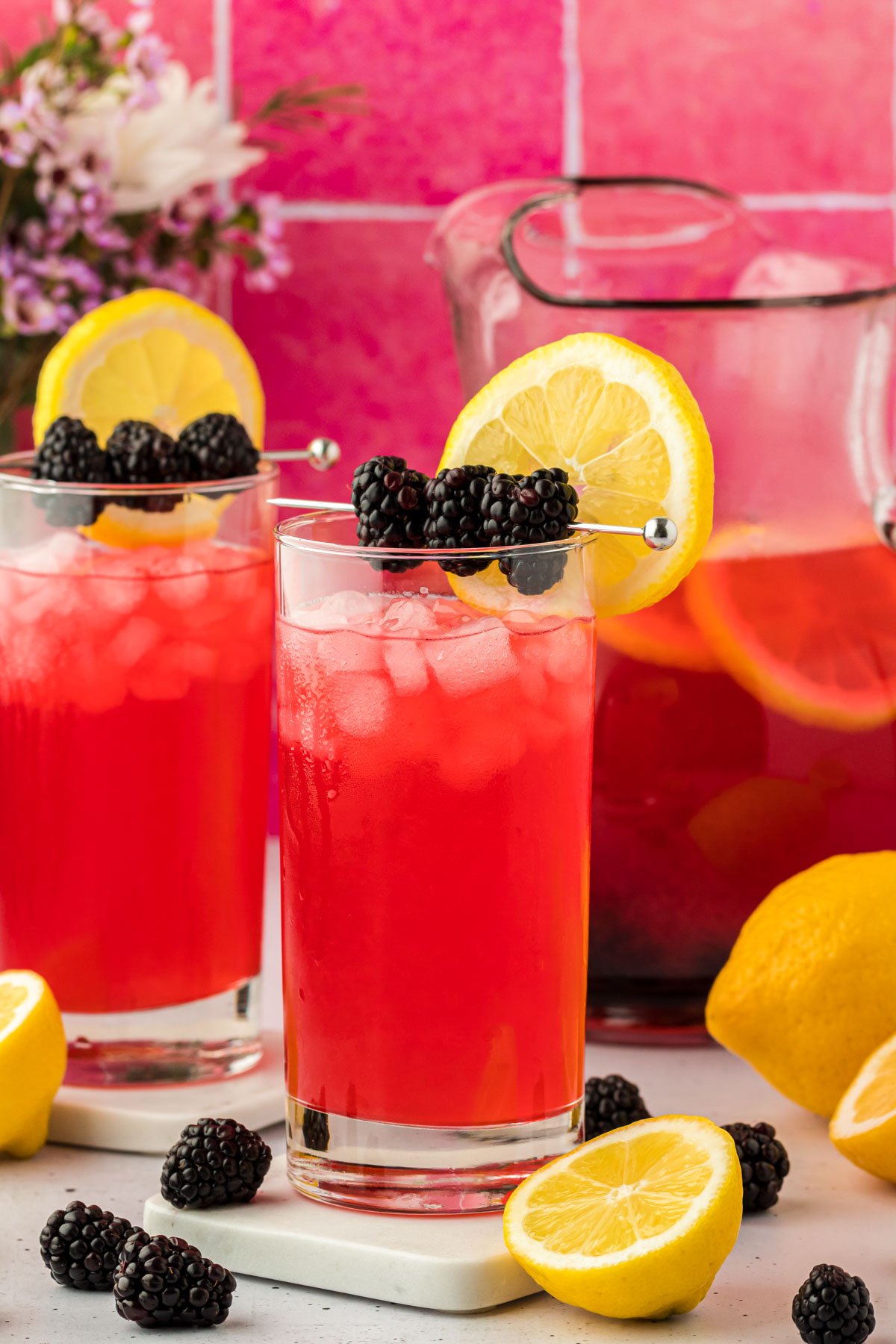 You Will Love This Recipe For Blackberry Lemonade
What's better than homemade lemonade on a warm day? Homemade Blackberry Lemonade!
The popular summertime sip gets a glow-up with the addition of blackberry simple syrup to create a fun, fresh-flavored lemonade that everyone will love!
It's made with freshly roasted lemon juice (you can skip the roasting if you're short on time) and homemade blackberry simple syrup to fill this lemonade with the best flavor.
Together the two bring deliciously fresh, crisp flavors that you won't find when using store-bought ingredients!
Blackberry Lemonade Ingredients
Lemons
Blackberries
Granulated sugar
Water
Ice
Bringing the blackberry flavor to this lemonade is the Homemade Blackberry Simple Syrup! This is made on the stovetop in just 30 minutes by combining juicy blackberries, granulated sugar, water, and optional lemon juice in a saucepan.
For the best taste, make a batch of the syrup in advance to allow the flavors to meld together and chill in the fridge. This blackberry simple syrup does yield 2 cups of simple syrup, so that's enough to make two batches of this homemade lemonade.
Or you can use the extra cup of syrup in other recipes, such as this Blackberry Margarita On The Rocks, or drizzle it over a slice of No Bake Cheesecake!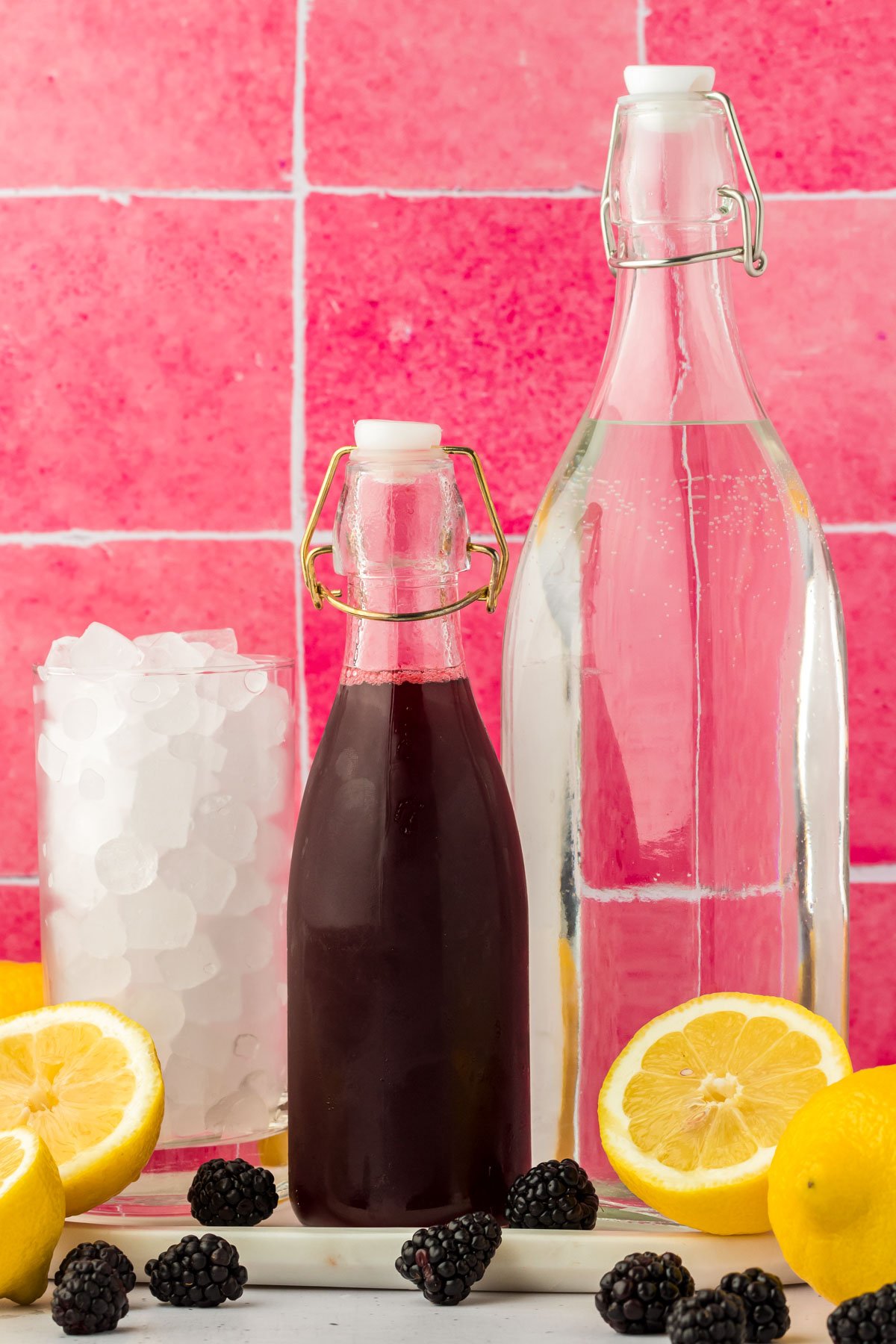 Blackberry Lemonade Recipe Substitutions and Additions
Lemonade With Pulp – To make this recipe with pulp, simply skip straining the lemon juice through the fine mesh strainer. You will then need 1 1/4 cups of unstrained lemon juice to make a pulpy variation of this blackberry lemonade.
Blackberry Simple Syrup – Store-bought blackberry simple syrup can be used instead of homemade. If you take the storebought route, I suggest grabbing a high-quality syrup such as the Torani brand.
Increase Blackberry Flavor – For a stronger blackberry flavor, you can increase the amount of blackberry simple syrup that's used. You may want to add a little at a time and taste as you go so that it doesn't become too sweet or overpowering.
Muddled Blackberries – Use a muddle to mash up some fresh berries to add to each glass of lemonade. This will add some delicious texture and increased blackberry flavor!
Fruit Simple Syrups – Swap the blackberry simple syrup out for other fruity simple syrups to create other delicious lemonade flavors. My Homemade Blueberry Simple Syrup, Fresh Raspberry Simple Syrup, or Strawberry Syrup would all make a fun new lemonade that everyone would love! Flavor syrups make it so easy to take Fresh Lemonade from classic to contemporary!
Add Alcohol – Make this recipe into a Blackberry Lemonade Cocktail for adults by adding vodka or bourbon!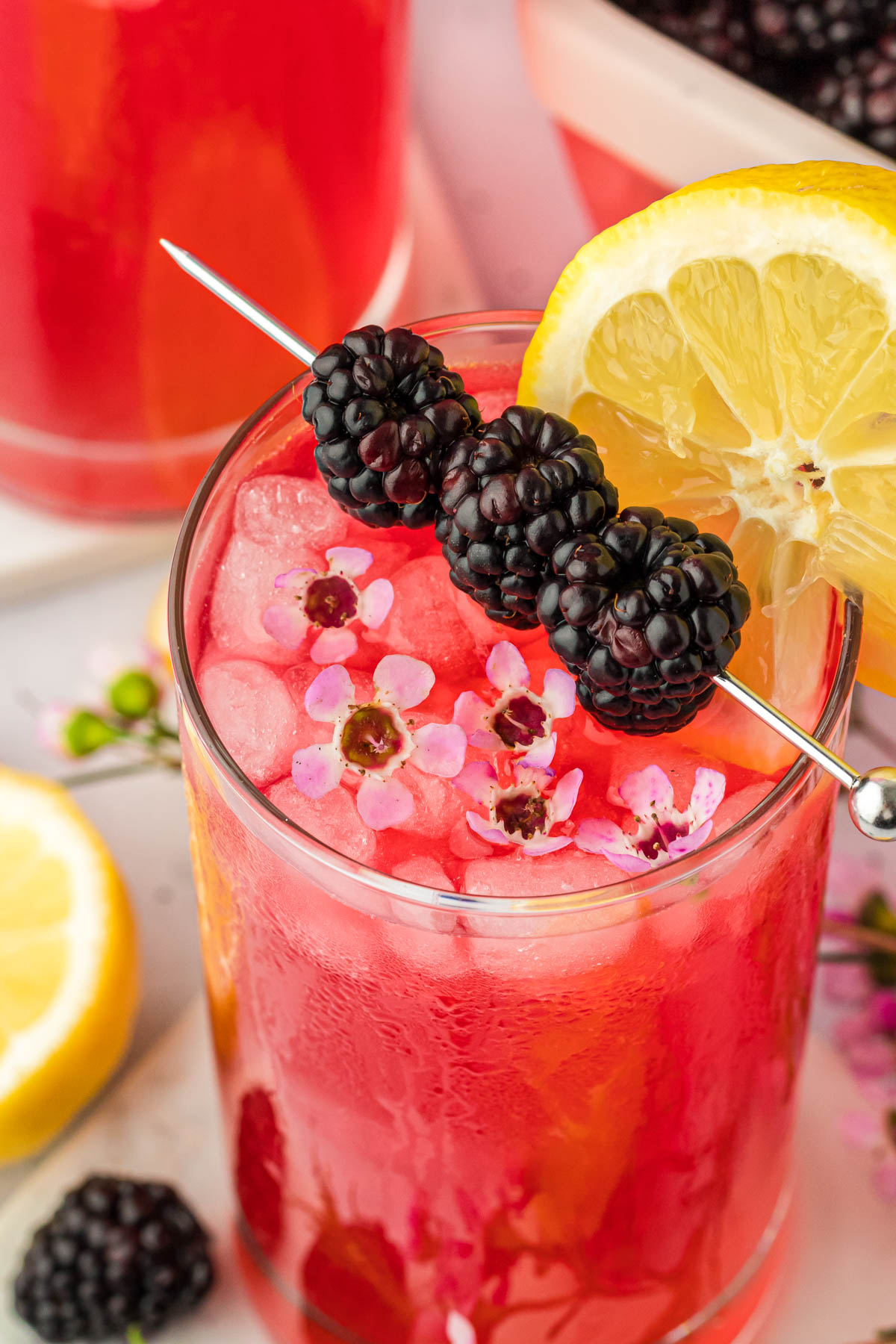 How To Make Blackberry Lemonade
Step 1: Prepare the lemons by first washing them and then slicing them in half. Afterward, arrange them in a baking dish that's lined with parchment paper and roast them for 25 minutes.
I recommend preparing the blackberry simple syrup in advance if you can. But if you plan on making it all at once, make the blackberry simple syrup while the lemons roast.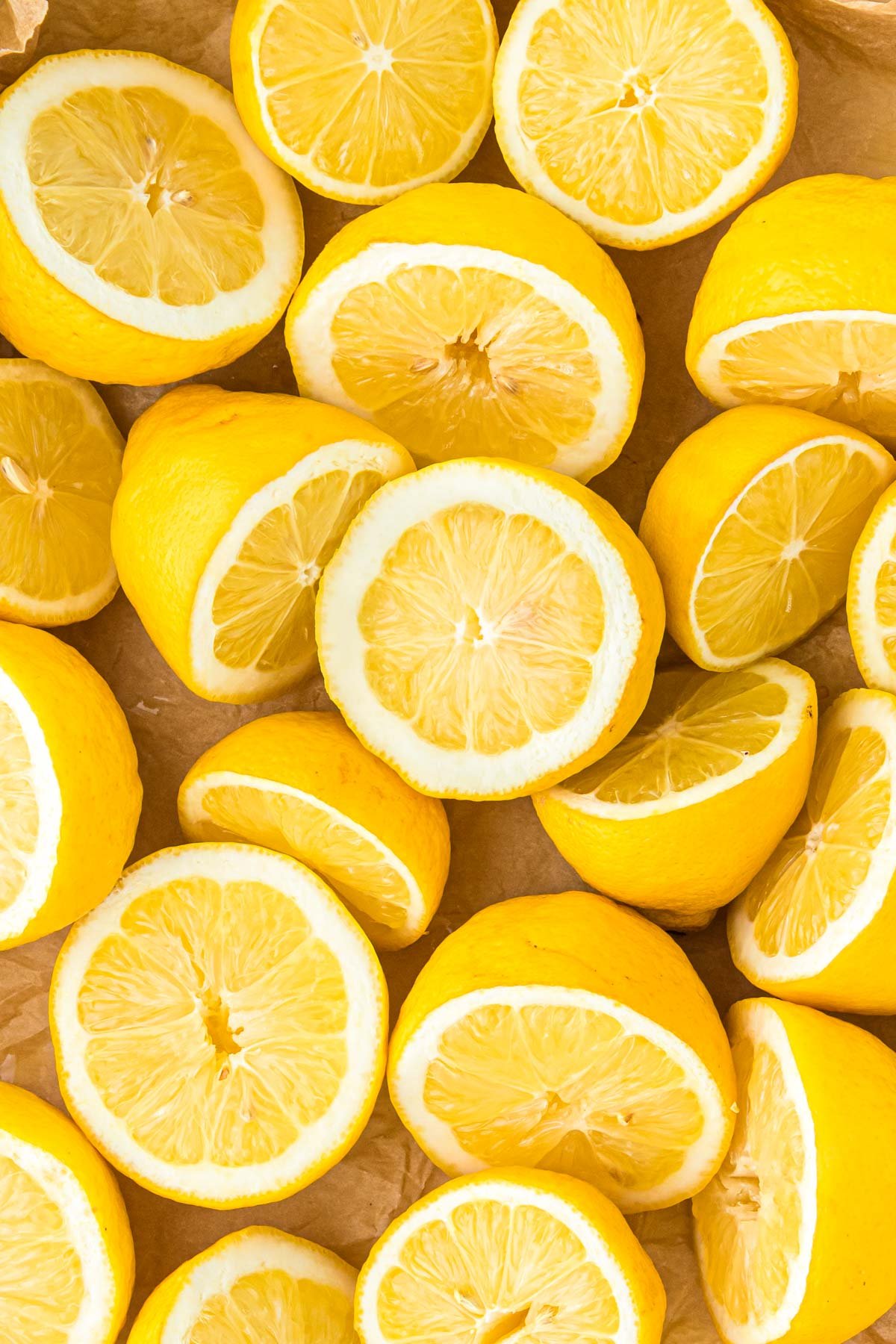 Step 2: Allow the lemons to cool for 10 to 15 minutes. Next, squeeze the juice from the roasted lemons into a liquid measuring cup using a citrus press.
Step 3: Pour the roasted lemon juice through a fine mesh sieve to strain. Then allow the juice to cool before using.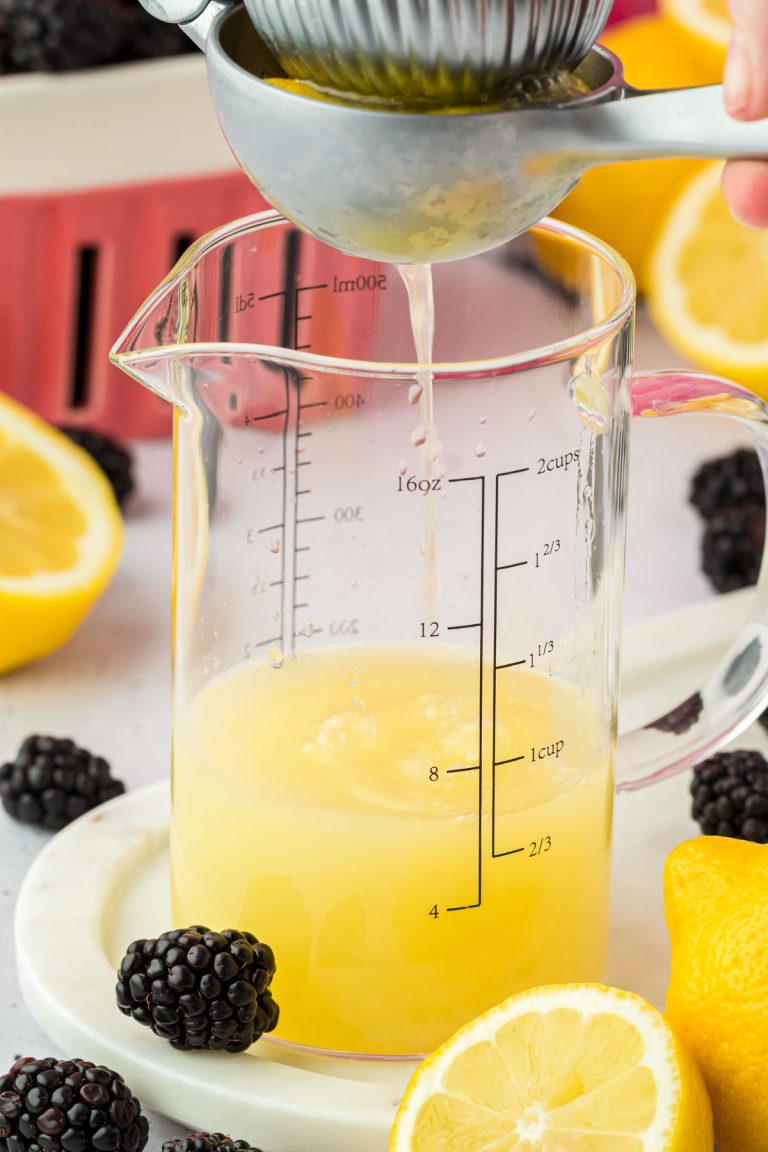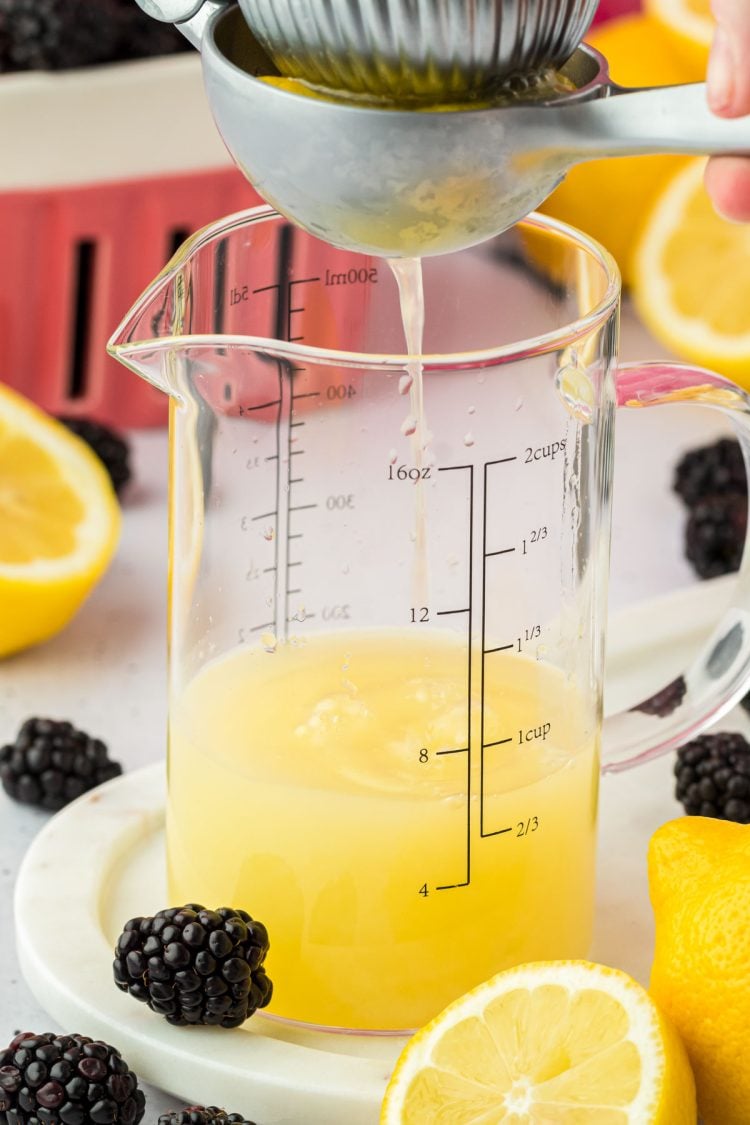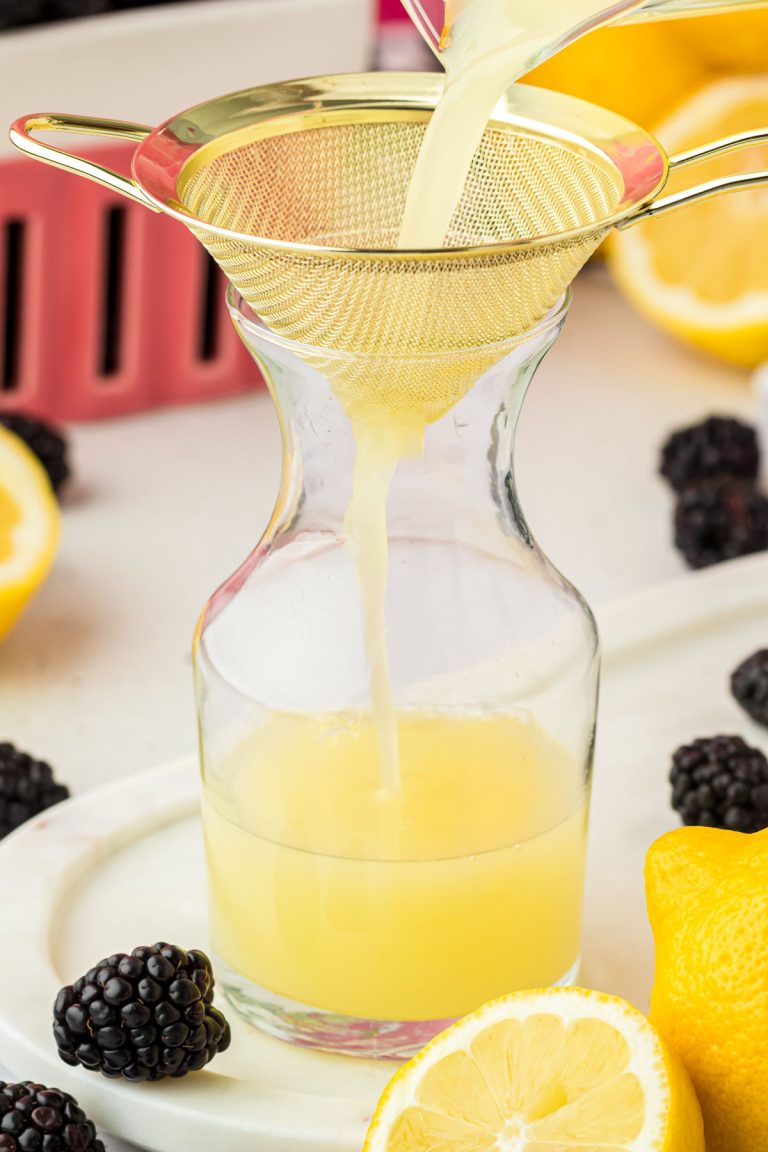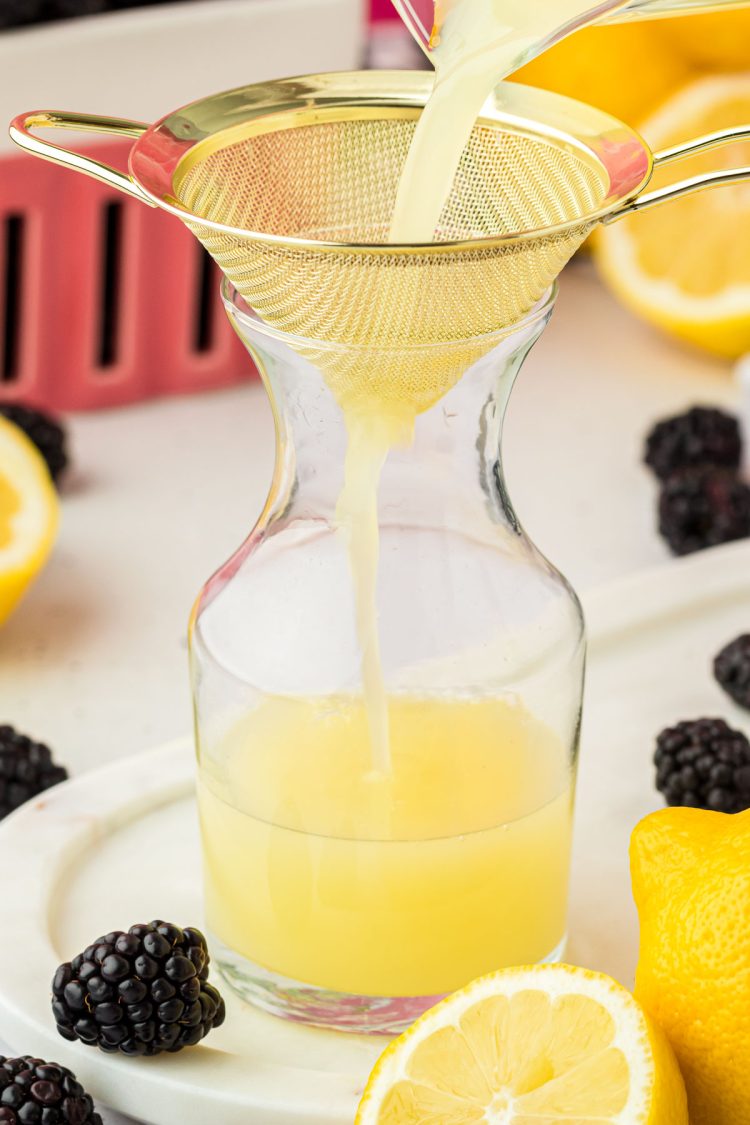 Step 4: Pour the roasted lemon juice, blackberry simple syrup, and cold water into a pitcher, and stir to combine.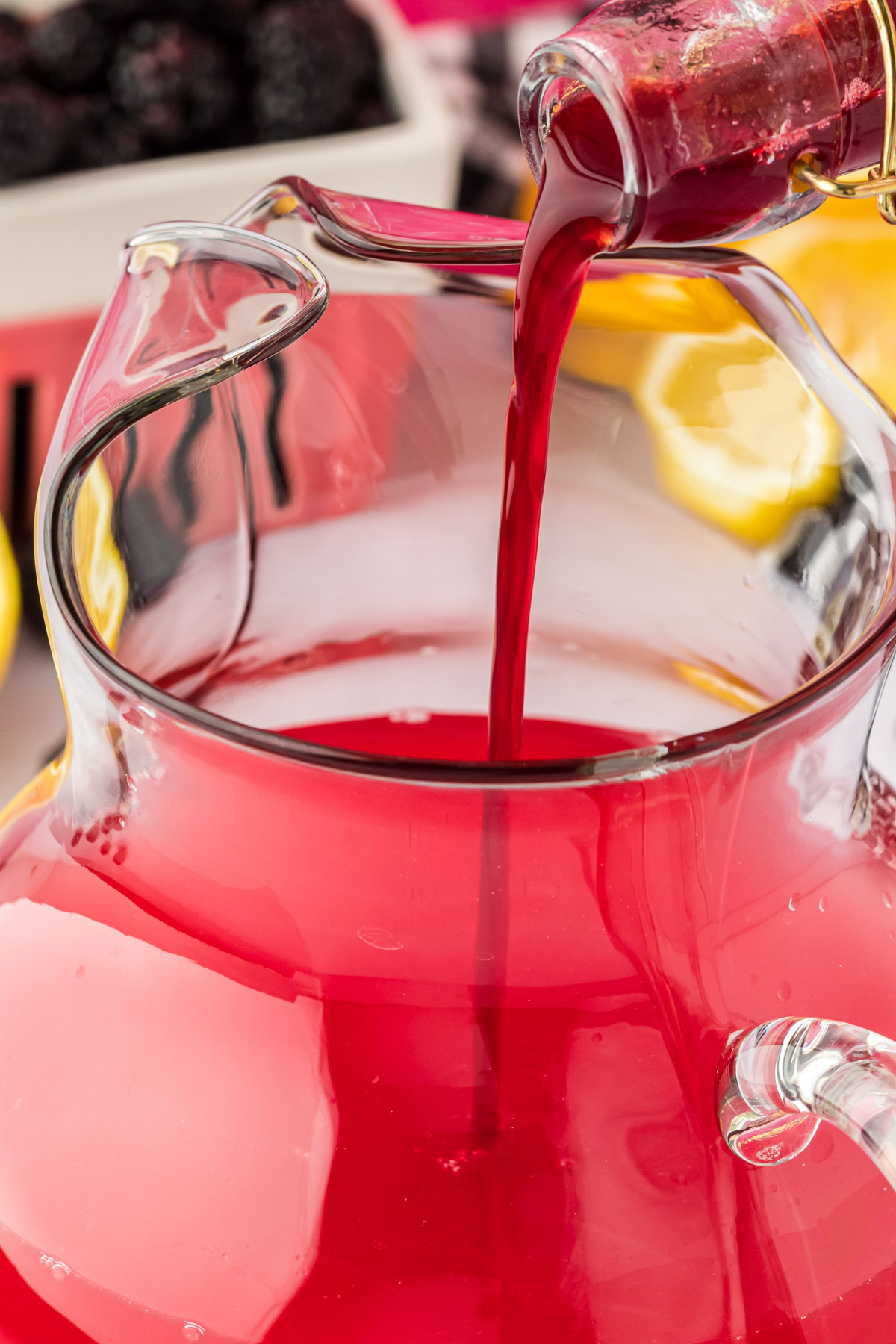 Step 5: Slice 1 lemon into 8 slices and add 4 to the pitcher of lemonade.
How To Serve Homemade Blackberry Lemonade
Serve the fresh blackberry lemonade in highball glasses with ice, a straw, and a lemon slice garnish.
How To Store Homemade Blackberry Lemonade
Store this Homemade Blackberry Lemonade in an airtight container, such as a large pitcher with a lid or jar with a lid. Then store it in the refrigerator to enjoy for 5 to 7 days.
To freeze and enjoy later, combine the roasted lemon juice with the Simple Blackberry Syrup. Then store the mixture in an airtight freezer-safe container in the freezer for 4 to 6 months.
When you're ready to serve the lemonade, thaw the blackberry lemonade concentrate and then combine it with the 4 cups of water.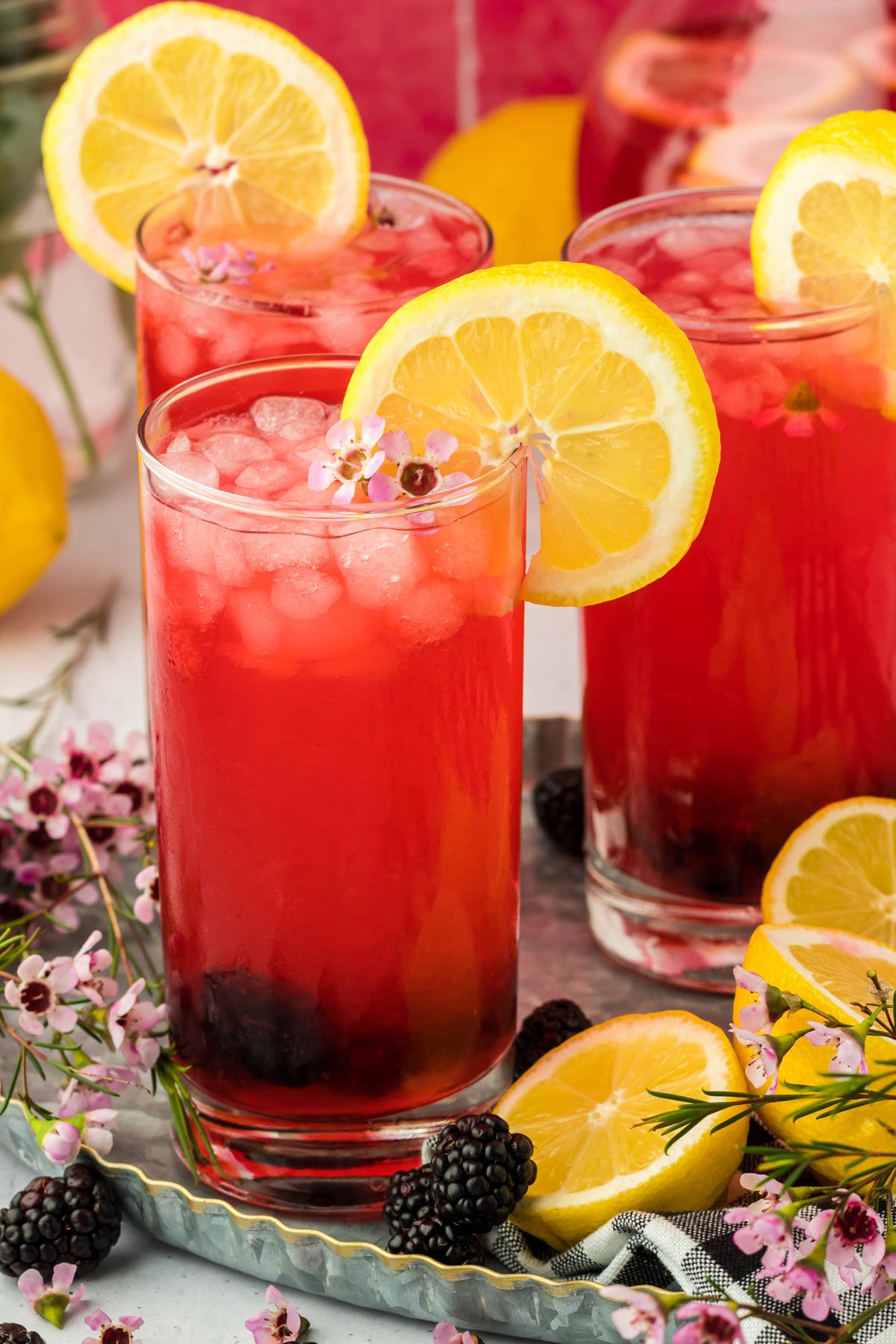 Blackberry Lemonade Recipe FAQs
Is blackberry lemonade good for you?
Yes, blackberry lemonade actually has tons of health benefits! It encourages healthy digestion, supports healthy kidney function, and can even soothe a sore throat.
What does blackberry lemonade taste like?
Blackberry lemonade has a subtle tart, refreshing lemon taste that combines with juicy fresh blackberries that are sweetened from the simple syrup. A tasty sip that's perfectly sweet and tart!
What can I use if I don't have a citrus press?
You can either squeeze them by hand or press a fork, spoon, or potato masher into the center of the roasted lemons. It may be a bit messier, but it will still get the job done!
Does homemade lemonade need to be refrigerated?
Yes, homemade lemonade needs to be refrigerated to preserve it. If not, the lemon juice and homemade blackberry simple syrup will spoil. The spoiled juices would then cause bacteria to grow, making it unsafe to consume.
How long does homemade lemonade last?
Homemade lemonade will last 5 to 7 days when stored in the refrigerator.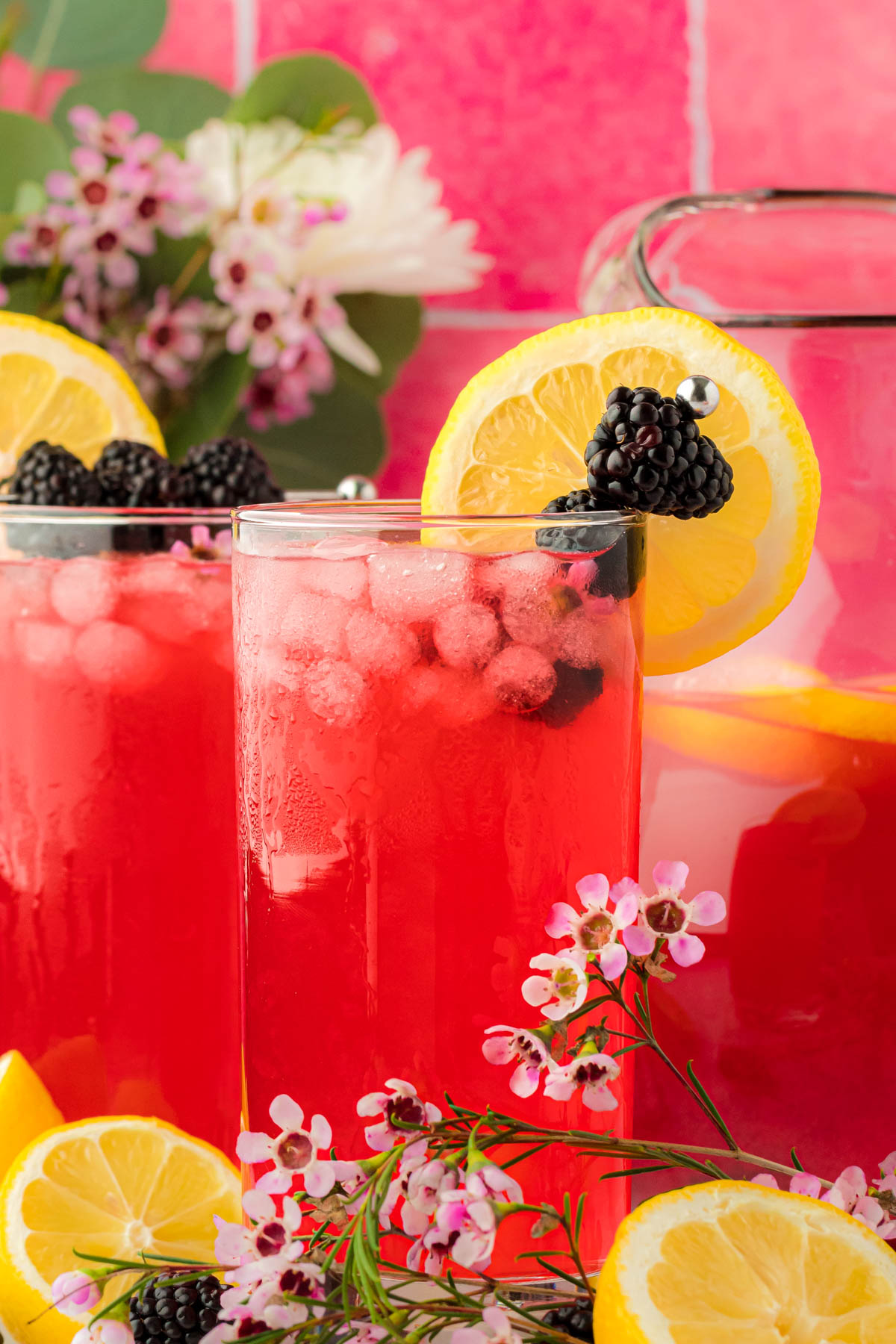 👋 Let's Connect!
If you've tried this recipe, please let me know how you liked it in the comments below and leave a review; I love hearing from you! And don't forget to tag me – @sugarandsoulco – on Instagram and Pinterest with your photos or join our Sugar & Soul Show-offs Community and share them there, where you can join our recipe challenges and win prizes!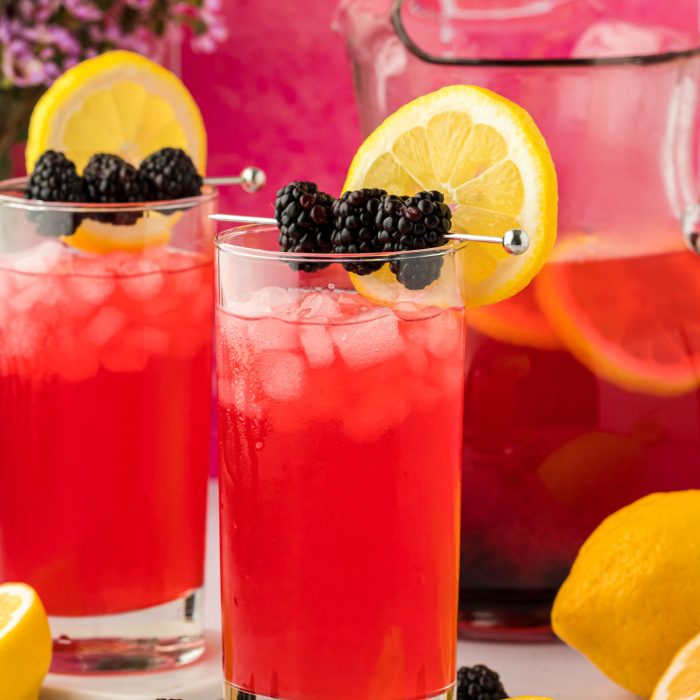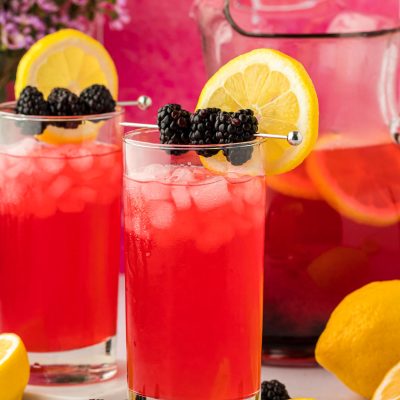 Easy Blackberry Lemonade Recipe
Easy Homemade Blackberry Lemonade is made with just 4 ingredients and filled with tart and juicy fruit flavor!
Instructions
Preheat the oven to 375°F and line a 9×9-inch baking dish with parchment paper and set aside.

Prepare the combining 2 cups blackberries, 1 cup granulated sugar, and 1 cup water in a small saucpan.

Bring the berry syrup mixture to a simmer over medium heat. Simmer for 10 minutes, the sugar should have dissolved and the berries should be softening and breaking up.

While the simple syrup simmers, wash the 5 small lemons, then slice them in half and place them in the baking dish. (see notes)

Roast the lemons for 25 minutes.

Remove the syrup from heat and allow to cool in the pot for 20 minutes, then strain through a fine-mesh sieve, squeezing the berries to extract as much juice as possible.

Remove from the oven and let the lemons cool for 10 to 15 minutes.

Use a citrus press to squeeze the juice out of the roasted lemons into a liquid measuring cup.

Strain the roasted lemon juice by pouring it through a fine-mesh sieve or use it as is for a pulpy lemonade. Cool to room temperature before using.

In a pitcher, combine the cooled roasted lemon juice, 1 cup blackberry simple syrup (you will have some leftover – make blackberry margaritas with it!), and 4 cups cold water.

Slice 1 lemon into 8 slices and add 4 to the lemonade, then stir to combine.

Serve in a highball glass with ice and garnish each with a lemon slice. Serve with a straw.
Notes
You can skip the roasting process in this recipe, however, you will need about 7 to 8 lemons to get the amount of lemon juice needed instead of the 5 used when roasting.
Nutrition
Calories: 274kcal | Carbohydrates: 77g | Protein: 2g | Fat: 0.5g | Saturated Fat: 0.1g | Polyunsaturated Fat: 0.1g | Monounsaturated Fat: 0.02g | Sodium: 64mg | Potassium: 277mg | Fiber: 5g | Sugar: 66g | Vitamin A: 36IU | Vitamin C: 86mg | Calcium: 60mg | Iron: 4mg