These Strawberry Coffee Cake Muffins are made with sweet fresh berries and buttermilk and topped with a delicious sugar and butter crumble!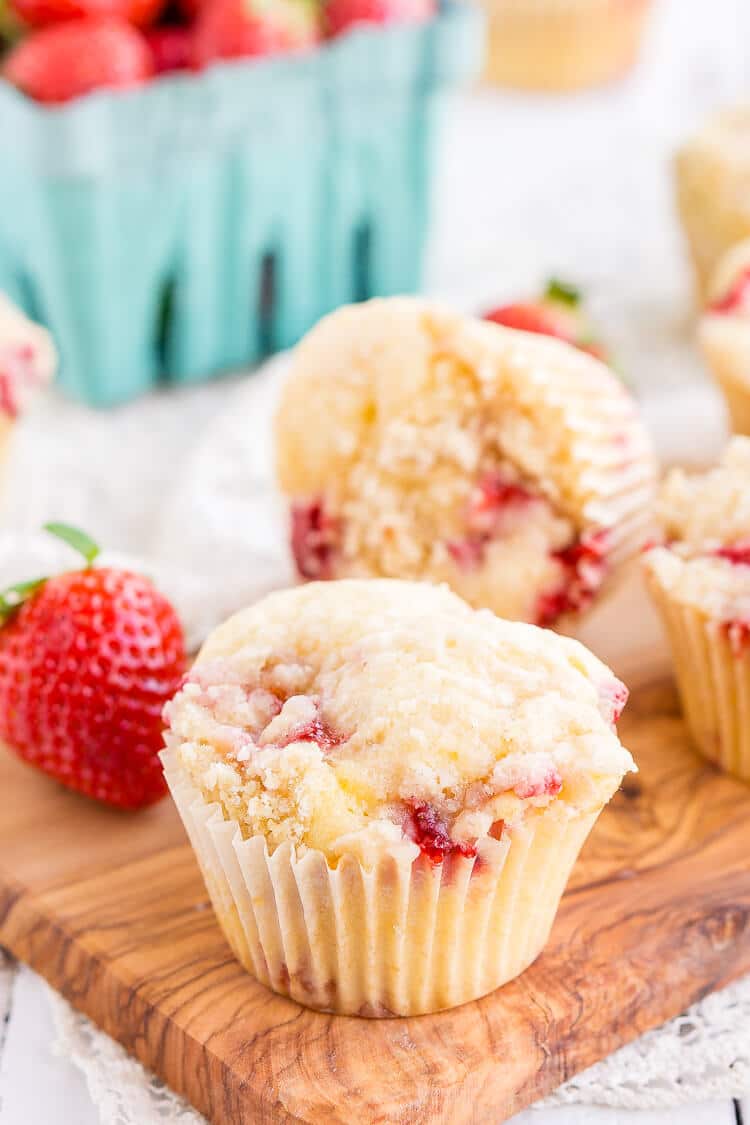 Strawberry Coffee Cake Muffins
These Strawberry Coffee Cake Muffins are the best muffin recipe around and will be an instant favorite with the fam! Is there anything better than fresh local berries? I think not. Except baking with them, that's pretty good too!
A couple weeks ago I went with my mom to scoop up some of the last strawberries of summer. An hours worth of work yielded 6 quarts of beautiful and ripe berries.
Usually, there isn't a lot of time to work with when it comes to freshly picked berries in the heat of summer, so I knew I needed to work fast. I froze a little more than 5 quarts and chopped up the rest to make these delicious Strawberry Coffee Cake Muffins.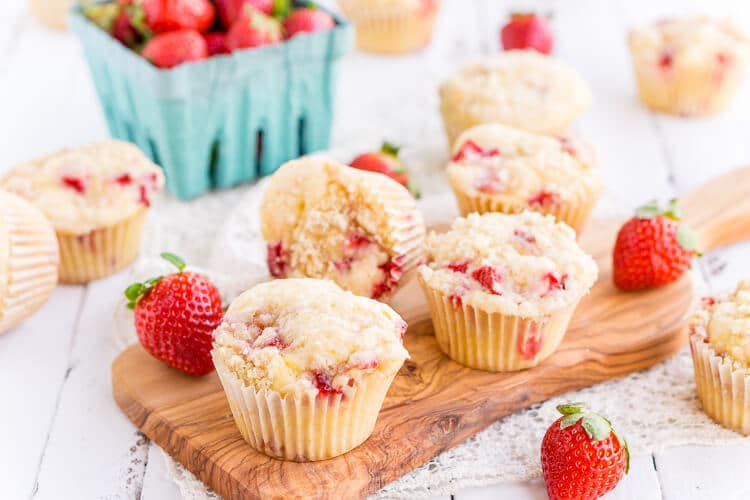 I've always loved coffee cake, there's just something about that sweet crumbly topping and the slight dryness of the cake, perfect to pair with your morning cup of coffee.
I knew this muffin recipe would be perfect breakfast for our Kiwanis Club as we met up on Sunday morning and started preparing for our local carnival.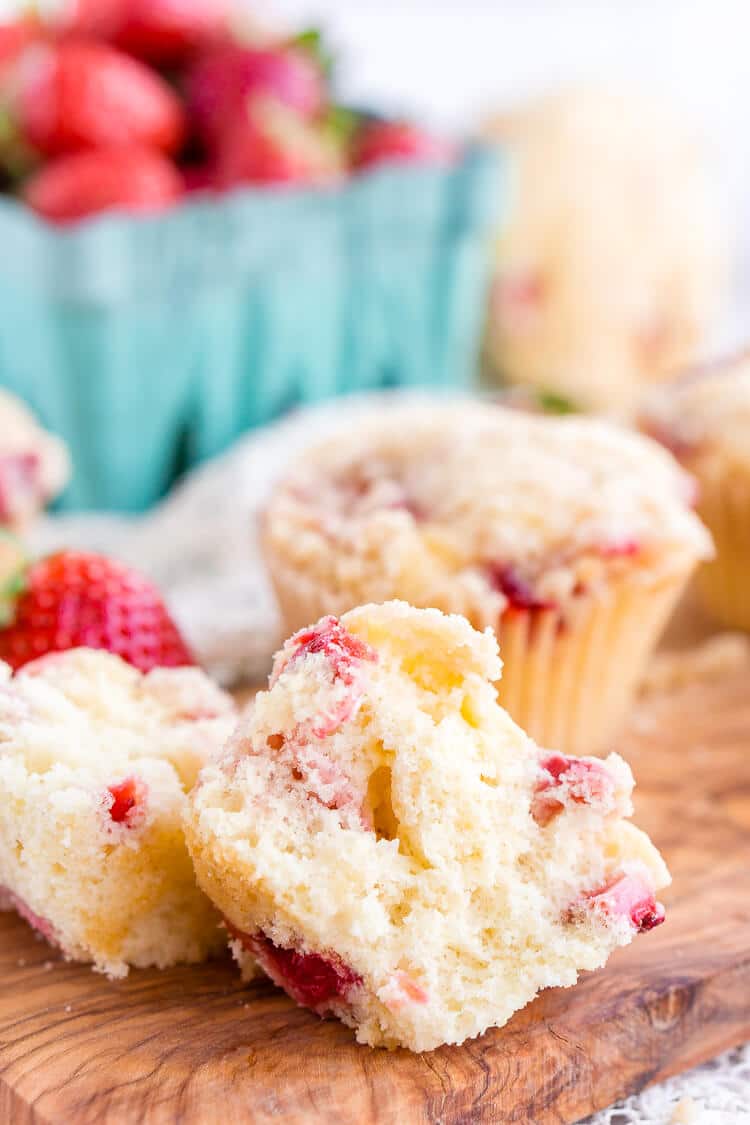 The berries, though baked still remain juicy and sweet and the sugar crumble is just so delicious. You want to make sure to use cold butter as that's what makes it all crumbly!
These strawberry muffins are light and fluffy and have just a slight hint of sweetness to them with a vibrant strawberry flavor. They're best warmed with butter spread on them.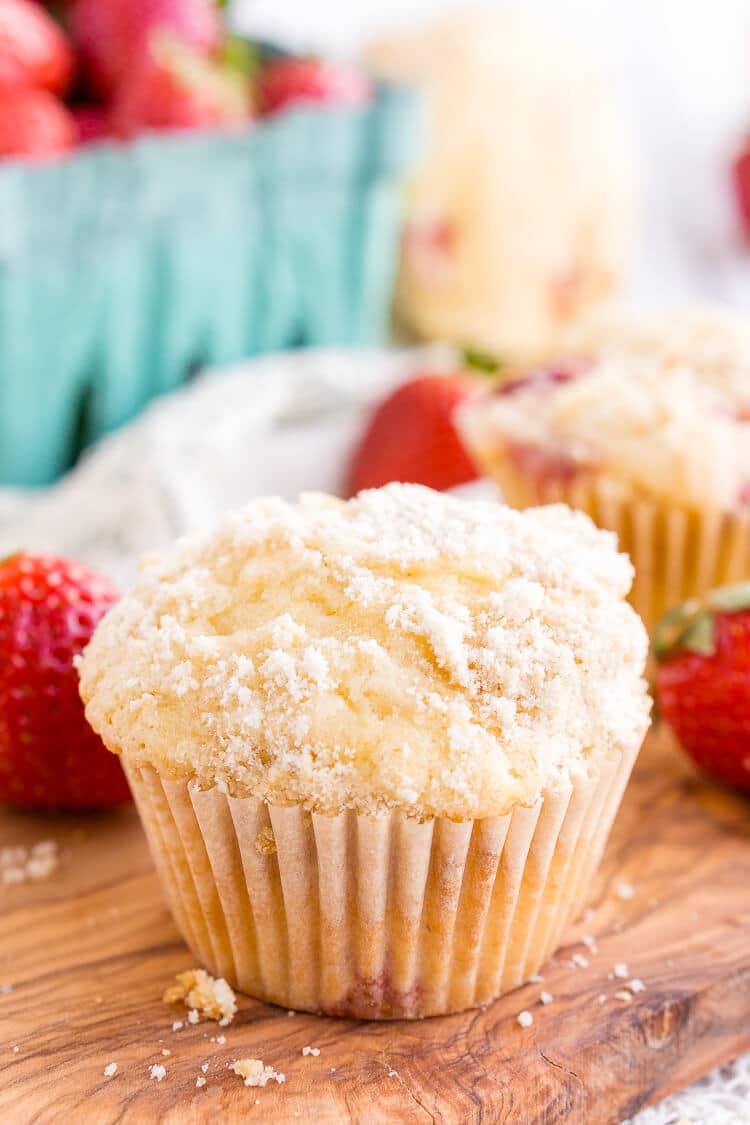 Although I've had plenty, this was my first time actually making muffins with berries in them, usually, I bake muffins with a little more spice because I tend to bake them in the fall.
Normally I use my summer berries in desserts like my Blackberry Buttermilk Panna Cotta or in drinks like my Strawberry Daiquiri or, you know, just eat them straight.
You can also make really easy fillings or simple syrups if you're looking to use your berries up quick! The nice thing about this muffin recipe is that you can use any berry your fancy or even do a mixed berry topping, now doesn't that sound good?
Blueberry and Blackberry season is right around the corner here in Maine, so stayed tuned for more delicious berry recipes!
Tools You'll Need To Make This Muffin Recipe: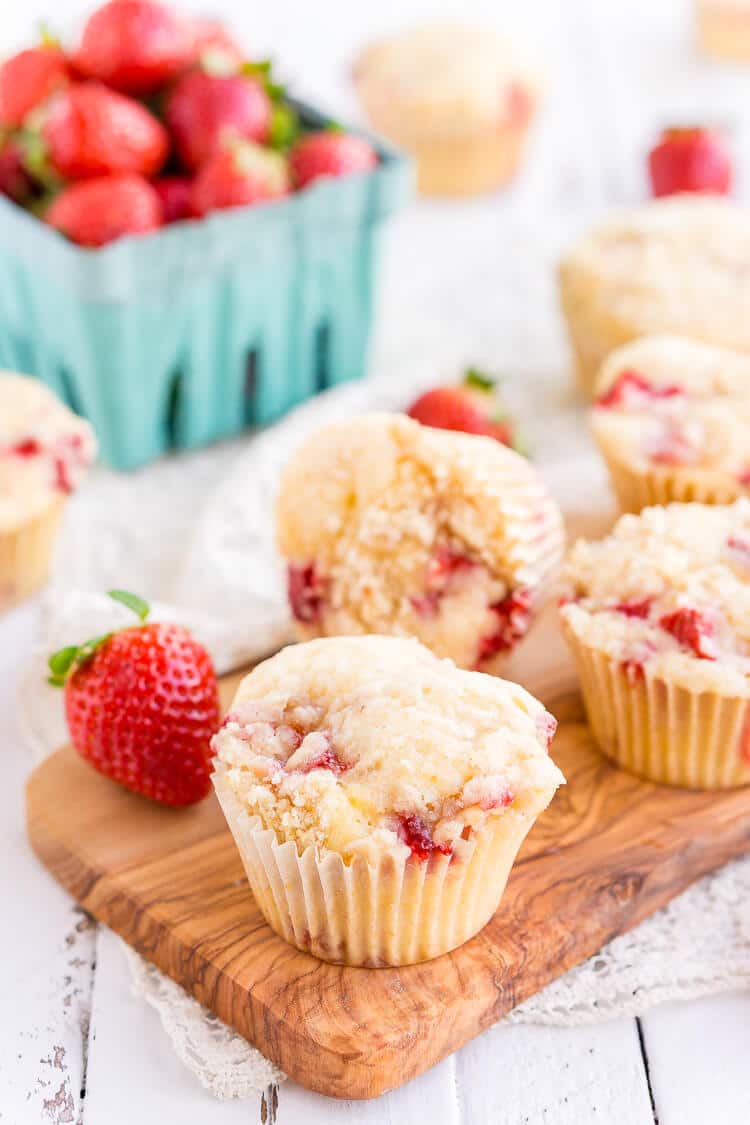 More Delicious Berry Recipes!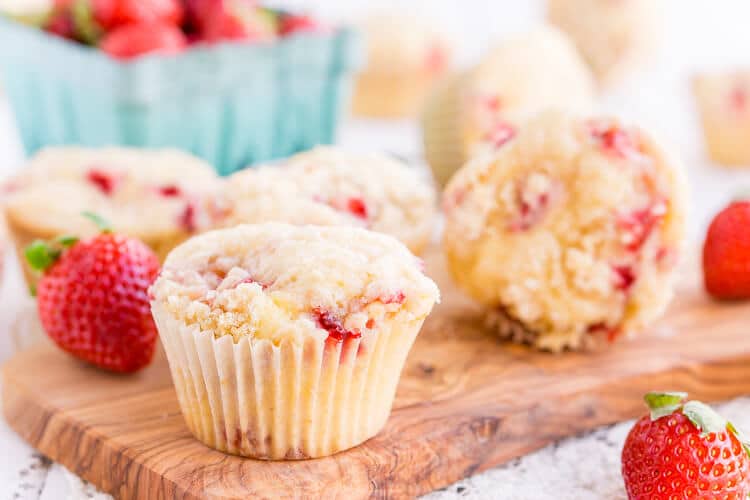 Pin this Strawberry Muffin Recipe for Later!


See just how easy these muffins are to make in the video below!
This post was last updated February 2, 2018.
Strawberry Coffee Cake Muffins
These Strawberry Coffee Cake Muffins are made with sweet fresh berries and buttermilk and topped with a delicious sugar and butter crumble! They're super easy to make and readers have called them the best muffin recipe they've ever had!
Instructions
Preheat over to 375 F.

Line muffin pan with liners.

Beat butter and sugar in a mixing bowl.

Beat in egg and vanilla. The mixture will be a bit lumpy, that's okay.

Combine flour, baking powder, and salt in a separate bowl.

Slowly add buttermilk and flour mix, alternating between until incorporated in the butter mix.

Beat until completely combined.

Gently fold in about half OR ALL of the strawberries. See notes.

Add about 1/4 cup of batter to each muffin liner.

Load up the tops of the muffins with remaining strawberries.

In a mixing bowl, beat crumble ingredients until it looks like, well... a crumble.

Sprinkle crumble on the tops of the muffins.

Reduce oven heat to 350 F.

Bake muffins for 18-20 minutes.
Recipe Notes
You can either mix half of the strawberries into the batter and add half to the top, which will result in flatter muffins.
Or you can mix all of the strawberries into the batter which will yield dome topped muffins.
Best consumed within two days.
Nutrition Facts
Strawberry Coffee Cake Muffins
Amount Per Serving
Calories 163
Calories from Fat 45
% Daily Value*
Total Fat 5g 8%
Cholesterol 24mg 8%
Sodium 100mg 4%
Potassium 106mg 3%
Total Carbohydrates 26g 9%
Protein 2g 4%
* Percent Daily Values are based on a 2000 calorie diet.
I love to blend my traditional Maine roots and millennial imagination. I have a serious sweet tooth, an Audible addiction, and I'm always up for exploring new places!