This HEALTHY and EASY Turkey Chili Recipe has perfect heat and a SECRET INGREDIENT that makes it the ultimate winter meal and great for game days!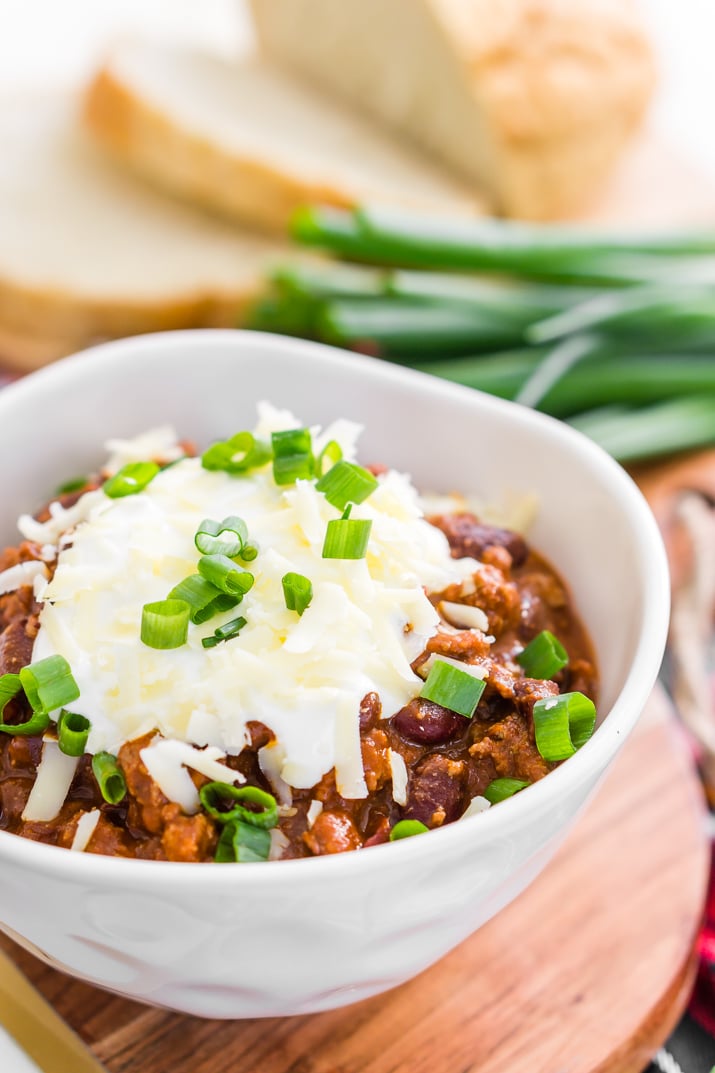 Turkey Chili Recipe
Back in mid-October, I began my Weight Watchers journey after this intriguing opportunity. I've been sharing some fun recipes throughout my journey, the first being these Vanilla Latte Mousse Shooters – so good! Over the last two and half months I've lost 8 pounds and a pant size, which I'm ecstatic about because Thanksgiving and Christmas and my birthday were mixed in there and I had a hard time behaving myself. None the less, so far this program has been a great success and I feel good and I'm pumped up about making, even more, progress and sharing it with all of you!
Buuuuuuuuuuut, here's the thing, I can't cook.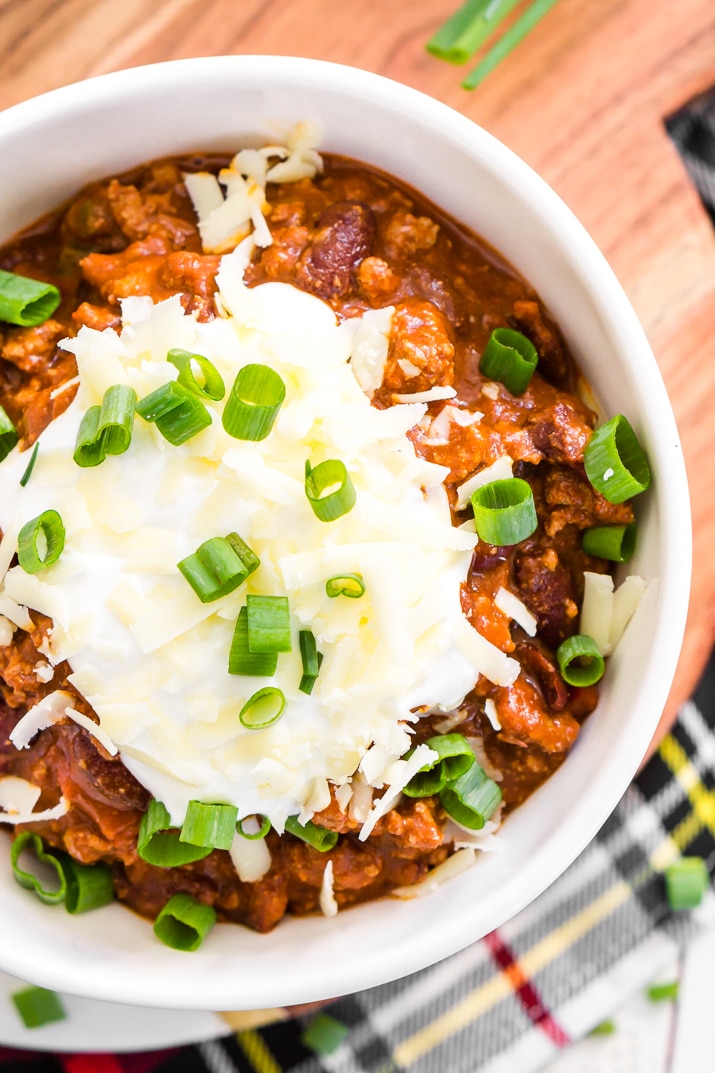 I know I've said it before, but it's true. I depend on Matt to cook dinner because when I cook it ends up being mac and cheese or frozen pizza. Remember how excited I was to make these pancakes all on my own? Yeah, if it doesn't go in the oven or isn't a one-pot brownie recipe, I'm pathetically incapable.
So needless to say that today's recipe is brought to you by Matt because he's the chef in our house. Even though he cooks, I definitely still give input, like adding secret ingredients!
Do you see the secret ingredient for this recipe in the photos?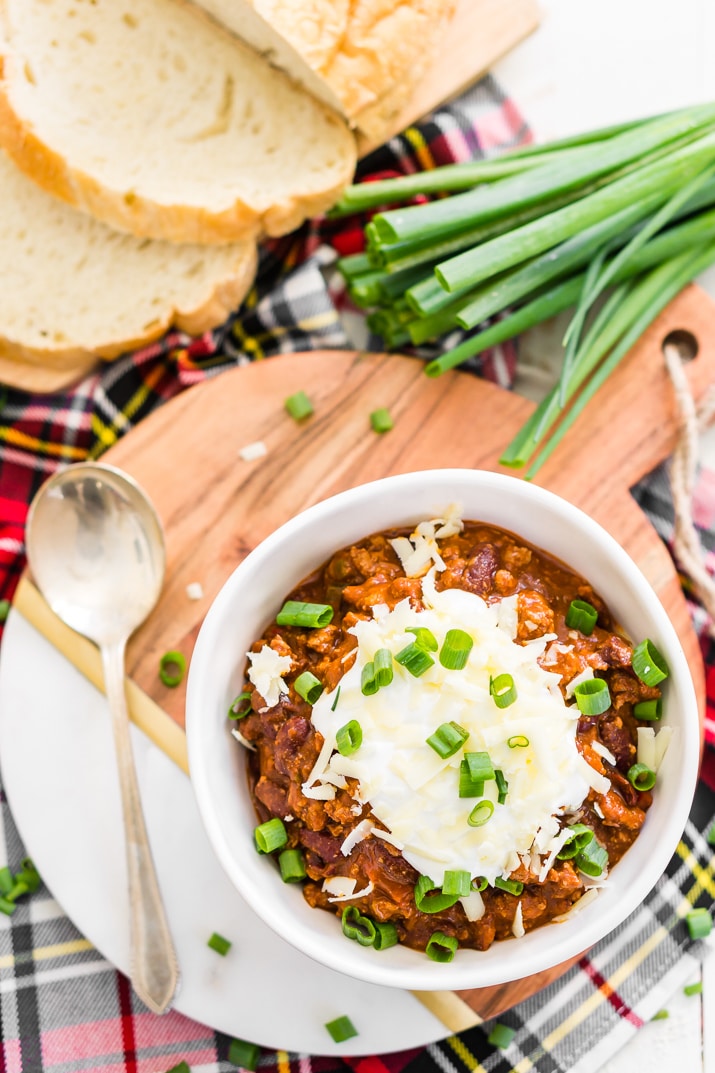 Could it be? Why, YES, it is! The secret ingredient is CHOCOLATE!
I know what you're thinking, chocolate in my chili? Yup, and it's awesome! It's one of my favorite tips I picked up from Ana Gasteyer in my Weight Watchers Google Hangout in October. An ounce of 60% dark chocolate is just the thing to smooth out this chili recipe and marry the spices together. If you think about it, chocolate and peppers were made for each other, Mexico totally got it right with their hot cocoa! A little heat and a little sweet and you're in for a wicked good treat.
Okay enough with the rhyming.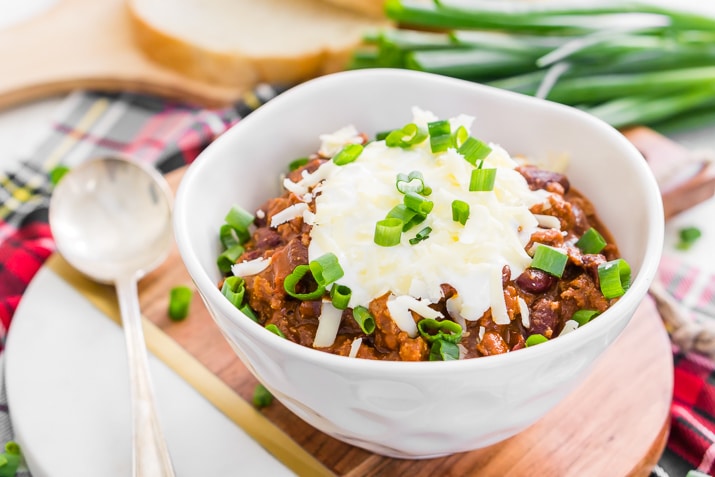 Let's talk more about this chili recipe, shall we? This was actually the first chili I'd had with turkey instead of beef and I hardly notice the difference! Honestly, I think I prefer the turkey. Matt prefers using red peppers rather than the traditionally used green pepper, and of course, he threw in some jalapenos for heat. This chili has a great blend of spices, but there's another ingredient which really heightens the flavors and drives this recipe home. Raw Apple Cider Vinegar. Seriously, it makes the dish!
Did you make some new year's resolution this year? Was losing weight and getting healthy at the top of the list? If so, this is a great meal to add to your meal plan! I've been eating it every day for lunch for almost four weeks and I still love it! Now, that's saying something, because I get bored with food very quickly!
Did I mention this takes just an hour to whip up, no need to let it cook in the crockpot for hours, especially if you're paranoid about the things like I am and don't dare to leave it going when you're not home!
So there you have it, an hour, some chocolate, and some heat and you've got a lean little chili recipe perfect for keeping with your diet or whipping up for game day!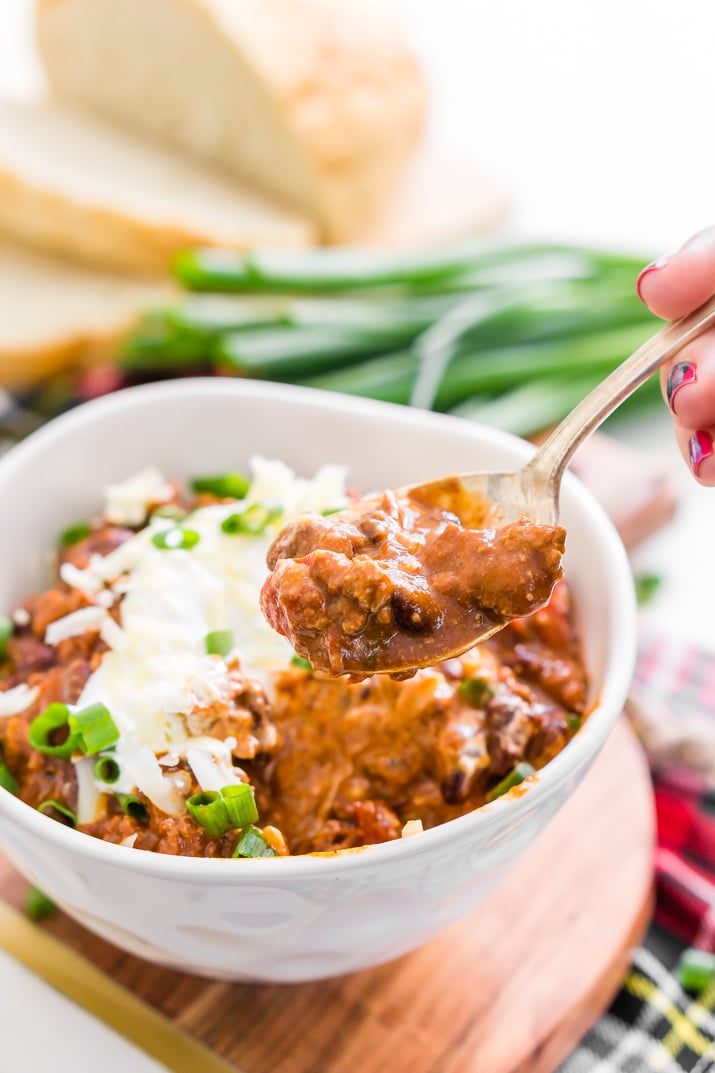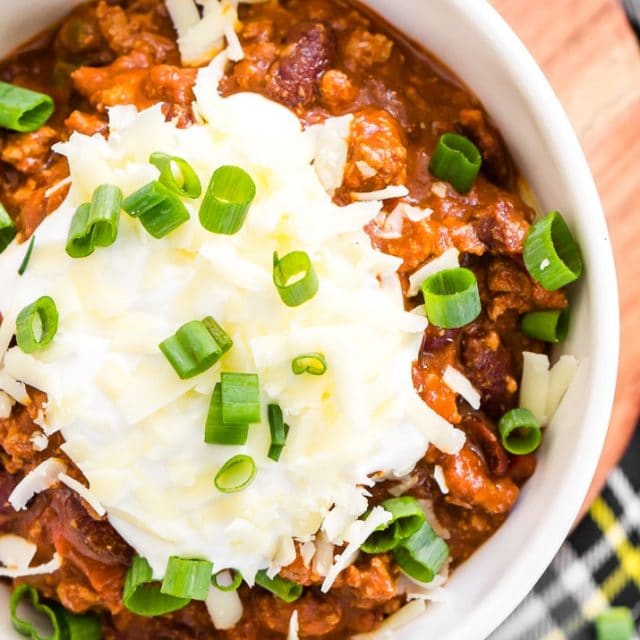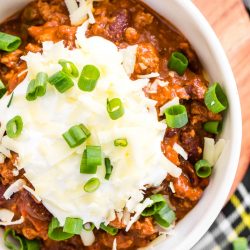 Healthy Turkey Chili Recipe
This HEALTHY and EASY Turkey Chili Recipe has perfect heat and a SECRET INGREDIENT that makes it the ultimate winter meal and great for game days!This healthy and easy turkey chili has perfect heat and a secret ingredient that makes it the ultimate winter meal!
Ingredients
Optional Toppings:
Sour Cream

Cheddar Cheese

Green Onions
Instructions
Prep vegetables by dicing peppers, onion, and tomatoes and mincing garlic.

In a large pot, combined oil and onions and simmer on low until onions start becoming translucent.

Add minced garlic and cook, stirring frequently for 2 minutes.

Increase heat to medium and add ground turkey and cook until browned.

Add chicken stock, tomato sauce, and raw apple cider vinegar and stir together.

Add in remaining ingredients and stir together.

Simmer over medium heat for 40 minutes, stirring occasionally. Chili will be watery at first but will thicken up.

Turn heat off after the 40 minutes has passed and let rest on the stove for another 10 minutes before serving.

Top with green onion, cheddar cheese, and sour cream and enjoy.
Notes
6 WW PointsPlus Value per serving.
Keep it dairy free by leaving off the cheese and sour cream.
Adapted from Weight Watcher's Hearty Turkey Chili.
Nutrition
Calories:
218
kcal
Carbohydrates:
14
g
Protein:
17
g
Fat:
10
g
Saturated Fat:
3
g
Cholesterol:
57
mg
Sodium:
519
mg
Potassium:
714
mg
Fiber:
4
g
Sugar:
7
g
Vitamin A:
2750
IU
Vitamin C:
40.8
mg
Calcium:
48
mg
Iron:
3.1
mg