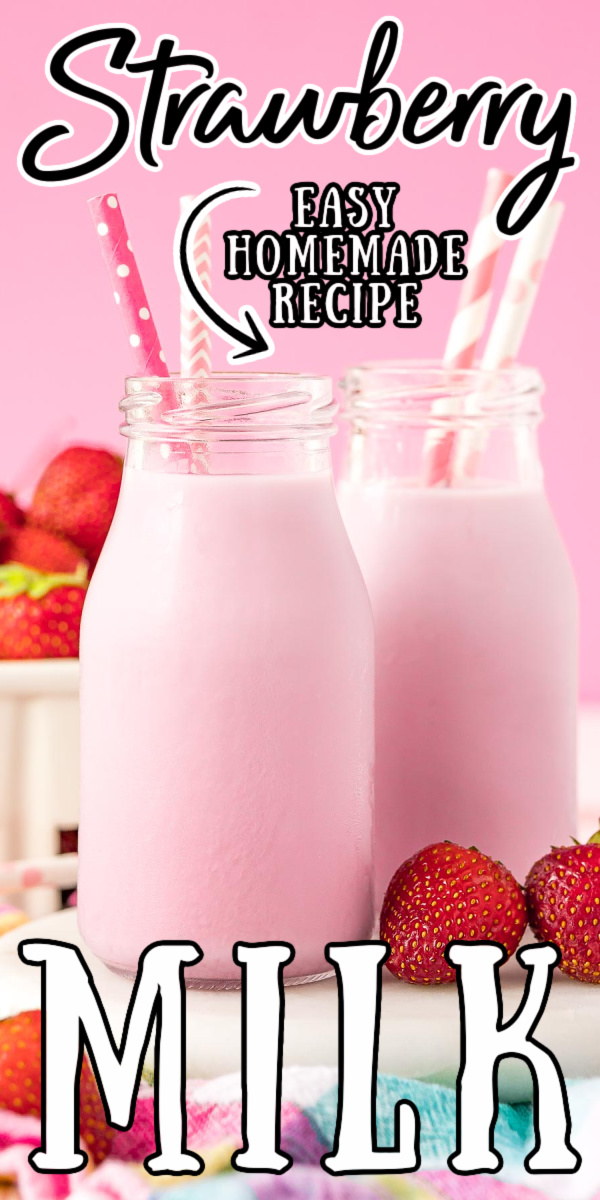 Homemade Strawberry Milk puts a tasty twist on a childhood favorite. Made with Strawberry Simple Syrup, it puts a fresh spin on the nostalgic treat.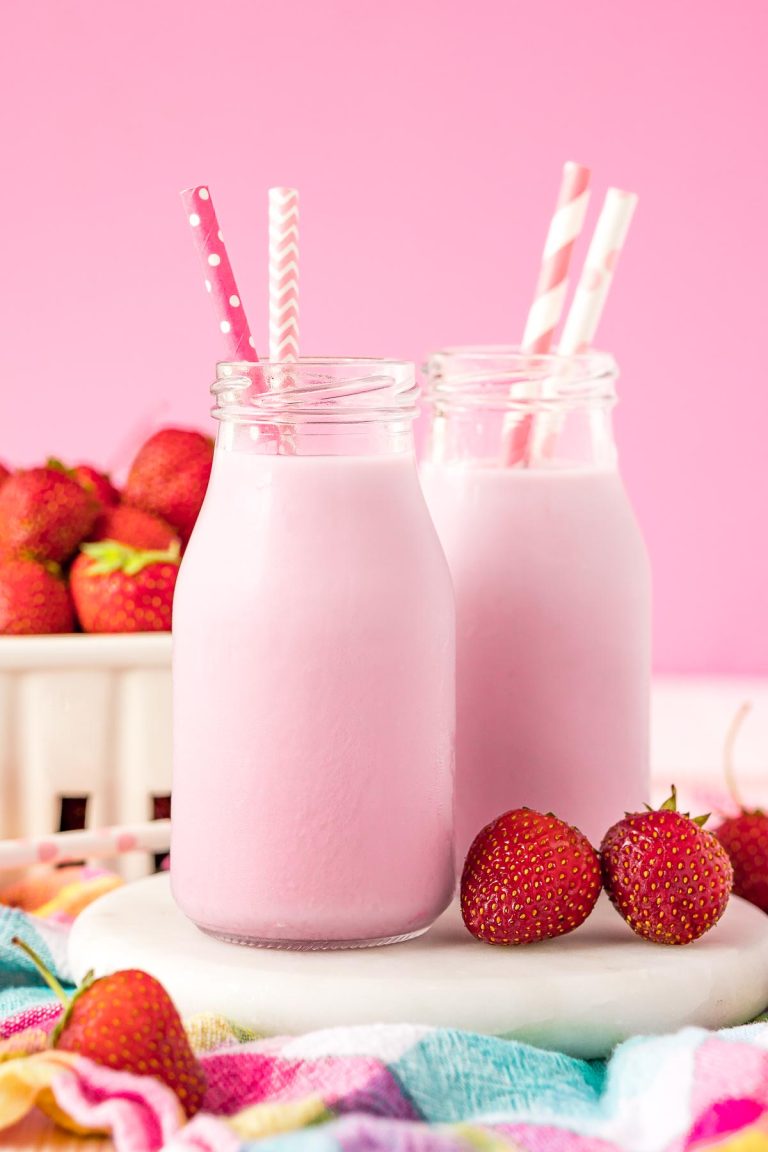 I used to love sipping a Strawberry Milk as a kid. I still enjoy it as an adult, but I make it a bit differently.
Now, I use Strawberry Simple Syrup in my milk instead of the store-bought strawberry syrup. Not only is it better for you because it has no chemicals or dyes, but you can also taste the real strawberries used to make it!
Plus, you'll feel better about drinking strawberry milk with scratch-made syrup. Of course, you'll feel better about giving it to the kiddos, too!
So if you and your family love strawberry-flavored everything, make this treat for brunch or an after-school snack. It's also perfect for Valentine's day!
If you still can't get enough, try pairing it with my Strawberry Milk No Bake Cookies!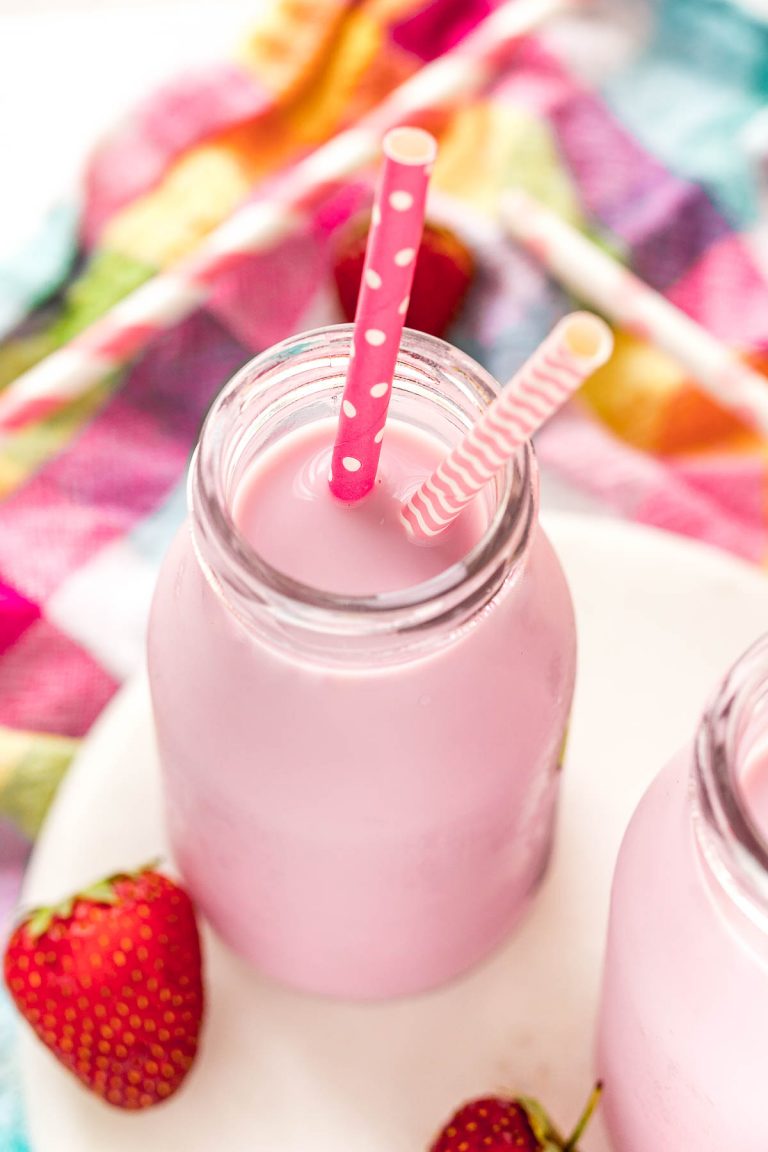 Strawberry Milk Ingredients:
Strawberry Simple Syrup – This simple strawberry mixture is made with water, sugar, and berries. (P.S. You can use it to add fresh strawberry flavor to all your favorite drinks!)
Milk – Any kind of milk or milk alternative can be the base of your drink.
How To Make It:
Add the strawberry simple syrup to the milk and stir – that's it!
I recommend preparing the strawberry syrup at least an hour in advance so that it can cool before adding it to the milk. The syrup can be prepared up to 2 weeks in advance.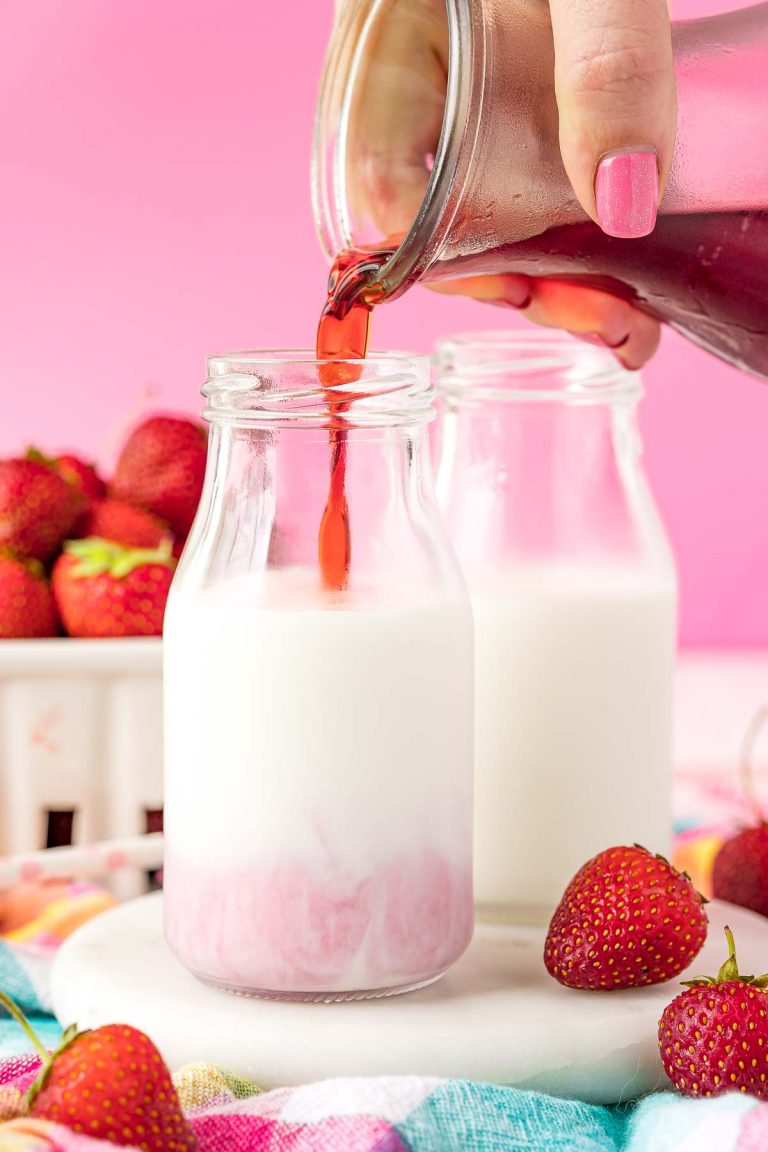 What is strawberry milk made of?
This homemade recipe is made with milk and simple syrup that consists of water, sugar, and real strawberries. But if you make it with store-bought strawberry syrup, it will probably have a huge list of unpronounceable ingredients!
Why was strawberry milk banned?
You read that right — this pink drink was actually BANNED in a country in Maryland in 2014. They were concerned about the kids consuming ingredients like Red Dye #40, high fructose corn syrup, not to mention, excess fat and sugar. Yikes! good thing this recipe is made from fresh strawberries!
Is strawberry milk healthy?
Great question! Certain parts of this homemade recipe are healthy, like the milk and real strawberries, although there is sugar in it.
A lot of the nutrition also depends on the kind of milk you use. Skim or alternative milks will obviously be much lower in calories than high-percent or whole milks.
As with anything, portion size is key!
Substitutions & Variations:
Non-dairy milk alternatives: As mentioned, you can use any kind of milk you want for this recipe. My favorite non-dairy alternatives are unsweetened vanilla almond milk and coconut milk.
Strawberry milkshake: Add a few scoops of vanilla ice cream to this recipe and blend for a scrumptious milkshake. The creamy vanilla and strawberry flavors are a classic combination!
Try different syrups: You can also make flavored milk with raspberry, blueberry, and blackberry simple syrups. Have fun experimenting!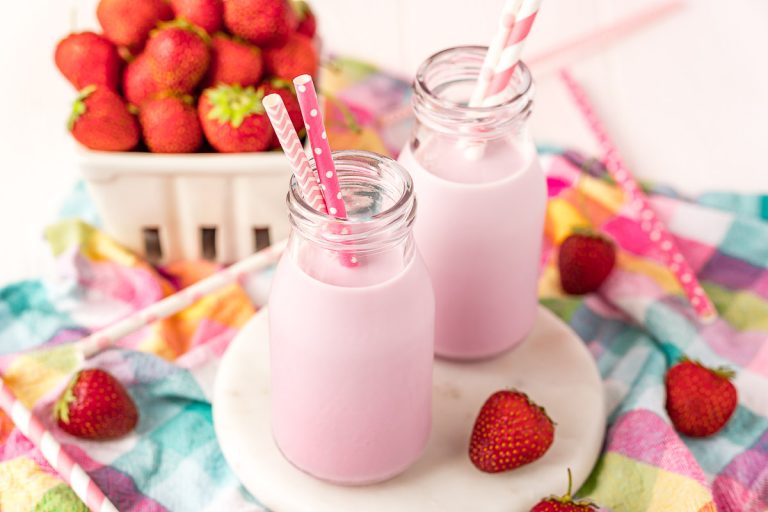 More Sippable Strawberry Recipes:
Homemade Strawberry Milk
Pin For Later
CLICK THE BUTTON ABOVE TO SAVE THIS DELICIOUS RECIPE TO YOUR BOARD!
👋 Let's Connect!
If you've tried this recipe, please let me know how you liked it in the comments below and leave a review; I love hearing from you! And don't forget to tag me – @sugarandsoulco – on Instagram and Pinterest with your photos or join our Busy Family Recipes Facebook Community and share them there!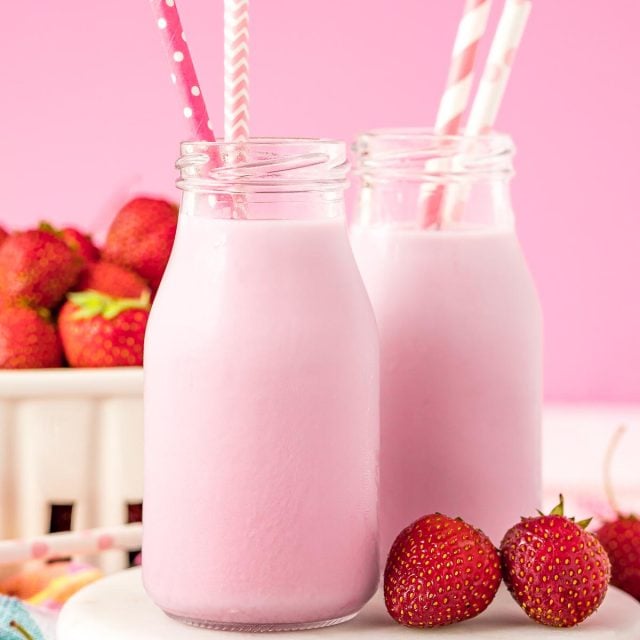 Strawberry Milk
Homemade Strawberry Milk puts a tasty twist on a childhood favorite. Made with Strawberry Simple Syrup, it puts a fresh spin on the nostalgic treat.
Instructions
Add the strawberry simple syrup and milk to a glass and stir to combine.
Nutrition
Calories:
314
kcal
Carbohydrates:
64
g
Protein:
4
g
Fat:
5
g
Saturated Fat:
3
g
Cholesterol:
14
mg
Sodium:
84
mg
Potassium:
211
mg
Sugar:
47
g
Vitamin A:
230
IU
Calcium:
165
mg
Iron:
1
mg