These Soft Pretzel Witches Fingers are the perfect savory snack to pair with all of your Halloween candy! They'll be sure to be the star of your Halloween party!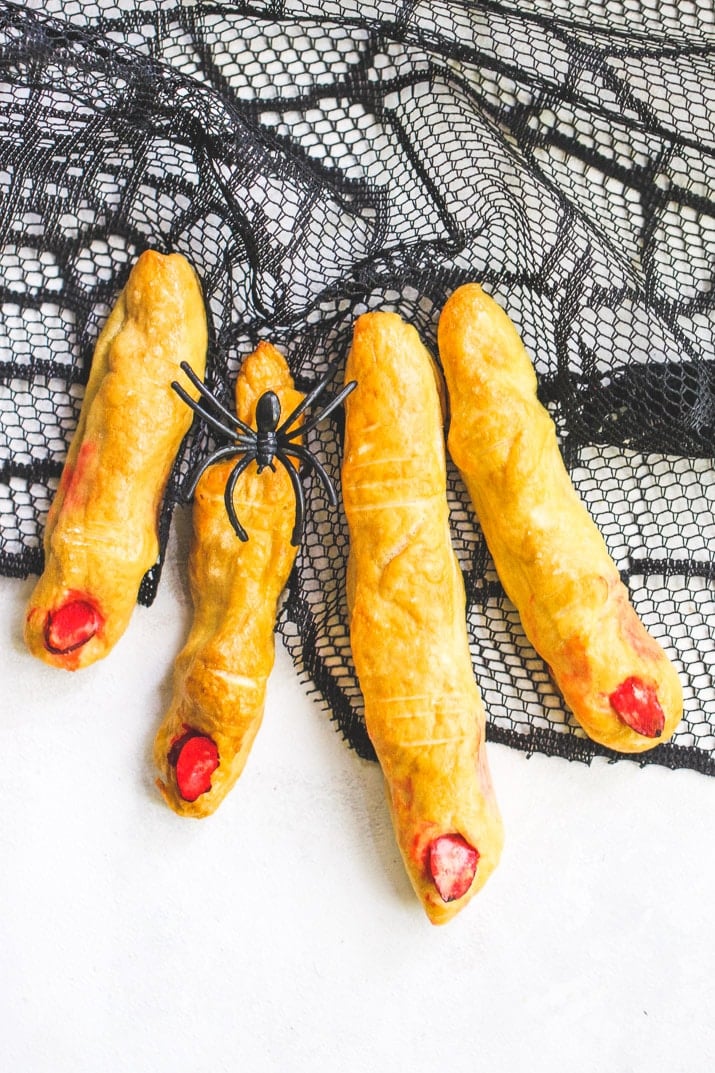 Soft Pretzel Witches Fingers
Hey all! Sam back from The Culinary Compass. I'm excited to bring you these spooky Soft Pretzel Witches Fingers! They were something that my mom used to make every year during Halloween. I hope they become a tradition for your family as well!
I adapted the recipe my mom used, from a recipe that was passed down to her so know that this one is near and dear to my heart! I distinctly remember being a kid and actually being creeped out seeing these knobby fingers and creepy nails. This recipe is made from scratch so there are a few steps involved, but I promise it's worth it!
If you're short on time (and as I've done a time or two before), feel free to use a soft pretzel kit! They'll give you similar results, but I make no claims on if they'll be as creepy as these! I think the key is the egg wash to finish off the brown texture!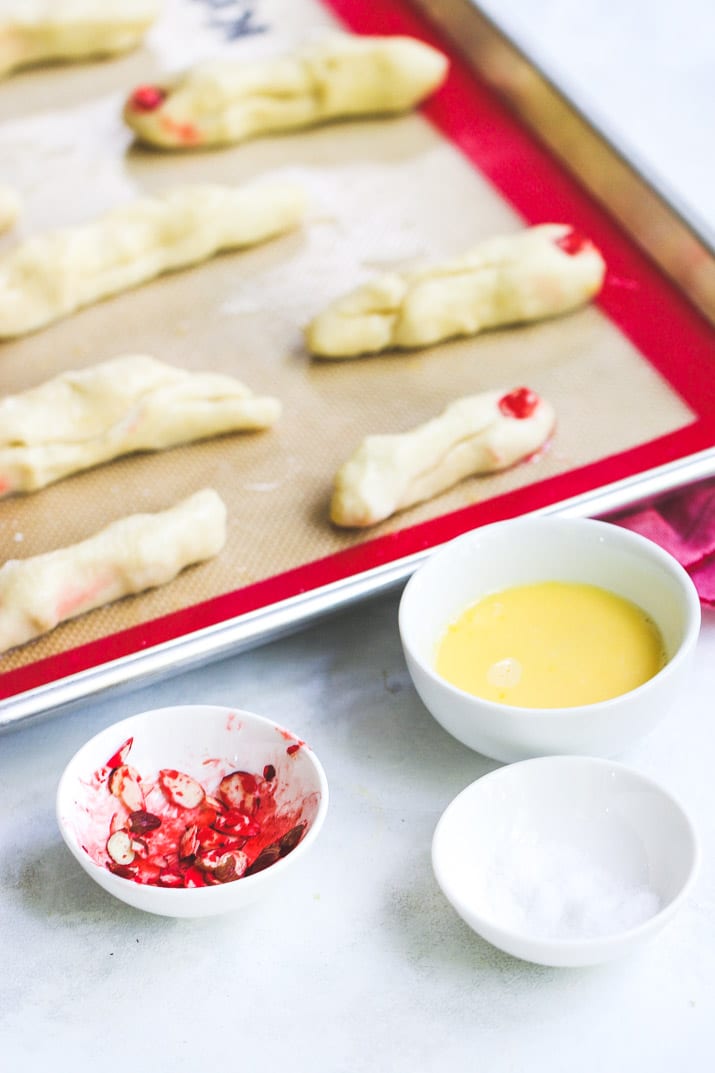 I let the dough rise for an hour and formed them into 3-5 inch lengths and pinched two parts of the dough to create "knuckles." I then boiled them in some water with baking soda then prepped them to bake with egg wash, salt, and knuckle marks. I used slivered almonds in food coloring to give some creepy nails that I put in one of the ends and baked until perfectly golden brown! Now I know the question you have in your mind right now…
Why do you boil soft pretzels in baking soda before baking them?
Browning – The baking soda creates an alkaline solution for the pretzels to brown more easily once in the oven!
Texture – The quick dunk in hot water allows the inside of the pretzel to puff up giving it that great soft texture!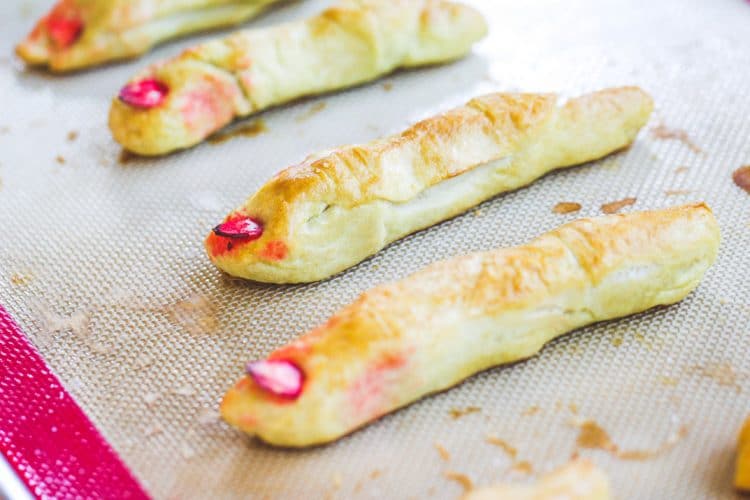 More Recipes for your Halloween Party: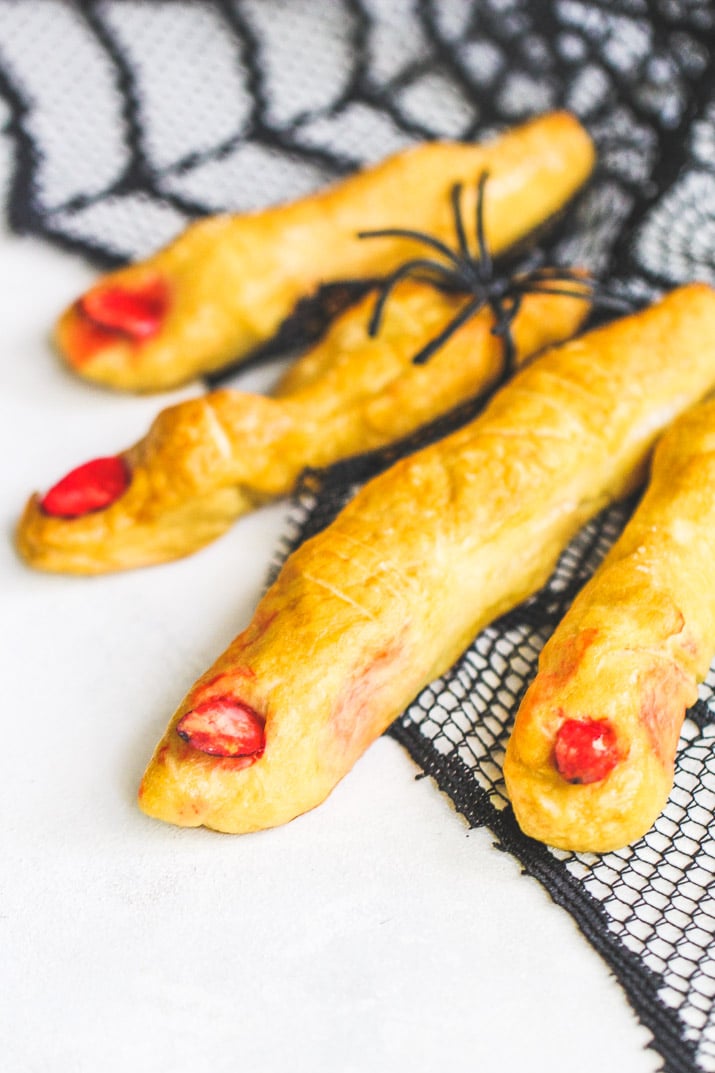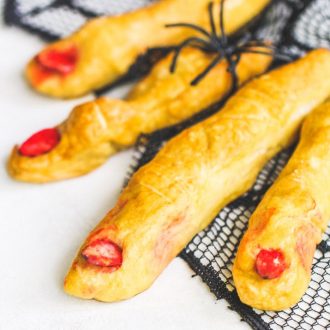 Soft Pretzel Witches Fingers
These Soft Pretzel Witches Fingers are the perfect savory snack to pair with all of your Halloween candy! They'll be sure to be the star of your Halloween party!
Print
Pin
Rate
Prep Time:
1
hour
30
minutes
Total Time:
1
hour
45
minutes
Ingredients
Pretzel Dough
1

cup

warm water

1/2

tablespoon

sugar

1 1/4

teaspoon

active yeast

3

cups

all-purpose flour

more for surface

1/2

tablespoon

salt
Instructions
Combine warm water, sugar, and active yeast in a small bowl and let rest 5 minutes until bubbles form.

While water mixture is sitting, mix 1 cup of the flour with the salt in a large bowl. Pour water mixture and mix until combined. Add in 1 more cup flour and knead until combined. Add final cup flour and knead on a lightly floured surface. If the dough is too dry, drizzle a little water on the dough. Knead 3-4 minutes until smooth. Wash bowl and add in vegetable oil and dough ball, turning to coat. Top with cling wrap and let sit for an hour.

While waiting, mix slivered almonds with a drop or two of red food coloring and let dry. Prepare a cookie sheet with parchment paper or a silicone mat. Start a large pot of water to boil. Add baking soda once boiling and bring it down to a simmer.

Once the dough has risen, cut in half. Roll out and cut into 12 even sections. Roll each section into 3-5 inch pieces. Pinch in two places to make "knuckles." Place in simmering water and let sit for 1 minute. Take each out and put on cookie sheet. Mix egg with water and brush egg wash on each finger. Sprinkle with sea salt and place a slivered almond on each. Use a knife and cut knuckle lines in. Bake for 13-15 minutes until golden brown.