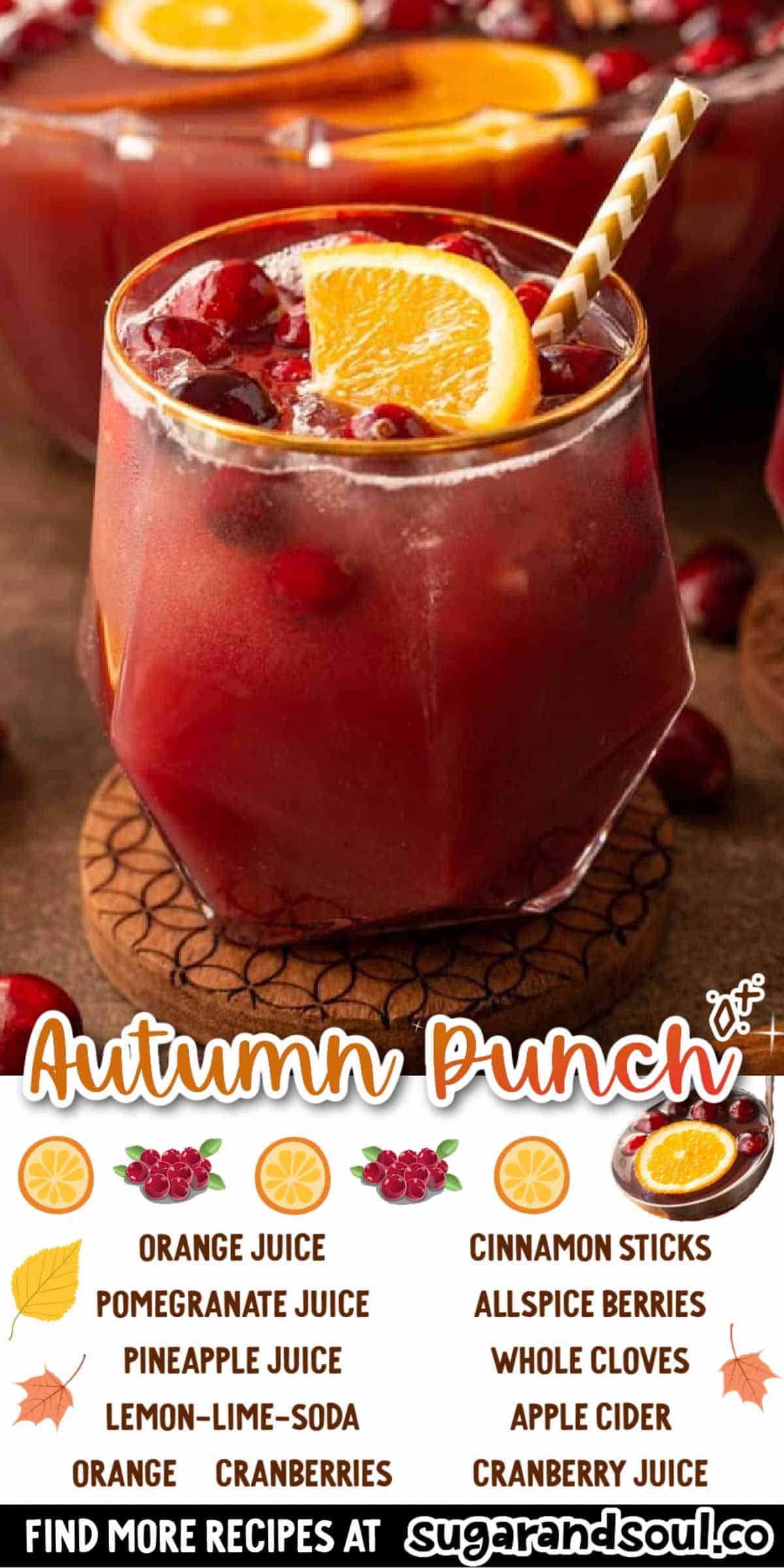 This Autumn Punch is a flavor-packed family-friendly drink that combines 5 different types of juices with spices, and lemon-lime soda! The perfect punch to serve at gatherings and holidays!
Another non-alcoholic punch that's also filled with delicious seasonal flavor is my Cranberry Apple Cider Punch! It serves a smaller crowd and takes just 5 minutes to put together!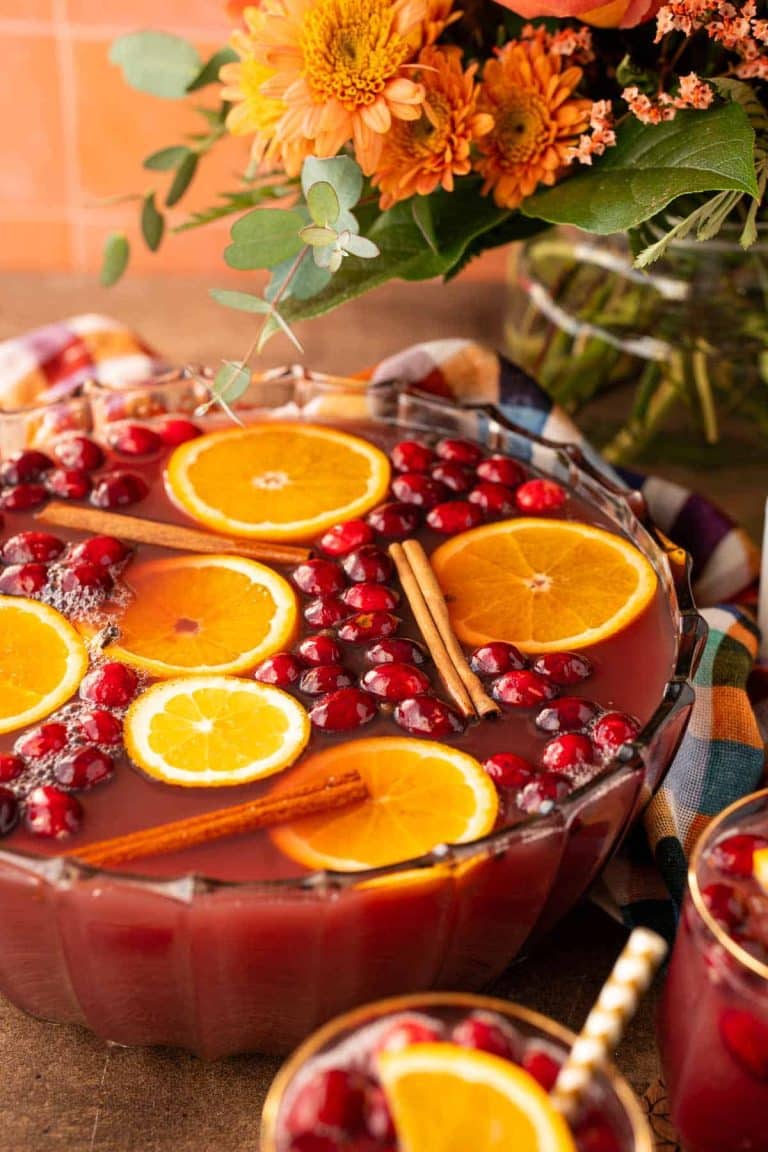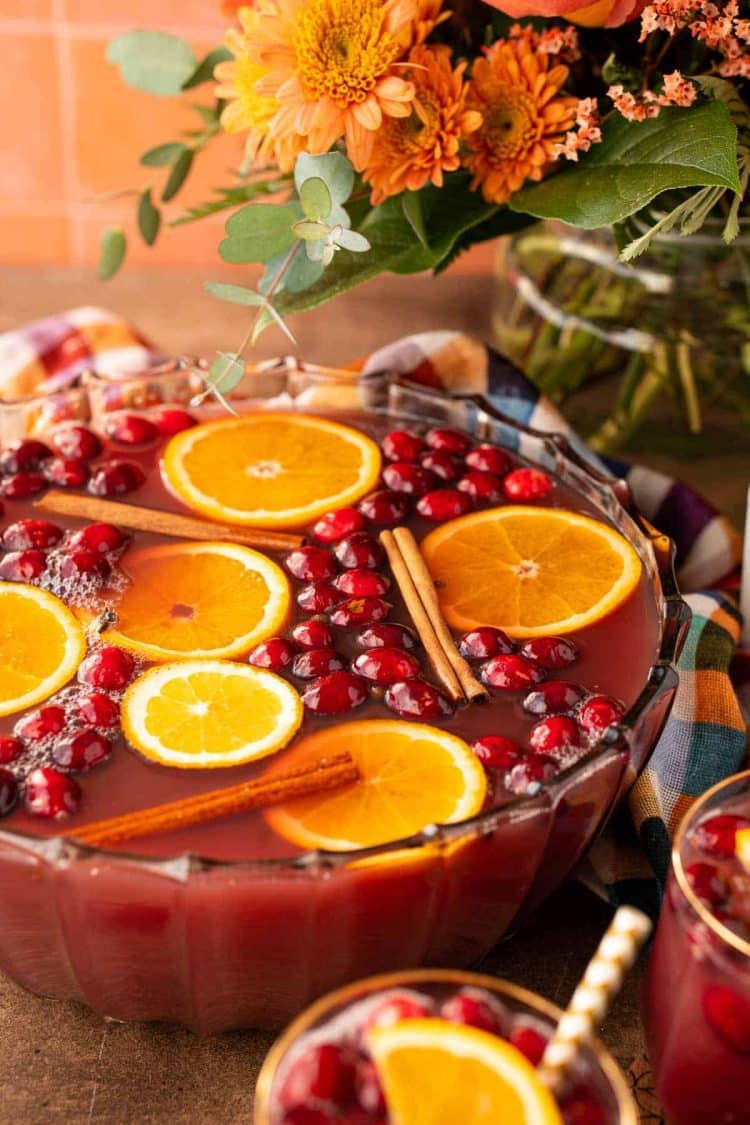 Serving up this Autumn Punch at fall gatherings and Thanksgiving dinner really shows that you've thought of every detail! Guests will be impressed with the flavor of this punch as well as its appearance!
Its deep burgundy color compliments the garnishes that float in it! Though this punch has an impressive flavor and a fun look, it's actually quite simple to make!
Simply pour the ingredients into your favorite punch bowl, top it with garnishes, and set it out for easy self-serving!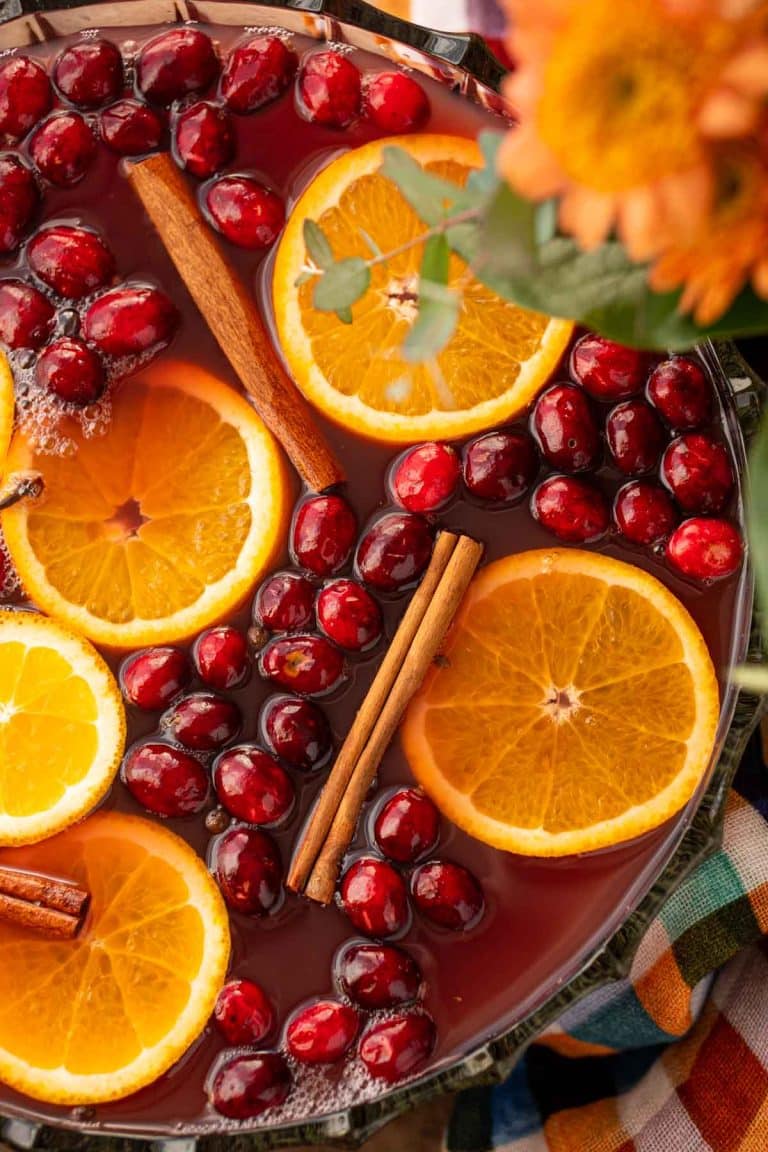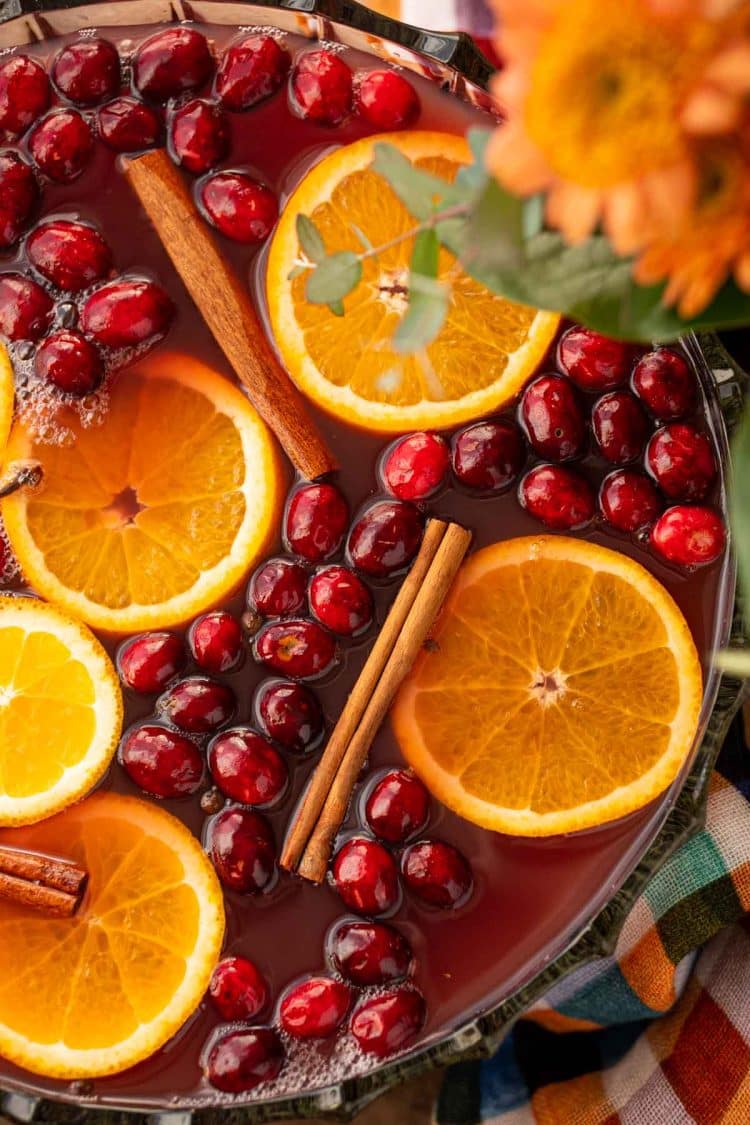 Prepare Your Taste Buds For Flavor!
This non-alcoholic Thanksgiving Punch is one of my favorite fall punch recipes, it will have your taste buds traveling through the flavors of the season!
Beginning with a taste of late summer from the sweet pineapple juice. From there the late summer flavor gives way to the classic flavor of fall, cozy apple cider! Next, your taste buds are met with the wintery citrus flavors of orange juice.
Cranberry and pomegranate juice then bridge the gap between the seasons, highlighting all of fall's fruity flavor! Rounding off this seasonal punch are spices such as whole cloves, allspice berries, and cinnamon sticks.
Your taste buds then end the journey with the fizzy finish from lemon-lime soda in this fall party punch!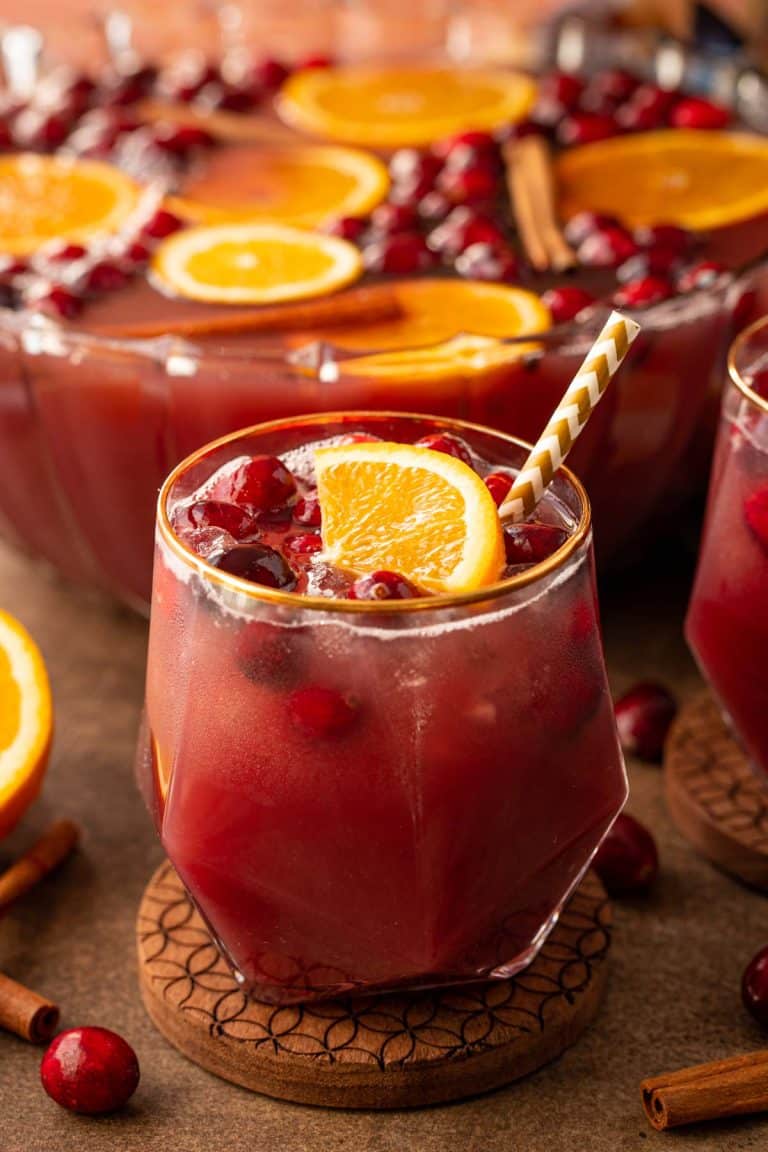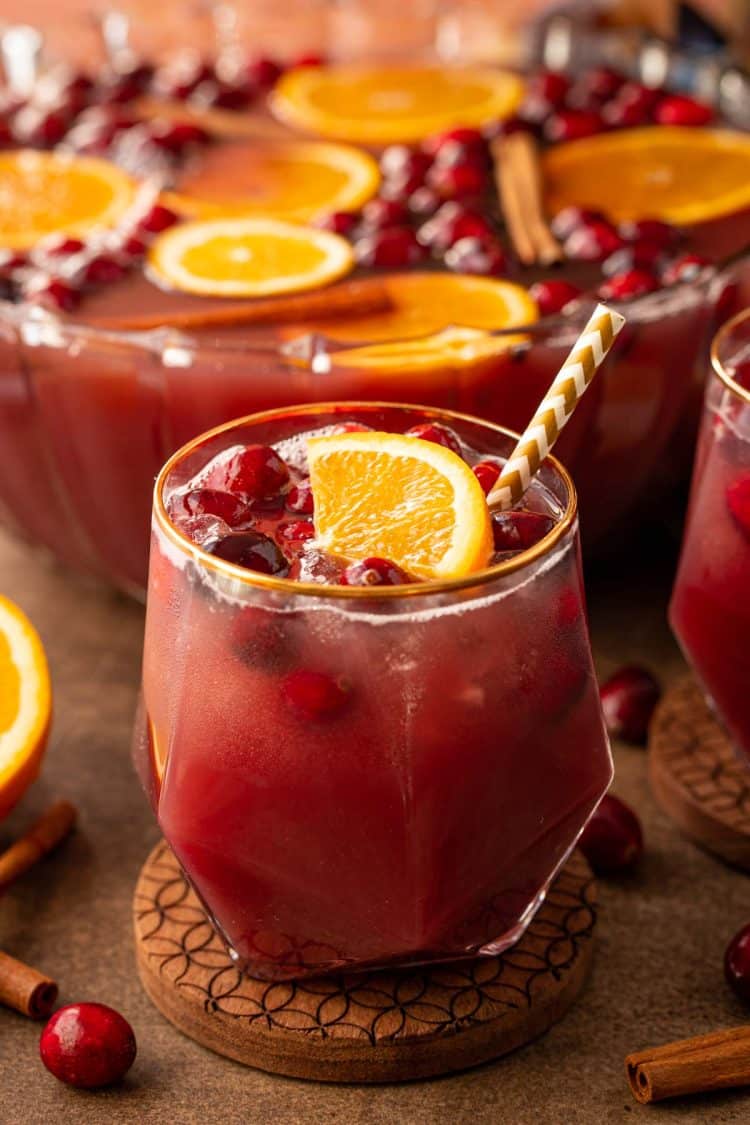 Tips & Tricks When Making This Autumn Harvest Punch Recipe
Apple Cider – For the best flavor try to grab a jug of homemade apple cider from your local orchard!
Chill The Ingredients – To ensure this punch is perfectly chilled make sure you place the juices and soda in the fridge ahead of time.
Garnishes – Dress this punch up by garnishing it with cinnamon sticks, orange slices, and cranberries!
Serving This Punch – I love serving this party drink in my favorite punch bowl! That way all the pretty garnishes can be on display, making for a festive party look! However, a large pitcher will work too!
Stronger Spice Flavor – For a stronger spice flavor, combine the juices with the spices and chill the mixture in the fridge for 2 hours. Afterward, add the soda and serve!
Friends and family will love dipping the ladle into this Autumn Punch as they refill their cup over and over again! Causing it to disappear as quickly as my Kinder Punch usually does!
Other party punches that are also favorites around here are my Easy Party Punch and Sparkling Holiday Punch! Both are non-alcoholic, making it so everyone can enjoy a sip!
Though if you have guests that enjoy an alcoholic punch you may want to make a batch of this Cranberry Orange Christmas Mimosa Punch!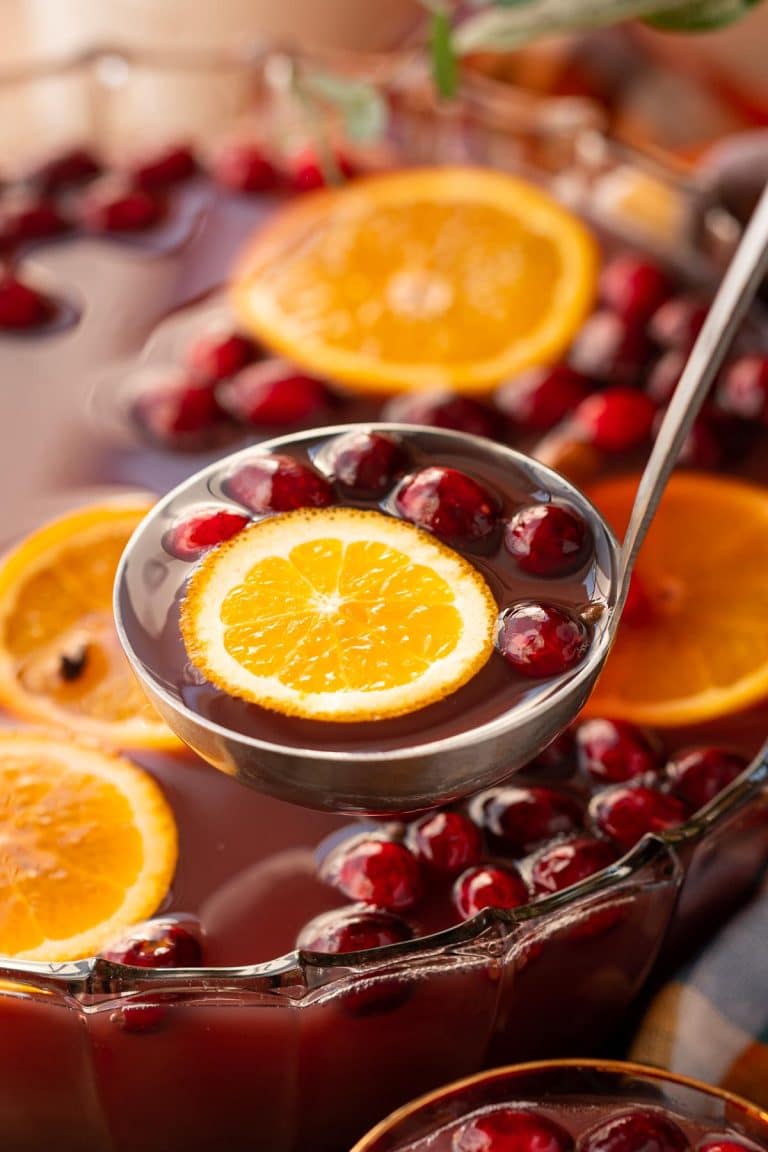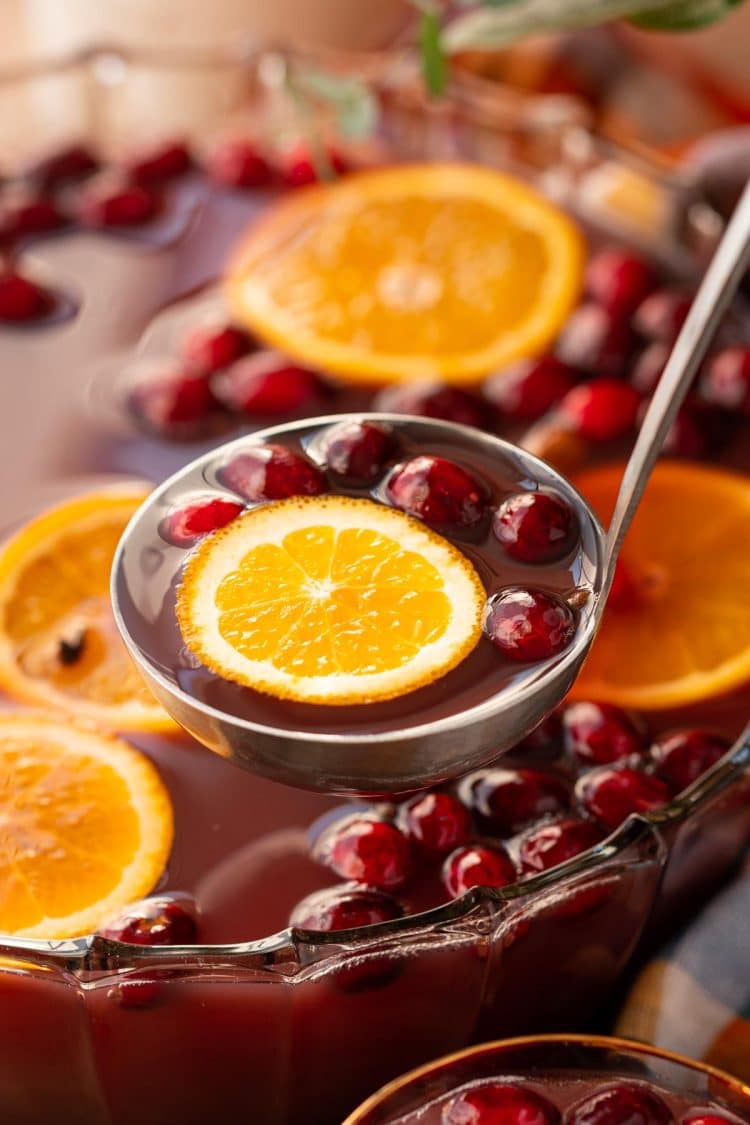 Can I Store The Leftovers From This Autumn Punch?
Leftovers can be stored in an airtight container. However, since this punch is made with soda the carbonation will eventually dissipate. In turn, altering the flavor of this punch!
How Many Servings Does This Autumn Punch Recipe Yield?
This will vary heavily on the size of your servings and cups. Typically, when I make and serve this punch, I can count on it serving at least 12 people.
What Type Of Alcohol Do You Recommend Adding For An Alcoholic Version?
I find that the addition of rum makes for a delicious autumn harvest rum punch recipe! But you can try adding whatever alcohol you prefer!
For punches that are already alcoholic check out my Mulled Wine or Thanksgiving Punch!
Is There A Specific Lemon Lime Soda I Should Use In This Recipe?
No, you can choose your favorite lemon-lime soda! I usually choose between Sprite, 7 Up, and Sierra Mist. Ginger ale is also a great option.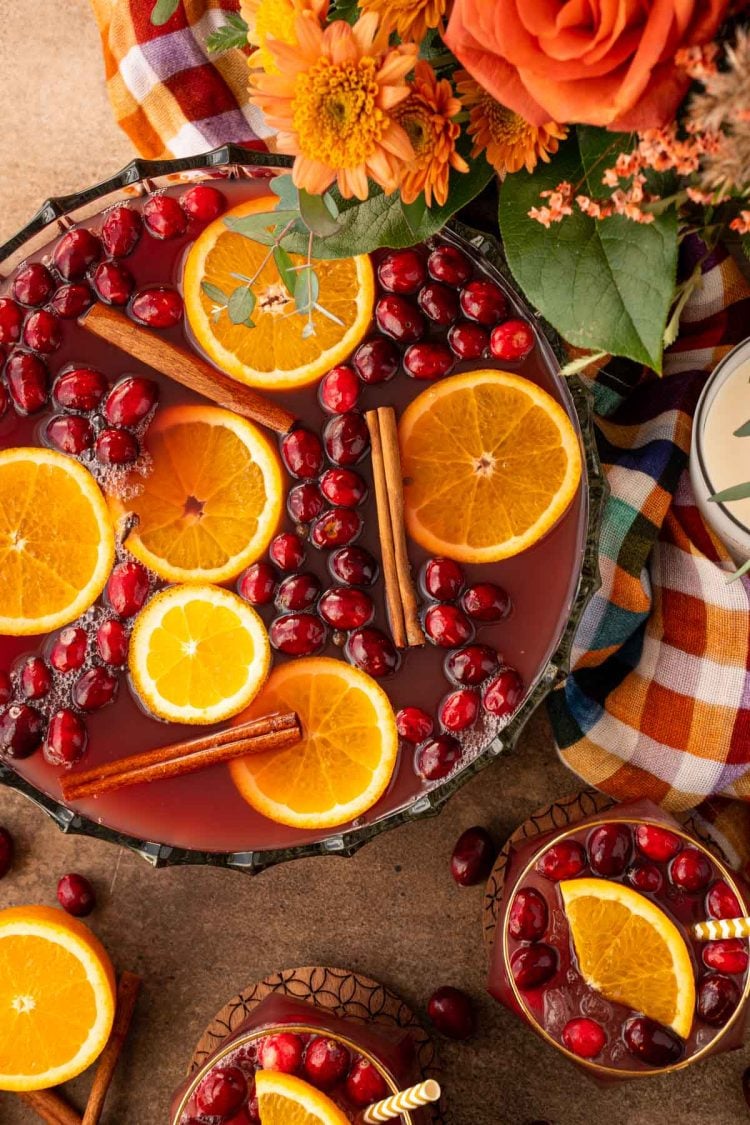 Autumn Punch
Pin For Later
CLICK THE BUTTON ABOVE TO SAVE THIS DELICIOUS RECIPE TO YOUR BOARD!
👋 Let's Connect!
If you've tried this recipe please let me know how you liked it in the comments below and leave a review, I love hearing from you! And don't forget to tag me – @sugarandsoulco – on Instagram and Pinterest with your photos or join our Busy Family Recipes Facebook Community and share them there!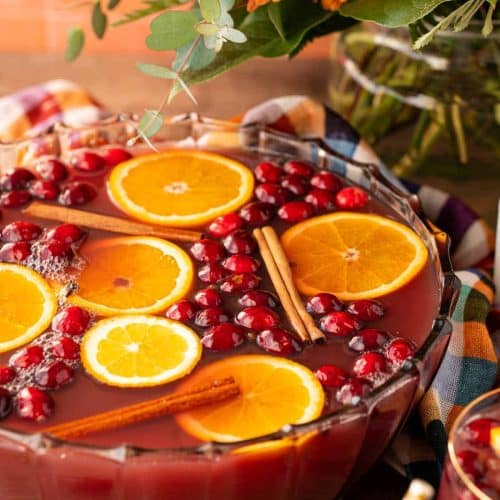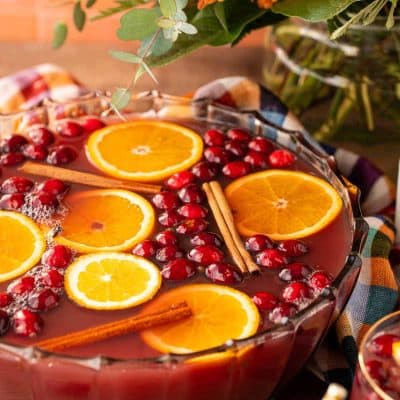 Autumn Punch
This Autumn Punch is a flavor-packed family-friendly drink that combines 5 different types of juices with spices, and lemon-lime soda! The perfect punch to serve at gatherings and holidays!
Instructions
Add the spices, apple cider, cranberry juice, orange juice, and pineapple juice to a large punch bowl

3 cinnamon sticks,

5 allspice berries,

3 whole cloves,

3 cups apple cider,

2 cups cranberry juice,

2 cups orange juice,

1½ cups pomegranate juice,

1½ cups pineapple juice

Top with the lemon-lime soda, orange slices, and cranberries just before serving.

2 cups lemon-lime-soda,

1 cup cranberries,

1 orange

Serve with a ladle over ice.
Notes
If you want a stronger spice flavor, chill the spices and juices together for 2 hours in the fridge before adding the soda and serving.
Nutrition
Calories:
125
kcal
Carbohydrates:
31
g
Protein:
1
g
Fat:
0.4
g
Saturated Fat:
0.1
g
Polyunsaturated Fat:
0.1
g
Monounsaturated Fat:
0.1
g
Sodium:
11
mg
Potassium:
311
mg
Fiber:
1
g
Sugar:
27
g
Vitamin A:
136
IU
Vitamin C:
35
mg
Calcium:
35
mg
Iron:
1
mg