These Billionaire Bars are made with 5 glorious layers of RICH and DECADENT sugary favorites! Shortbread, brownie, caramel, chocolate, and peanut butter frosting combine for the ultimate dessert bar! Everyone will be begging you for the recipe!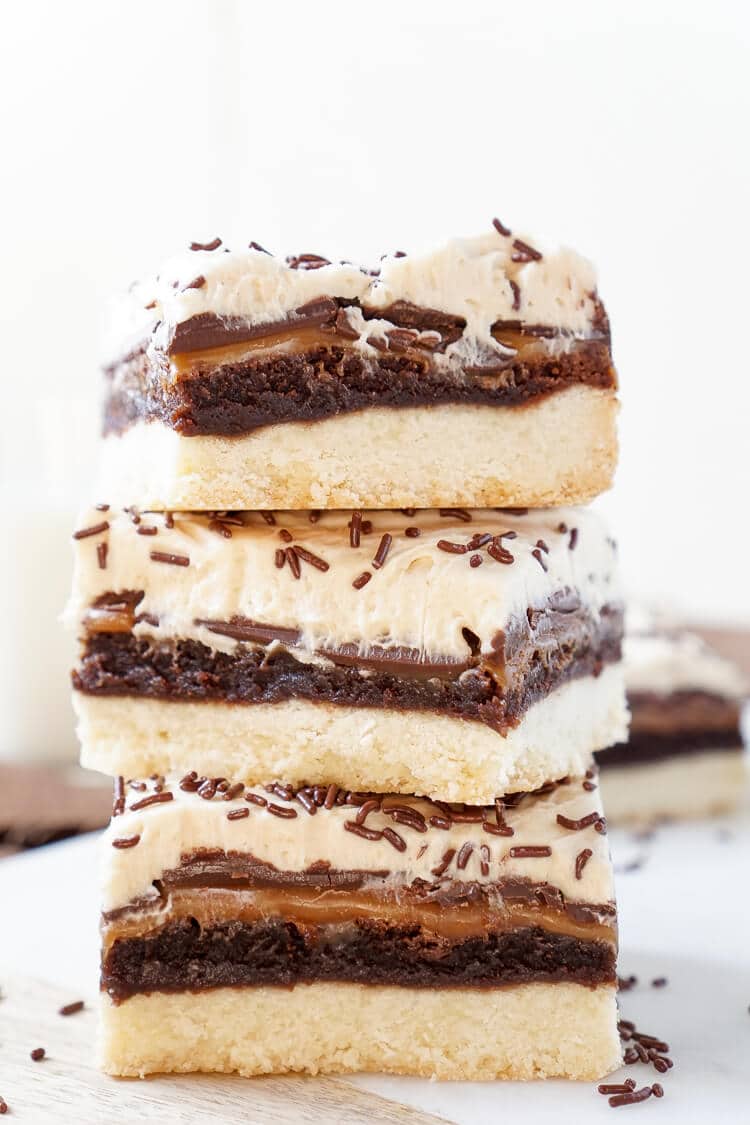 These Billionaire Bars need to happen ASAP! Like legit, you need to go make them right now, they are THAT good!
You might have noticed it's been a little quiet around here the last few days. I've only posted about What to Do in Napa since I shared my Mocha Nut Coffee Cake last Thursday, which you regulars know is a little unlike me.
Usually, I try to give you guys a new post each day, but sometimes life happens, right? My absence has been for a few reasons:
A large client project that wasn't blog related.
Family time – I hadn't seen my inlaws since New Year's Day and I hadn't seen my mother in over a month.
Morning Star was released, and yes, Matt and I already finished it!
I'm trying not to work 14 hour days anymore.
I've been in a bit of a funk.
Billionaire Bars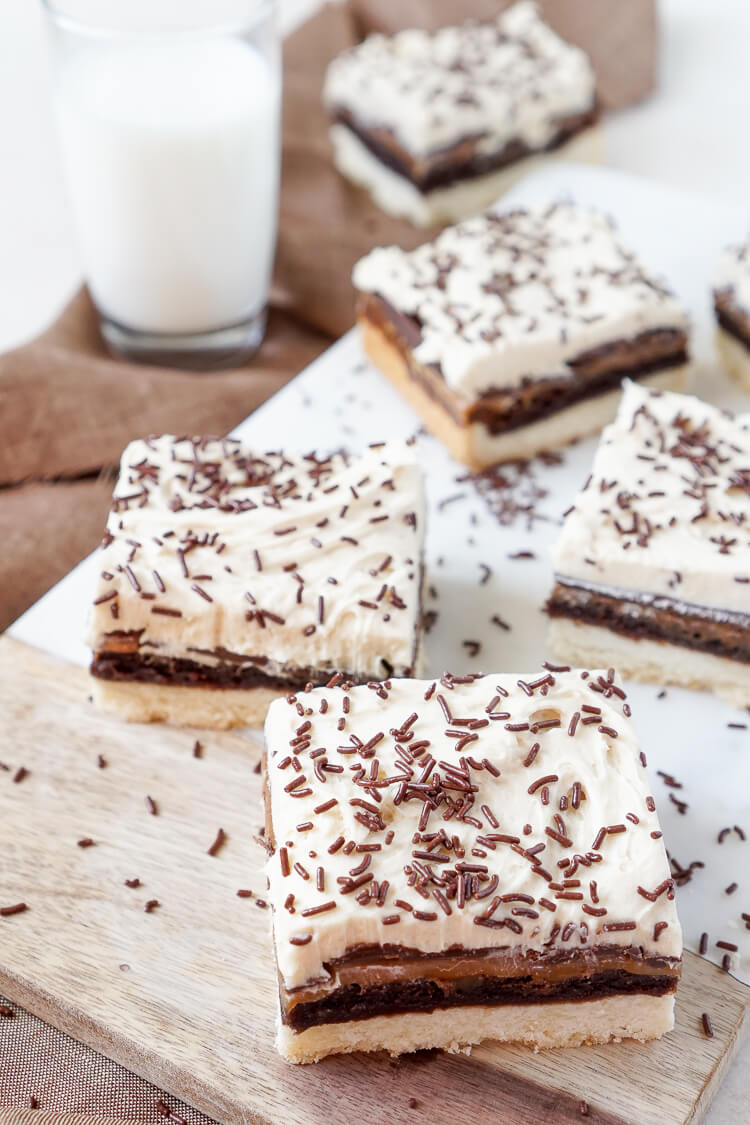 In order to get myself out of my funk, I'm doing two things. I'm taking an impromptu trip to Puerto Rico next week with my friend, Rachael – airfare is soooo cheap out of Boston right now!
And I'm kicking off a new series here on the blog! You guys know I love my Food & Fiction posts where I develop recipes inspired by my favorite books, shows, and movies. But for the next two weeks, I'm taking things one step further!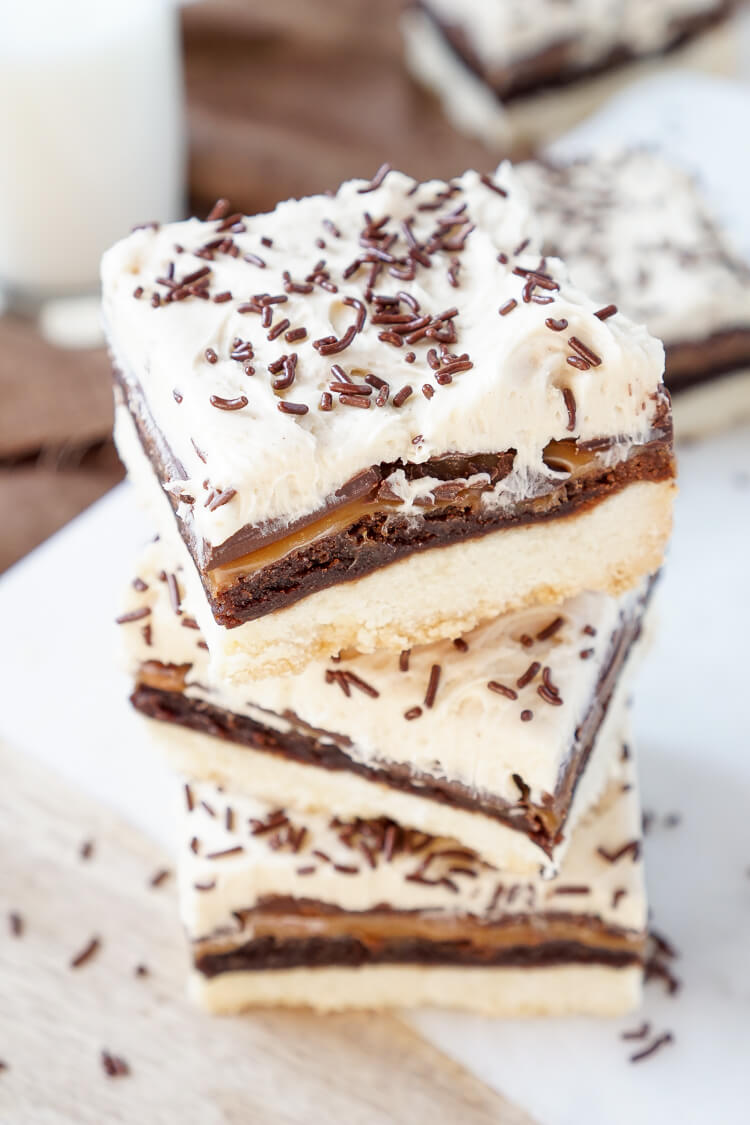 The Oscars are on February 28th, and you might remember just how much I love film and that the Oscars are pretty much mine and Matt's Super Bowl!
So between now and the ceremony, I'm going to bring you 8 glorious recipes inspired by the Best Picture nominations, starting with these Billionaire Bars inspired by The Big Short!
We saw The Big Short last month, it's about a handful of men in the world of high-finance that predict the credit and housing bubble collapse of the mid-2000s, and decide to take on the big banks for their greed and lack of foresight.
With a star-studded cast, some great cinematography, and a decent screenplay – this movie about an insanely boring (and slightly sore) subject was actually pretty entertaining.
The best way for me to describe this film is that it was kind of a breath of fresh air. The feature film/documentary approach gave it a unique cinematic mix that was both enlightening and fun. I can see why it's getting Oscar buzz, but don't think it will win.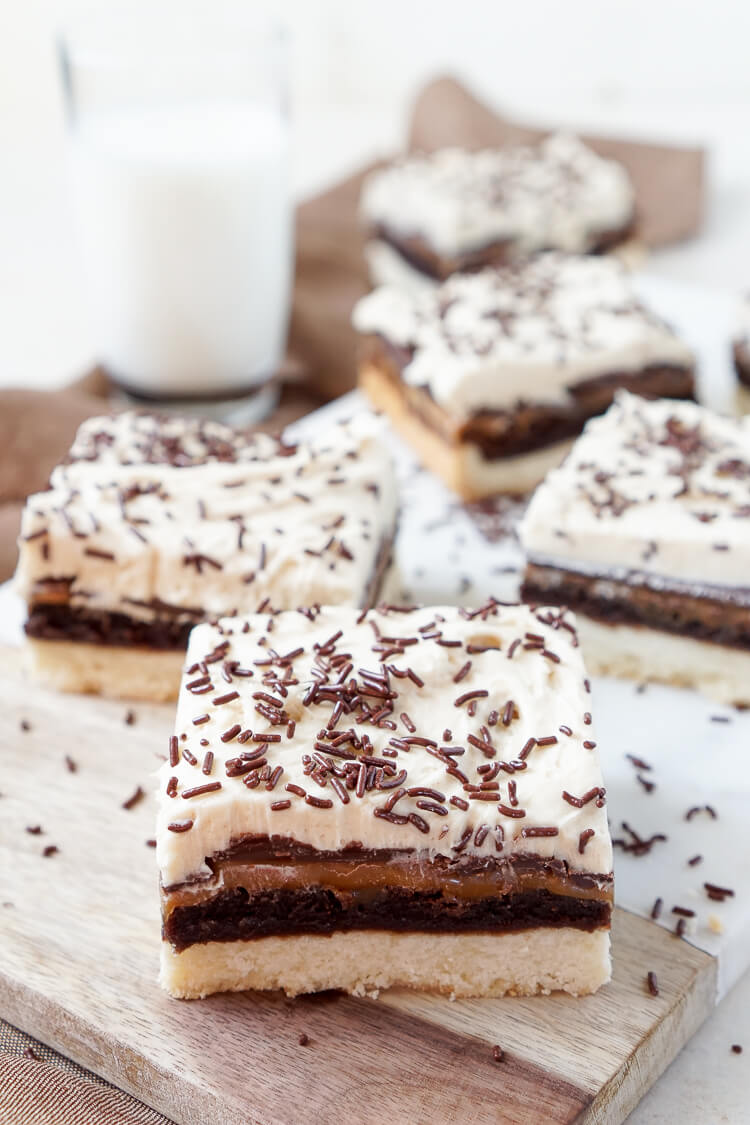 But back to these bars! Most everyone has heard of Millionaire or Million Dollar Bars, they're basically a homemade Twix with layers of shortbread cookie, caramel, and chocolate. I've decided to crank that up a notch and add in two extra layers to make these Billionaire Bars!
A layer of brownie and a layer of peanut butter frosting make these the most heavenly thing to come out of my kitchen since The Croissookie!
Matt and I joked that the Billionaire title really comes from the fact that there's probably about a billion calories in one pan of these babies, and though it's not that extreme, there is a whole pound of butter in them! But they're worth EVERY calorie!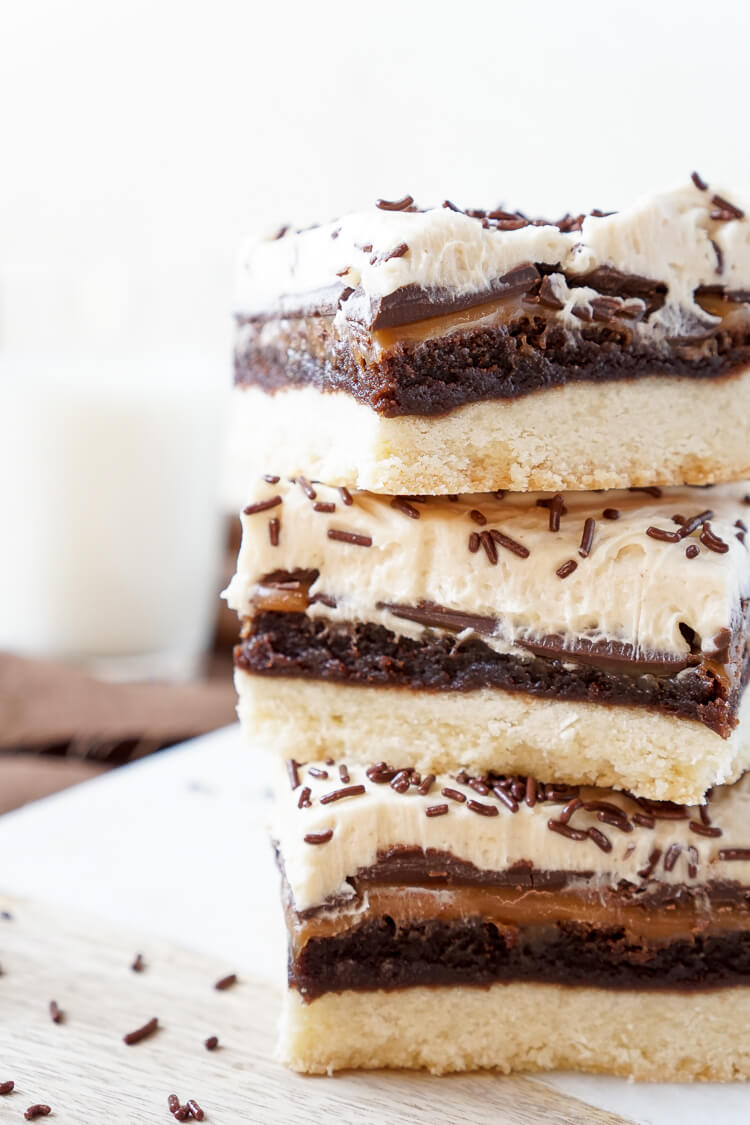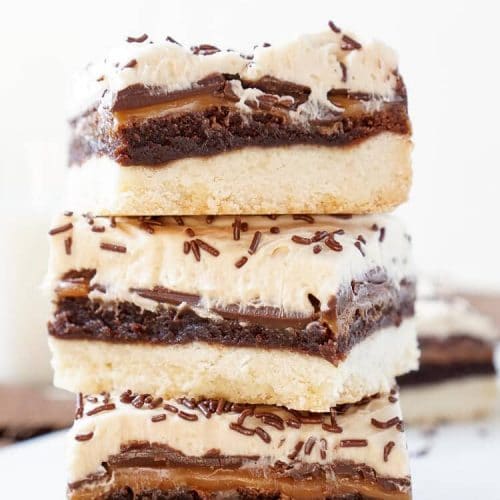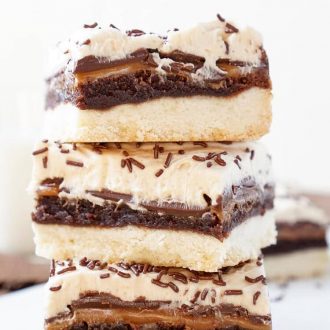 Billionaire Bars
These Billionaire Bars are made with 5 glorious layers of RICH and DECADENT sugary favorites! Shortbread, brownie, caramel, chocolate, and peanut butter frosting combine for the ultimate dessert bar!
Print
Pin
Rate
Prep Time:
2
hours
25
minutes
Ingredients
Brownies:
Additional ingredients required on back of box
Chocolate:
1

cup

60% bittersweet chocolate chips

2

tablespoon

unsalted butter
Topping:
Instructions
Preheat oven to 350 degrees F.

Line a 9 x 13-inch baking dish with aluminum foil and set aside.
Shortbread:
In a stand mixer fitted with a paddle attachment, cream together the butter and sugar, add in remaining ingredients and beating slowly at first then increasing to medium-high speed for 3 to 4 minutes until dough pulls away from the sides of the mixing bowl and is no longer crumbly.

Press dough evenly into the prepared baking dish and set aside.
Brownies:
Mix brownie ingredients together according to package instructions and pour over the shortbread dough, spreading out evenly. Bake for 30 to 35 minutes.
Caramel:
When the cookie/brownie is about 10 minutes from being done, add the caramels and the heavy cream to a small saucepan and melt over medium heat, stirring constantly until candies are completely melted.

Remove the cookie/brownie from the oven when ready and pour the caramel sauce evenly over the brownie layer. Chill in the fridge for 1 to 2 hours until caramel is stiff to the touch.
Chocolate:
Once caramel layer has set, add chocolate chips and butter to a microwave-safe bowl and microwave for 30-second intervals until melted, stirring between each one. It usually takes 1 minute. Quickly pour over the caramel and use the back of a spoon to spread out in an even layer. Because the caramel is cold the chocolate will stiffen fast, so your need to work fast here.
Peanut Butter Frosting:
Make a half batch of my

Best Peanut Butter Buttercream

and evenly spread it out over the top of the hardened chocolate layer. Sprinkle with chocolate sprinkles.

Gently lift the bars out of the pan by gripping the aluminum foil, I recommend picking one side of the bars to lift up while sliding the baking dish in the opposite direction so your bars are always close to the counter.

Use a sharp knife to cut into squares for serving.
Notes
A stand mixer with a paddle attachment is necessary for the shortbread dough or it may never come together.
Nutrition
Calories:
294
kcal
|
Carbohydrates:
34
g
|
Protein:
2
g
|
Fat:
16
g
|
Saturated Fat:
10
g
|
Cholesterol:
38
mg
|
Sodium:
134
mg
|
Potassium:
45
mg
|
Sugar:
18
g
|
Vitamin A:
450
IU
|
Vitamin C:
0.1
mg
|
Calcium:
32
mg
|
Iron:
0.8
mg