Mocha Hot Chocolate Bombs are a fun and trendy dessert drink that combines espresso and chocolate with frothy milk and marshmallows!
Want to skip out on the process of making hot chocolate bombs but still sip on a mug of hot chocolate? Try my creamy Hot Chocolate Coffee or thick Crockpot Hot Chocolate!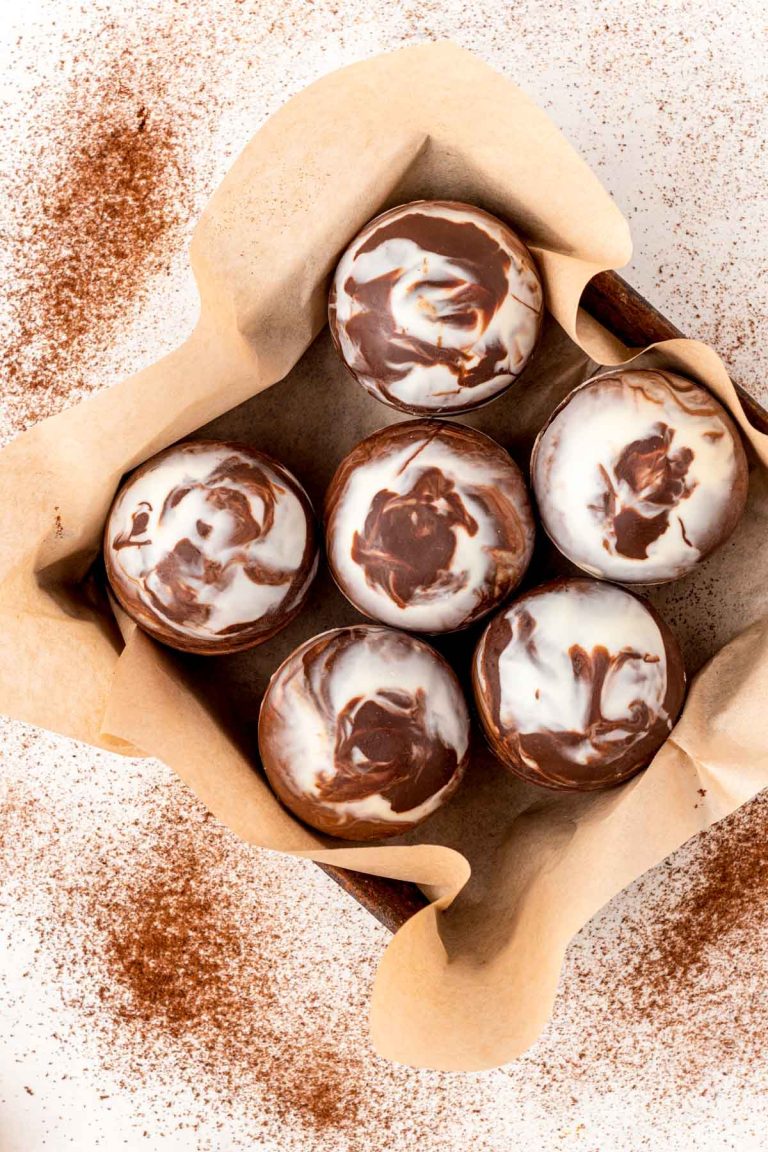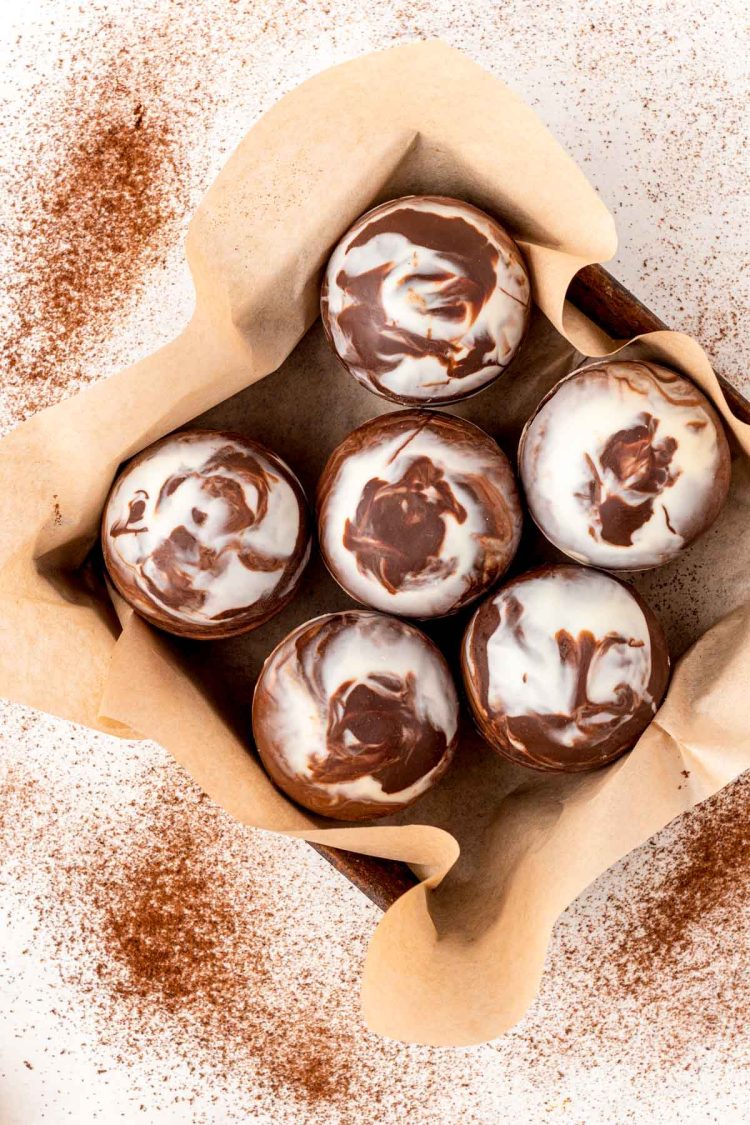 Mocha Hot Chocolate Bombs are like the adult version of the viral Hot Chocolate Bombs that everyone loves! The espresso powder tucked inside the chocolate shells makes for a perfect, fun afternoon pick-me-up to get you through the rest of your day!
Why I Love This Recipe
Flavor! The espresso powder and mixture of chocolates taste like no other hot chocolate you've had before!
Fun! While it is a little bit of a process it's still super fun to see these creations come to life!
Trendy! Who doesn't love jumping on a trendy bandwagon from time to time! Especially when it's one that ends with a cupful of rich coffee hot chocolate!
Gifting! Slide these up cocoa bombs into cute cupcake liners, place them in cello bags or cupcake boxes and finish them off with a colorful ribbon!
Variations! The variations on cocoa bombs are endless! Check out my Hot Chocolate Bombs for more tasty and fun variations!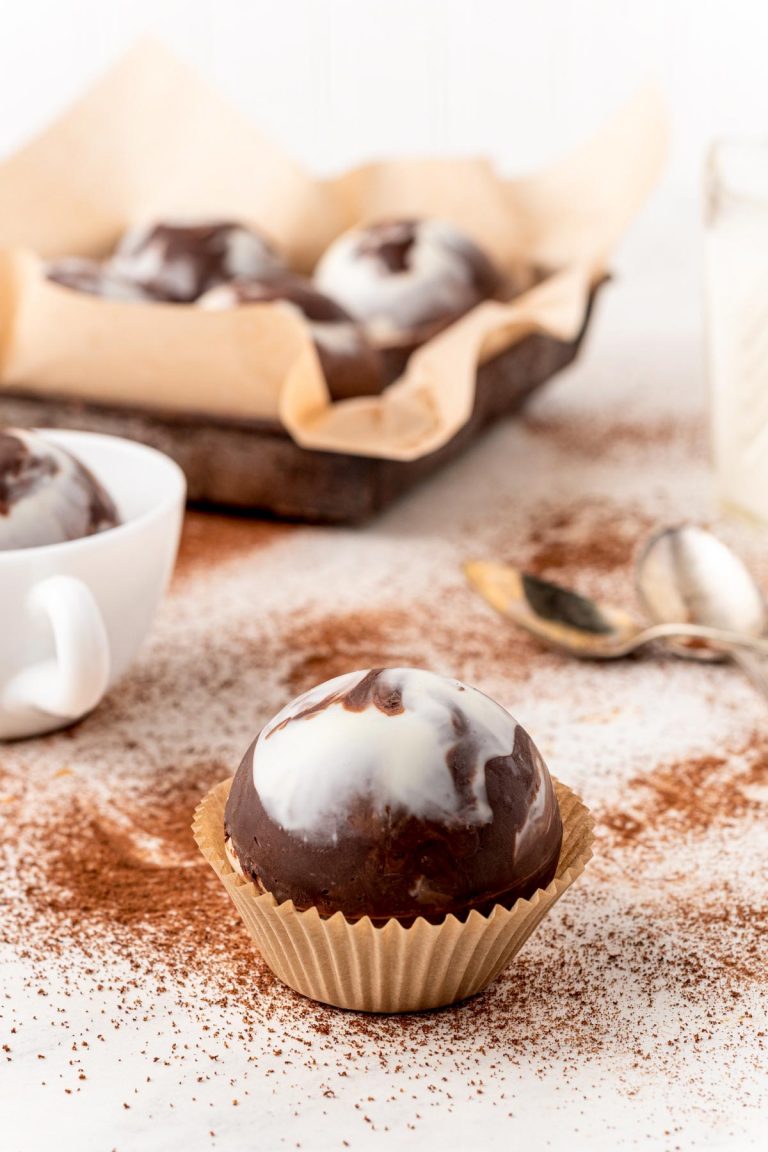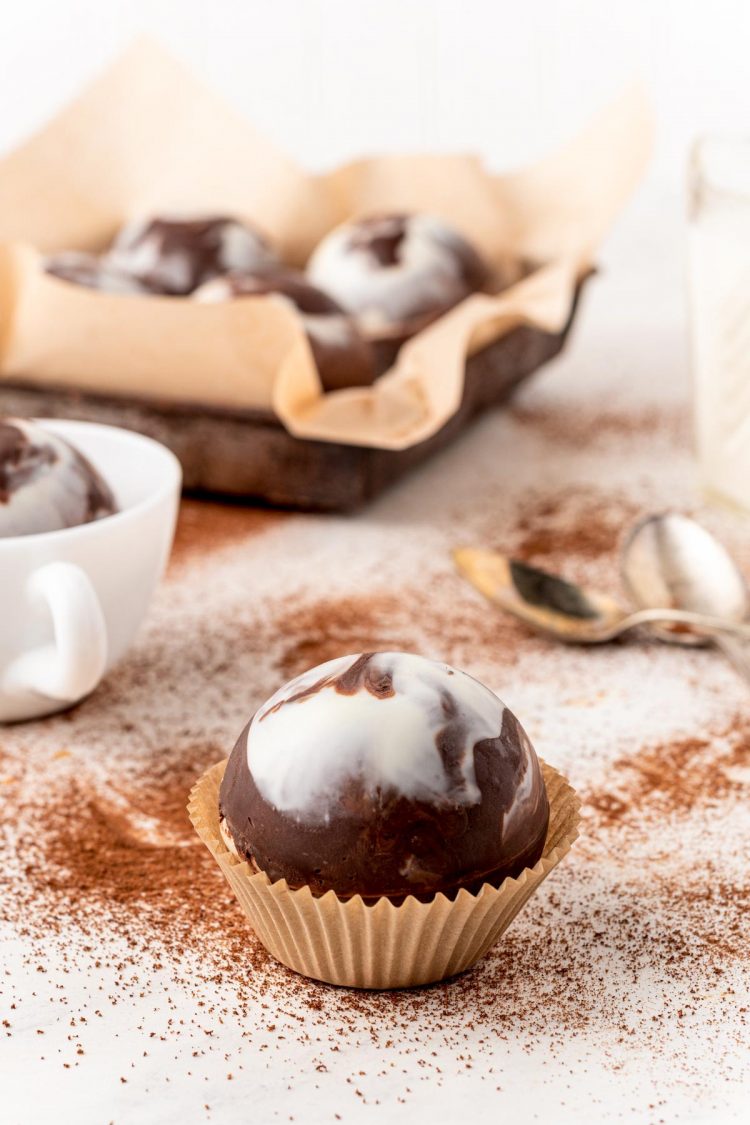 Tools For Making Hot Chocolate Bombs
When making these hot cocoa bombs there are some tools you'll need throughout the process! Check out the list below to make sure you're prepared with everything you need to successfully make up a batch of these bombs!
Food Scale – If you're using chocolate bars then you won't need this kitchen tool. When choosing to use chocolate chips or couverture chocolate you'd use this to ensure you use the correct amount!
Instant Read Kitchen Thermometer – Tempering the chocolate is a process and requires some attention to detail, this takes away the guesswork!
Nitrile Food Prep Gloves – Wear a pair of these food-safe gloves to handle the chocolate shells if you prefer an unblemished, perfect final result!
Silicone Molds – To make the chocolate shell spheres you'll need molds, preferably 2 3/4-inch in diameter.
Spoon Or Food-Safe Paintbrush – Used to coat the molds with the melted chocolate. I found that a smaller round spoon was the easiest to work with.
Rubber Spatula – When melting the chocolate you'll use a rubber spatula to stir and scrape the sides of the bowl.
Two Small Or Medium Bowls – Make sure you choose microwaveable bowls since this is used for melting the chocolate. Glass is the best option!
Baking Sheet – An 8 x 13 was the perfect size to place the molds on when prepping and transfering them to the refrigerator and freezer. Not necessary but I did find it super helpful!
Cupcake Liners – Holds the bombs in wonderfully when your assembling and even packaging them!
Microwaveable Flat Plate – The warming surface to melt the rims of the shells down when assembling!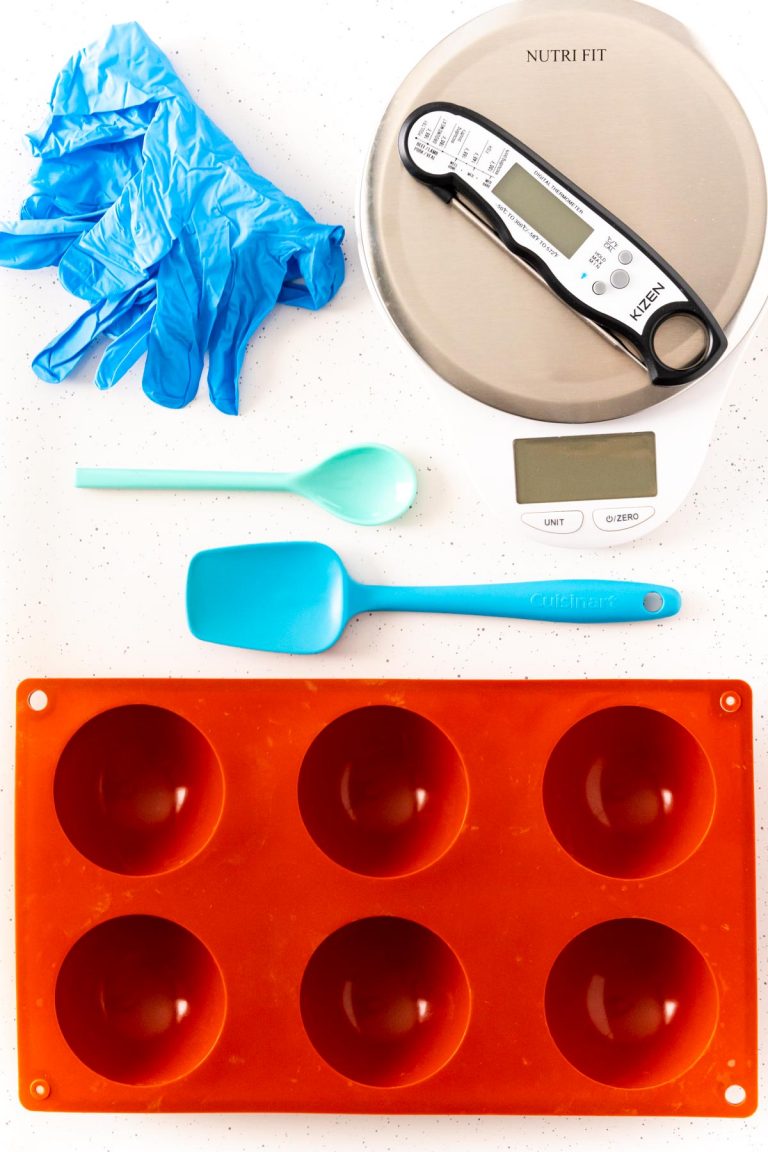 Ingredients For Mocha Hot Chocolate Bombs
Semi-Sweet Chocolate Chips – I used Nestle but you can use whatever you prefer or have on hand!
White Chocolate Chips – Ghirardelli's tastes best and works great for melting down!
Hot Chocolate Mix – Make your own homemade cocoa mix to use or pick your favorite premade mix!
Instant Espresso Powder – Gives these mocha bombs their coffee flavor!
Mini Marshmallows – We like to use a mixture of classic mini marshmallows and dehydrated marshmallows in our hot cocoa bombs!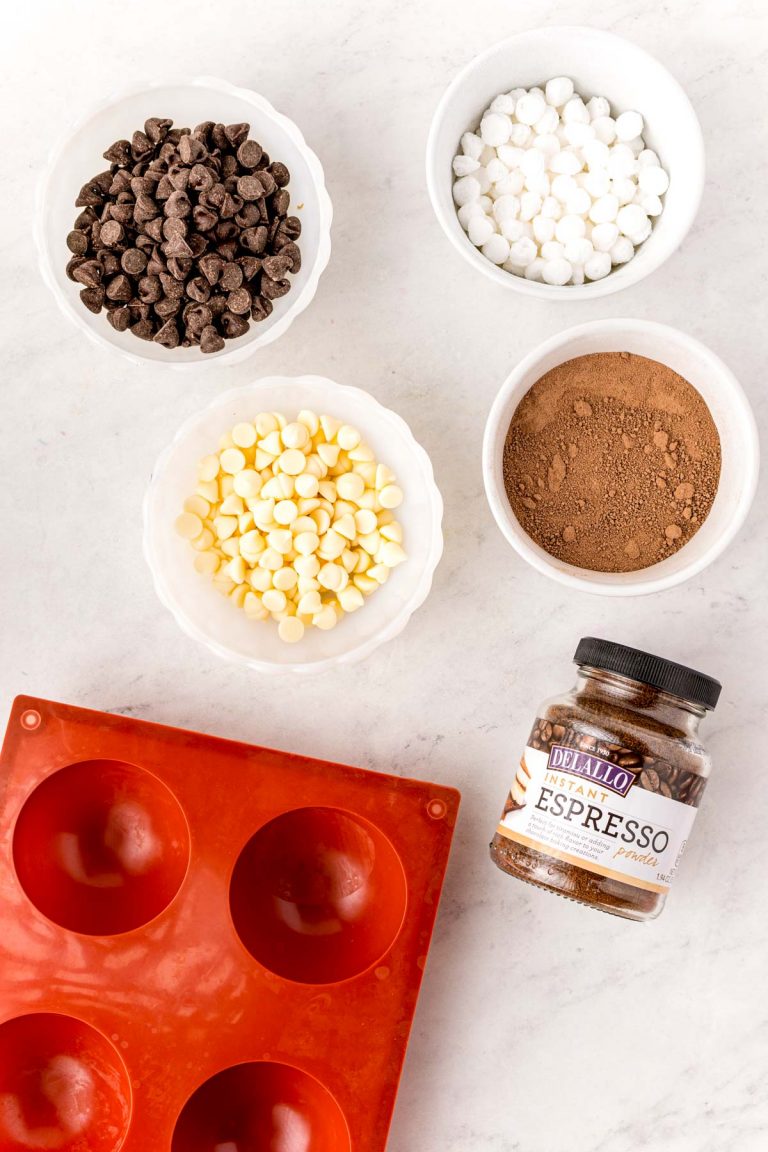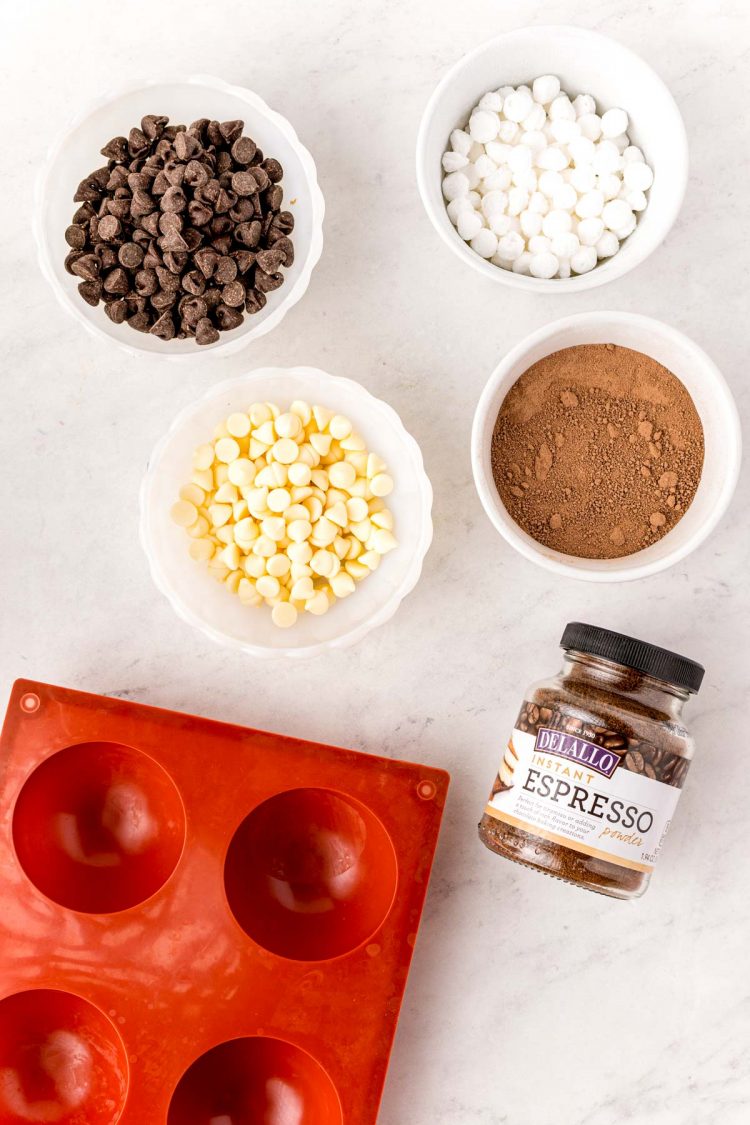 Tempering Your Chocolate
The first step is tempering the chocolate, this process gives the chocolate shells a perfectly smooth and glossy finish. It does require a little attention to detail but the finished product makes it totally worth it!
Microwave the semi-sweet and white chocolate chips in separate microwave-safe bowls for 30 seconds. Afterward, scrape the sides of the bowls and stir.
Continue the melting process by microwaving at 30-second intervals until the chocolate is fully melted.
Check the temperatures of each chocolate using the thermometer. The chocolates are tempered once the semi-sweet chocolate has a temperature between 88 and 90 degrees F and the white chocolate between 82 and 84 degrees F.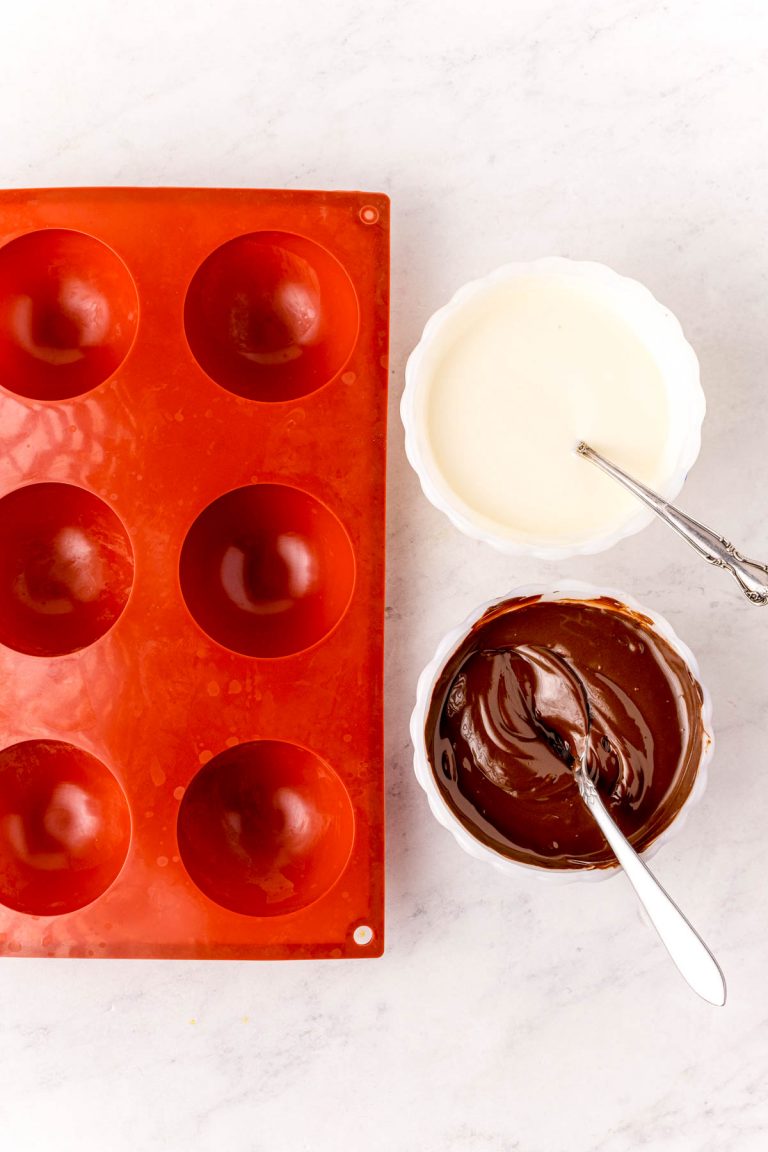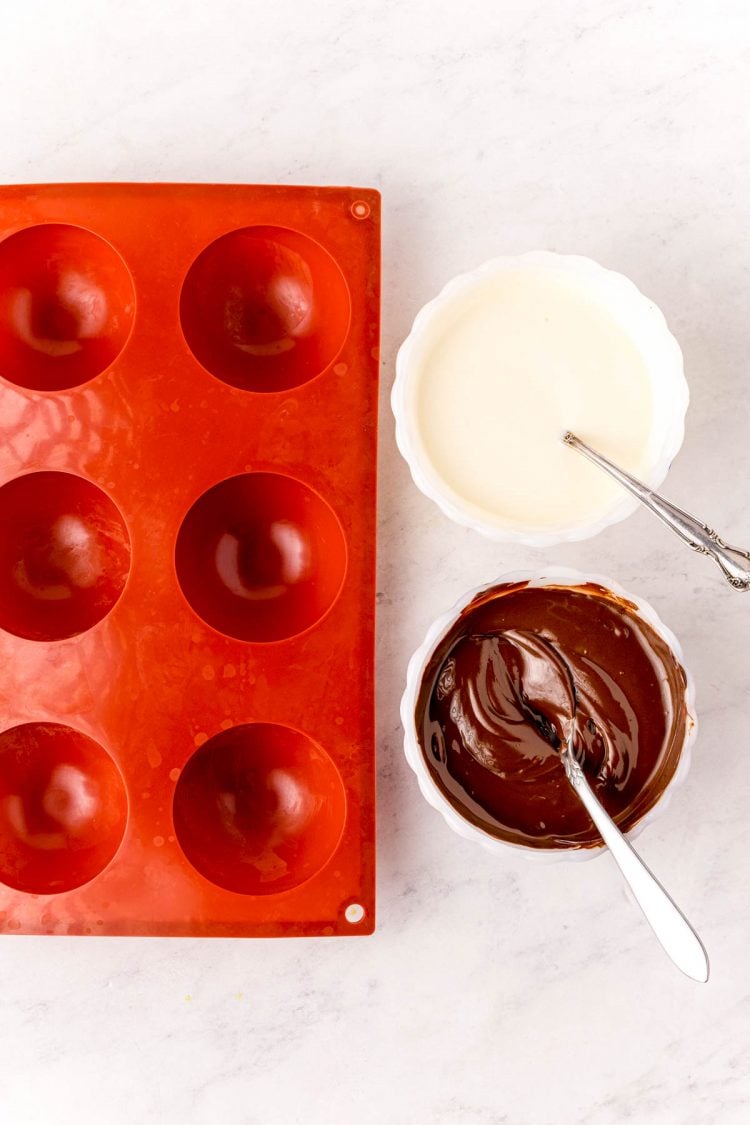 Making The Chocolate Shells
Now that you've successfully tempered your chocolate it's time to make the shells!
Spoon about a tablespoon of each chocolate into each half-sphere mold. Gently swirl the chocolates together for a marbled effect and spread to coat the sides of the mold. Chill in the refrigerator for 5 minutes.
Add another coat of melted chocolate before placing the molds in the freezer for 10 minutes.
Carefully remove the chocolate shells from the mold.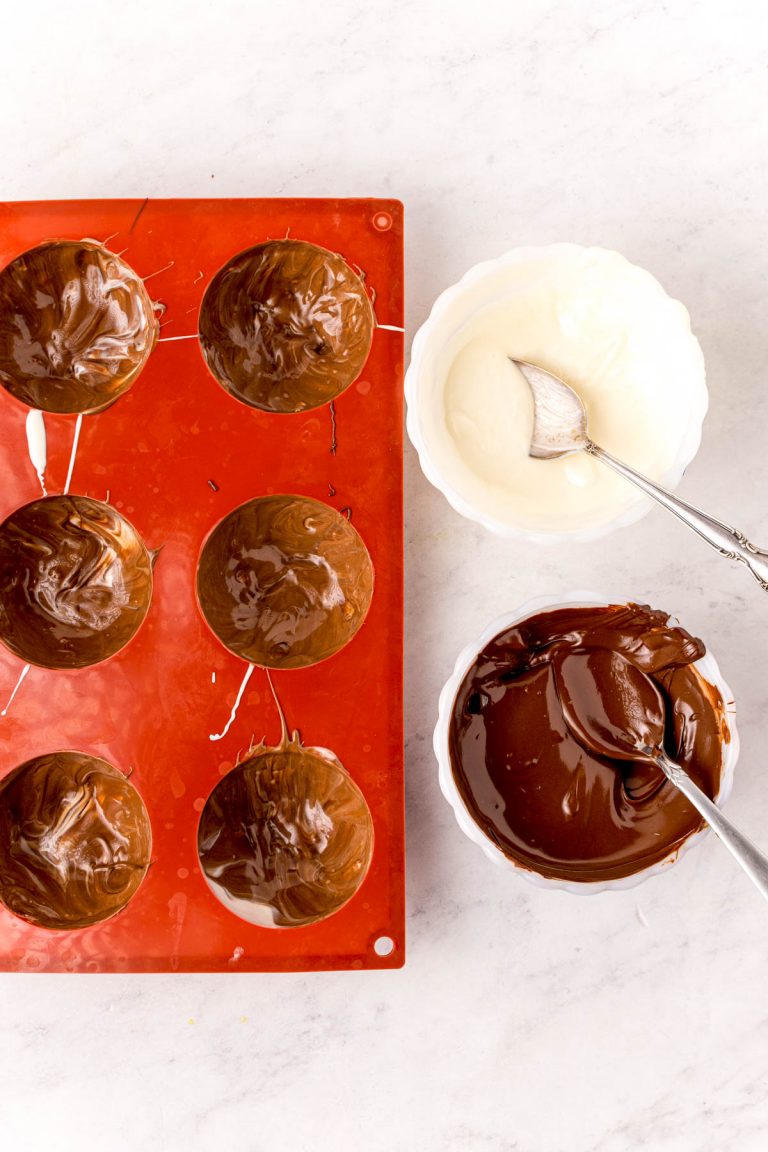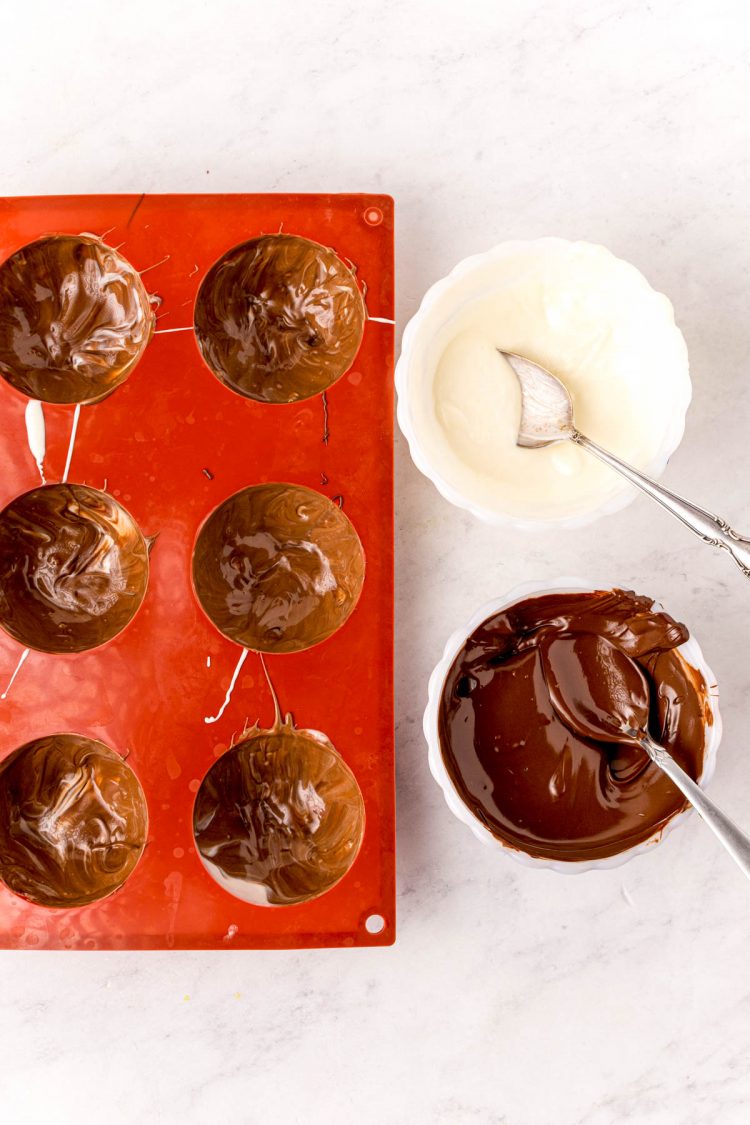 How To Assemble
Here comes the fun part, bringing these hot chocolate bombs fully to life!
Place half of the spheres in cupcake liners and fill them with hot cocoa mix, espresso powder, and mini marshmallows.
Warm a plate in the microwave then place an empty half sphere onto the plate until the edges begin to melt.
Place the empty, melted edge sphere onto the corresponding filled half-sphere quickly. Gentle press together and run a finger around the edge to clean up any melted chocolate.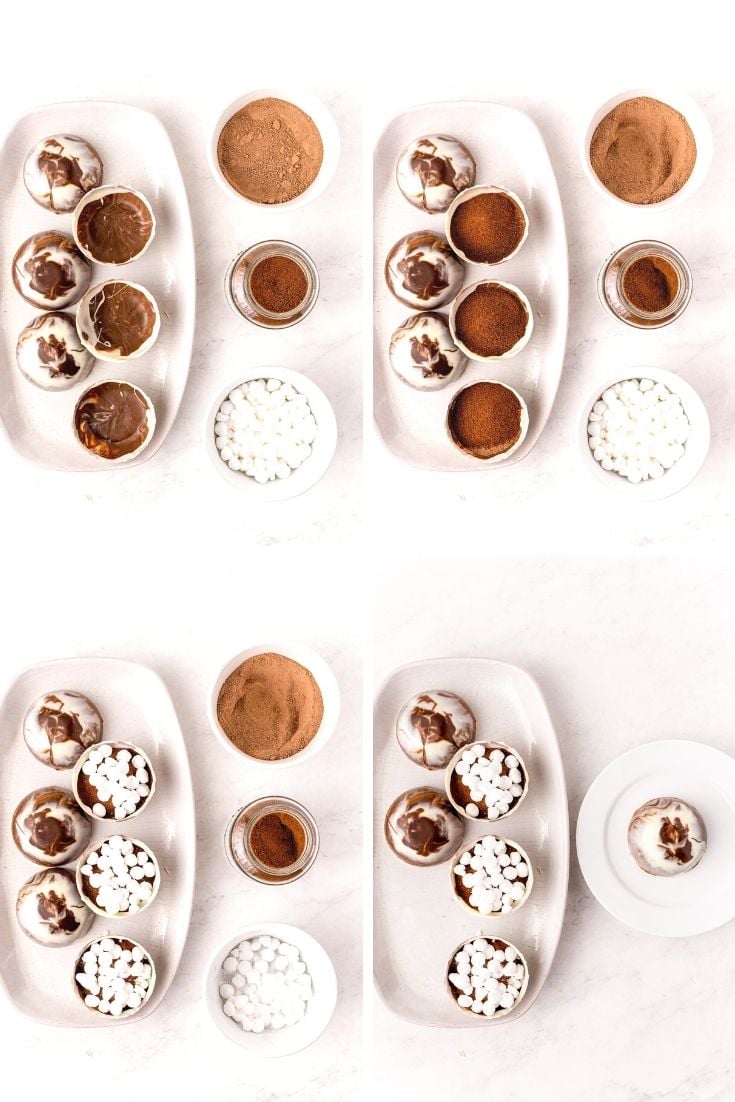 How To Serve
I found when serving the hot chocolate bombs it's best to heat the milk to a temperature of 160 degrees F to melt the chocolate. When giving to children to enjoy I recommend a serving temperature of 120 degrees F, but it will still have to be hotter to start in order to melt the chocolate bomb.
Once you have the milk temperature to 160 degrees F, pour it over the hot chocolate bomb in a large mug. Stir until the milk and hot cocoa bomb have fully melted and combined together.
Top with fluffy Homemade Marshmallows, Whipped Cream, and sprinkles for an added touch of fun!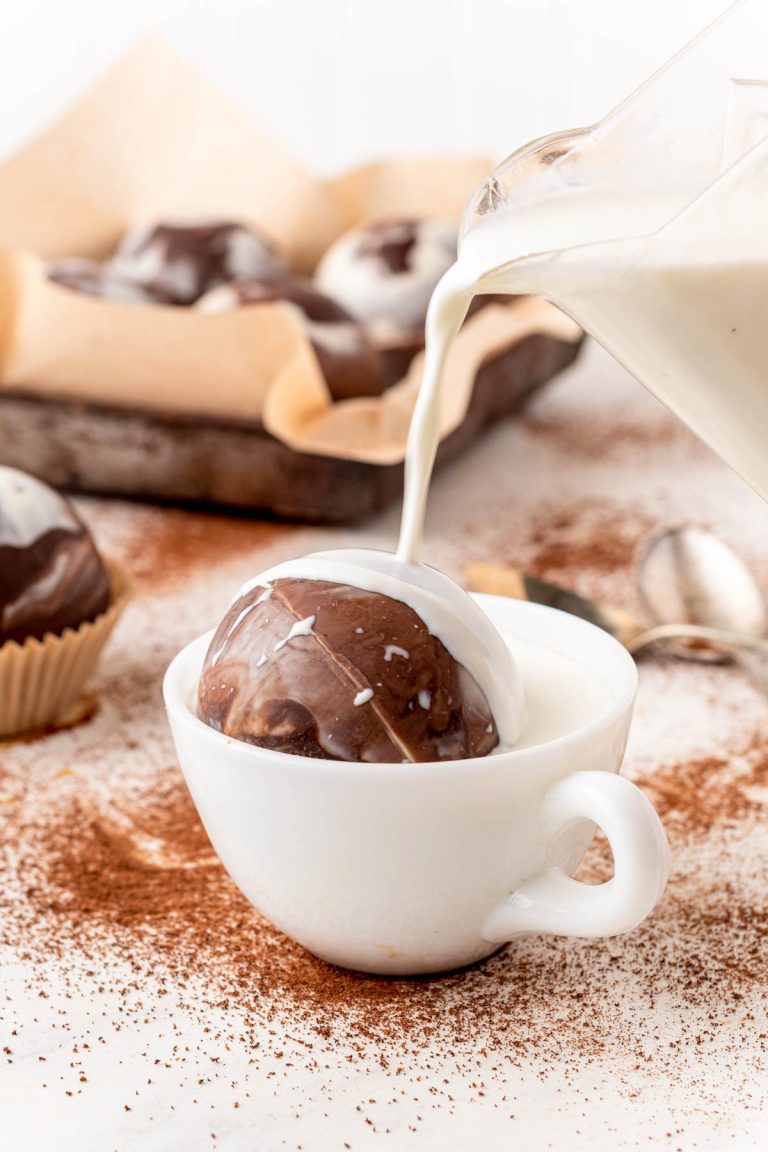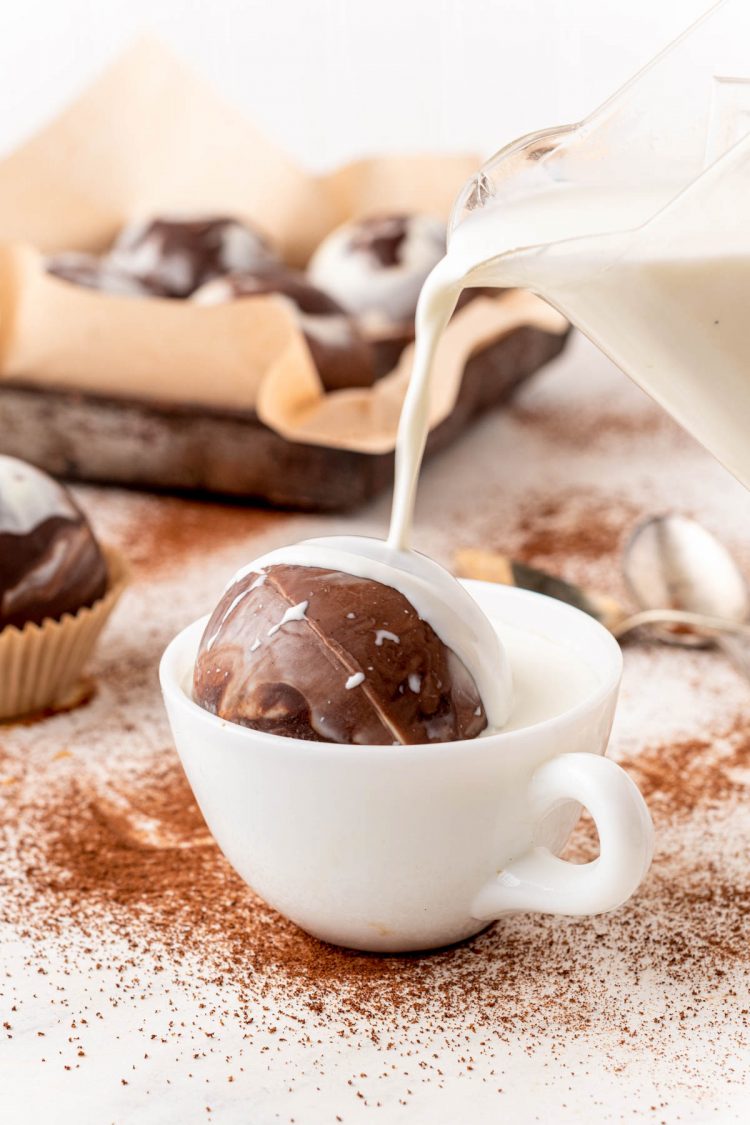 Frequently Asked Questions
How To Store
These hot cocoa bombs will keep for up to 2 weeks when stored in an airtight container in a cool dry spot. For the best flavor, I suggest enjoying them within a few days!
Can I Use A Double Boiler To Melt The Chocolate?
Yes, you can use a double boiler instead of the microwaving process to melt the chocolate.
Do I Have To Use Both White And Milk Chocolate For The Shells?
No, you can use whatever flavor of chocolate you like for the shell, white, chocolate, or dark! I personally think a dark chocolate shell would pair well with the espresso powder!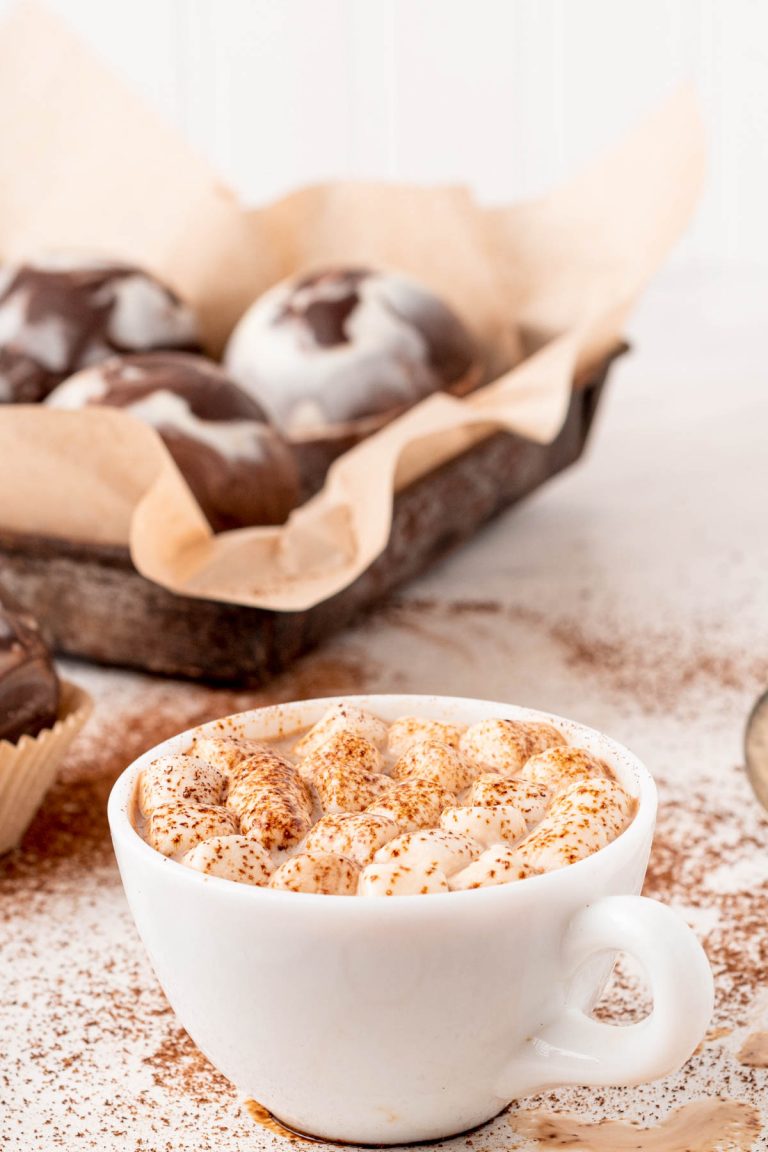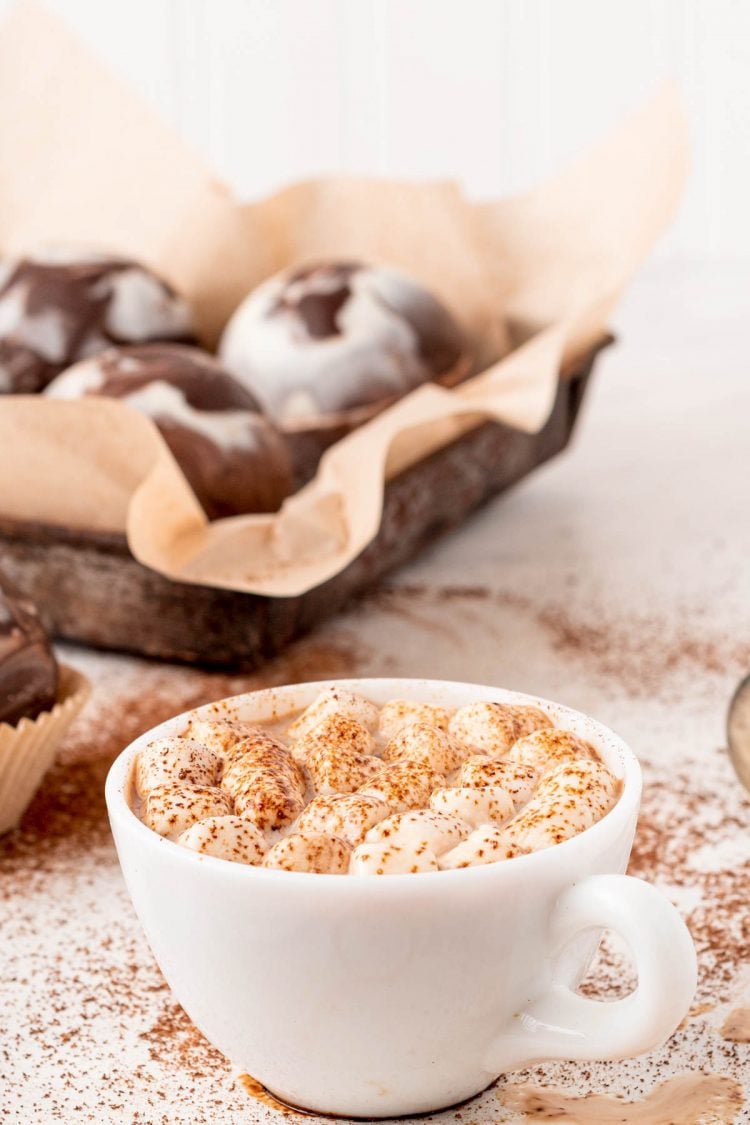 While hot chocolate bombs are fun to make and even more exciting to drink, sometimes you just want that hot chocolate to hit your cup faster! Here are some great recipes to turn to whether you're looking for a boozy take on hot cocoa or just a different flavor!
Mocha Hot Chocolate Bomb
Pin For Later
CLICK THE BUTTON ABOVE TO SAVE THIS DELICIOUS RECIPE TO YOUR BOARD!
👋 Let's Connect!
If you've tried this recipe please let me know how you liked it in the comments below and leave a review, I love hearing from you! And don't forget to tag me – @sugarandsoulco – on Instagram and Pinterest with your photos!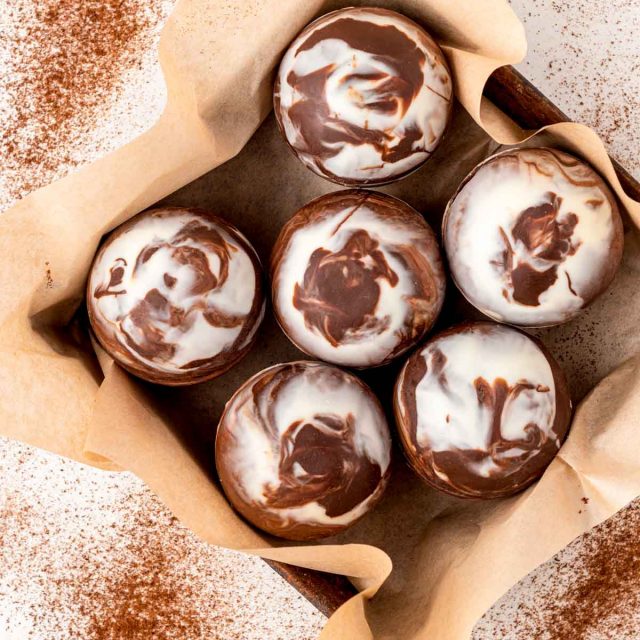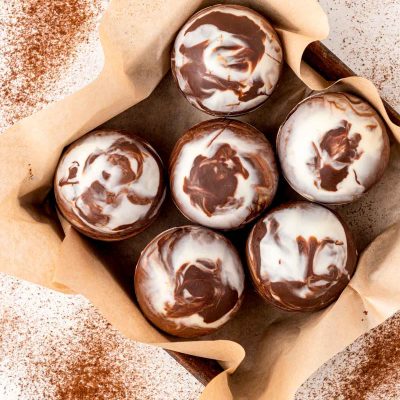 Mocha Hot Chocolate Bombs
Mocha Hot Chocolate Bombs are a fun and trendy dessert drink that combines espresso and chocolate with frothy milk and marshmallows!
Equipment
Silicone mold – I used a 2½-inch half sphere

Instant read kitchen thermometer

Nitrile food prep gloves

Food scale

Spoon or food-safe paintbrush

Rubber Spatula

Small/medium bowl

Small baking sheet

Cupcake liners
Ingredients
½

cup

white chocolate chips

Ghirardelli's

12

tablespoons

hot cocoa powder

6

teaspoons

instant espresso powder
Instructions
In two small, microwave-safe bowls, melt semi-sweet and white chocolate chips in 30-second increments stirring in between. It should take about 60 to 90 seconds.

Spoon about 1 tablespoon of each into each half-sphere mold. Using the back of a spoon or a pastry brush, gently swirl the chocolate together for a marbled effect and spread to coat the sides. Don't swirl more than 4 times in each mold as the colors will mix and be indistinguishable. Let set in the fridge or the freezer for 10 to 2 minutes or until hardened.

Once hardened, reinforce the edges with a little of the remaining chocolate. Let set until hardened.

Carefully remove each half-sphere from the molds. Be sure to handle each half-sphere very little as the chocolate will melt from the warmth of your hands and fingerprints will be visible. Use nitrile gloves to reduce melting.

In 6 of the half spheres, spoon 2 tablespoons of the hot cocoa powder. Top with 1 teaspoon of espresso powder and mini marshmallows.

Warm a small plate in the microwave for 45 seconds. Place an empty half-sphere on the plate for a few seconds until the edge begins to melt. Place empty half onto the corresponding filled half-sphere ensuring that the edges are aligned.

Let sit for a minute to harden before handling. Repeat with the remaining 5 spheres until all of the cocoa bombs are assembled.

To make hot cocoa, place a cocoa bomb into a mug and top with 8 ounces of hot milk. Once the shell has melted, stir to emulsify. Serve immediately and enjoy!
Notes
Nutritional information is an estimate and does not include milk for serving.
To test if your chocolate is tempered or not, you can smear a bit on a piece of parchment paper and place it in the refrigerator for a few minutes. If it's shiny and snaps in half when you take it out then your chocolate is tempered, if it bends then it's not.
Cocoa butter begins melting at 93 degrees F, but the bombs themselves are rather large and will cool down the milk quite a bit. I recommend heating the milk to 160 degrees F with a serving temperature of 135 degrees F for adults and 120 for children.
Different kinds of chocolate temper at different temperatures

Dark Chocolate & Semi-sweet: Tempered between 88 and 90 degrees F.
Milk Chocolate: Tempered between 86 and 88 degrees F.
White Chocolate: Tempered between 82 and 84 degrees F.

If using white chocolate, you'll want to increase the amount of chocolate to 16 ounces, starting with 7 ounces and an additional 1 ounce to retemper if needed per batch of 3.
These are best consumed within a few days. However, they can be stored for up to 2 weeks in an airtight container in a dry cool place.
A lot of recipes only use 2 teaspoons to 1 tablespoon of hot chocolate mix. I used 1oz. packets and the mix measures at 3 tablespoons per pack and calls for 6 ounces of milk. However, you also need to account for the chocolate in the shell and that's why I recommend 8 ounces of milk for best results.
While I have only made these with sphere-shaped molds, hearts and other shapes are becoming more popular. I think any silicone mold would work fine. If you're using a sphere mold, just make sure the one you're using is between 2 and 2 3/4-inches in diameter so they can hold enough cocoa and marshmallows.
Dehydrated marshmallows or Mallow Bits can be found near the hot chocolate at the grocery store, not with the rest of the marshmallows. The high demand for them since Hot Chocolate Bombs started trending has made them really expensive to purchase online.
Another option for sealing the molds is to pipe a thin line of chocolate around the rim of the filled cup and then top with the other half and roll the melted chocolate in sprinkles. But I much preferred the look of the plate method.
Gloves can help not leave fingerprints on the spheres, however, be sure not to grab the hot plate with your gloved hand and then touch the spheres or it will leave a mark.
Silicone molds have a tendency to attract lint, so I would avoid drying them with a dishcloth. Instead, let them air dry or pat with a paper towel.
If using chocolate bars, you want them to be super finely chopped, you could even put them in a food processor or blender. You want the pieces to be small so that they melt quicker and more evenly.
If you just want to make a set of 3, then 6 ounces of chocolate should be enough and if they want to do more, just add 6 ounces of chocolate for every set of 3.
Nutrition
Calories:
291
kcal
Carbohydrates:
40
g
Protein:
3
g
Fat:
15
g
Saturated Fat:
9
g
Polyunsaturated Fat:
1
g
Monounsaturated Fat:
3
g
Trans Fat:
1
g
Cholesterol:
4
mg
Sodium:
270
mg
Potassium:
163
mg
Fiber:
2
g
Sugar:
32
g
Vitamin A:
15
IU
Vitamin C:
1
mg
Calcium:
71
mg
Iron:
2
mg