Cookie Butter Cake is made with a dense chocolate cake layered with cookie butter frosting and a rich chocolate ganache.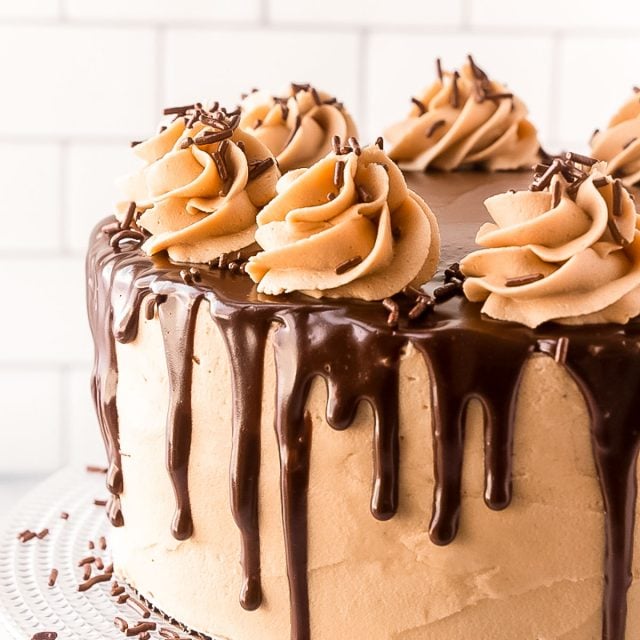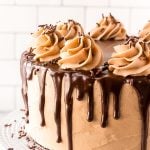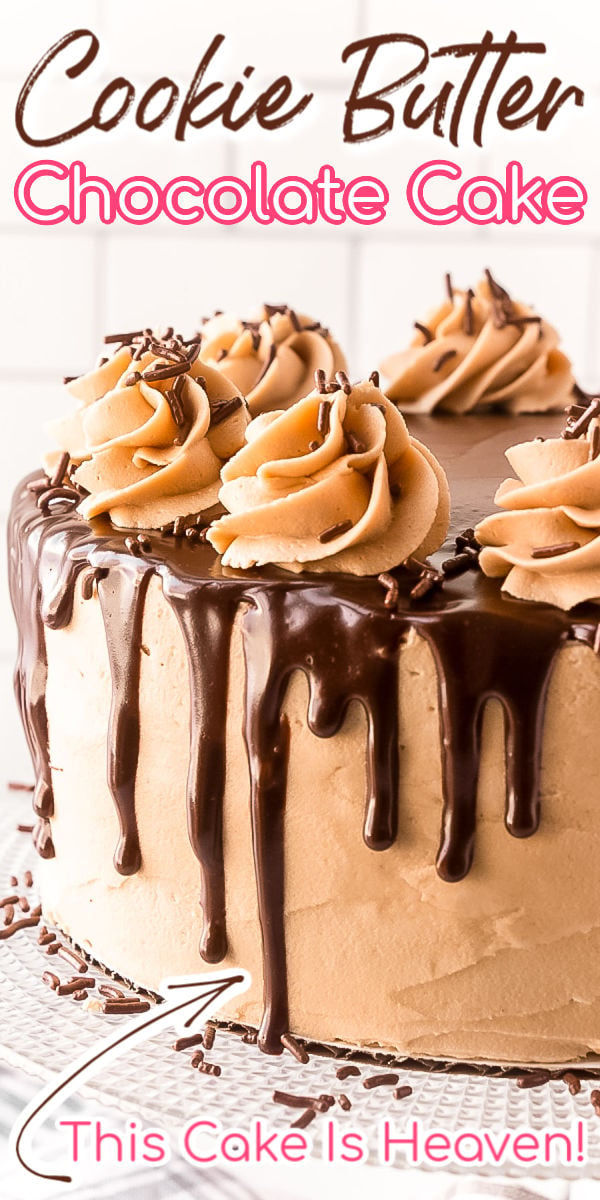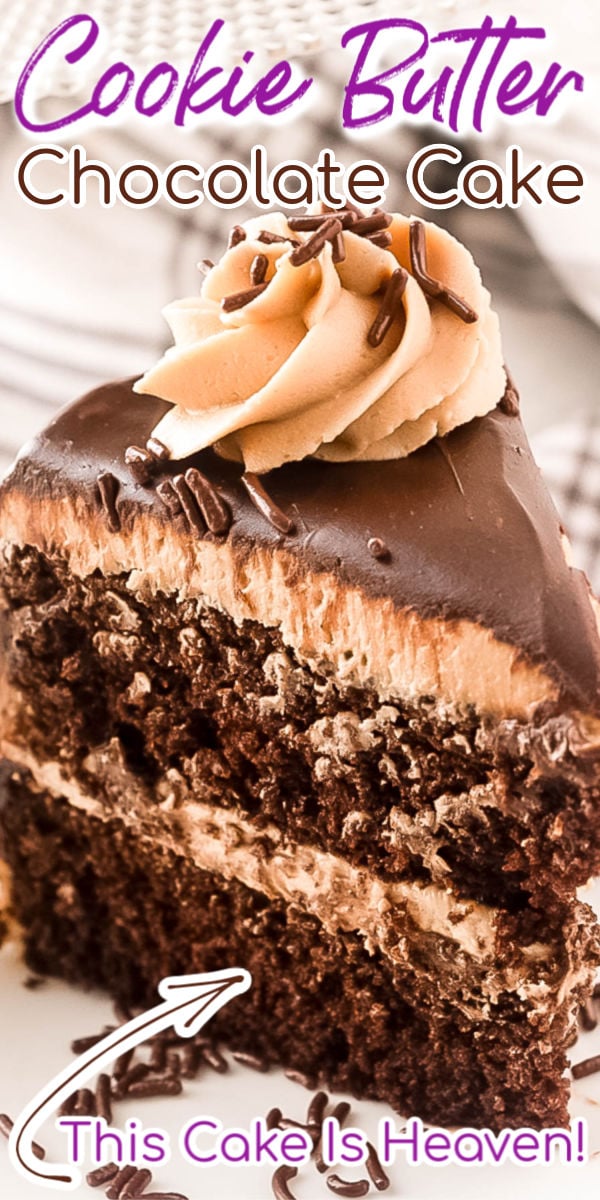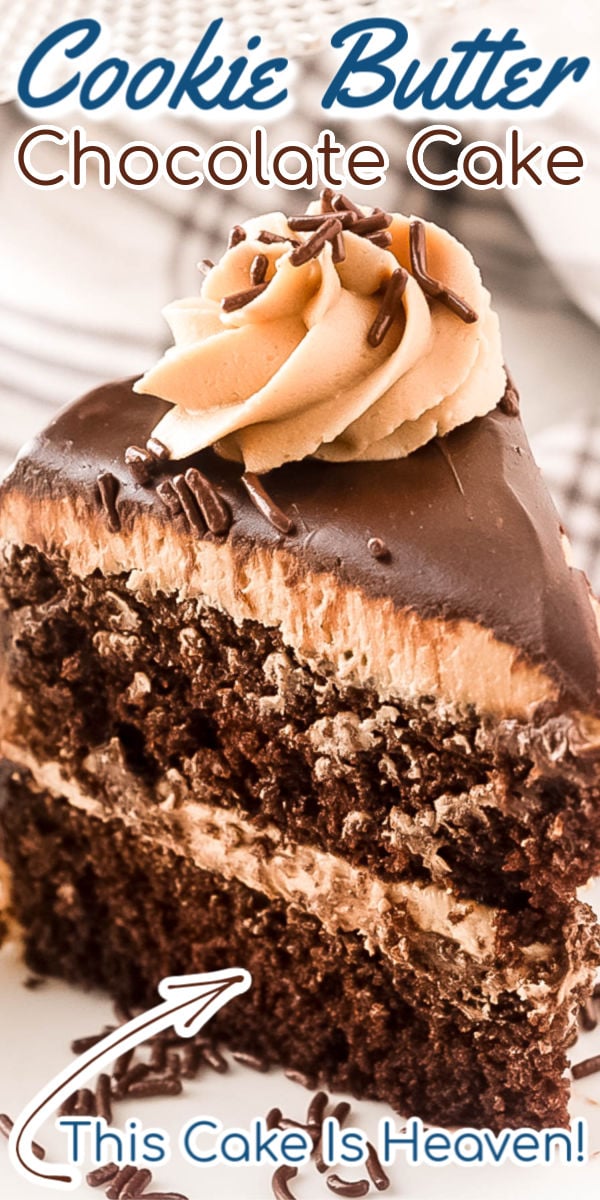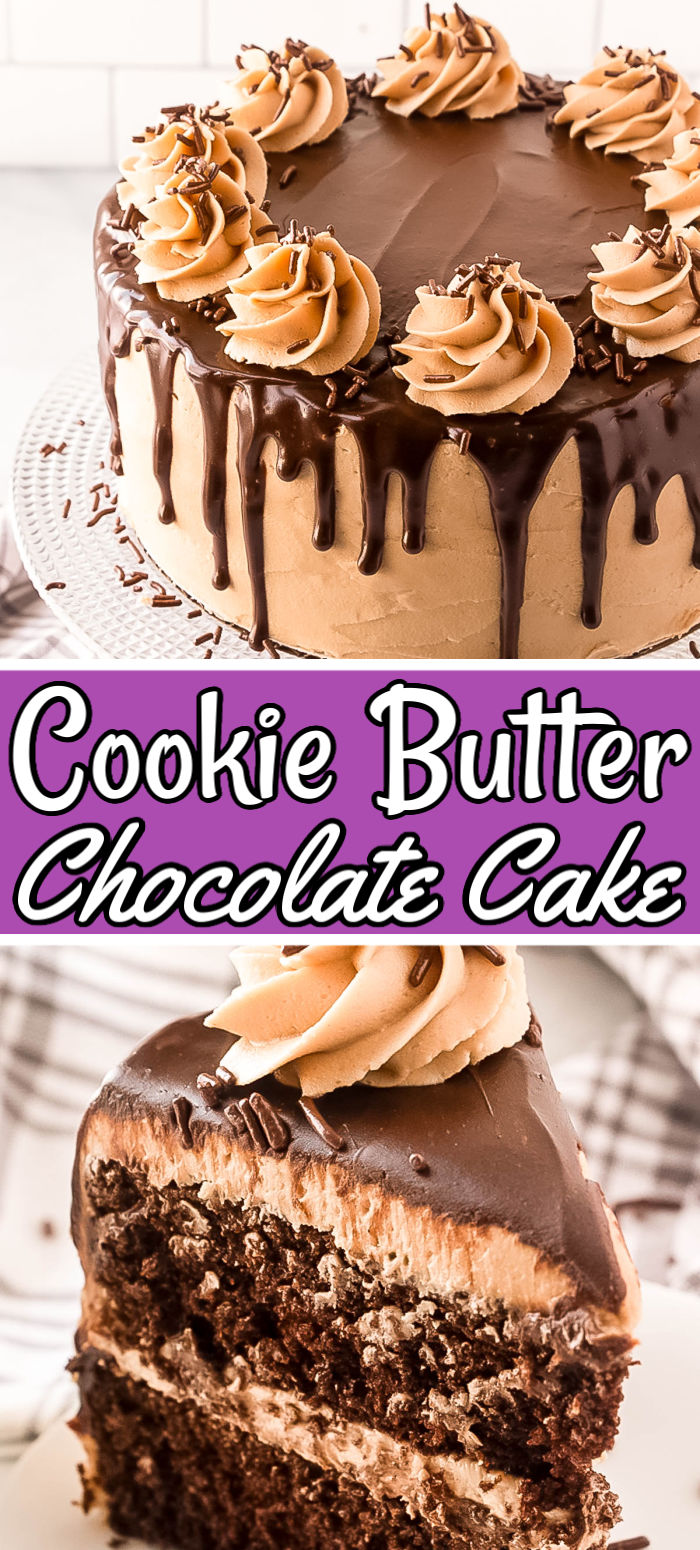 Cookie Butter Cake is made with a dense chocolate cake layered with cookie butter frosting and a rich chocolate ganache. If you love Peanut Butter and Chocolate Cake then this cookie butter version is going to blow you away!
If you or a loved one is obsessed with this stuff, you better keep this Cookie Butter Cake Recipe in your back pocket.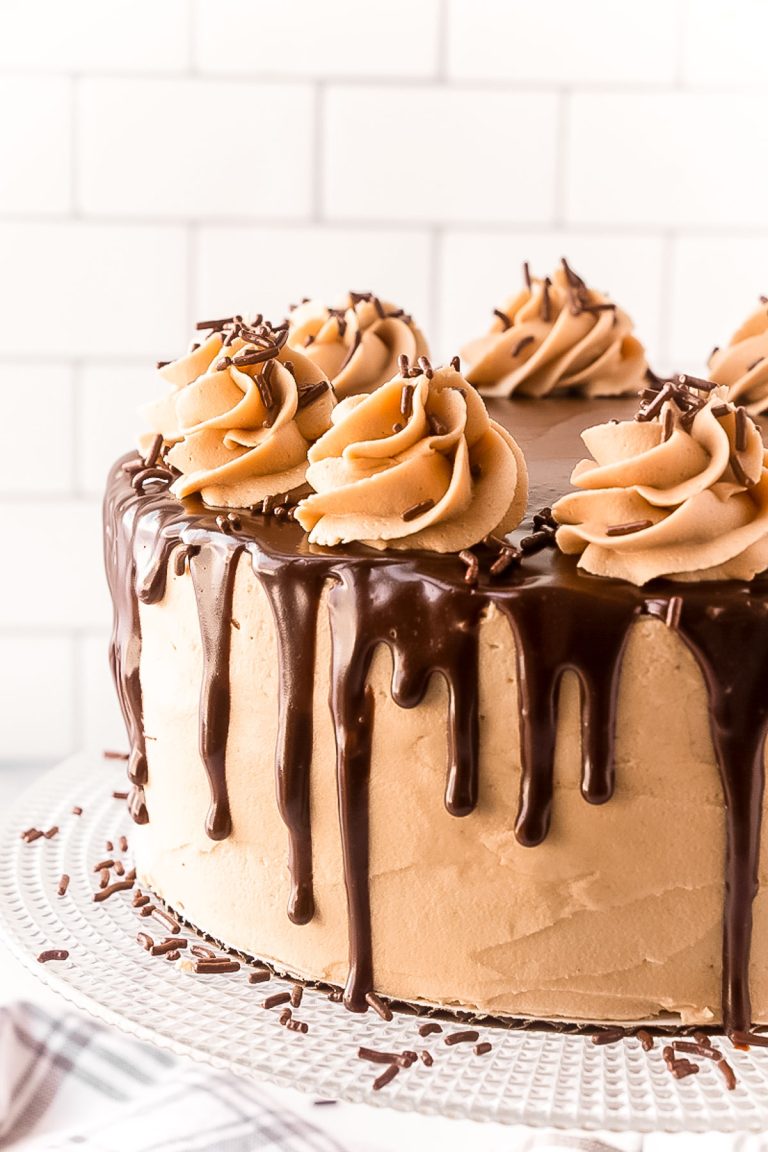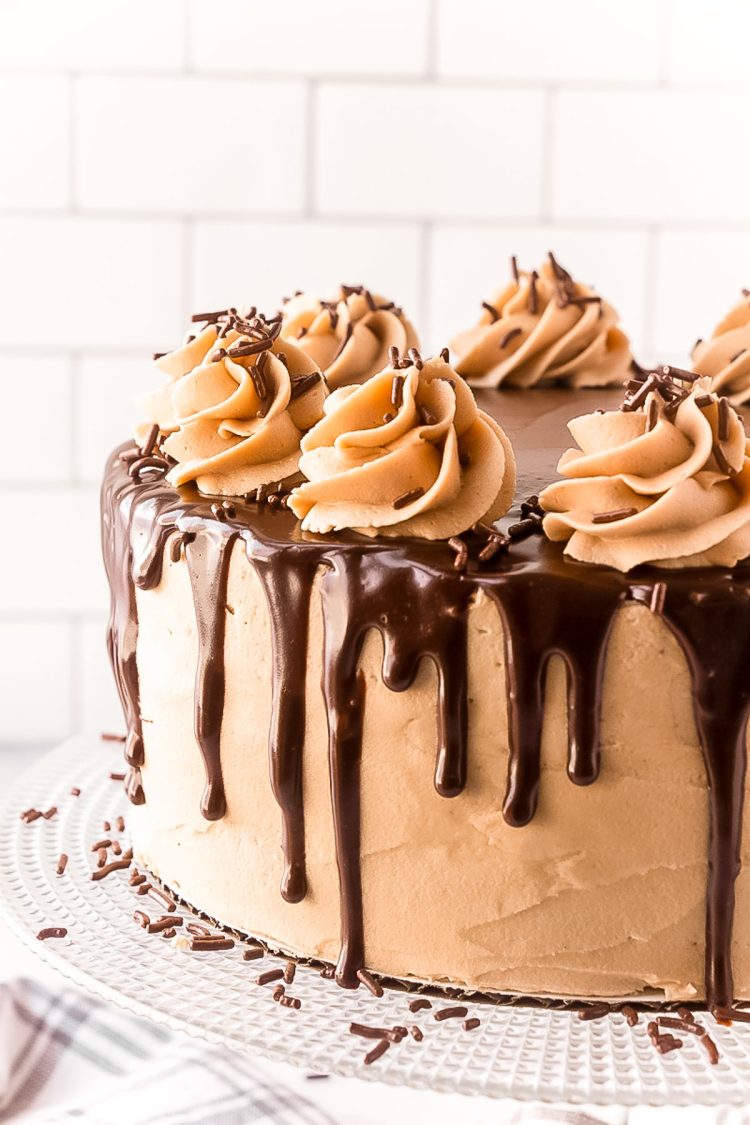 The first time I tried this Heaven-in-a-jar was actually on one of my trips to Europe. It was called Speculoos, but after tasting this creamy shortbread spread, I realized it was the same flavor as the Biscoff Cookies served on airplanes!
Once I came back home to the States, I found the same cookie butter at Trader Joe's and stocked up.
So when Matt's birthday rolled around and we had a scheduling snafu with our favorite bakery, I created this crave-able Biscoff Cake last minute … and it was a hit!
This recipe is perfect for any special occasion or served as a Birthday Cake with a scoop of Vanilla Ice Cream.
Just be warned: If you share it with friends and family, you'll get requests to make it again!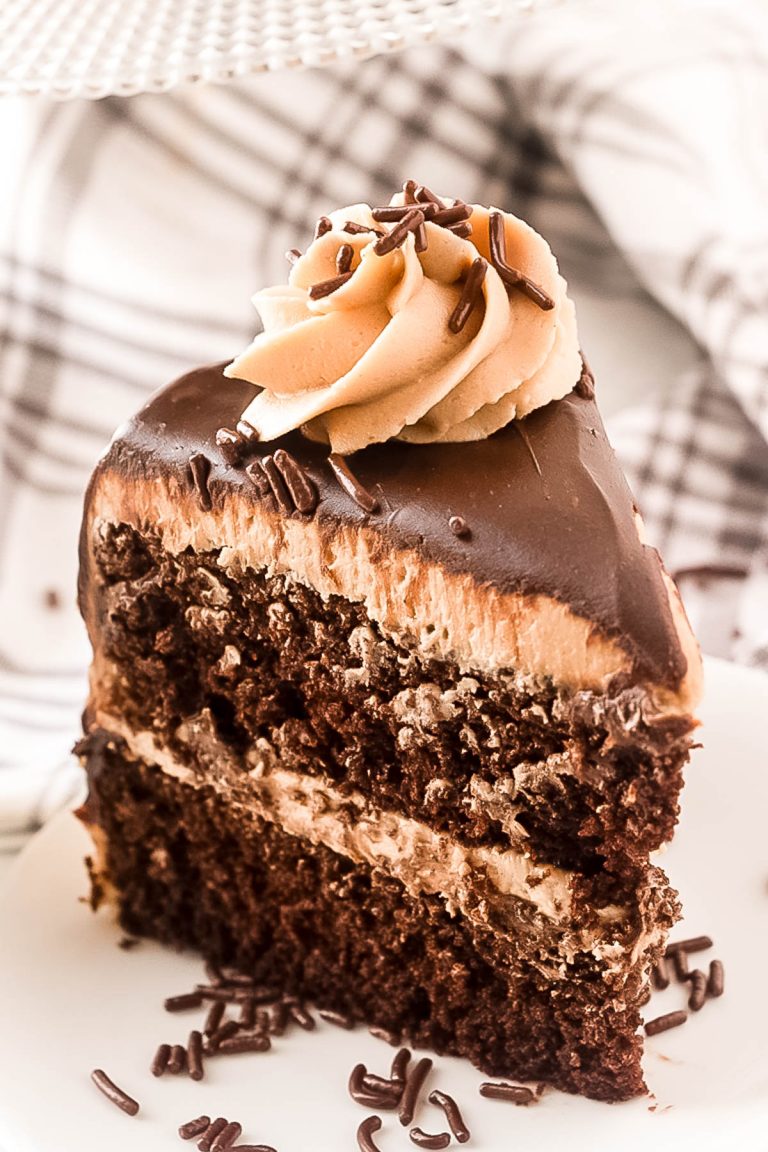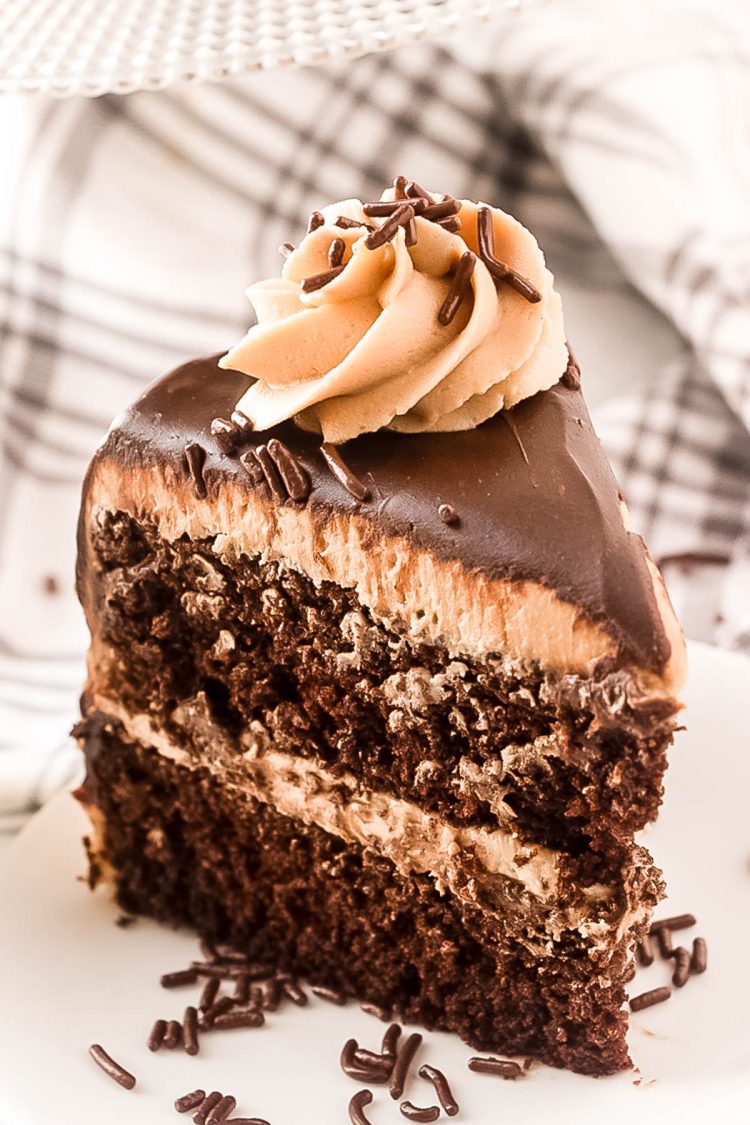 This indulgent treat consists of two layers of moist chocolate cake and a light and fluffy Cookie Butter Frosting. The finishing touch is a rich Chocolate Ganache drizzled on top.
What's In Biscoff Cake?
Sugar – Because how can you have a cake without sugar?
All-Purpose Flour – Use all-purpose flour instead of cake flour for a denser cake rather than one that's lighter and airier.
Cocoa Powder – For a rich, chocolatey flavor.
Baking Soda & Baking Powder – Both leavening agents are needed for the cake to rise. (And in case you didn't know, one CAN NOT be substituted for the other!)
Kosher Salt – A pinch of salt always enhances the sweetness.
Eggs – Make sure they're at room temperature. This helps them mix more evenly into the cake batter for an overall better texture.
Buttermilk – This adds an acidic element to help the cake rise and help keep it moist.
Black Coffee – Just a little bit deepens the velvety chocolate flavor.
Vegetable Oil – This also keeps the cake dense and moist.
Vanilla Extract – A must in almost all baked goods!
Cookie Butter Frosting – The signature ingredient! One taste and you'll be addicted.
Cool Whip Ganache – The finishing touch that ties everything together.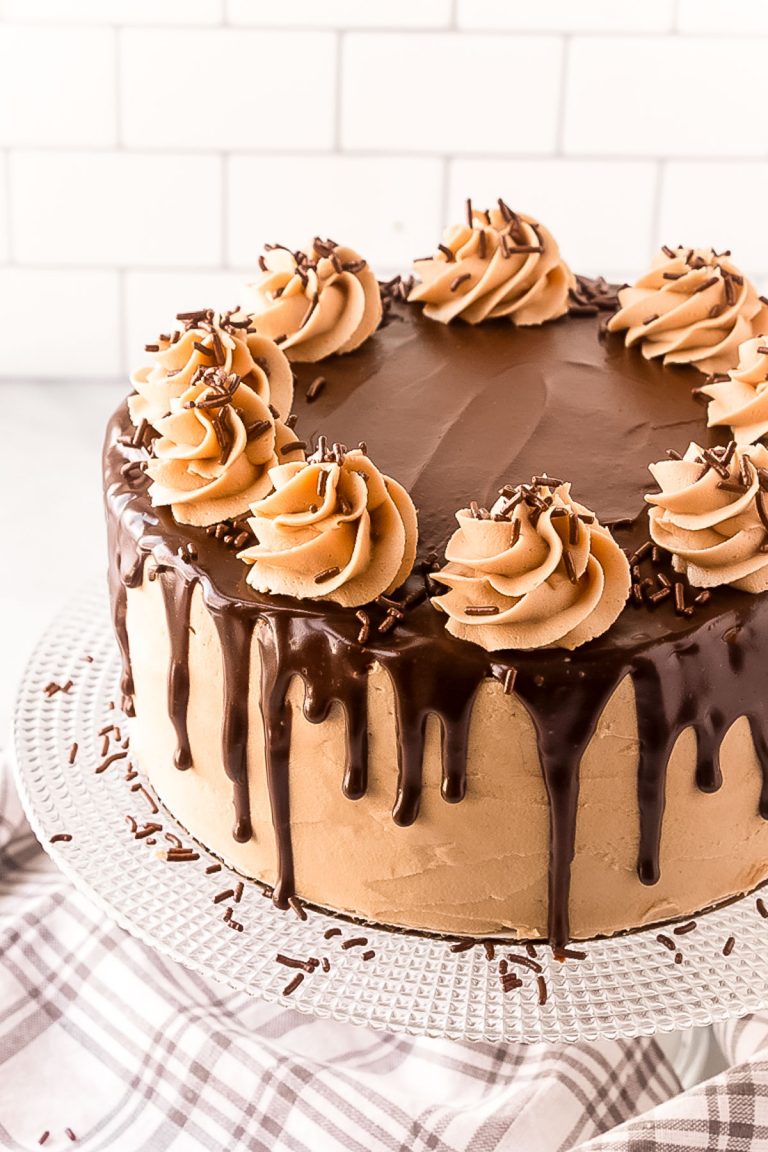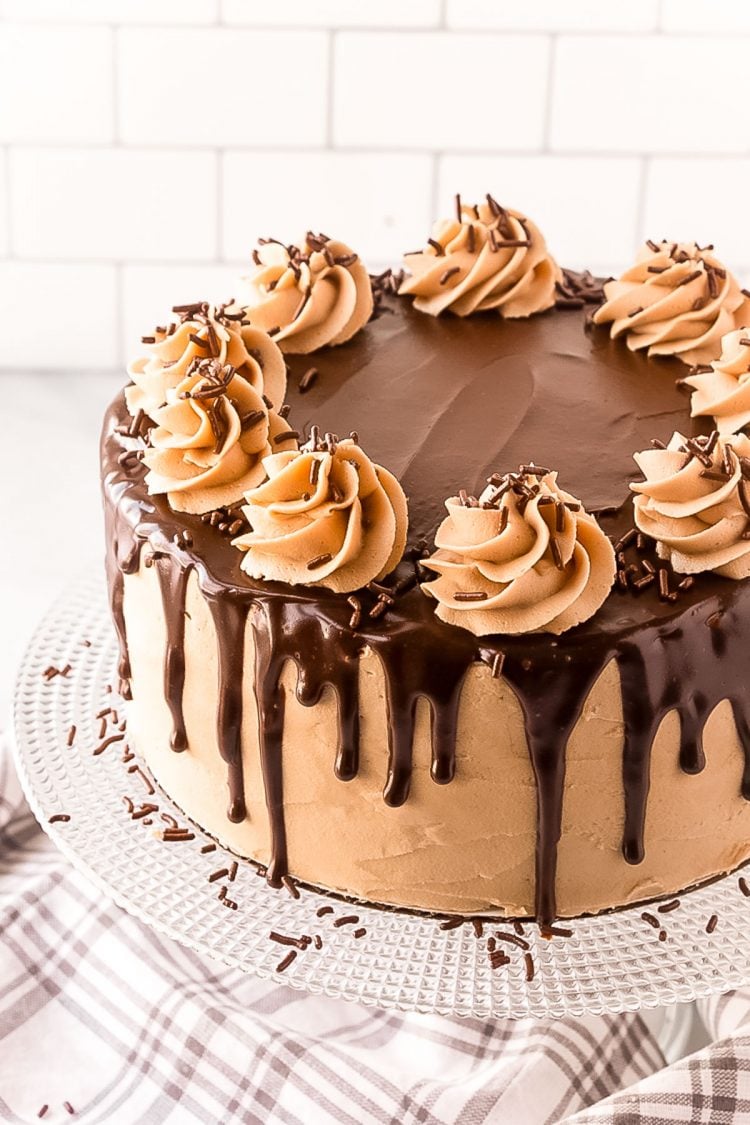 How To Make It
Step 1: Preheat the oven to 350 degrees F and line your cake pans with parchment paper. Whisk together the dry ingredients in a large mixing bowl.
Step 2: Add in the wet ingredients and mix until combined.
Step 3: Divide the batter evenly between two prepared 8 or 9-inch round cake pans. I like to use Bake Even Strips to ensure level cakes. Bake for about 40 minutes until a toothpick comes clean when inserted into the center.
Step 4: While the cakes are baking/cooling, prepare the Cookie Butter Frosting according to the recipe directions.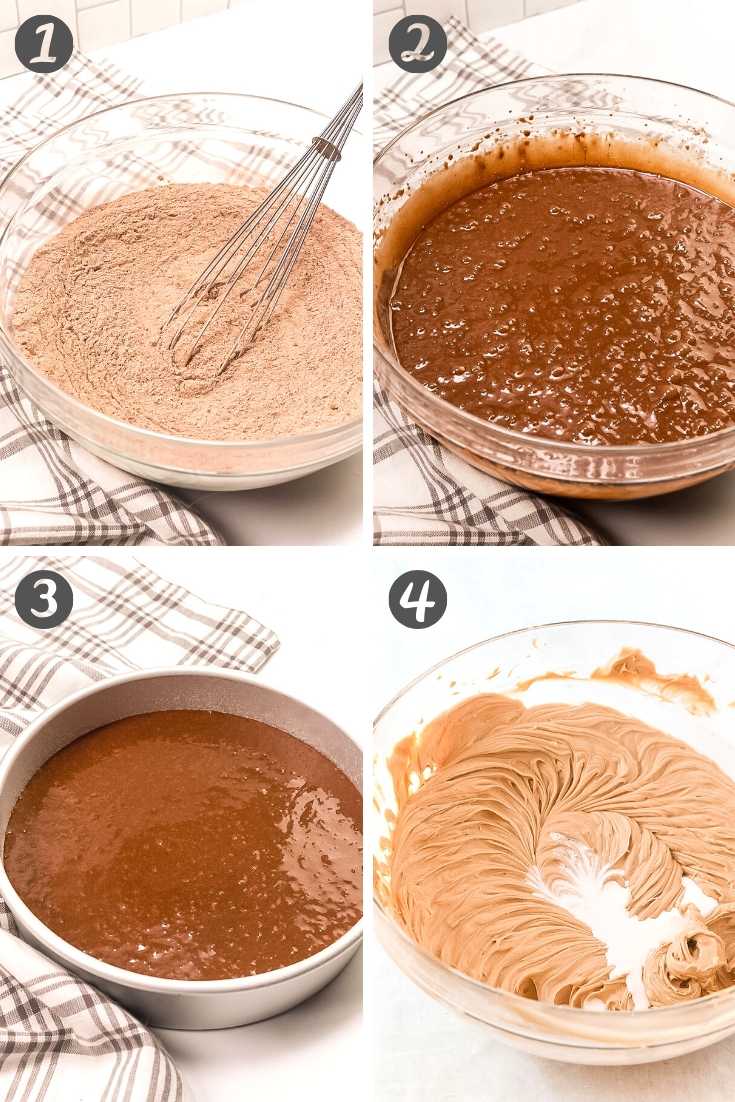 How To Assemble
Once your cakes have cooled completely. It's time to assemble!
Step 1: Place the first cake either on the dish/stand you plan to serve from or on a cardboard cake round so you can easily move it after assembly. Then top the first layer with a layer of frosting.
Step 2: Place the second cake on top of the first.
Step 3: Cover the entire cake in a thin crumb coat then place it in the fridge for about 20 minutes to crust. Then remove and finish frosting and decorating as desired and top with the ganache.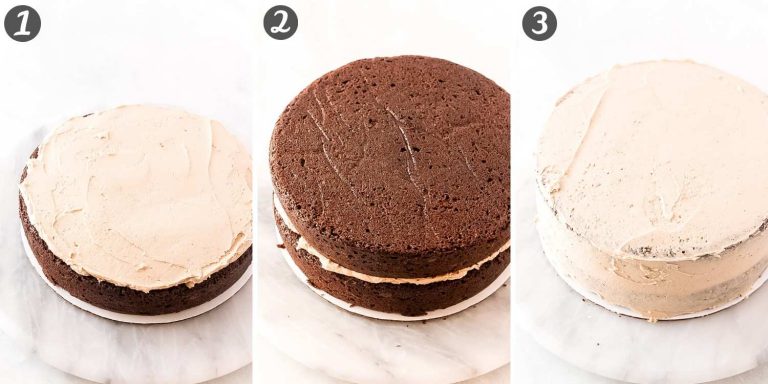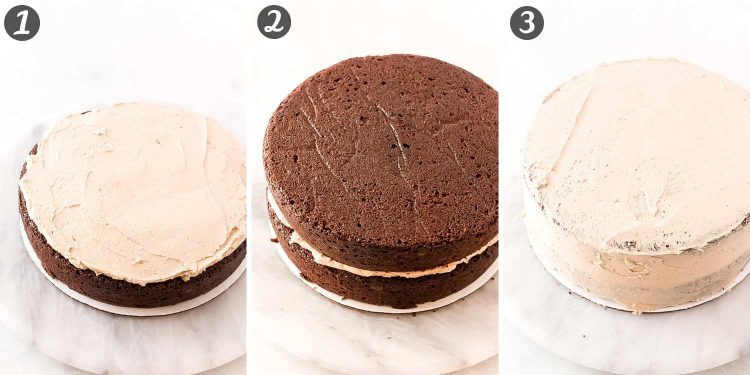 Substitutions:
There are a couple of changes you can make to this recipe to create a completely different (but equally delicious) dessert!
You can make a vanilla cake instead of chocolate for an overall lighter flavor.
Also, you can use this Peanut Butter Frosting instead of Cookie Butter Frosting if you're a big peanut butter and chocolate fan!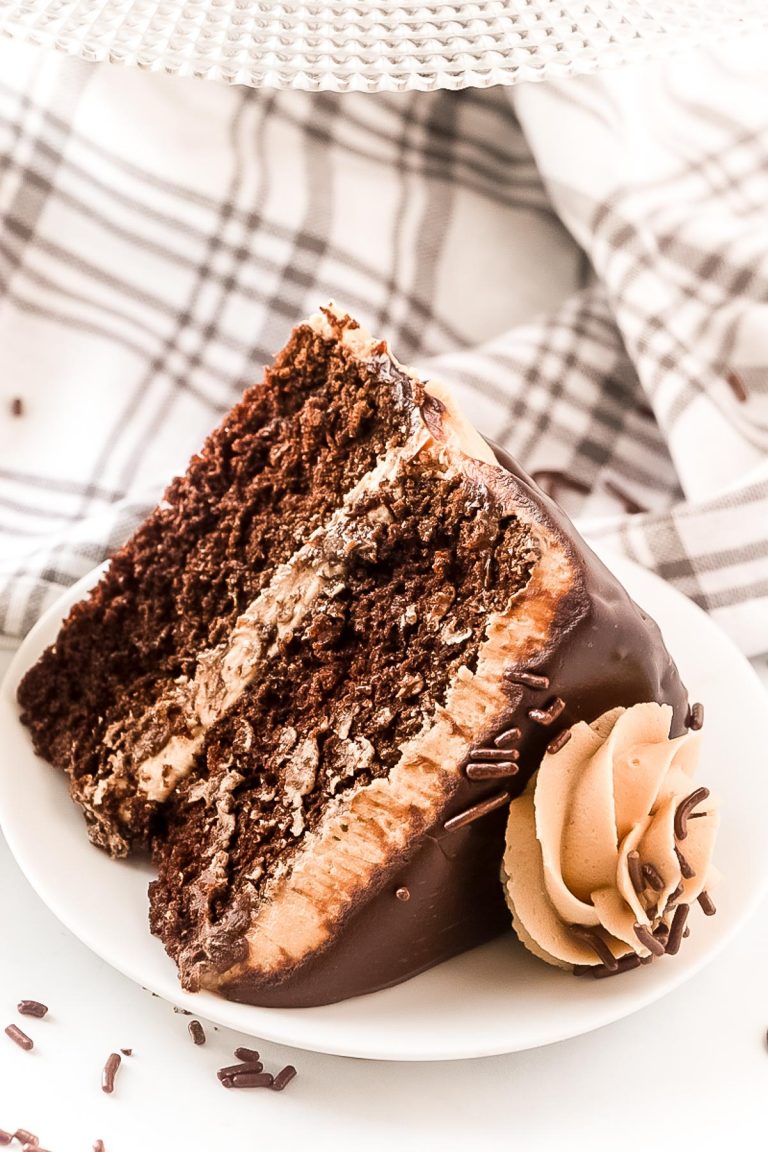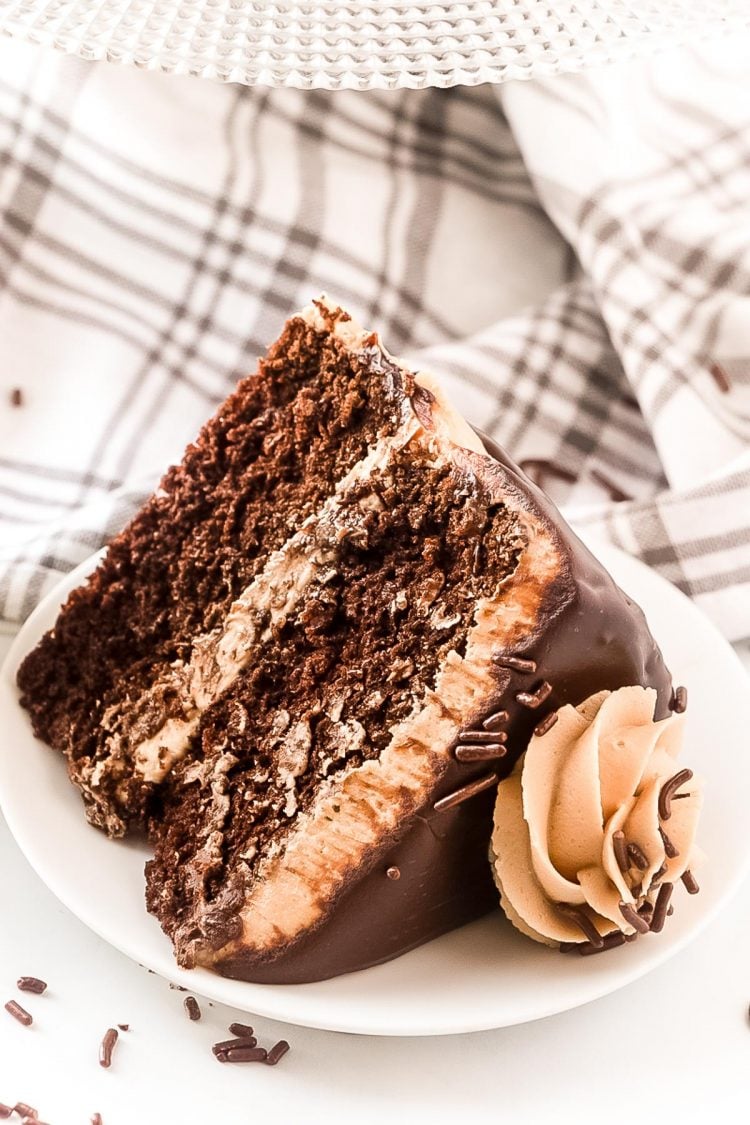 More Cookie Butter Recipes:
Can't get enough cookie butter? You'll love these other Biscoff-inspired recipes, too:
👋 Let's Connect!
If you've tried this recipe, please let me know how you liked it in the comments below and leave a review. I love hearing from you!
Don't forget to tag me – @sugarandsoulco – on Instagram and Pinterest with your photos or join our Sugar & Soul Show-offs Community and share them there, where you can join our recipe challenges!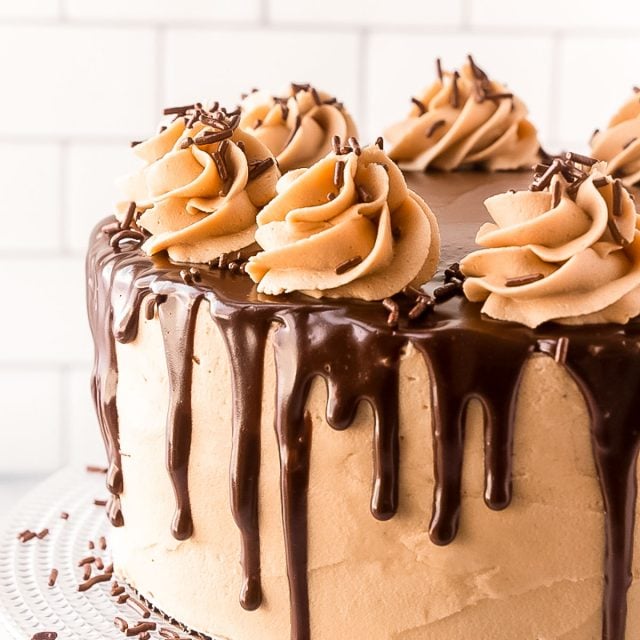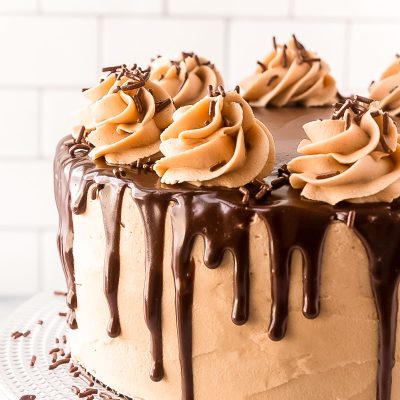 Chocolate Cookie Butter Cake
Cookie Butter Cake is made with a dense chocolate cake layered with cookie butter frosting and a rich chocolate ganache.
Instructions
Preheat oven to 350 degrees F and line and grease two 9 or 8-inch round cake pans with parchment paper and cooking spray and set aside. Click for the step-by-step photo instructions for >>> lining round pans with parchment paper.

Combine the sugar, flour, cocoa powder, baking soda, baking powder, and salt in a large bowl or stand mixer fitted with a whisk attachment and mix together.

Beat in the eggs, buttermilk, coffee, oil, and vanilla and beat on medium speed for 2 minutes, the batter is going to be very thin.

Evenly divide the batter between the two pans and bake the cakes for 40 to 45 minutes until a toothpick comes clean from the center.

Cool in pans for at least 10 minutes and loosen from sides of pan before transferring to a cooling rack to cool completely. I like to use Bake Even Strips (affiliate link) for a nice and evenly baked cake. But if your cakes dome, you'll need to gently slice the tops of the cake off so they are level before assembling.

Prepare the Cookie Butter Frosting according to the recipe instructions.

Add frosting to the top of one layer of cake and then top with the second layer. Then apply a thin crumb coat of the frosting to the entire cake and place in the fridge for 20 minutes or the freezer for 5 minutes.

Frost the recipe of the cake, reserving about 1 cup of frosting for the topping.

Prepare the ganache according to the recipe instruction. Allow the ganache to cool and thicken a bit before spreading over the top of the cake and gently working it over the edge of the cake.

Once the ganache is on, pipe the remaining frosting onto the top of the cake and top with chocolate sprinkles or other toppings, if desired.
Nutrition
Calories: 316kcal | Carbohydrates: 52g | Protein: 5g | Fat: 12g | Saturated Fat: 9g | Cholesterol: 44mg | Sodium: 393mg | Potassium: 187mg | Fiber: 2g | Sugar: 34g | Vitamin A: 99IU | Calcium: 53mg | Iron: 2mg