This is a sponsored post written by me on behalf of Park 'N Fly Airport Parking. All opinions are 100% mine. This post may contain affiliate links. Using these links, I earn a small commission at no additional cost to you!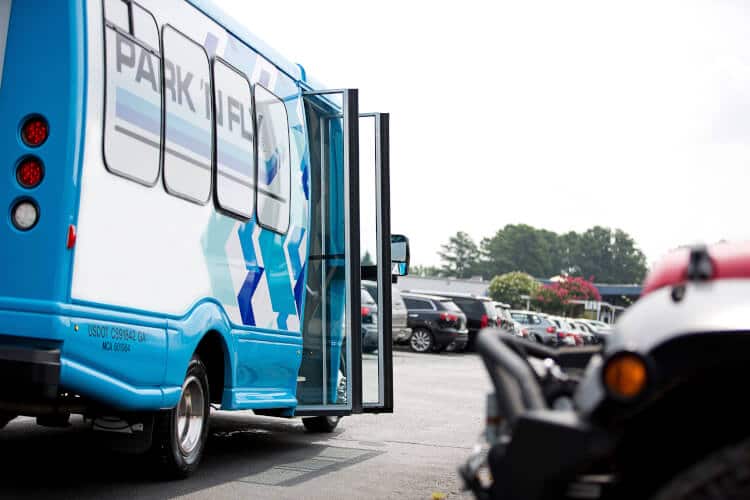 For some people (myself included), the worst part about traveling is flying. It's not that I'm afraid of being off the ground or on an airplane, it's that I hate navigating airports, terminals, and crowds, all while schlepping my luggage behind me…you know the drill!
If you've been a regular here for a while, then you know I've gone on a ton of trips over the past year, and I usually fly out of Logan Airport in Boston. Since Matt has a full-time job and the airport is a solid three hours from my house, I usually have to drive there, myself. But what's worse than a three-hour drive before boarding an hours-long flight? Dealing with airport parking!
Not only is it easy to get lost in all those winding roads and tunnels, but it can also be really expensive to park overnight. It's usually cheaper the further out you park from the airport, but then you're stuck lugging your bags all the way to your terminal — and in a big airport, that could be miles. I've chosen the "cheap" route before, and it took so long to get to my gate, I nearly missed my flight (and arrived all panicked and sweaty, to boot).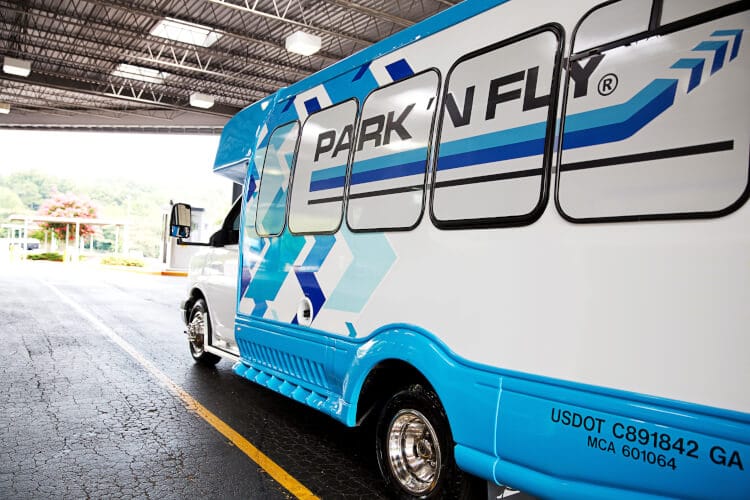 Needless to say, I was thrilled when I heard about Park 'N Fly Airport Parking, an ingenious service that eliminates the hassle of parking at dozens of major airports around the country. The company has made for easy airport parking for millions of customers for fifty years as 2017 marks their 50th anniversary!
To use Park 'N Fly, simply reserve a spot and park in one of the company's locations. Some of them even offer special services like car washes, oil changes, and pet boarding while you're away. Within five minutes of arrival, a shuttle will pick you up at your car and drive you (and your heavy bags!) right to your terminal.
The Park 'N Fly website is super easy to use. You can book your reservation online and plug in your "leaving" and "return" times, so your shuttle will be ready when you are. The site also tells you where to park, and allows you to pre-pay online, so you can be in and out of the airport in no time! And hey, on the shuttle ride to the airport, you might even fall in love! Seriously, check out this 
love story
!
Since the first time I tried Park 'N Fly, I've always opted to use it when flying out of Logan and even used it on my recent trip to Galveston Island, Texas. The price for this service is comparable to the exorbitant airport parking lot prices, except you get so much more for your money, mainly convenience. Plus, they have a Frequent Parker Loyalty Program where members can earn one free day of parking for every seven paid days.
For travel bugs like me, that adds up fast! I'd recommend using Park 'N Fly to anyone traveling alone, especially at night, because it's much safer than walking through a dark parking lot all by yourself. It's also a great option for families with lots of luggage and little kids who have a hard time keeping up. People going on business trips would also benefit from this service and avoid getting all sweaty and wrinkled during a long walk to their terminal! Needless to say, if anyone could use a little less stress and hassle while traveling, Park 'N Fly may be the answer.