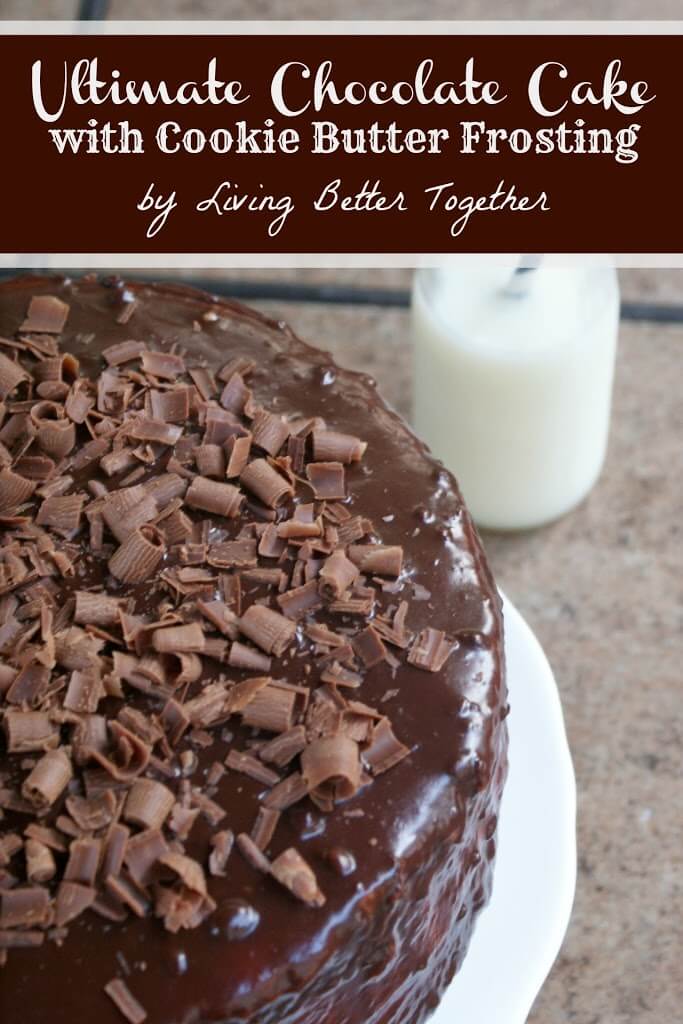 Normally, birthdays in our house are celebrated with amazing cakes from The Bankery. I ordered Matt's birthday cake back in May, but due to changes in our schedule we weren't going to be able to pick the cake up in time for the party on Friday night. So it was time to buckle down and make the cake myself.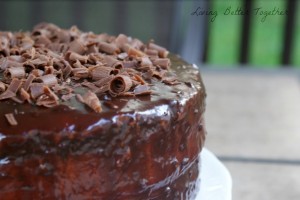 I'd been dreaming up a cake using Cookie Butter for a while now and figured this would be the perfect opportunity for me to make it. If you follow my Let Them Eat Cake board on Pinterest, then you know I've been pinning chocolate cakes like crazy looking for inspiration, tips and tricks on baking the perfect chocolate cake. I wasn't quite ready to attempt a 6-layer cake, but I used several layers of chocolate to bring this moist, rich, and delicious cake together!
The cake was served right after our traditional Hubbell Family "Happy Birthday" song, pretty much everyone sings it completely off key… in recent years it has gotten a little out of hand… but it's tradition, right? Do you have any special birthday traditions in your family?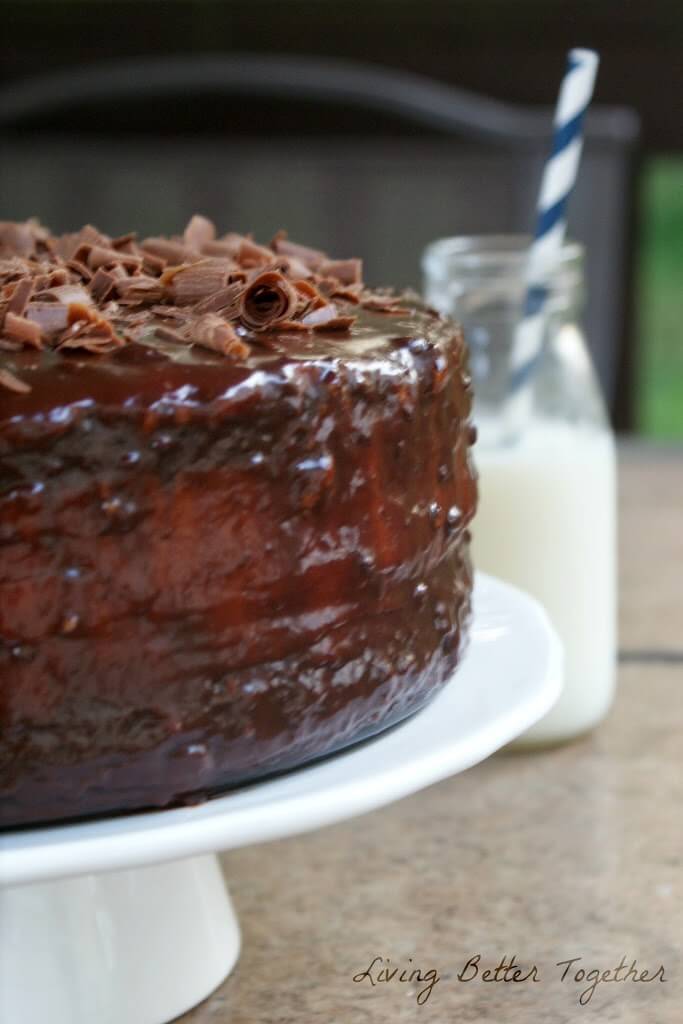 Ingredients:
Cake:
1 Box Duncan Hines Dark Chocolate Fudge Cake Mix

3.9 oz. Package Jell-O Instant Chocolate Pudding

12 oz. Bag Semi-Sweet Chocolate Chips

4 Eggs

1 cup Sour Cream

1 cup Vegetable Oil

1/2 cup Milk

1 tbsp Vanilla Extract

1/4 tsp Sea Salt
Cookie Butter Buttercream Frosting:
1 cup Speculoos Cookie Butter

4 cups Confectioner's Sugar

4 tbsp Milk

3/4 cup (1 1/2 Sticks) Salted Butter (Room Temp)

1/2 cup (1 Stick) Unsalted Butter (Room Temp)

1 tbsp Vanilla Extract
Chocolate Ganache:
2 cups Heavy Cream

12 oz. Bag Semi-Sweet Chocolate Chips

7oz. Belgian Chocolate Bar (divided, 4 oz. for the ganache and 3 oz. will be used for the curls)

2 tbsp Unsalted Butter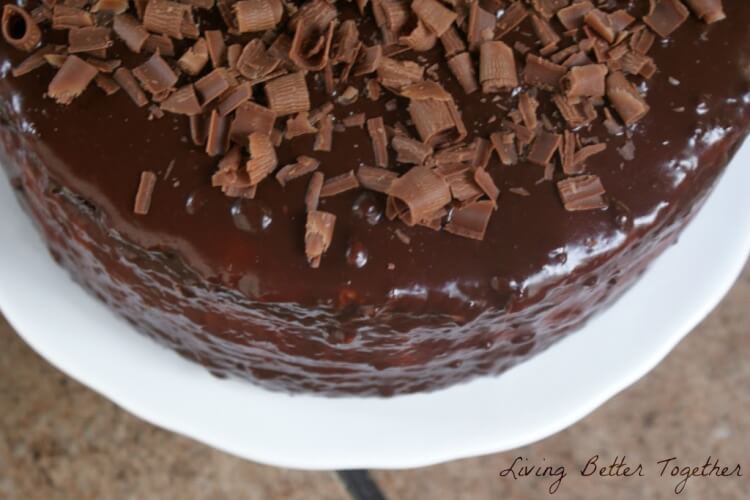 Directions:
Chocolate Cake:
Preheat oven to 350 F.

Combine all ingredients and beat using a stand or hand held mixer until blended.

Pour batter into two greased round 9 in. baking pans.

Bake for about 30 minutes. Use a toothpick to test that it is fully cooked.

Cool in the pan on a cooling rack for 5-10 minutes.

Remove from pan and place cakes on a cooling rack until fully cooled.
Should you be making a different size, follow baking time according to the box. Keep in mind that it will take a few minutes longer than normal as there were additional ingredients added to the baking mix.
Cookie Butter Frosting:
Combine cookie butter and room temperature butter together and mix on medium speed until well blended and smooth.

On slow speed, add vanilla and milk a tbsp at a time.

Add confectioner's sugar 1 cup at a time until frosting comes together light and smooth.
Chocolate Ganache:
(Make about a half hour before you're ready to assemble cake)
Heat heavy cream on medium/high heat until it comes to a simmer.

Meanwhile, finely chop 4 oz. of the Belgian chocolate bar.

Once heavy cream comes to a simmer, remove from heat and add all chocolate and butter. Let it set for two minutes.

After the two minutes has elapsed, use a wisk to combine chocolate, butter, and cream. It will take a couple of minutes, but eventually it will be a rich chocolate color and will be smooth.

Let set for approximately 20 minutes.
Assembly Instructions:
Using the bottom of a spring form pan or one of those cardboard cake plates, place one of the cakes on it.

Place cake on a cooling rack or trivet on a cookie sheet with parchment paper spread over it.

Using a frosting spatula or butter knife, spread a layer of frosting on the cake.

Place the other cake on top of the frosting, make sure to keep the cake nice and level.

Spread the rest of the frosting over the top and edge of the cake. Make sure you have a nice even layer all over.

Pour Ganache over the cake slowly in a circular motion making sure to bring the ganache all the way out to the edge so that it runs down over, the parchment paper and cookie sheet will catch the run off.

Using a vegetable peeler, run it along the edge of the remaining chocolate bar to make the chocolate curls.

Spread the chocolate curls over the top of the cake.

Let the cake set for about an hour before transferring

to a cake stand to serve.

Serve with a side of vanilla ice cream and a glass of milk.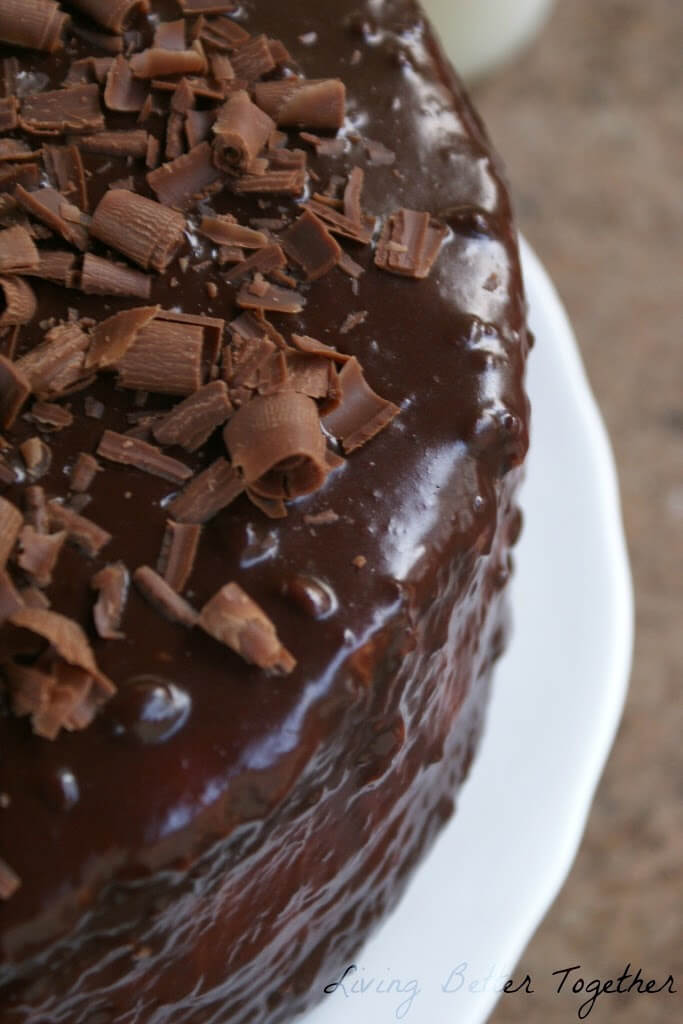 The cake was a huge hit, everyone loved it! I got several of our family members addicted to cookie butter and even my uncle, who hates chocolate cake, loved it!
This was one of those situations where I was baking at 10:30 on a Thursday night and Matt wished I had just bought cupcakes at the store, he regretted those words as soon as he took a bite of this cake. This cake was money.
I'm so proud of myself for pulling this cake together and not screwing it up. Well, except for a minor incident which included Matt holding three corners of the parchment paper which was filled with ganache while I used a measuring spoon to pour it back over the cake (I didn't let it set long enough and it just poured right off the cake). But hey, sometimes that's where the memories are made!
I mean, seriously though, doesn't it look phenomenal? We finished off the evening by playing Cards Against Humanity
, I don't think I've laughed that hard in a long time, I literally laughed until I cried. I highly recommend picking it up, but be warned… it really is a game for horrible people, or at least those of us with a sick and twisted sense of humor!