This DIY Holiday Crock Pot Potpourri will have your house smelling amazing all season long with sweet and spicy aromas of cranberries, oranges, mint, cloves, cinnamon, and more!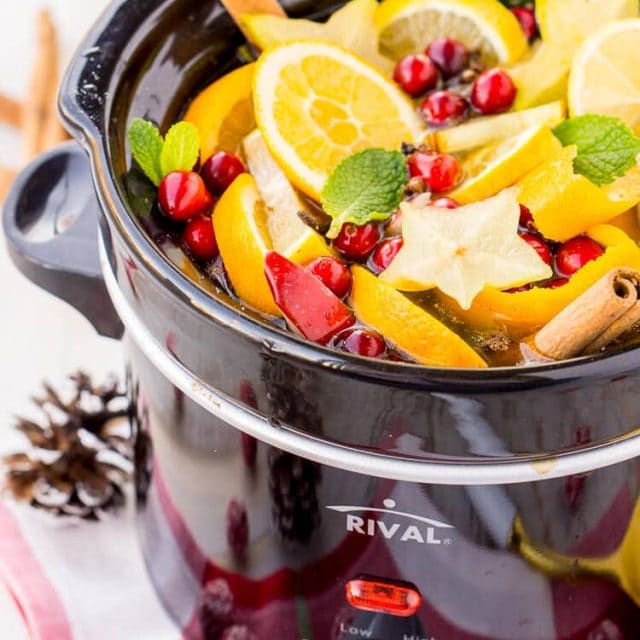 DIY Holiday Crock Pot Christmas Potpourri fills your home with sweet, spicy aromas by using cranberries, mint, cloves, cinnamon, and more! Only 10 minutes of prep is needed to ensure your home smells absolutely wonderful all day long!
Try another fun DIY like these Holiday Rag Balls that are made with just 4 materials or this 3-Ingredient Peppermint Sugar Scrub that's great for soothing tired muscles and dry skin!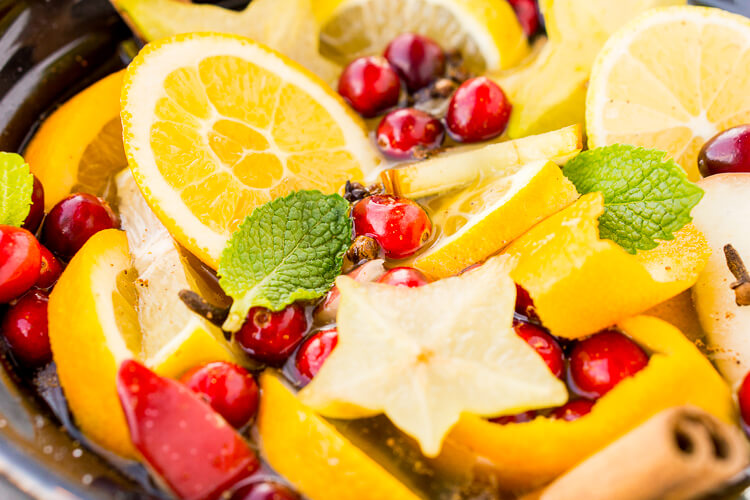 This Crockpot Potpourri is an incredibly easy and effortless way to overflow your home with the warm, cozy, and spiced scents of the season! Fruits like apples, oranges, star fruit, and cranberries smell juicy and fresh, while spices like nutmeg, cinnamon, and clove add warmth and a hint of nostalgia that's perfect for this time of year.
Toss the ingredients into the crockpot in the morning and by the time guests arrive you won't even have to answer the door, the aroma will just invite them right in!
What I Love About This Crockpot Potpourri!
Fresh Ingredients! The fresh fruits really had a nice citrusy, sweet smell that you can only get from natural ingredients!
Holiday Aroma! This homemade fragrence is exactly what the holidays smell like, cozy, fresh, and sweet, with a little bit of spice!
Quick and Easy! Simply slice up the fruit, add the ingredients to the crockpot, and you're done!
Can Be A Gift! Dry out the fruit and then add them to jars along with the rest of the dry ingredients. Then add some festive ribbon and a homemade tag and you've just made a homemade gift that everyone will be begging you for!
Easily Change Up Ingredients! This is a recipe where you can easily add in your favorite ingredients to get your own perfect holiday scent!
Don't get me wrong I still love filling my home with scents by baking up our favorite holiday treats like my Easy Chocolate Crockpot Candy, Soft Christmas Sugar Cookies, and having a slow cooker filled with Crockpot Hot Chocolate but this Potpourri is a great alternative on the days when I'm taking a break from the kitchen!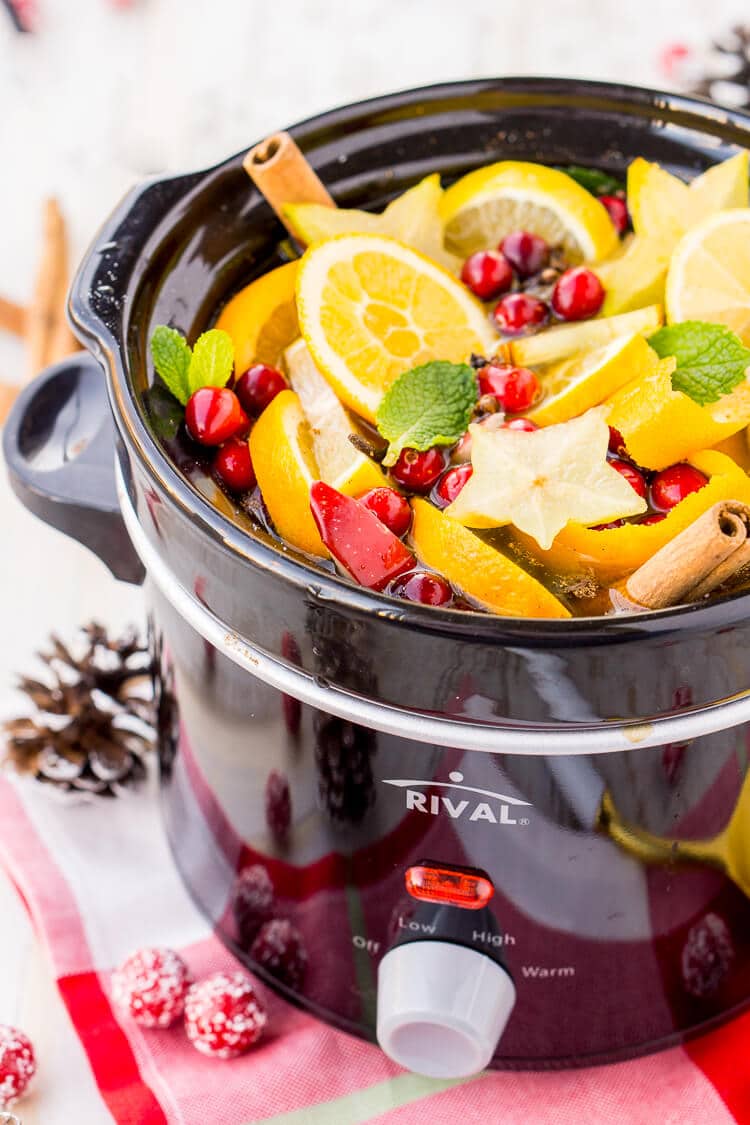 Ingredient Notes
This DIY Holiday Crock-Pot Potpourri Recipe takes just 10 minutes to prep and then your slow cooker rewards you by taking care of the rest! That's my kind of recipe whether it's edible or not!
To make this you'll need:
Fruit – I used an apple, an orange, a lemon, fresh cranberries, and a star fruit.
Cinnamon Sticks – Provides a sweet yet spicy smell to the potpourri.
Vanilla Extract – Adds a warm and comforting aroma.
Whole Cloves – For a spicy, sweet smell that reminds us all of Christmas!
Ground Nutmeg – Another spicy, sweet fragrence yet earthy as well.
Mint Leaves – Brings a lovely lavendar scent to this DIY Potpourri.
Water – Allows the aromas from all of the ingredients to meld together.
Keep in mind you can totally swap around ingredients if there's something you don't have on hand or if you just have something specific in mind that you'd like to add to this recipe! The best part of this DIY is that you can adjust it to be exactly what you want!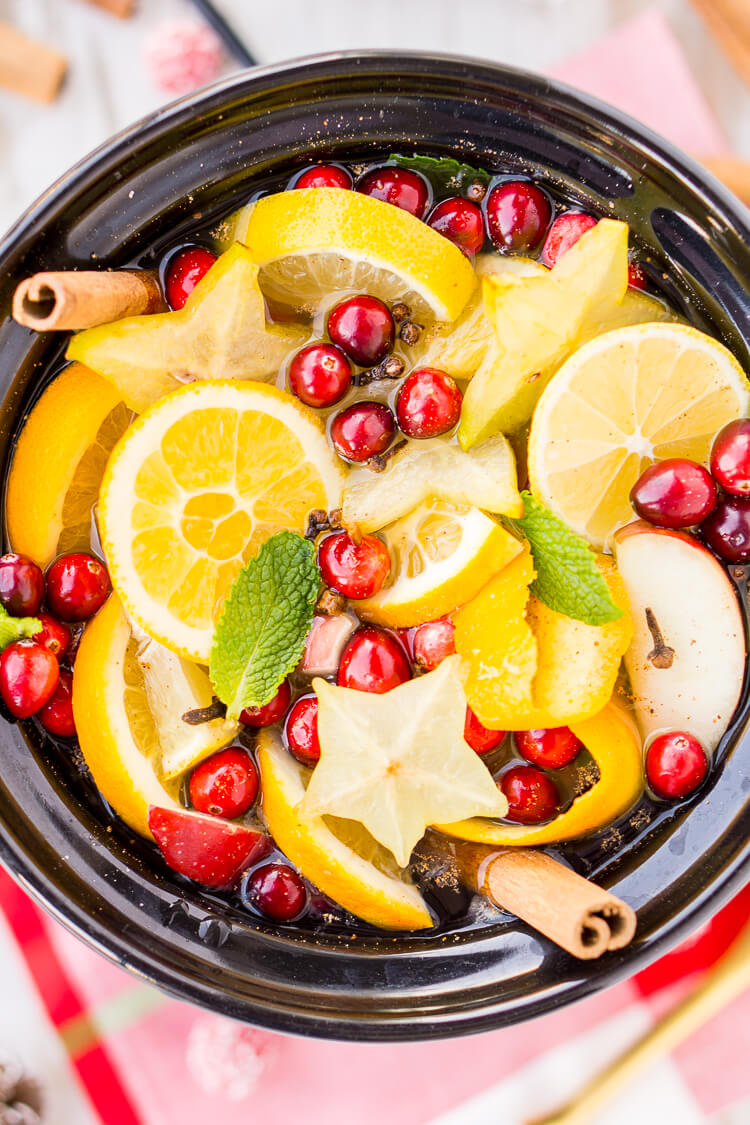 How To Make Crockpot Potpourri
Prepare the fruit by slicing the lemon, orange, and star fruit then coring and slicing the apple.
Add the fruit and remaining ingredients to the crock pot.
Turn the crock pot to low/warm heat and allow it to simmer throughout the day.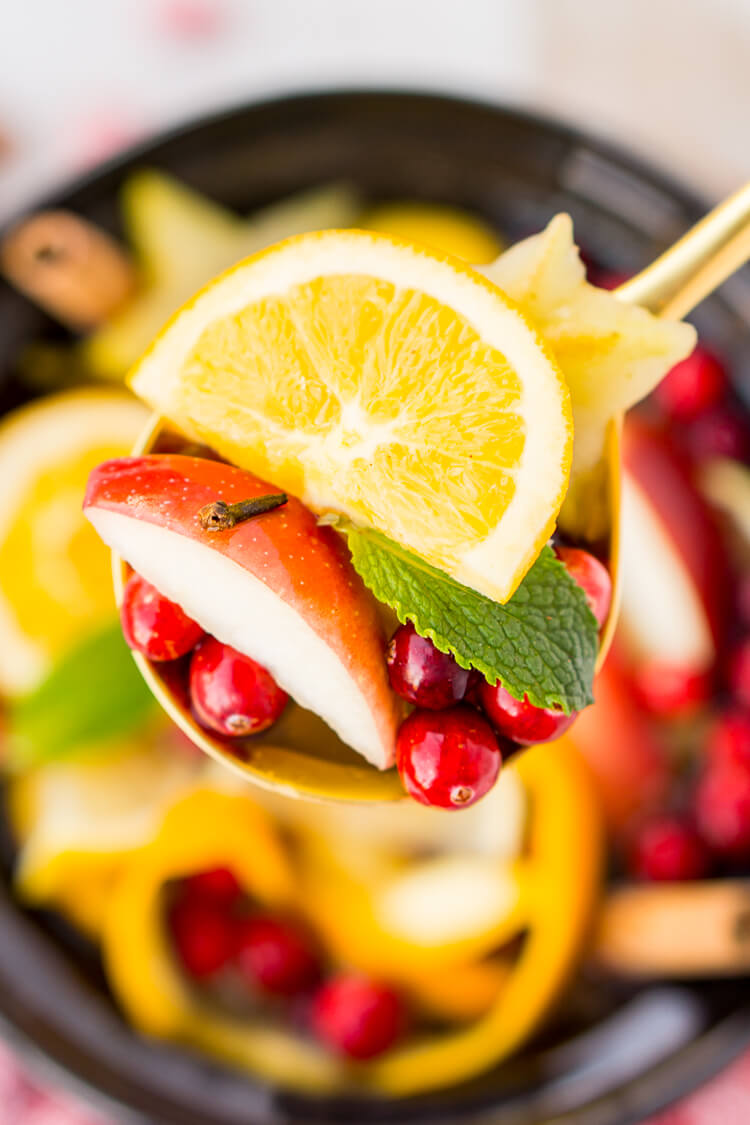 Frequently Asked Questions
How To Give This Holiday Potpourri As A Gift
To give this Potpourri as a hostess gift, to make ahead of time, or to add to gift baskets you'll want to dry the fresh fruit out first. To do so you'll slice the fruit very thin and then place it on a baking sheet.
Bake the fresh fruit at 250 degrees for about an hour and a half. If needed, continue baking for 20 to 30-minute increments until the fruit has dried.
After baking all the fruit all it to completely cool to room temperature and then add it to a mason jar with the dried ingredients. Then simply add a tag with crockpot instructions along with how much water and vanilla extract to add!
Can I Make Stovetop Potpourri Instead?
Yes, you can! Follow the same recipe instructions and instead of placing the ingredients in the crockpot just place them in a large pot. Bring the large pot to a boil and then reduce the heat to a simmer.
The Simmering Potpourri on the stovetop will smell just as delicious!
Will I Need To Add More Water Throughout The Day?
Yes, so you will want to keep a close eye on this DIY Holiday Potpourri as the day goes on.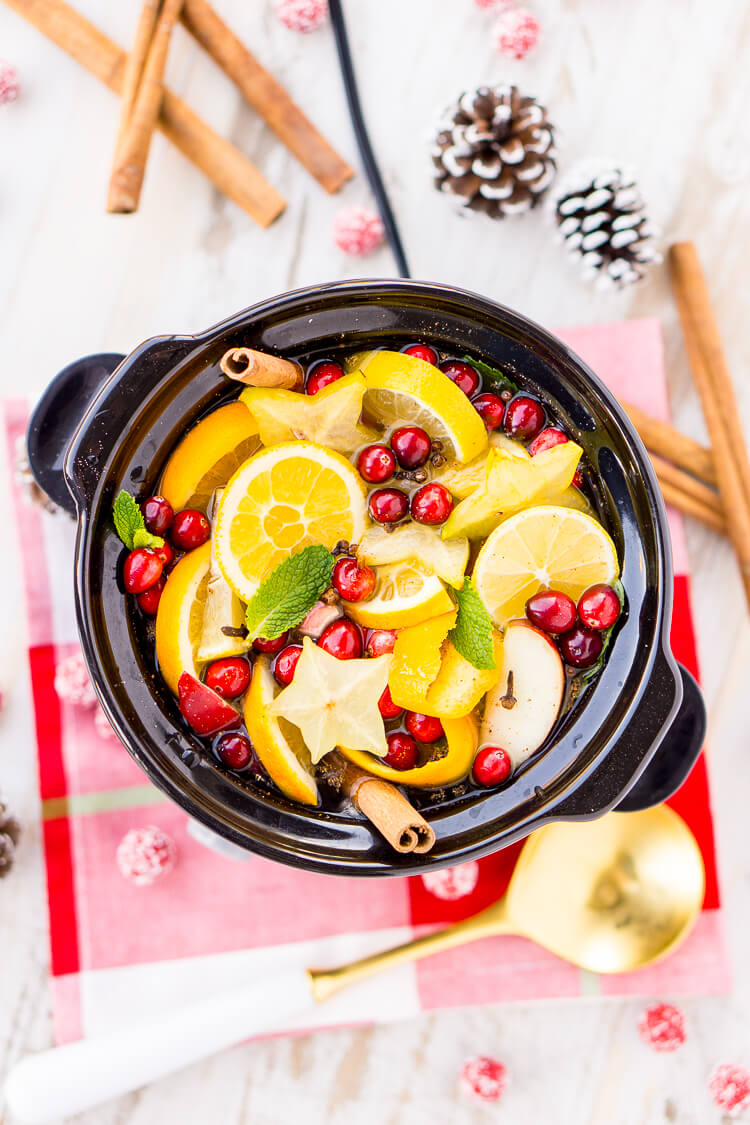 This Christmas Potpourri is an easy way to bring some holiday cheer and festive aroma to your home! Check out more fun ways to enjoy the holiday season with friends and family!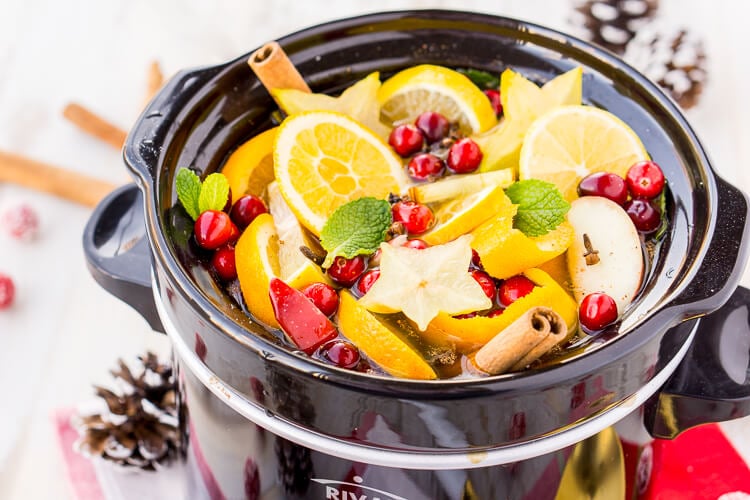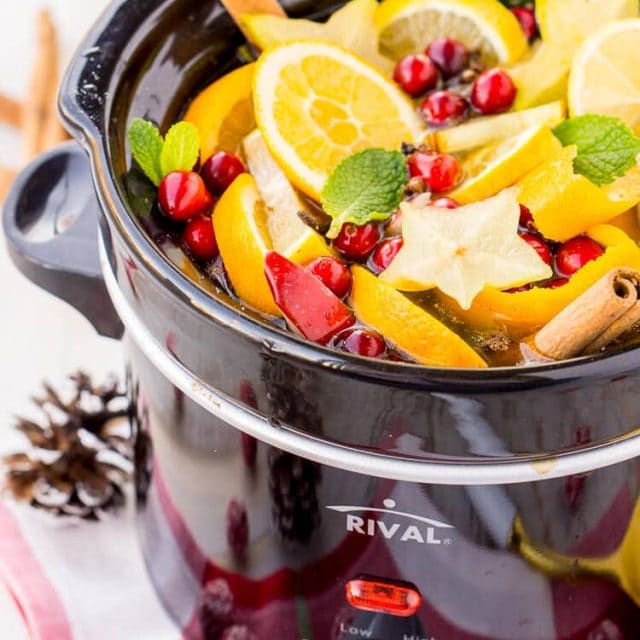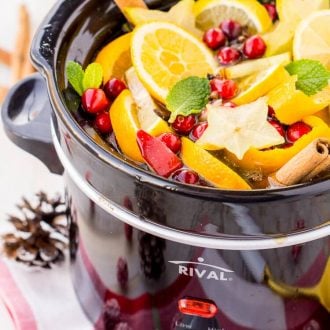 DIY Holiday Crock Pot Potpourri
This DIY Holiday Crock Pot Potpourri will have your house smelling amazing all season long with sweet and spicy aromas of cranberries, oranges, mint, cloves, cinnamon, and more!
Instructions
Combine all ingredients in a crock pot and turn on low/warm heat to simmer throughout the day. Add more water as needed/original water evaporates. DO NOT LEAVE UNATTENDED.
Notes
Feel free to add a couple of drops of your favorite fragrance oil as well.
Nutrition
Calories: 250kcal | Carbohydrates: 61g | Protein: 4g | Fat: 3g | Saturated Fat: 2g | Polyunsaturated Fat: 1g | Monounsaturated Fat: 1g | Cholesterol: 7mg | Sodium: 58mg | Potassium: 701mg | Fiber: 15g | Sugar: 38g | Vitamin A: 551IU | Vitamin C: 158mg | Calcium: 137mg | Iron: 1mg