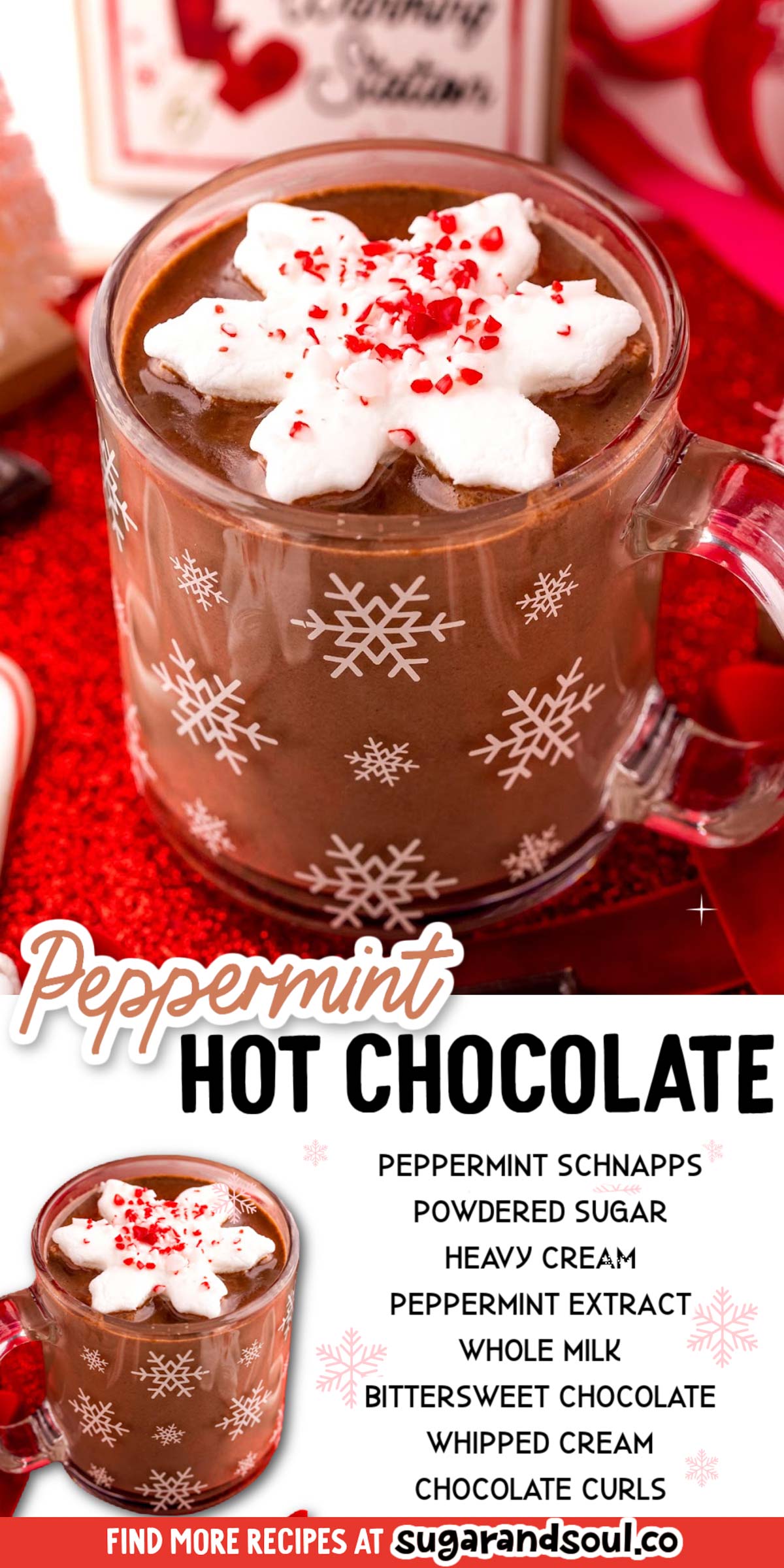 Peppermint Hot Chocolate cooks up in just 10 minutes using 5 ingredients to make a wonderful seasonal drink to warm up with all winter long! A great addition to all of your holiday parties!
Pour another cup of homemade hot chocolate for friends and family by also trying my Nutella Hot Chocolate or Eggnog Hot Chocolate! Both are ready to sip on in just 10 minutes!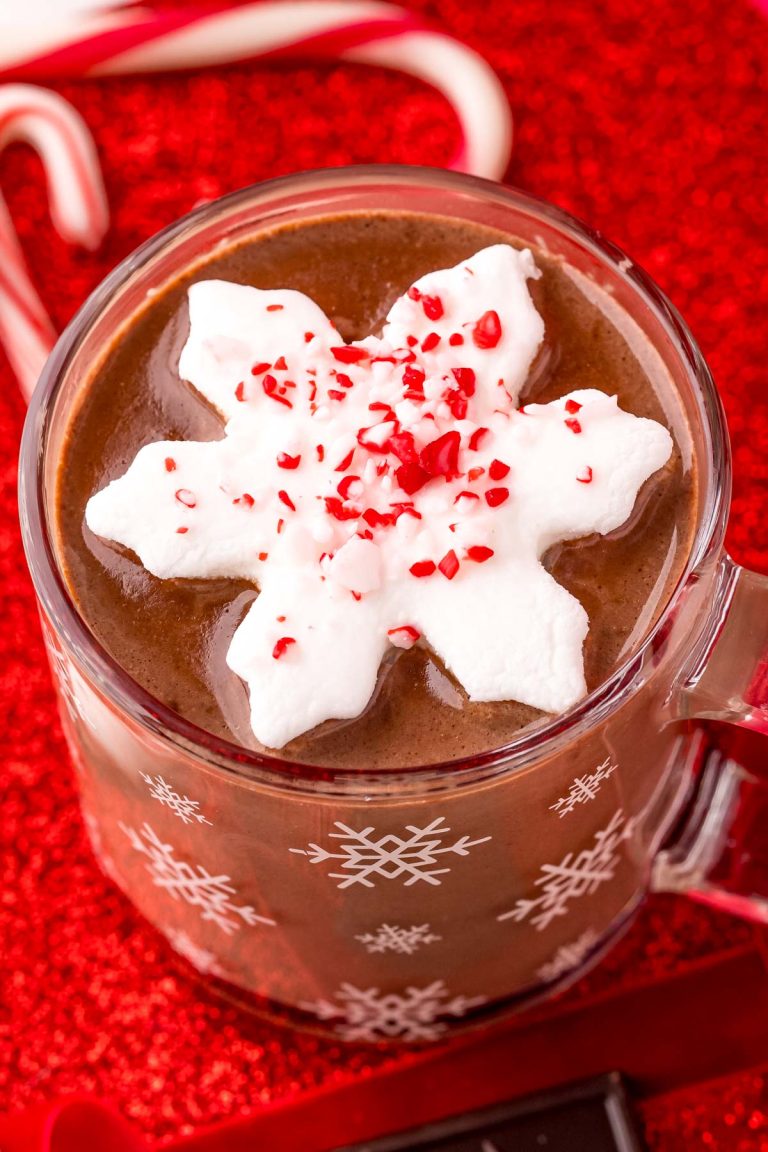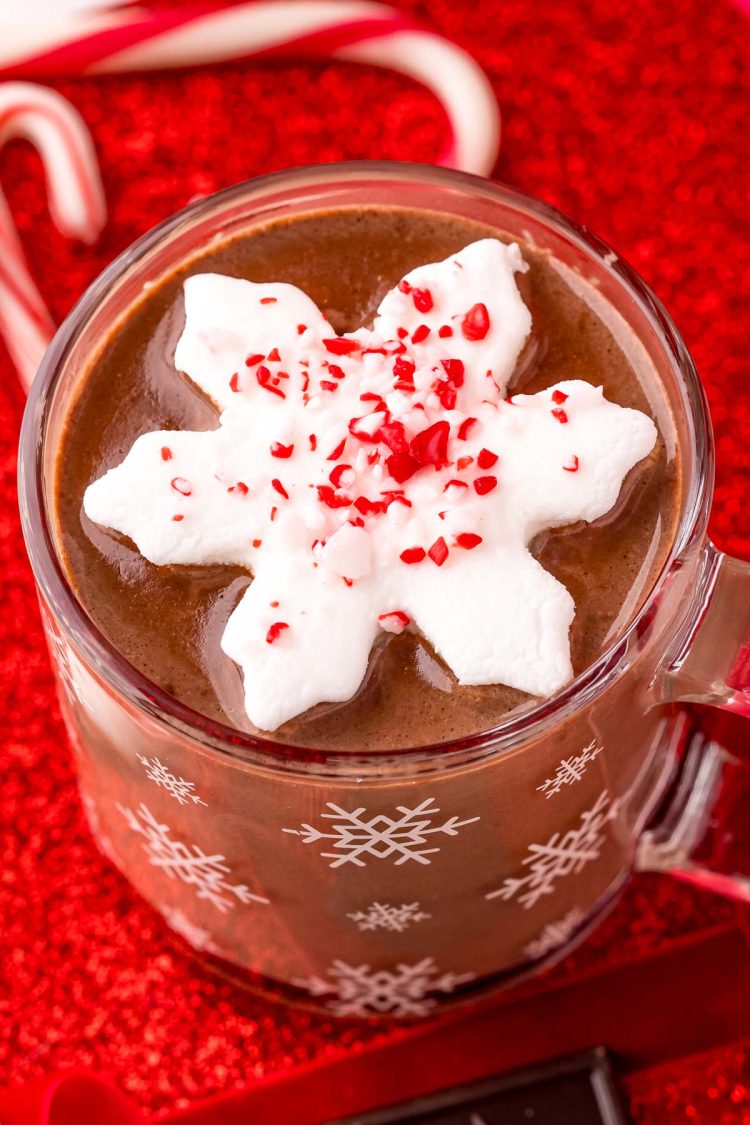 Add some extra holiday magic to your Christmas morning by filling everyone's mug with this Creamy Peppermint Hot Chocolate! It's thick, rich, and has wonderful notes of peppermint flavor without being overpowering!
One of the best things about those long cold winters is enjoying homemade hot chocolate! But add a splash of peppermint extract to it and it quickly becomes a drink that fills me with holiday spirit!
You can even bring the adults at the annual Christmas party some extra holiday spirit by adding peppermint schnapps to theirs! Spiked hot chocolates such as my Kahlua Hot Chocolate and White Hot Chocolate are always a hit!
Making it safe to say that this Peppermint Hot Cocoa with Peppermint Schnapps would be as well! But whether you make this recipe as an adult version or kid-friendly, it's one you'll likely be making often after trying it just once!
So luckily it's super easy to whip up! Just combine 5 to 6 ingredients, cook it in only 10 minutes, and then add some delicious toppings!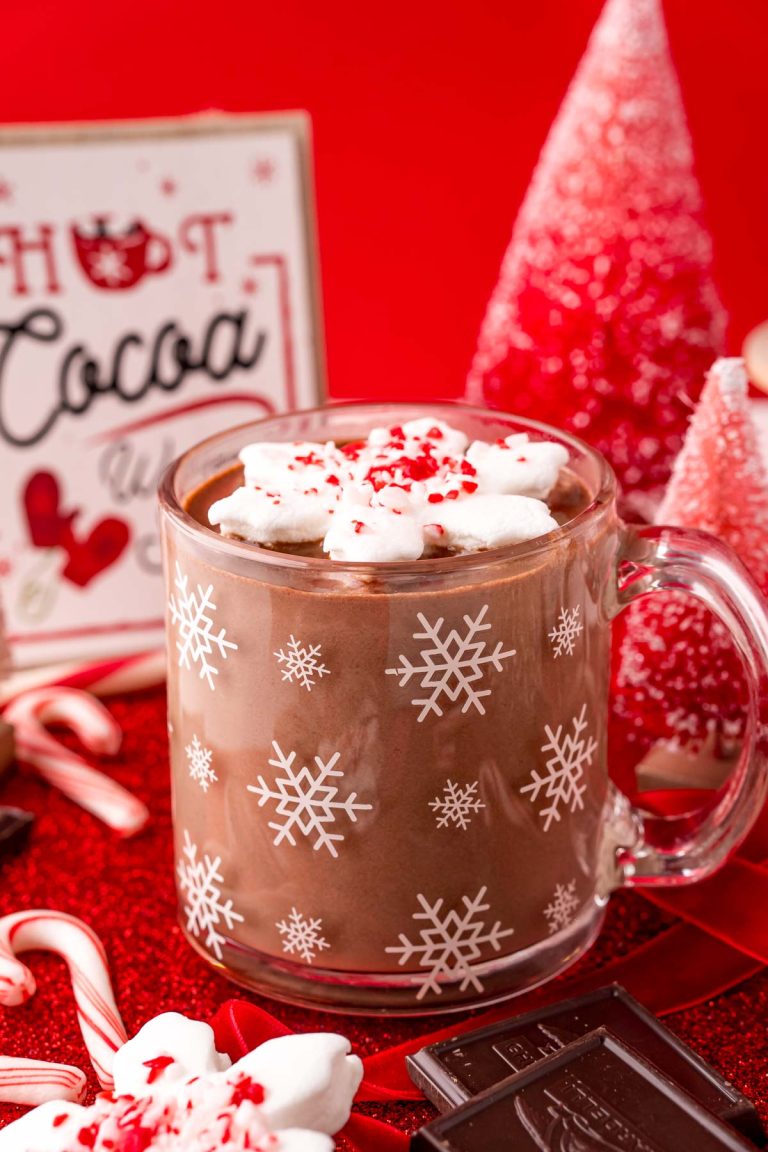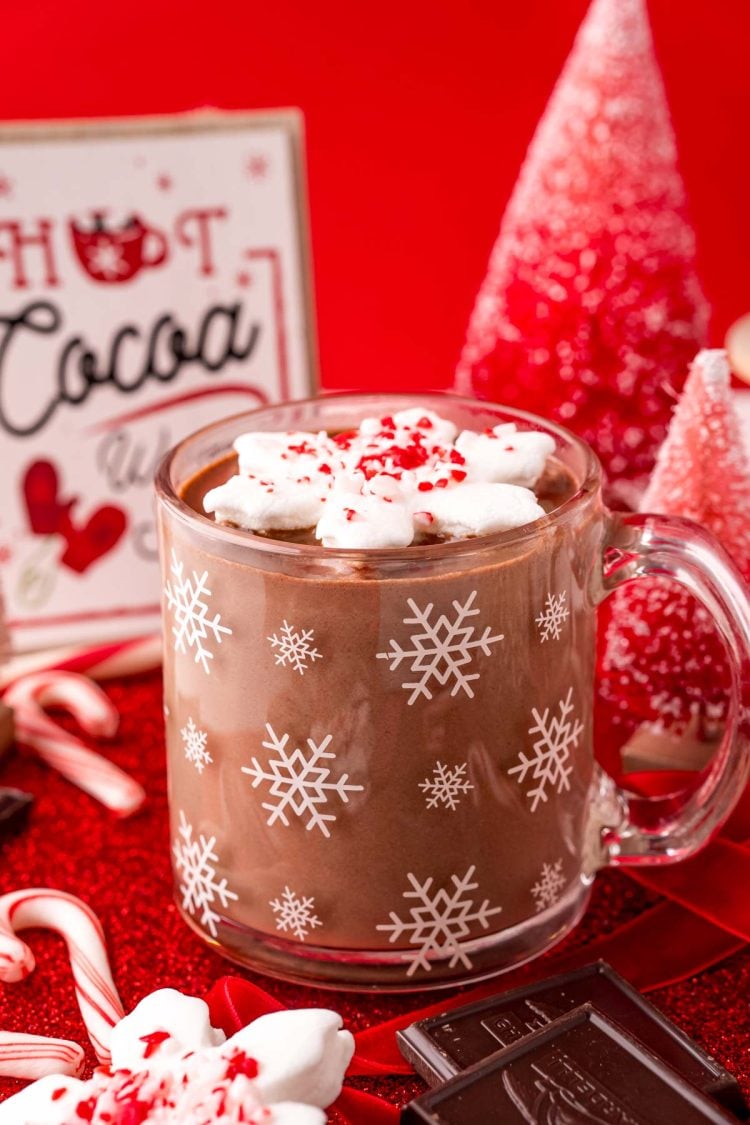 Ingredient Notes
Fill your mugs with this Homemade Peppermint Hot Chocolate Recipe after taking about 10 minutes to combine minimal ingredients! To start you'll need the two ingredients that make this hot chocolate thick and creamy, whole milk and heavy cream.
Next, you'll sweeten it up with powdered sugar! Then peppermint extract is stirred in to give this drink its seasonal minty flavor. Though you could also use a peppermint simple syrup in this recipe in place of the extract!
However, if you're making the adult version you'll want to use peppermint schnapps. If you're really wanting a strong peppermint flavor you could also use both schnapps and the extract or peppermint syrup.
Lastly, you'll need finely chopped bittersweet chocolate! I find this recipe tastes best when using Ghrirradelli Premium Baking chocolate but feel free to use what you'd like.
Then just finish off your cup of hot cocoa with yummy toppings such as:
Chocolate Curls
Sprinkles
Crushed Peppermint Candy
Candy Cane Stirrers
Mini Marshmallows or Peppermint Marshmallows
Marshmallow Fluff, this is my kids favorite sticky, sweet addition to put on top of any cup of hot chocolate!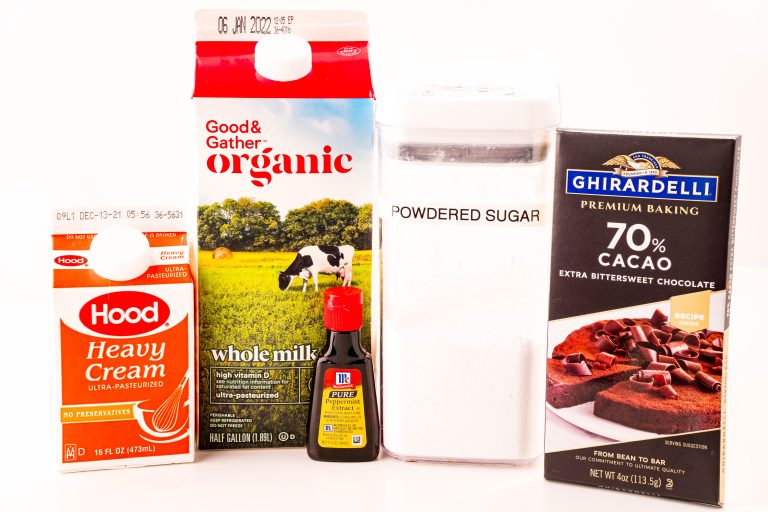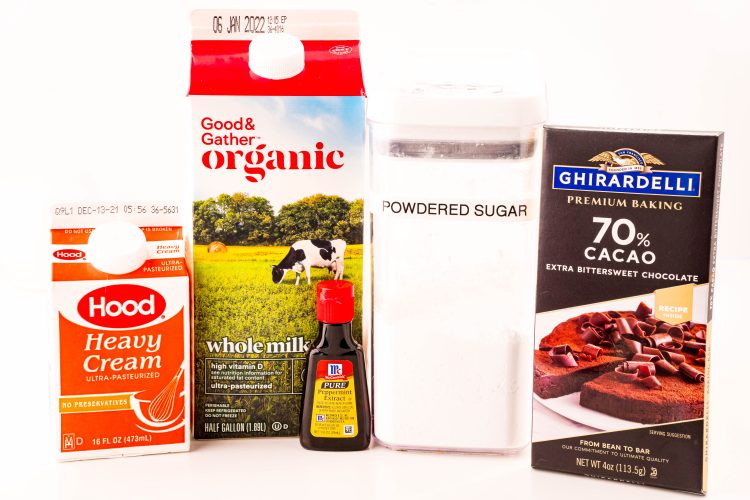 How To Make Peppermint Hot Cocoa
Step 1: Heat milk, heavy cream, peppermint extract, and/or peppermint schnapps and sugar in a medium saucepan. Bring the mixture to a light simmer.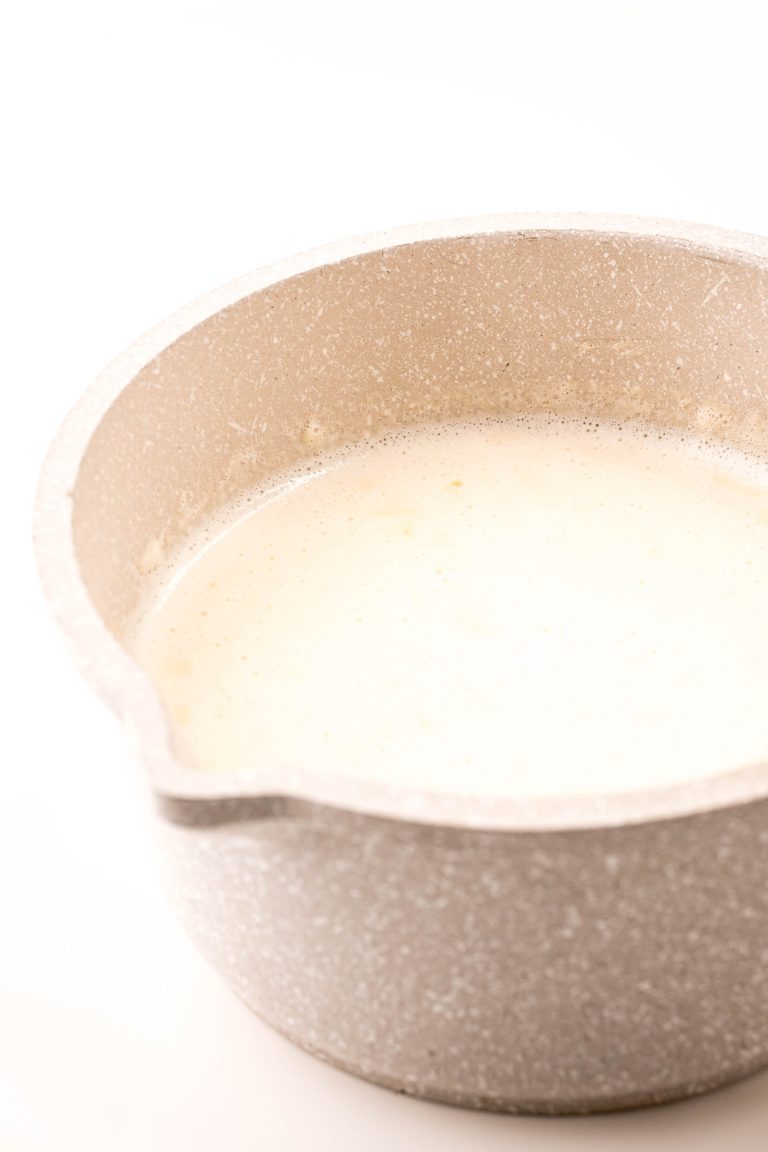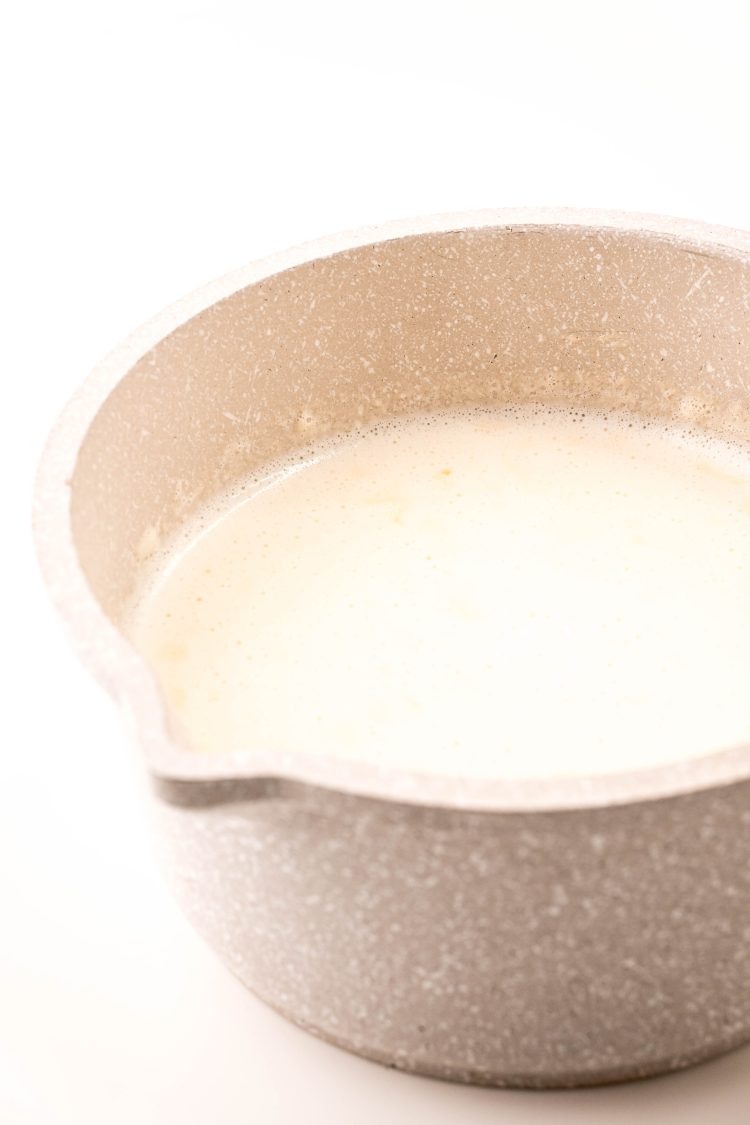 Step 2: Melt the chocolate chips in a microwave-safe bowl in the microwave at intervals, stirring between each one.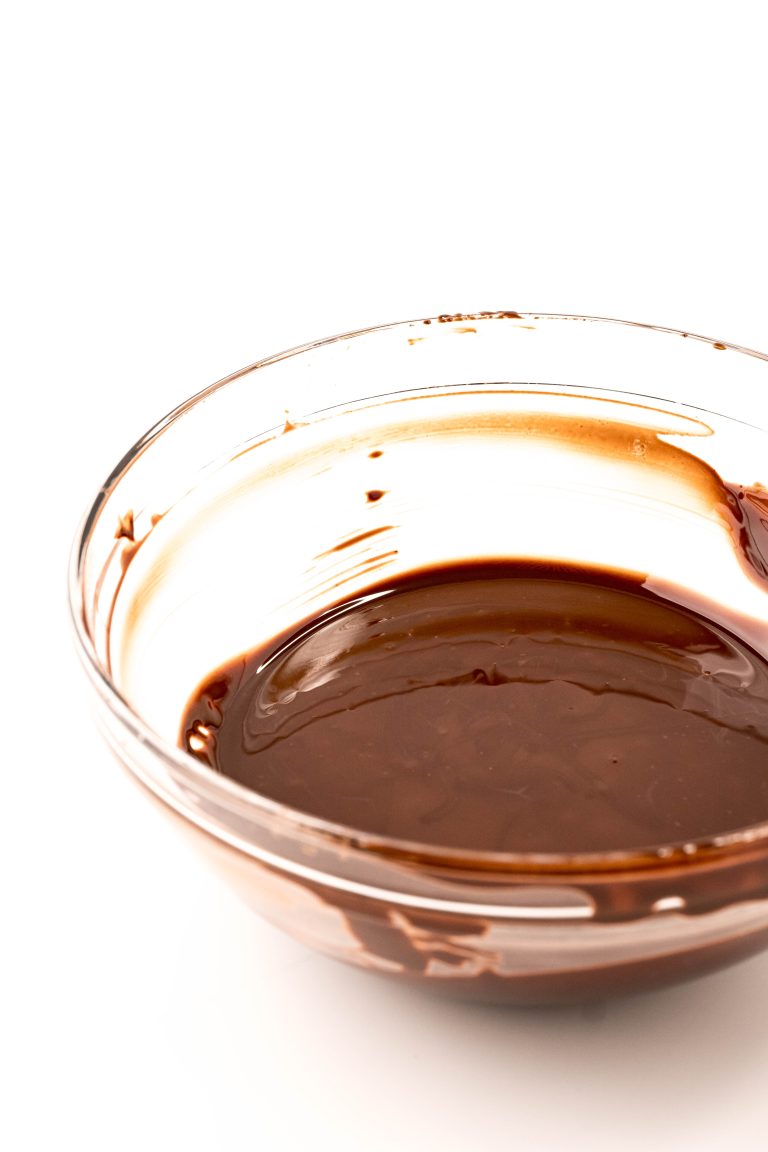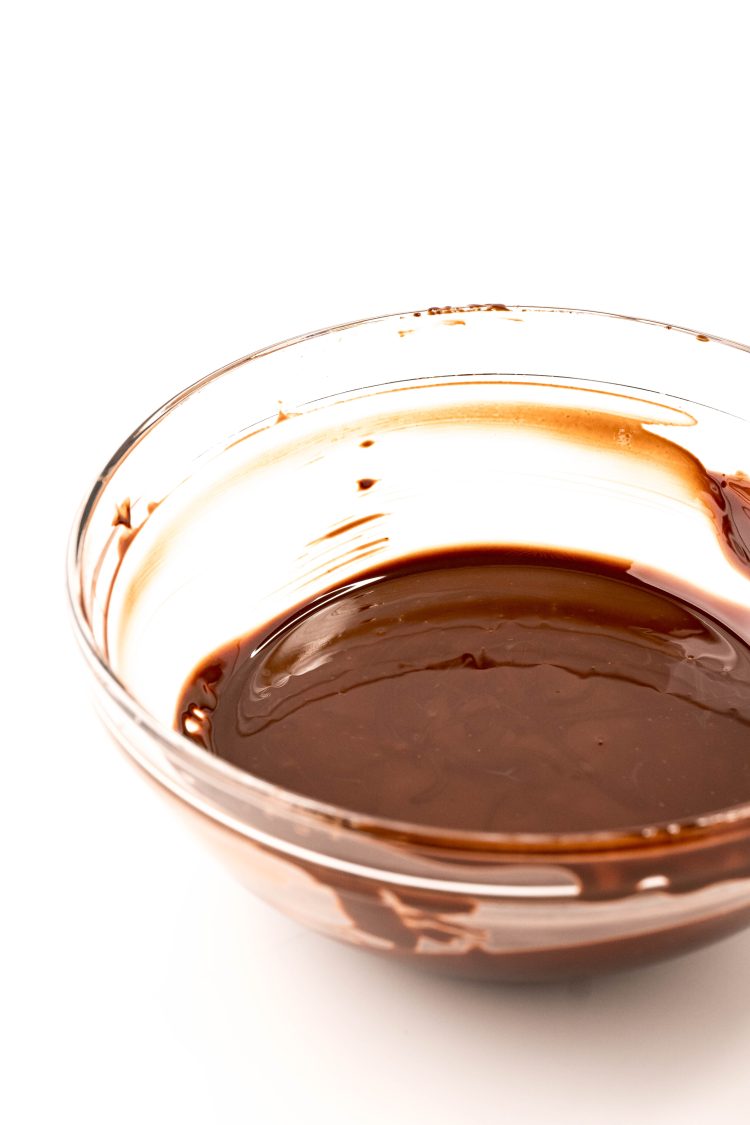 Step 3: Whisk the melted chocolate into the saucepan off of the heat.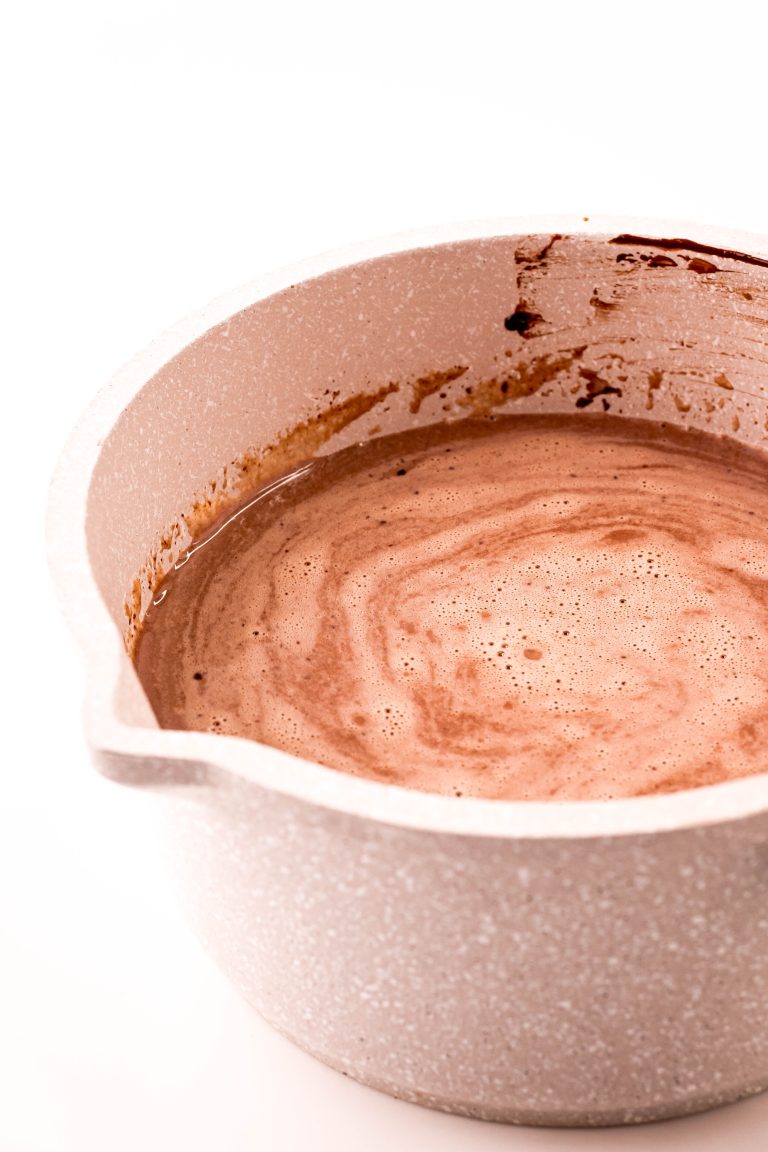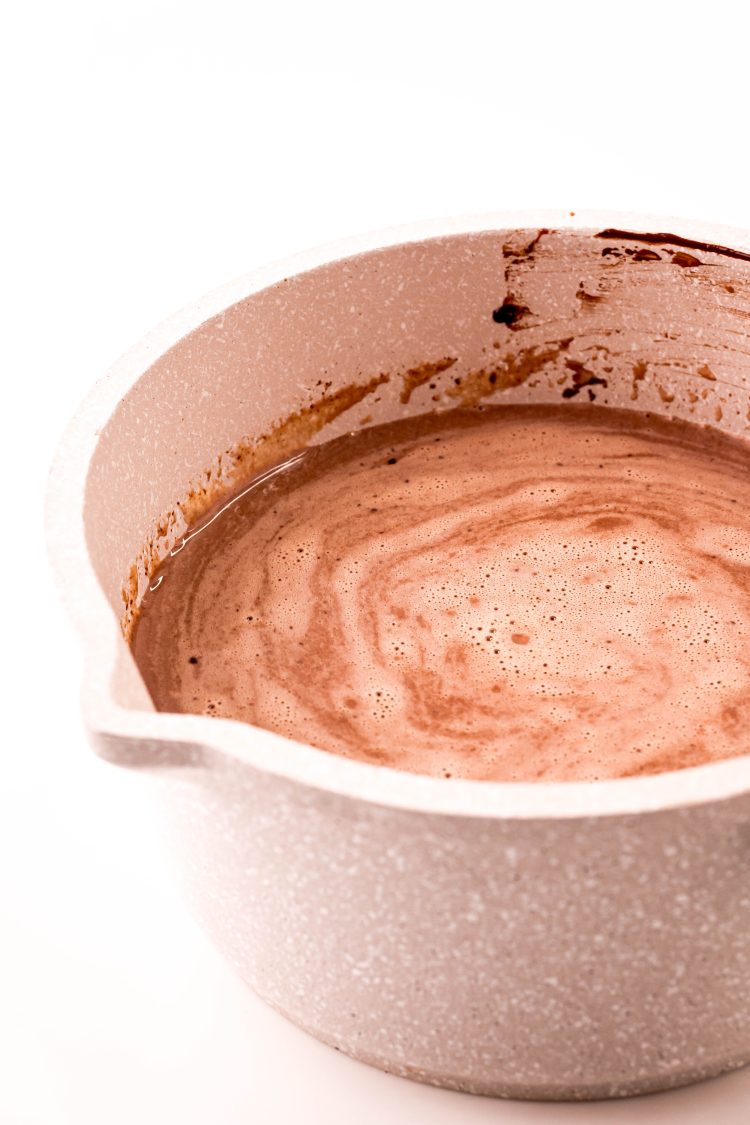 Step 4: Serve with whipped cream and chocolate curls!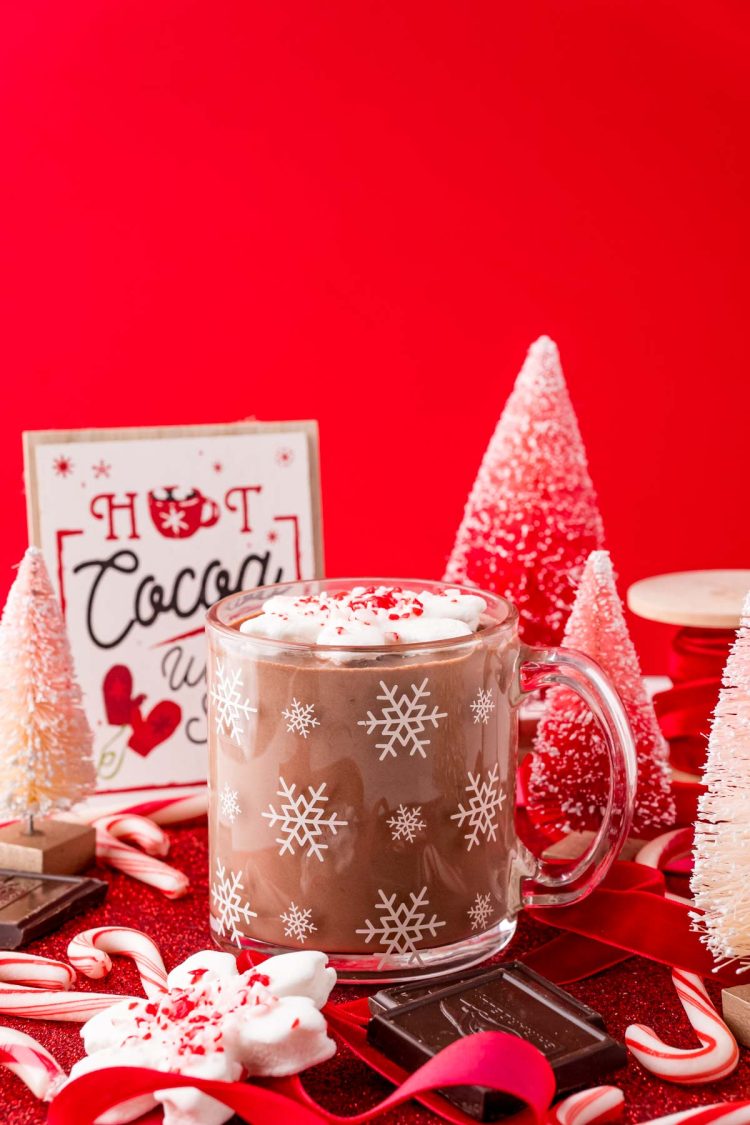 Frequently Asked Questions
Can I Make This Ahead And Warm It Up Later?
Certainly, to do so, just make it according to the recipe instructions and then allow it to cool a bit. Afterward, transfer it to an airtight container such as a mason jar or similar.
Store the container of hot chocolate in the refrigerator and enjoy it for up to 2 to 3 days. To reheat it I'd recommend pouring the hot chocolate into a saucepan and heating it on the stovetop.
How Can I Make This A Peppermint White Chocolate Hot Chocolate?
Super easy! Simply swap out the bittersweet chocolate for 4 ounces of chopped white chocolate. For an even more phenomenal peppermint flavor, you could get white chocolate peppermint bark to use!
Is This A Recipe I Can Make A Large Batch Of In The Crockpot?
Definitely! This recipe makes 2 servings so you'll want to triple it a couple of times to fill up your crockpot.
To make this recipe in a slow cooker you'll add all of the ingredients to a crockpot. Then place it on low for about 2 hours, stirring occasionally.
Once the ingredients are melted together and warm just turn the crockpot to the warm setting. For another great slow cooker hot chocolate check out my creamy Crockpot Hot Chocolate!
How Can I Make This Hot Chocolate Have A Stronger Peppermint Flavor?
You can add in more peppermint extract until it reaches your desired taste. I would just add a little to a time, stir, and try it as you go.
Can I Add More Peppermint Schnapps To This Recipes For A Stronger Drink?
Of course! You can add as much or as little as you'd like.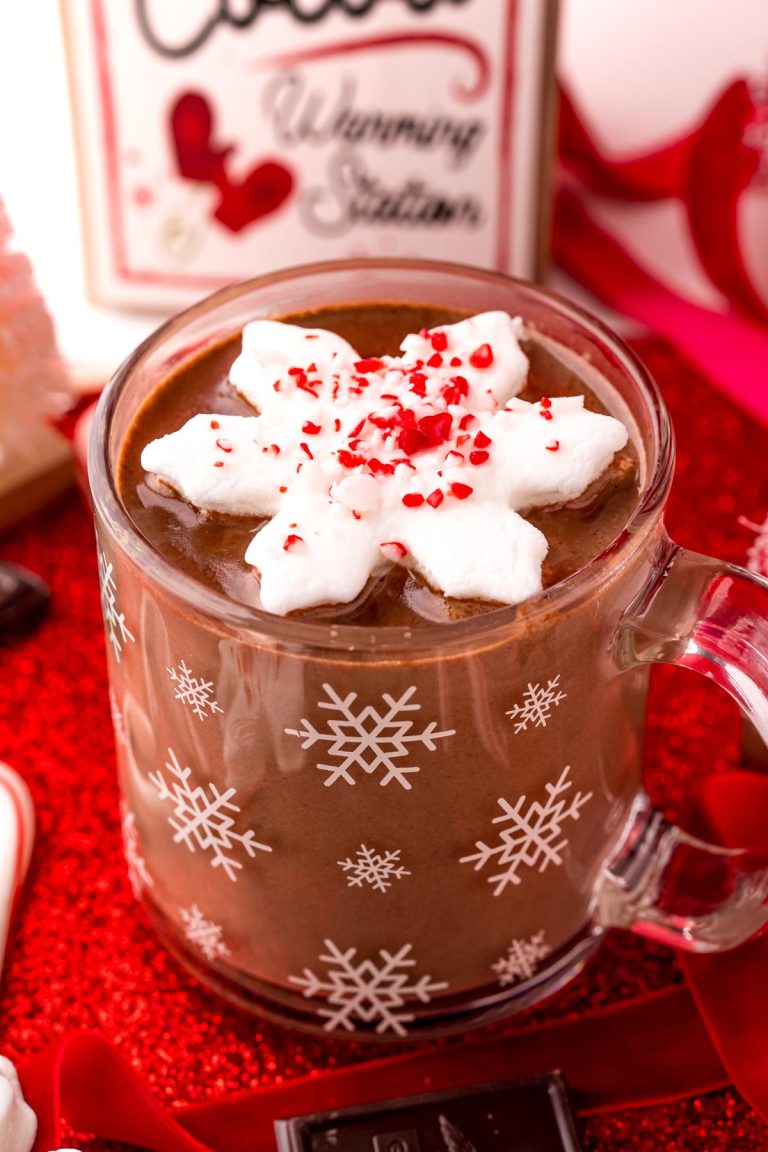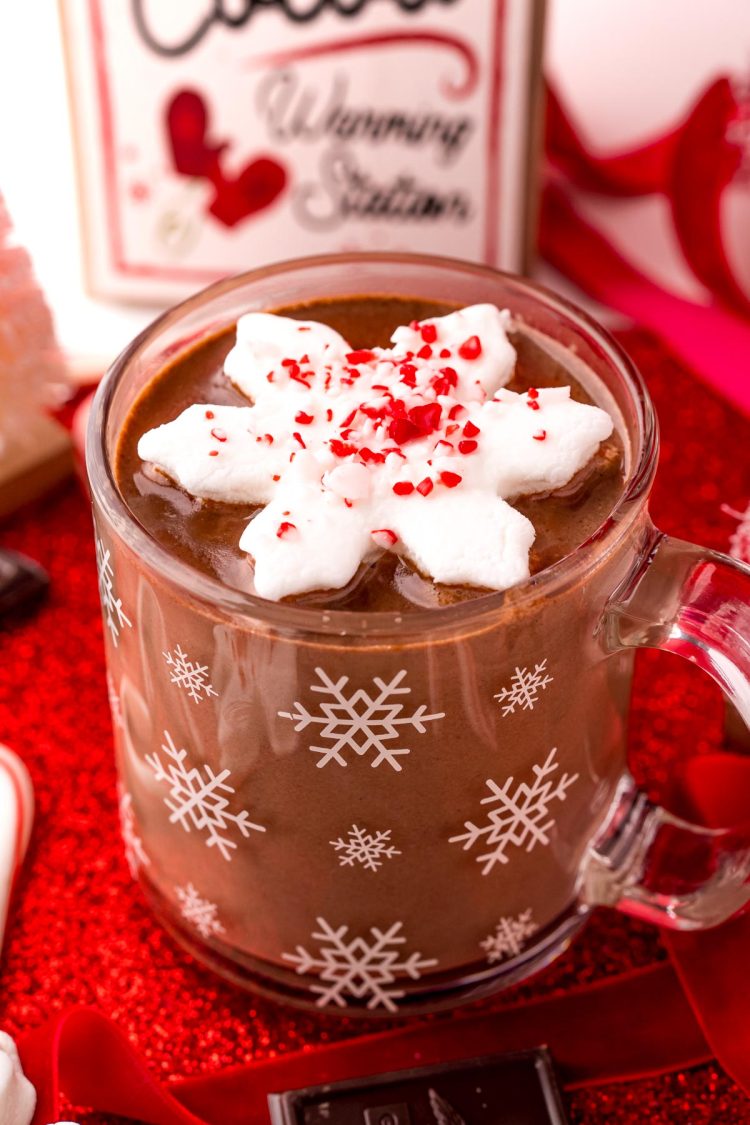 This rich, cozy Peppermint Hot Chocolate makes surviving those cold, blustery winter days are a lot more manageable! Tuck away another easy Hot Chocolate recipe to enjoy when another chilly winter day blows your way!
Peppermint Hot Chocolate
Pin For Later
CLICK THE BUTTON ABOVE TO SAVE THIS DELICIOUS RECIPE TO YOUR BOARD!
👋 Let's Connect!
If you've tried this recipe please let me know how you liked it in the comments below and leave a review, I love hearing from you! And don't forget to tag me – @sugarandsoulco – on Instagram and Pinterest with your photos or join our Busy Family Recipes Facebook Community and share them there!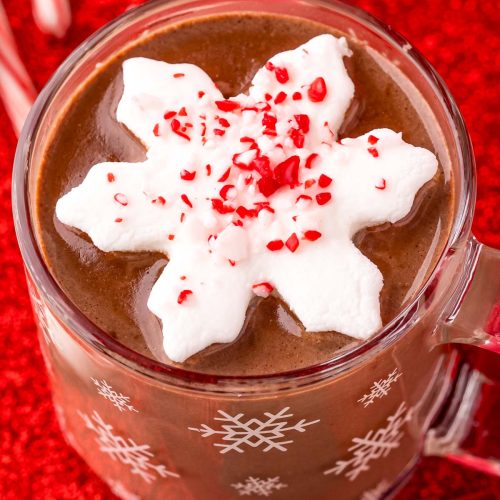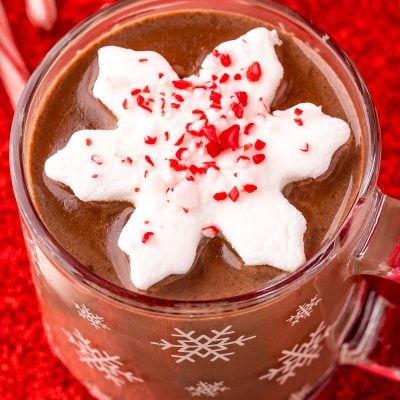 Peppermint Hot Chocolate
Peppermint Hot Chocolate cooks up in just 10 minutes using 5 ingredients to make a wonderful seasonal drink to warm up with all winter long! A great addition to all of your holiday parties!
Ingredients
1

cup

whole milk

1

cup

heavy cream

½

cup

peppermint schnapps

or more milk for non-alcoholic

2

tablespoons

powdered sugar

1-2

teaspoons

peppermint extract

see notes

4

ounces

bittersweet chocolate

finely chopped

chocolate curls
Instructions
Combine milk, heavy cream, peppermint schnapps, and sugar in a medium saucepan and bring to a light simmer over medium heat.

Meanwhile, melt the chocolate in the microwave on 30-second intervals, stirring between each one, just until melted.

Whisk the melted chocolate into the milk mixture in the saucepan off the heat. Serve with whipped cream and chocolate curls.
Notes
If you are including peppermint schnapps, you'll only want to use 1 teaspoon of peppermint extract. If omitting the schnapps, you'll want to use 2 teaspoons.
Semi-sweet chocolate may be used in place of bittersweet, however, I personally find milk chocolate too sweet in this recipe.
Nutrition
Calories:
711
kcal
Carbohydrates:
77
g
Protein:
11
g
Fat:
29
g
Saturated Fat:
17
g
Cholesterol:
27
mg
Sodium:
115
mg
Potassium:
643
mg
Fiber:
4
g
Sugar:
68
g
Vitamin A:
425
IU
Calcium:
311
mg
Iron:
3.6
mg