So if you know me, are a frequent reader of the blog, or follow me on social media, then you have probably picked up on the fact that I'm a bit of a pop culture nerd. I wouldn't go as far as saying I'm a "fangirl" as I'm not writing fan fiction or stalking forums. However, I have a bit of a Song of Ice and Fire obsession, a wee bitty crush on Wolverine, and Harry and The Potters are still on my playlist over ten years later.
 But as you also know, I really love food. Even more so, I love creating food inspired by other things I love. Which brings us to today's post, the Outlander series is one that has been recommended to me time and time again, yet I never really looked into it or picked it up. When one of my Book Club members mentioned it again and talked about the upcoming series, I thought that it was time. Just a few chapters into the first book and I was hooked! I'm almost done with Voyager, the third installment, and that means I'll have read the first three books in a month's time… that's got to be some kind of record, especially since they're 700+ pages each! I must say, Voyager has been my favorite and I love that the name is a reflection of multiple events in the book.
Gabaldon does such an amazing job with her descriptions, especially the food, that she really brings the story to life. That gave me the idea to do a mini Outlander recipe series here on the blog. This Sassenach Sangria was inspired by Jamie's "endearing" name for Claire as well as Claire's time with Lawrence Stern and Father Fogdon in the West Indies in Voyager. Though the sangria she drank with them consisted of tropical fruits, I wanted to make one that was inspired more by Scotland.
Since Claire and Jamie (and especially the sailors) have a soft spot for brandy, I knew it had to be a component and decided on a blackberry brandy paired with a Cabernet that had some spice notes. I cut it with some sierra mist and loaded it up with apples, strawberries and blackberries. Add in a few cinnamon sticks and after a day or two, you have the best sangria! Seriously, I had a couple glasses of it two days after steeping and I have never had a better sangria. The berries and the spice flavors were heightened and it was super smooth.
Reading this series has also gotten me excited for our trip to Ireland and Scotland next year and you can bet we'll be hitting up some standing stones while we're there!
For more pop culture recipes check out my Sansa's Lemon Cakes, HIMYM Tootsie Roll Cocktail, and Little Ass Kicker Punch.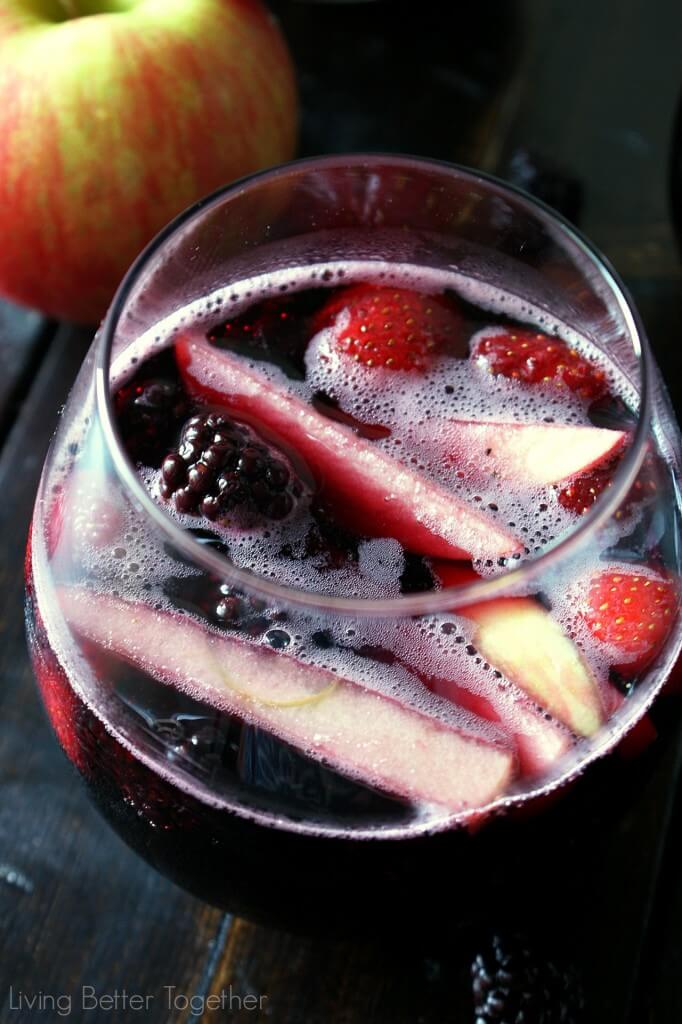 Stay tuned for more Outlander inspired recipes this week!
Sassenach Sangria
A sweet sangria inspired by the Outlander Series.
10 minPrep Time
2 hr, 10 Total Time
Ingredients
750 ml Cabernet (look for one with spice notes for best results)
1 liter Sierra Mist
1 cup Blackberry Brandy
2 Gala Apples (chopped)
2 cups Blackberries
2 cups Strawberries (hulled)
2 Cinnamon Sticks
Instructions
Combine all ingredients EXCEPT Sierra Mist in a large pitcher.
Let set for at least a couple hours but overnight for best results.
Pour Sierra Mist in just before serving.
Notes
This sangria is best after two days of steeping... seriously the best I've ever had!
7.6.3
725
https://www.sugarandsoul.co/sassenach-sangria/